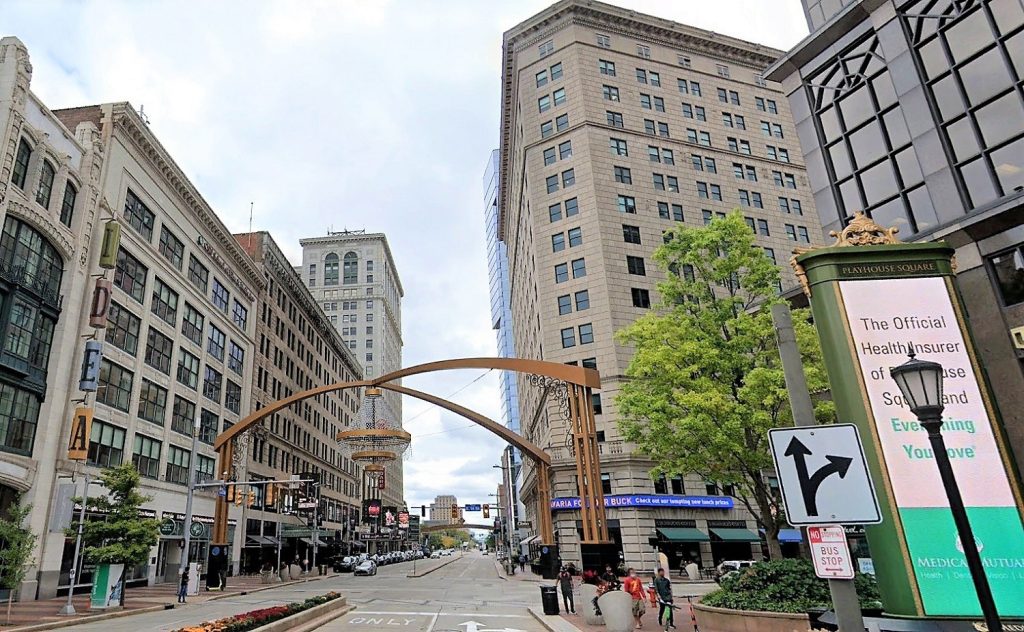 Playhouse Square Foundation announced projects it is undertaking in two buildings it owns. The first, which NEOtrans reported about in March, is the renovation and partial conversion of the Bulkley Building into apartments. The Bulkley, immediately left of the chandelier, will also gain a new office tenant. Across Euclid Avenue is the Hanna Building which had its fourth floor converted to co-working spaces (Google). CLICK IMAGES TO ENLARGE THEM.
Bulkley, Hanna buildings gain new uses
First reported by NEOtrans more than two months ago, the Playhouse Square Foundation announced officially today that it will begin work in June on converting half of the Bulkley Building, 1501 Euclid Ave., in downtown Cleveland into market-rate apartments. Additionally, the nonprofit community development organization also said it has converted the fourth floor of the Hanna Building, across the street at 1422 Euclid, into co-working spaces called Backstage at PSQ.
In a written statement released today, Playhouse Square officials said workers will begin converting four floors of the nine-floor Bulkley Building in the coming days into 84 apartments, with a portion available for short-term rental by cast and crew members from shows appearing at Playhouse Square. They noted that seven touring productions visit Playhouse Square for at least three weeks each over the course of a year, along with hundreds of shorter engagements.
"Playhouse Square has been researching this idea since 2018, and now we get to make it a reality," said Playhouse Square President & CEO Craig Hassall. "Touring productions come with actors, musicians, crew members and management. They all need accommodation and these new apartments will help them feel at home in Cleveland while being a sound financial investment for us."
The new, market-rate apartments are expected to be available in Fall 2024. Studio, one-bedroom and two-bedroom units will be available. The architect for the apartments conversion is Berardi Partners of Columbus; the general contractor is John G. Johnson; and the co-developer is Liberty Development.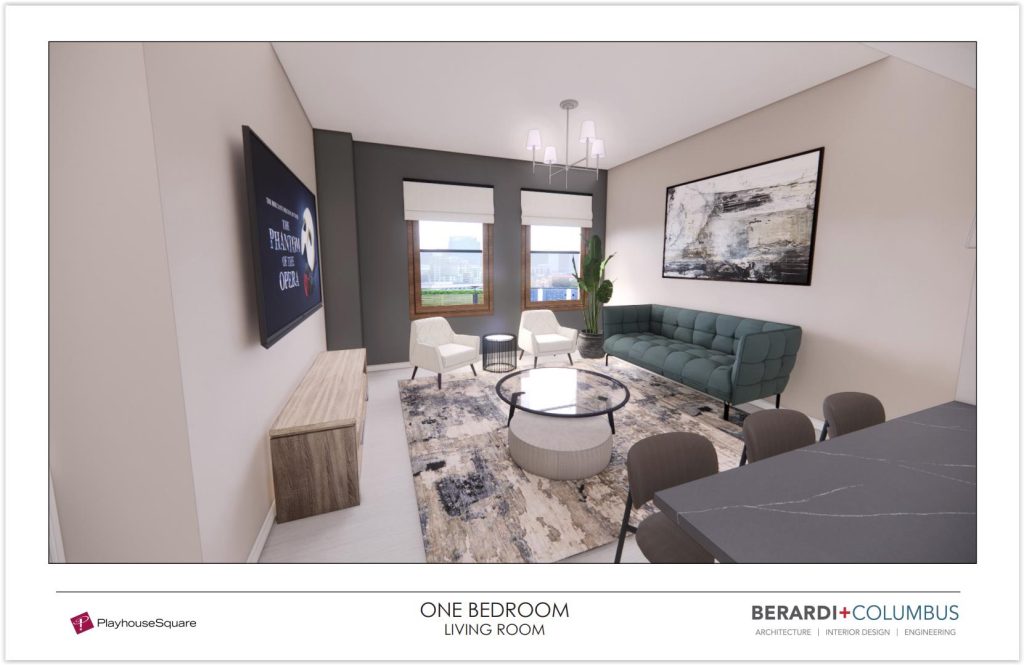 In addition to one-bedroom apartments, the Bulkley Building at Playhouse Square will also offer studios and two-bedroom suites. In addition to the general public, the apartments will be marketed to cast and crew members of touring companies performing at Playhouse Square (Berardi).
The first floor of the Bulkley Building will continue to be occupied by the Allen Theatre, restaurants and retail; Playhouse Square will maintain its administrative offices on the second floor with other office tenants remaining on the third floor. Public relations firm Dix & Eaton will move into about 22,000 square feet of space on the eighth and ninth floors of the building on a date to be determined. The ninth floor tops only half of the building, measuring only 8,293 square feet, including common areas.
Dix & Eaton will relocate from a 25,000-square-foot space on the 39th floor of 200 Public Square where it has too much space. A public relations, investor relations and communications firm Dix & Eaton is an employee-owned company founded in 1952 and has 50 employees, 90 percent of which are at their Cleveland office. All of their Cleveland employees will make the move, said Amy McGahan, managing director at Dix & Eaton, told NEOtrans in March.
"We have not determined an exact move date yet," McGahan said. "Our lease at 200 Public Square runs through April 2025, and we saw an opportunity to design a great new space that increases opportunities for collaboration and technology suited for the future of work in the vibrant Playhouse Square District."
The architect for their new offices is Van Auken Akins Architects LLC, located across Euclid Avenue in the Hanna Building. Whiting Turner, also of Cleveland, is the office project's general contractor, according to building permit applications filed with the city. Costs for the project, which will include elevator modernization and façade upgrades, are being finalized as is financing, Playhouse Square officials said.
"With our partners at CRESCO, we have been exploring uses for available office space in the Playhouse Square District," Hassall said. "We all know the past few years have changed how and where people work. Some of the employers in our buildings need less space; some actually want more. These shifts open up exciting possibilities."
Playhouse Square and CRESCO also noted that they have transformed the 24,000-square-foot fourth floor of the Hanna Building into a flexible co-working space called "Backstage at PSQ." Cubicle and office spaces are available with flexible lease terms and include WiFi, ethernet connection in offices and at each workstation, utilities, all furniture, use of conference spaces and café with free coffee. The Hanna Building features an attached parking garage and easy access to restaurants and highways.
END