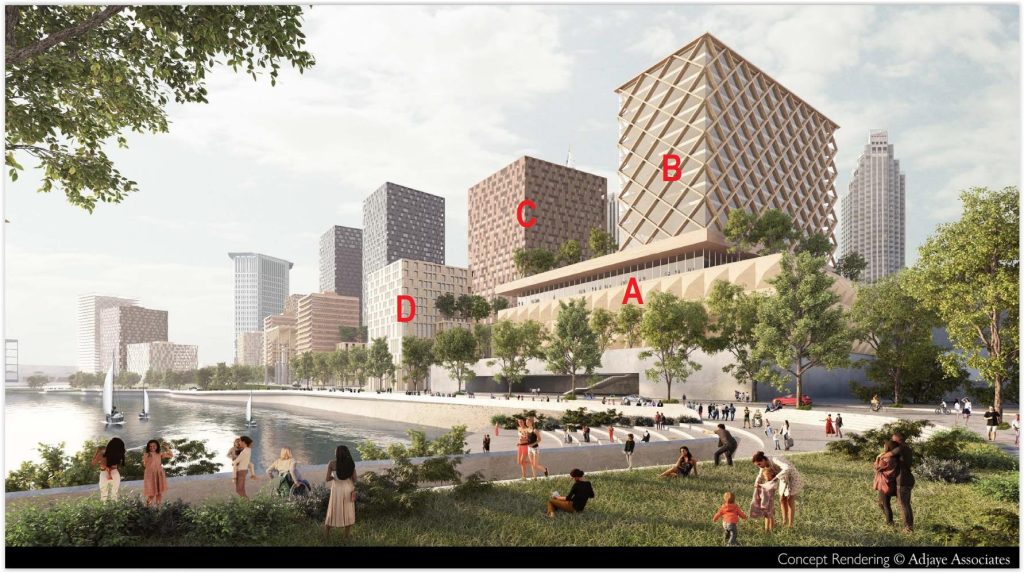 Bedrock Real Estate's phase one of its Tower City Riverfront development is becoming clearer. According to sources and other data, the buildings in phase one are identified as (A) Cleveland Cavaliers' practice facility, (B) a hotel possibly Shinola brand, (C) office building likely for Rocket Mortgage, and (D) a residential building, possibly condominiums (Adjaye Associates). CLICK IMAGES TO ENLARGE THEM.
Cavs practice facility may return downtown
Plans for Bedrock Real Estate's riverfront development alongside Tower City Center in downtown Cleveland are rapidly coming together after recent city approvals of its development masterplan. Those plans, albeit still at a conceptual stage, provide insights into Bedrock's desires and thinking about what land uses it wants to include in its first phase. From those plans and other new information, it appears that the uses to be included are primarily ones that Bedrock's owner Dan Gilbert can control.
While not the largest proposed land use in the riverfront development, the one that's likely to generate the most community buzz is the apparent return of the Cleveland Cavaliers basketball team's practice facility to downtown, according to a real estate source who was not authorized to speak publicly about it. Located at the Cavaliers Cleveland Clinic Courts, 6101 Brecksville Rd., in suburban Independence since 2007, the 50,000-square-foot facility with a 19,330-square-foot underground parking garage is set on 32 acres of wooded, city-owned land.
An inquiry sent to the team's media relations office was not responded to prior to publication of this article. Same for inquiries sent to Bedrock's public relations firm, Cleveland-based Falls & Co. The latter inquiry also included questions about other proposed land uses in the first phases of Bedrock's riverfront development masterplan.
"I did check with a couple of people here at city hall including the mayor's office, and no one has had any conversations with the Cleveland Cavaliers about a possible move from Independence," said All Lora, communications director with the city of Independence.
She was also asked for information on income tax revenues paid by the Cavaliers to the city, as Independence and the city of Cleveland have had a 50/50 tax revenue sharing deal in place since the practice facility moved from downtown to the suburbs. But Lora replied that, under Ohio law, the city is prohibited from releasing tax information. She urged NEOtrans to contact the Cavs.
In Bedrock's riverfront masterplan, the proposed structure most likely to accommodate the Cavs' new practice facility is shown as a wide, mostly windowless structure on the opposite corner of Ontario Street and Huron Road from the team's home playing venue, Rocket Mortgage FieldHouse. Below the windowless structure is retail frontage along a relocated Canal Road. Although still conceptual, this proposed building has remained in variations and updates of the masterplan throughout conversations and meetings with the Planning Commission. And, when its dimensions are measured using Google Earth against corresponding, existing locations on the masterplan, the windowless structure has a footprint of about 50,000 square foot — same as the Cavs' current practice facility.
Topping that building is a structure shown in Bedrock's planning documents is a hotel. For a couple of years, sources close to Bedrock have said that they want to bring a Shinola boutique hotel to Cleveland, a brand with which they have had success in Detroit. The Shinola hotel in Detroit measures 150,000 square feet with conference facilities topped by 129 hotel rooms. A similar approach appears to be taken here, albeit slightly larger. Bedrock's proposed hotel in its riverfront first phase appears to measure about 11-12 stories and 173,000 square feet. That could accommodate about 150 rooms above a 38,500-square-foot glassy atrium with lobby, ballroom and back-of-house uses.
Taking the measurement of existing, corresponding dimensions and applying it to the other two proposed buildings in the first phase reveals some other interesting things, too.
Next, consider the proposed office tower on Huron which is shown as a 21-story building atop a multi-level garage, rising from 50 feet below Huron. One may ask, who would build an office tower downtown when the pandemic and enduring remote work has left many office buildings greatly underutilized? There are claims by employees that Rocket Mortgage ultimately wants to abolish all remote work in cities where it has offices. And Gilbert doesn't like his companies paying rent to companies he doesn't own. As NEOtrans has written about for more than a year, Rocket Mortgage's office lease for nearly 300,000 square feet on the upper floors of the Higbee Building, 100 Public Square, is set to expire Dec. 31, 2026. Rocket Mortgage has been paying rent to Vici Companies since Vici acquired the property from a Gilbert-owned affiliate in 2020.
Construction of Bedrock's office tower would have to start sometime in early- to mid-2024 in order for it to be completed prior to Rocket Mortgage's lease expiration at Higbee. Gilbert's mortgage business was growing rapidly until 2022 when rising interest rates cut into its biggest business — refinancings. Through buyouts, Gilbert has managed to avoid layoffs. Yet it continues to hire and add more jobs in Cleveland, in part because Rocket Mortgage won a $975,000 Job Creation Incentive Program grant in 2021 from the city of Cleveland to double its number of jobs here from 700 to more than 1,400. If Rocket Mortgage reduces jobs here, it violates the terms of the grant.
At a typical 200 square feet per employee including common areas, Rocket Mortgage needs roughly 280,000 square feet of office space plus a little extra room for future growth, bringing the total to about 300,000 square feet. Again, taking the measurement of existing, corresponding dimensions and applying it to the footprint of the conceptual office building, which shows no setbacks in the upper floors, suggests floorplates of about 14,500 square feet.
That's a little less office floorspace than the typical 20,000-25,000 square feet which increases the average amount of common space per employee. But it also lets in more natural light, reduces energy costs and, in the post-pandemic world, offers a healthier working environment. Multiplying 14,500 square feet by 21 floors equals 304,500 square feet; the first floor is proposed to be mostly retail and lobby spaces. The real estate source noted that, while the masterplan shows only featureless massings of buildings, they are shown based on space needs and market conditions.
The last of four major structures in Bedrock's first phase for the riverfront is a residential building, set between the office tower and the river's edge. It also has some interesting dimensions. The first four levels show floorplates of just under 9,000 square feet each and, among the top seven floors, floorplates of only 6,000 square feet each. Those are roughly half of what is typical for a Cleveland apartment building.
"Sounds like a condo building," said the source, who noted that Cavs players who have signed long-term deals with the team have inquired about buying condos downtown. "Condos next to a Cavs practice facility downtown would help the team land more free agents."
The approximate scale of the proposed 11-story residential building is roughly 77,000 square feet, which is a skinny building and suggests it could have as few as 40-50 condos or 70-80 apartments. High-end downtown condos are few and far between. The latest addition is The Residences at the Guardian where four of 13 condos have already sold according to real estate listings.
Another source close to Bedrock said the Detroit-based developer has issued requests for proposals from contractors to conduct site preparations in advance of major infrastructure work for the riverfront site, including leveling of the site, replacement of sewers, installation of riverside bulkheads, relocation of Canal Road and restoration of the Eagle Avenue ramp from Ontario.
END