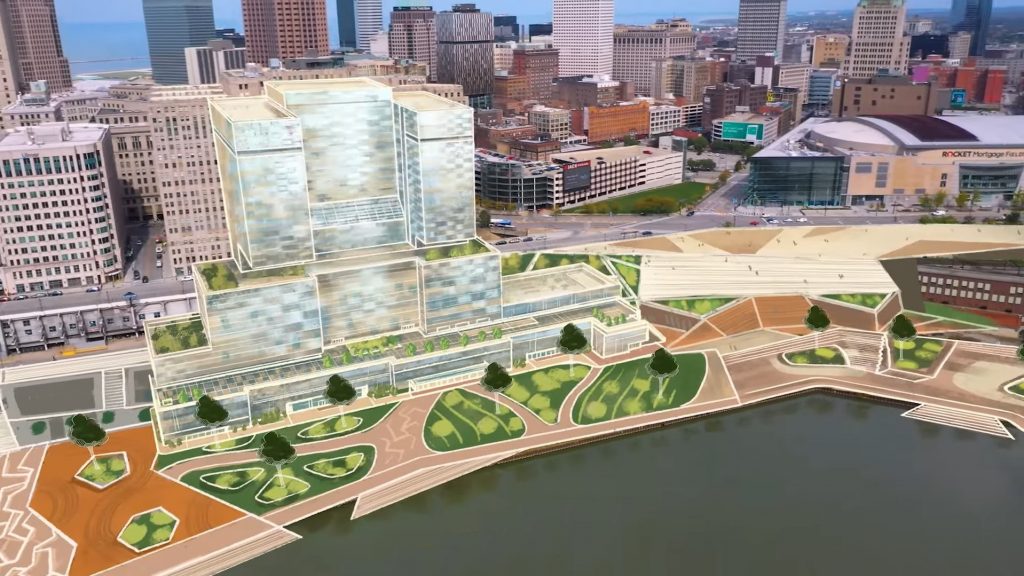 Although a bit cartoonish, this conceptual imagery of the first phase of Bedrock's Tower City riverfront development appears to be higher priority than previously reported. The roughly 300-foot-tall, 25-story tower with a heavy emphasis on offices for Rocket Mortgage would rise across Huron Road from Sherwin-Williams old headquarters which is also the subject of private acquisition talks. This image was extracted from a video regarding big urban core projects that are in the works (GCP). CLICK IMAGES TO ENLARGE THEM
Downtown Gateway venture on back burner
There is increasing evidence that Bedrock Real Estate is advancing more quickly in developing its downtown Cleveland riverfront development vision despite earlier information that it would take a longer-term approach there. There simply is more visible activity happening here compared to a site in the Gateway District where real estate investments were reportedly in planning but now appear on the back burner.
Some additional activity was visible this past week as survey crews descended upon Tower City Center and Bedrock's riverfront properties. The crews, according to a real estate insider familiar with the surveying work, were gathering boundary and topo imagery and data for composing building designs. And the workers were active from Prospect Avenue to the Cuyahoga River, and from Ontario Street to West Superior Avenue.
"That's the kind of work you do when you're planning new buildings," the insider said. "When you're putting up new buildings, you have to get angles for everything. Something gigantic is coming there."
A city department head who has reviewed Bedrock's plans but did not want to speak on the record said the project will "completely transform the riverfront" and that its initial phase it will be "bigger than anyone is currently imagining." When asked to confirm if Bedrock would also be developing Stark Enterprises' "nuCLEus" properties in the Gateway District, the city official was evasive but again referred only to the riverfront. The official said the project would have "no impact" on historic buildings and would offer "lots of pedestrian access and public spaces to access the waterfront."
Much of the riverfront land involved is either owned by Detroit-based Bedrock or is about to be, according to real estate records and community officials. In December, Bedrock converted the ownership of about 20 acres of land between Huron Road and the riverfront from Rock Ohio Caesar's Cleveland LLC to Huron Holdings LLC, according to a deed transfer filed with the county. The transaction also included development "air rights" above the Greater Cleveland Regional Transit Authority rail rights of way within about 200 feet of Huron's bridge over those tracks, near the Ontario Street intersection.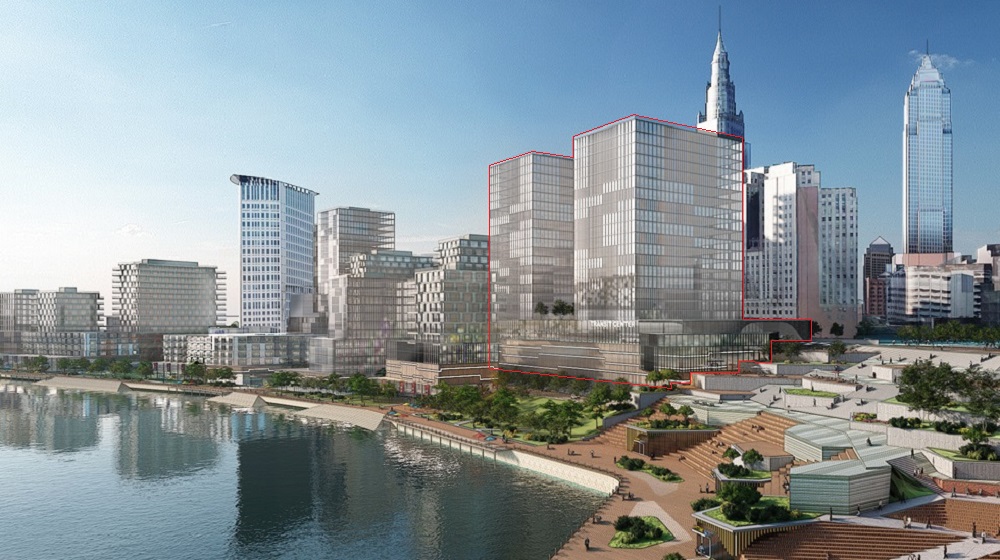 Another conceptual images shows the same potential first-phase tower, outlined in red, in a context of Bedrock's grand vision for developing its riverfront properties. That includes public spaces built from the Cuyahoga River up about 60 feet to Huron Road, creating direct public access between Public Square and the nearest portion of the river for the first time in more than 150 years (Bedrock).
United Agent Group is the statutory agent for Huron Holdings Investor LLC, formed Nov. 29, 2021, along with several other firms with intriguing names. Those include Prospect Avenue Acquisition LLC and another firm using its acronym PAA Asset Holdings LLC. They were incorporated on Nov. 23, 2021 by United Agent Group.
In recent digital media and conceptual presentations, Bedrock and others have shown a roughly 300-foot-tall, 25-story mixed-use building rising on a Tower City Riverview Parking lot that once served as a train servicing yard for the Cleveland Union Terminal passenger train station that is now Tower City Center. The proposed tower's site is between Huron and Canal roads, just across Huron from Sherwin-Williams' headquarters of the last 92 years that the coatings giant will vacate at the end of 2024. The 900,000-square-foot building is a likely candidate for a full or partial conversion to residential.
Bedrock's proposed tower, which appears to be part of the first phase, will reportedly be dominated by office space including about 300,000 square feet to accommodate the Cleveland offices of billionaire Dan Gilbert's Rocket Mortgage Inc. which is headquartered in Detroit. But its fast-growing Cleveland offices in the Higbee Building are threatening to outgrow their office space around the time that its lease will expire at the end of 2026. And Gilbert doesn't like having his companies pay rent to non-Gilbert-owned firms. Bedrock was founded by Gilbert.
That means construction on the office tower would have to get underway by the end of next year. For that to happen, planning work would need to already be underway including design drafts being sent to the city. And, as noted earlier by the observations of the city department head, that appears to be case. There are also reports from construction management firms that have spoken to Bedrock officials that they are seeking to rebuild the two-level parking structures under Tower City which extended down to the old station platforms and track level for Union Terminal.
Bedrock has bigger dreams for Cleveland than just one building. Last September, Bedrock CEO Kofi Bonner and then-Mayor Frank Jackson announced Bedrock's role in the city's Vision for the Valley, including as many as 10 high-rise structures for residential, hotel and more offices mixed among riverfront public spaces. Based on illustrations shared last fall, all of that would rise on Bedrock's Huron Holdings-owned land. The city's vision establishes a framework for the development of recreational assets, infrastructure and real estate projects along the Cuyahoga River.
Soon, Bedrock may have more land to work with. On March 29, NEOtrans reported that Bedrock has a purchase agreement to acquire Sherwin-Williams' (SHW) Breen Technology Center, 601 Canal Rd. and the 9 acres on which it sets. SHW is building a new research and development facility in Brecksville and will abandon Breen in late 2024. A company spokesperson didn't deny Breen's purchase but wouldn't confirm it either.
"Sherwin-Williams does not comment on rumors or speculation," said Julie Young, SHW's vice president of global corporate communications. "What I can tell you is that no decisions have been made regarding the disposition or redevelopment of the company's current R&D center and headquarters or its facility on Warrensville Center Road."
This purchase is another example of the greater level of real estate activity by Bedrock on the riverfront than in the Gateway District. One person who was especially happy to see the purchase was Freddy Collier Jr., senior vice president of strategy and new initiatives at the Greater Cleveland Partnership. He was the city of Cleveland's planning director until this past winter and had worked with Bedrock on establishing the Vision for the Valley.
"Strategic moves by the Metroparks and Bedrock to acquire key properties along the riverfront put Cleveland one step closer to realizing the Vision for the Valley," he said in an April 4 LinkedIn post that shared NEOtrans' article about the purchase before removing the post.
"Hats off to the Metroparks and Bedrock for their focus and tactical decision making," Collier said. "Metroparks acquired a parking lot along the riverfront in a prime location (1290 Old River Rd.) last year. Bedrock's recent acquisition of the Sherwin-Williams R&D site will bring us a step closer to linking these land assets that flank our riverfront. These acquisitions create the conditions for real investment opportunities. We will be successful if every organization is ALL-IN and committed to moving in the same direction!! Great move!"
In January, the Greater Cleveland Partnership released its "All-In" video highlighting major urban core real estate developments that are in the works, including SHW's new downtown headquarters west of Public Square, Irishtown Bend Park, Cleveland Browns lakefront vision, Midtown's Innovation District and Bedrock's proposed new office tower, across Huron from SHW's old HQ. Why those projects?
When he shared the video on social media on Jan. 20, Greater Cleveland Partnership President and CEO Baiju Shah said the "Video shows (the) future city. Projects highlighted (are) all underway." NEOtrans asked Shah for more details about the Bedrock tower rendering including proposed uses, tenants and other insights, he responded "You will have to ask Bedrock for details."
"If Bedrock has any news on any developments to share, we will let you know," said Lora Brand, vice president of communications at Falls & Co., a Cleveland marketing company. Bedrock is a client of Falls.
Meanwhile, things seem comparatively quiet in the Gateway District where Stark Enterprises planned to build its nuCLEus megaproject on 2.85 acres between Huron and Prospect, mostly east of East 4th Street. Although Stark representatives have denied they are selling the land, NEOtrans stands by its sources who say the land is the subject of a purchase agreement. One source said the buyer is Bedrock but others aren't so sure.
But all of the sources are certain that the sale is related to major real estate developments surrounding the Gateway sports facilities for the Dolan family's Cleveland Guardians and Gilbert's Cleveland Cavaliers. According to published reports, David Blitzer and Josh Harris are near to acquiring for about $400 million a 35 percent ownership stake in the Guardians that would also put them on a path to acquire a majority stake from the Dolans in 2026.
Blitzer and Harris are East Coast billionaires who are partners in Harris-Blitzer Sports & Entertainment (HBSE). Multiple sources close to Gilbert's Bedrock Real Estate and to HBSE say the two groups are coordinating their efforts to deliver a mixed-use "ballpark village" that activates on a year-round-basis more economic benefits from the sport facilities. HBSE owns majority stakes in other sports franchises and typically invests in real estate near the facilities in which their teams play. The same is expected in Cleveland.
However, HBSE's Cleveland plans appeared to have been put on the back burner. Harris and Blitzer are focusing their efforts on acquiring London, England's Chelsea Football Club that Russian oligarch Roman Abramovich is being forced to sell due to the United Kingdom's sanctions resulting from Russia's unprovoked war on Ukraine. Ironically, Gilbert along with Chicago Cubs owner Tom Ricketts are joining forces in their own effort to acquire Chelsea F.C.
END