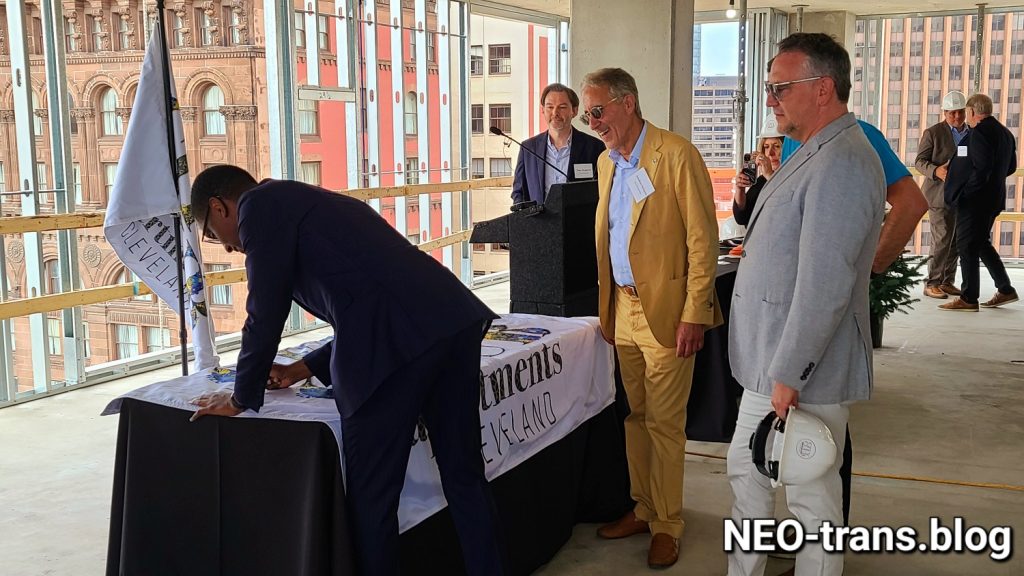 At the topping-off ceremony today for the City Club Apartments tower, several dignitaries signed a flag to be hoisted atop the last steel beam set on the 23-story tower. In the foreground from left are Cleveland Mayor Justin Bibb, City Club Apartments Chairman/CEO Jonathan Holtzman and Cleveland Bistros Principal Dean Valore (KJP). CLICK IMAGES TO ENLARGE THEM.
Project updates given at topping-off ceremony
Detroit-based City Club Apartments, a 104-year-old private real estate owner, developer and operator, held a Topping-Off event today on the 18th floor of its 23-story City Club Apartments-Cleveland mixed-use apartment and penthouse community. Mayor Justin Bibb and City Club Apartments Chairman and CEO Jonathan Holtzman were among the speakers at the event that celebrated the construction milestone, opening of the residential pre-leasing center nearby at 313 Euclid Ave. and the announcement of four café/restaurant/bar venues at the new 250-foot-tall tower.
With leasing underway, City Club officials said they're on schedule to start accepting their first occupants this fall. Residents will initially begin moving in to the first four or five floors of the building at 776 Euclid Ave., downtown. In the following weeks, more of the building will be occupied as more floors are completed. All 304 apartments and penthouses are due to be finished this winter — roughly two years after a December 2021 groundbreaking ceremony.
"It seems like just yesterday we were hosting our ground-breaking in the parking deck behind us," said Holtzman in a written statement. "What a change in scenery. We are standing on the 18th floor of this amazing building looking downtown with some of the best views in the city. We would have been on the 23rd floor today if not for the fact that the only way to get there right now is by ladder."
"This is my first topping-off event as mayor," said Bibb who was sworn in as mayor in January 2021. "Midwest cities are competing with each other for residents and businesses in the post-pandemic world. Having world-class amenities is part of the vision of being able to compete. This project is making that vision a reality. It is so exciting to see the evolution of downtown Cleveland's skyline. Our city is open for business and we have so many incredible things happening here. We are laying the groundwork for a city where people can live, work, eat and play."
Located on Euclid at the corner of the 8th Street alley, the City Club Apartments-Cleveland will also offer several ground-floor businesses, a basement speakeasy and a Sky Club café. Dean and Anna Valore, principals of Cleveland Bistros LLC who founded and have operated the award-winning French restaurant and wine bar Tartine Bistro in Rocky River for the last 15 years, announced that they have signed on to open several French-themed concepts at the new tower.
"We're excited to partner with City Club Apartments and to continue to build on our award-winning Tartine brand that so many Clevelander's have come to love and support over the years," said Anna Valore. "Café Tartine will flow right from the lobby and have its own entrance and outdoor patio on Euclid as well. Our French-themed café will feature a gourmet coffee program, as well as breakfast and lunch menus. We are teaming up with local Cleveland roaster, Duck Rabbit Coffee and will be open from 6:30 a.m. to mid-afternoon."
The café will seat 20 to 30 people with both indoor and outdoor seating and serve a variety of fresh grab-and-go breakfast and lunch offerings, including several health-conscious and vegan menu items. The café will shift to a wine bar at 4 p.m. and serve the same incredible wine selection that Tartine Bistro customers enjoy.
"J'adore will be a two-level French restaurant with an award-winning wine program," said Dean Valore. "We will have indoor and outdoor seating on the first floor and you will access the second floor and its outdoor patio from a grand staircase. The spaces will feature both casual and upscale dining and deliver premier contemporary French cuisine."
City Club Apartments isn't the only high-rise under construction in downtown Cleveland. Just west down Euclid Avenue and on the other side of Public Square is the rising Sherwin-Williams headquarters. More construction projects are and will soon be visible from the City Club Apartments' windows (KJP).
Below grade will be a speakeasy called The Green Box, or L'Ecrin Vert in French. The 40-seat bar and lounge will have a French cabaret theme and Le Moulin Rouge style, featuring a green velvety-vibe with overstuffed seating and craft cocktails. The underground cabaret will have frequent nightly entertainment. The Valores and their team will also support City Club Apartments' residents and their guests at the community's 23rd-floor Sky Club and rooftop pool with a weekend full-service bar and light lunch program at the Sky Club Café.
Also announced at the event with several furry friends in the audience was Dogtopia. With 230 locations in North America, 20 years of service and caring for more than 5 million dogs annually, Dogtopia is the largest and fastest-growing dog daycare in the United States.
"We are thrilled to be opening the first Dogtopia in Cleveland in the new City Club Apartments mixed-use community," said franchise owner Alex Mazzenga. "Dogs need friends, exercise and education too and we believe that City Club Apartments is the perfect location to deliver on Dogtopia's mission of enhancing the joy of dog parenthood and enabling dogs to positively change the world."
Dogtopia's services will include daycare, overnight stays and spa services. Dogtopia promotes safe and fun socialization, exercise, and education to help develop great canine citizens. The dogs enjoy an open-play environment with protective rubber flooring to ease the impact on the furry guests' joints. Play is facilitated by canine coaches who undergo over 100 hours of accredited training and certification. Safety is enhanced by Dogtopia's hospital-grade HVAC system and dog safe cleaning products.
"We love everything about this outstanding city," said Holtzman. "We are inspired by its leadership and vision. We are attracted to its great culture, entertainment, and sports. Area companies, medical facilities and higher education institutions are among the best in the country. We love water and the city's walkability. These are all vital ingredients in our City Club Apartments brand."
The apartment hotel community will feature indoor and outdoor theaters and an entertainment Sky Club with a gourmet kitchen. The heated rooftop pool and hot tub will be wrapped with sun loungers and cabanas. The Sky Park will include fire pits, outdoor kitchen, coworking, lounge seating, and a Bark Park and Zen Garden. A 24/7 whole body fitness center, multi-function yoga studio, sauna and wellness room will also be integrated into the community. City Club Apartments boutique hotel style-lobby lounge library will include dynamic seating and direct lobby access to Café Tartine, J'adore and The Green Box.
Overlooking the lobby and part of the coworking amenities is a mezzanine business center, conference room and indoor theatre. City Club Apartments will include the latest and fastest connectivity technologies and will be Wired Technology Certified. Activated with social programming events, the community will provide personalized hospitality and 24/7 time saving concierge services.
Ranging in size from studios to penthouses the 9- to 10-foot ceiling units will have 22 unique floor plans and four distinct finish packages including work from home dens and offices, granite countertops, movable multifunction islands, designer custom closets, exclusively designed CCA kitchens, furniture and fixtures, wood plank flooring, sexy bathrooms including oversized soaking bathtubs and showers, rain showerheads, bay windows, full balconies, and French balconies. The community has sky bridge access to connected covered parking. In addition to being Green Building-certified and Wellness Certified (Fitwell) the community will be Clean Rated.
"I know that many downtown apartment residents and those considering downtown are already rethinking their lease and housing situation based on our strong pre-leasing activity," said Holtzman. "We had a large register-your-interest list and already have future residents leaving deposits and selecting their floorplans and views. I have no doubt that this building is going to lease up very quickly."
City Club has a portfolio of approximately 6,500 apartments in 20 urban and suburban apartment communities, $2 billion in real estate assets and $750 million under development,
construction and lease-up in downtown Cincinnati, Detroit, Chicago, Pittsburgh, Minneapolis, Kansas City and Cleveland with expansion plans for projects in more cities in the USA, Canada, Europe and Asia.
END