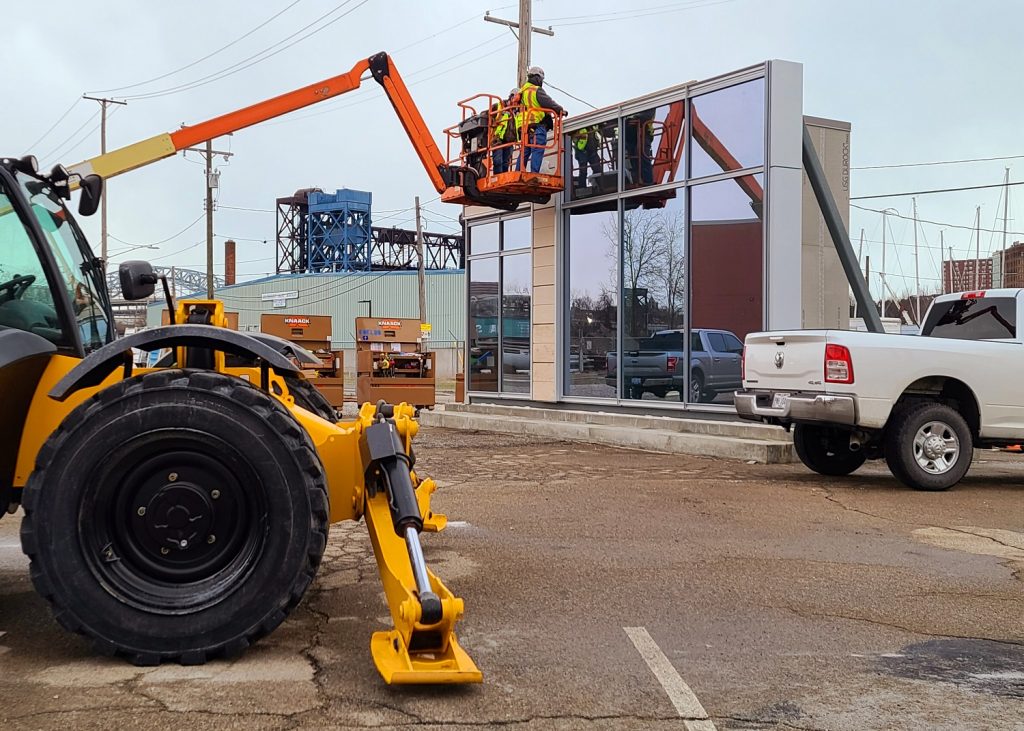 In a corner of Scranton Peninsula in the Flats, workers are building the new Sherwin-Williams headquarters one piece at a time, testing it and then dismantling it to learn what construction materials and techniques they want to use in the new 616-foot-tall tower just west of Public Square (KJP). CLICK IMAGES TO ENLARGE THEM
Shiny glass skyscraper 'rises' at Scranton, Carter roads
If you don't know what you're looking for, you could drive right past the new $300+ million Sherwin-Williams (SHW) headquarters tower and not even know it. I mean, who would expect Cleveland's fourth-tallest skyscraper to suddenly appear out of nowhere at the dank and dusty corner of Scranton and Carter roads on Scranton Peninsula in the Flats?
Although I was told where to find it, I drove right past it the first time. But I went back and caught a glimpse of pieces of Cleveland's newest skyscraper being assembled by crews from Enclos Corp. On the third pass, it was more apparent as to what was being built. But the question is why? And why here?
"The Building Our Future mock-up space is a standard part of the design 'scale-up' process," said Julie Young, SHW's vice president of global corporate communications. "This space will be used to study the glass, stone and metal materials used on the exterior of our new global headquarters."
Building Our Future is the corporate identity of SHW's two-pronged project development process to build the global coatings giant's new HQ in downtown Cleveland and its new research and development (R&D) facilities in suburban Brecksville. Actual construction on the new HQ started Nov. 29 on the west side of downtown's Public Square but the formal groundbreaking ceremony wasn't until Dec. 15.
And the R&D center broke ground even earlier, Oct. 22 at the Valor Acres development site. For that reason, this same site in the Flats was previously used by SHW contractors to construct and test exterior mock-ups for the new $300 million, 600,000-square-foot R&D facility, too.
"This same process was followed and completed for our new Research & Development Center at the same location," Young said in an e-mail to NEOtrans.
Enclos, based in the Minneapolis-St. Paul suburb of Eagan, is one of the nation's largest specialty contractors. It designs, engineers, fabricates, assembles and erects custom curtainwall and façade systems. So why did SHW and Enclos choose this site?
"The mock-up site location was selected for its size and convenience," Young explained.
Although the site is visible from SHW's current HQ in the Landmark Office Buildings in the Tower City Center complex, it would take a strong pair of binoculars to be of any use. And on the day I was there to take pictures, the glassy exterior mock-up was facing to the south — in the opposite direction of SHW's existing HQ.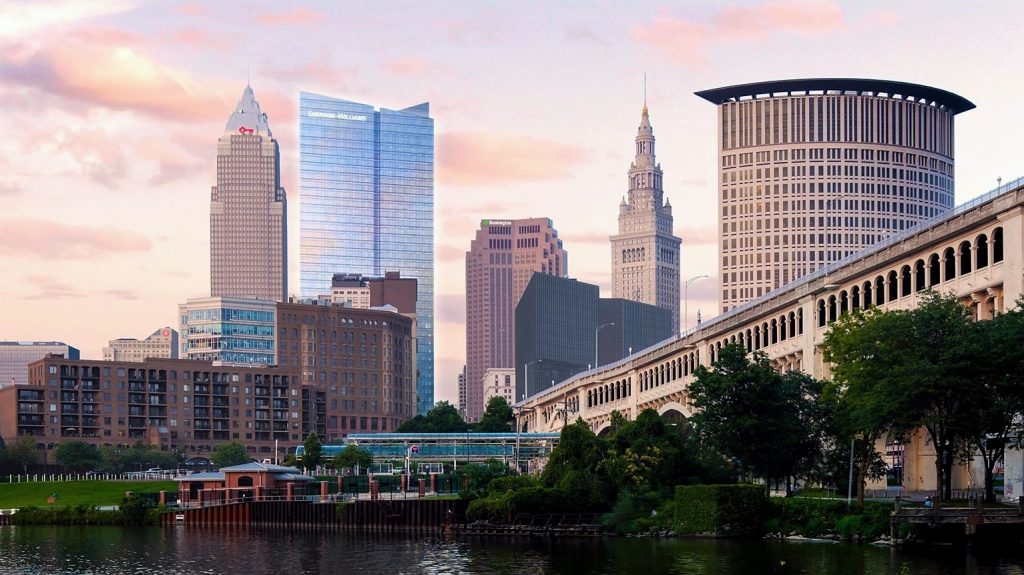 This low-angle view from the Nautica complex makes the 430-foot-tall Stokes Federal Courthouse tower, at right, appear as dominant in the skyline as will the glassy new Sherwin-Williams HQ, second from left. It also makes the 616-foot-tall SHW HQ seem as tall as the 947-foot-tall Key Tower, at left. Terminal Tower and 200 Public Square round out the towers visible from here (Pickard Chilton).
It's not the first time SHW provided mock-ups of its new HQ. Starting in June 2021, design options for the new HQ's interiors were built inside the old HQ so employees could look at multiple sample office spaces and give input to the HQ design and development team. That input was used to help them refine the interior designs and amenities of the new tower.
Ironically, the exterior design mock-ups are being erected on Scranton Peninsula, across Carter from where SHW reportedly wanted to build its new R&D center. But SHW couldn't get a deal done to secure 9 acres of riverfront land from a property owner. The site also has a significant amount of pollutants, according to sources familiar with the location.
So this work is the site's consolation prize. And if you want to see what sections of the outside of the new 616-foot-tall SHW HQ will look like, better take a trip down there soon. This offer is good for a limited time only.
END