Rock Hall expansion, NC Connector, boulevard advance
Several large-scale projects along downtown Cleveland's lakefront are moving forward thanks to developments in recent days. In addition to multi-million-dollar grants being awarded for lakefront projects, the City Planning Commission approved plans for the $100 million expansion of the Rock & Roll Hall of Fame. Also, a national nonprofit that promotes racial equity revealed it is partnering with the city on designing an inclusive lakefront. And plans for converting the Shoreway highway into a boulevard are crystalizing but may complicate Amtrak's passenger rail expansion plans.
Park, trail expansions, improvements granted
Yesterday, the Jack, Joseph and Morton Mandel Foundation of Cleveland awarded $24 million in grants to several lakefront projects east of downtown. The largest grant, $13 million, was awarded to the Cleveland Metroparks for the revitalization of Gordon Park south of Interstate 90 and the extension of the Lakefront Bikeway from East 55th Street to downtown. The foundation gave a $725,000 grant to LAND Studio, a Cleveland nonprofit that designs placemaking projects, to conduct design work of the improved Gordon Park in Cleveland's St. Clair-Superior neighborhood.
It also awarded $10 million to the Western Reserve Land Conservancy to create a 150-acre "super park" in North Collinwood by acquiring and relocating the Euclid Beach Mobile Home Community that will unite several smaller parks — Euclid Beach Park, Villa Angela Park and Wildwood Park. Lastly, the Mandel Foundation gave $240,000 grant to the land conservancy to plant 200 trees in St. Clair-Superior.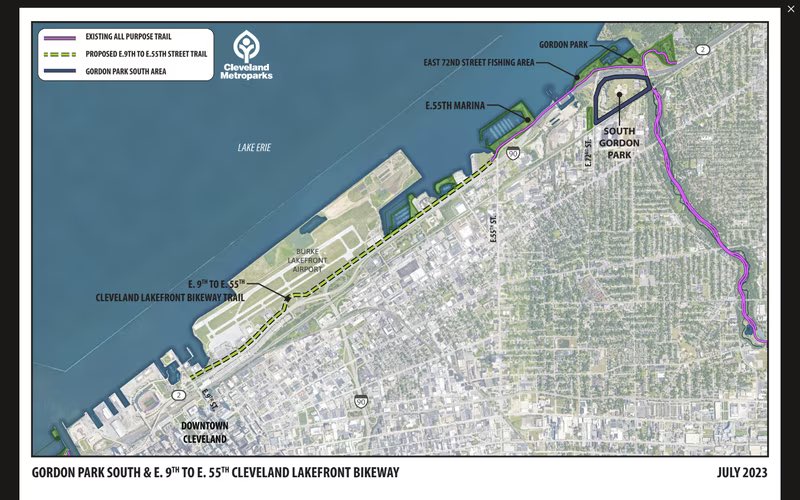 Although there is an all-purpose trail along a portion of the North Marginal Road between East 9th Street in downtown Cleveland and East 55th Street, the section east of Burke Lakefront Airport was never built. That omission will be addressed along with improvements to South Gordon Park — south of Interstate 90 (Metroparks).
"Trail city is further connected," said Cuyahoga County Executive Chris Ronayne, an avid cyclist, in a statement shared on social media. "East 9th to East 55th opens a new chapter on the lakefront."
Rock Hall expansion is rolling
Following the approval Friday of designs for the 50,000-square-foot expansion of the Rock Hall, the hall of fame and museum's CEO Greg Harris said he hoped that construction could begin this fall. He noted that funding is already in hand to start construction. The expansion, to be built on the west side of the I.M. Pei-designed pyramid, was the result of plans developed by New York City-based Practice for Architecture and Urbanism (PAU).
"One of the reasons for being here today is because we want to expand the Rock & Roll Hall of Fame to better serve our community, to better grow our audiences, and to have a more positive effect on Cleveland," said Harris to planning commission members on July 7.
According to the architecture firm's presentation to the commission, the green-roofed expansion will have a new entrance lobby to improve the flow of visitors, accommodate multi-purpose spaces for indoor performances, community gatherings and private rentals plus another 10,000 square feet for traveling exhibits. There will be a new, open space for events and education programming, on-site archives for visitors to access the Rock Hall's collections and a relocation of the Rock Hall's administrative offices from the lower level.
From the outside, another noticeable, major addition will be the improvement of the grassy slope between the Rock Hall and the Great Lakes Science Center with a more user-friendly greenspace, plans show. The slope will be redesigned with a community park and a new winding pathway that is less steep so that it is ADA-compliant, descending to the water's edge of North Coast Harbor. Along that pathway will be open-air "rooms" with outdoor, built-in furniture. James Corner Field Operations of New York City joined with PAU to design the public realm aspects of the project.
Designing an inclusive lakefront
Although final designs of the city's planned North Coast Connector land bridge are still being worked on after recent public input sessions, a new job posting at a large, national profit gives some insight as to what apparently will be included. Mayor Justin Bibb's administration has contracted with FUSE of Boston whose mission to free the country from social and economic barriers to opportunities that have been perpetuated by a history of systemic and institutionalized racism.
There are also physical barriers such as highways and railroads that limit access to natural features like Cleveland's lakefront. City officials say building the North Coast Connector and converting the Shoreway into a boulevard with intersections will help overcome physical barriers to enjoying the downtown waterfront. A new $1 billion program at the U.S. Department of Transportation called Reconnecting Communities provides funding to cities whose minority communities are separated from local amenities by highway projects.
The Ohio Department of Transportation (ODOT) typically provides funding to road projects that offer higher levels of service, accommodating more cars and creating faster, more free-flowing traffic. It's an approach developed by industrial designer Norman Bel Geddes who wrote in his 1940 book "Magic Motorways" that "There should be no more reason for a motorist who is passing through a city to slow down than there is for an airplane which is passing over it." So if ODOT funds this project, it would be from a pot of funding to support economic development, planners said.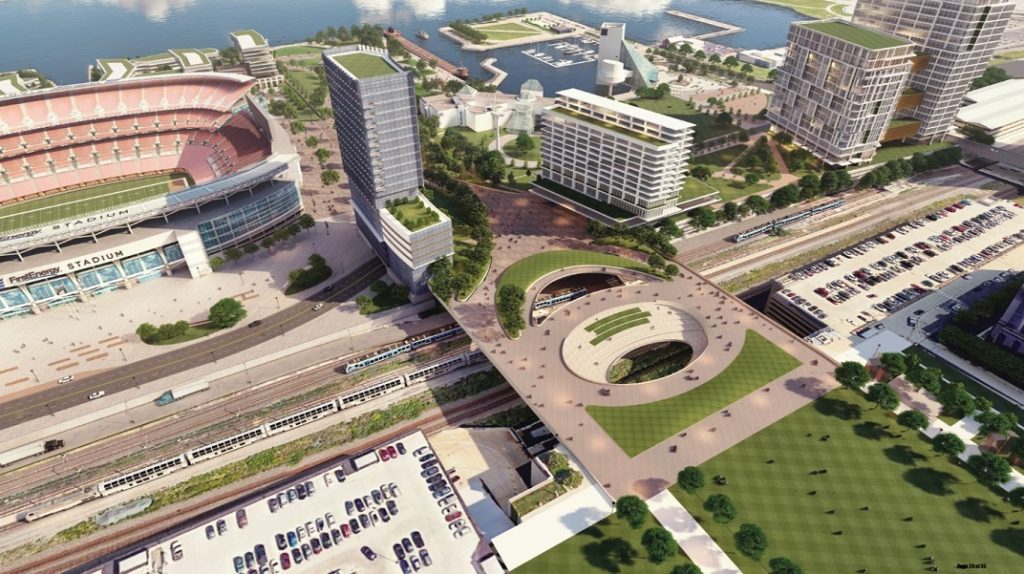 A conceptual rendering of what the North Coast Connector could look like. It would create a more welcoming and comfortable pedestrian and bicycle linkage between downtown and the lakefront, as well as include a combined station for Amtrak and light-rail passenger trains plus structured parking to remove spaces off the waterfront (AoDK).
But other planners say ODOT's Bel Geddes, highways-only approach to transportation development ignores 5,000 years of civilization in which cities became places to stop, socialize, learn, conduct commerce and innovate. Trying to accommodate more cars often makes urban centers less walkable, inclusive and vibrant said urban historian Lewis Mumford who in 1955 said "Building more roads to prevent congestion is like a fat man loosening his belt to prevent obesity."
FUSE said it considers downtown Cleveland's Lake Erie shoreline "a treasure trove of attractions" from parks and natural amenities to iconic landmarks like Cleveland Browns Stadium, the science center and the Rock Hall. But they contend the shoreline faces significant barriers to accessibility due to railroads, a four-lane highway, and a steep elevation change, limiting equitable access for Cleveland residents — especially low-income people.
"To address this challenge, the City of Cleveland is developing the North Shore Master Plan, an initiative to transform the shoreline into an inclusive community hub that promotes equity, climate resilience, and economic inclusion," FUSE wrote in its job posting. "A key component of this plan is the North Coast Connector. This proposed land bridge would enable safe and convenient access from Downtown Cleveland to the shoreline, bypassing the existing barriers. This project would not only enhance transportation options by facilitating bike and pedestrian access but also consolidate three passenger train stations into a single, efficient point of use."
Based on prior conceptual ideas shared at prior lakefront planning meetings, those three stations are likely the West 3rd-Browns Stadium and North Coast-East 9th stops on the light-rail Waterfront Line, as well as the Amtrak station. This job posting is the first public reference to what features could be included in the $200+ million North Coast Connector, in addition to having a park-like roof and possibly a multi-level parking structure. The House of Representatives' version of Ohio's two-year budget had $62 million for the "Cleveland Municipal Land Bridge project" to be administered by the Ohio Department of Development's Local Projects Fund. But the Senate stripped the money.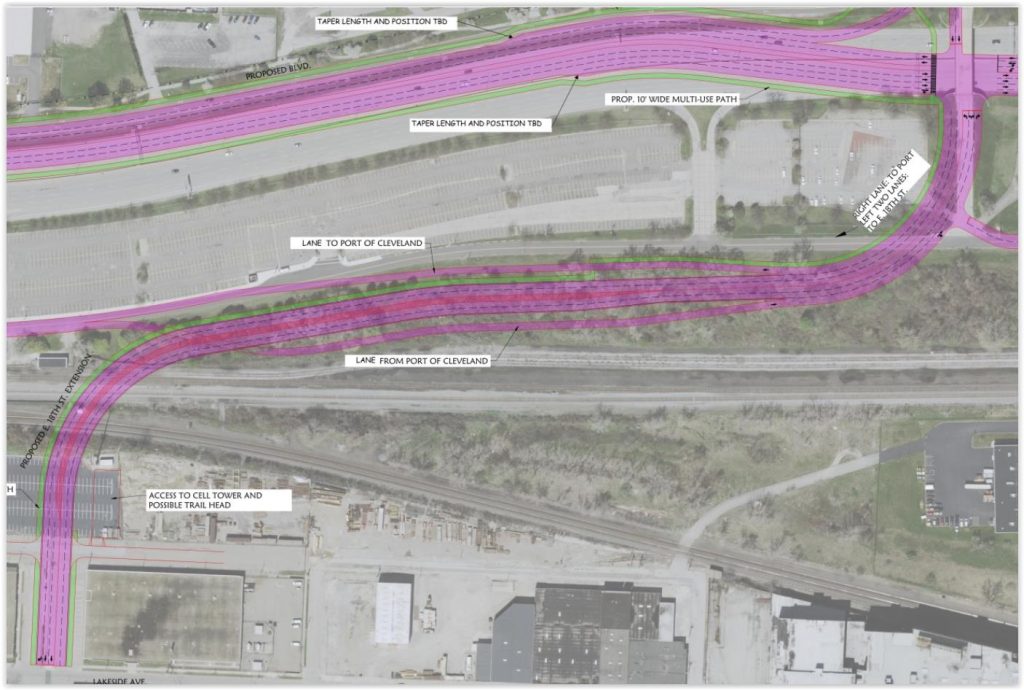 The snaking roadway extension of East 18th Street at lower left to an intersection with the proposed Shoreway boulevard at upper right would wipe out the west half of the former East 26th Street Rail Yard which has been proposed as the best place for newly added Amtrak trains to Cleveland to be stored and serviced in between runs. The inclusion of the port access road here would also complicate redevelopment of the Municipal Parking Lots (City of Cleveland).
Rail service on the Waterfront Line, an downtown extension of the Blue and Green lines from Shaker Heights, has been suspended since October 2020. The Greater Cleveland Regional Transit Authority is spending $6 million in federal funds to repair a bridge over Front Street and the Norfolk Southern/Amtrak tracks, and another $1 million to spruce up five stations. It is due to reopen in time for the first home game of the Cleveland Browns on Sept. 10 against the Cincinnati Bengals, according to GCRTA Public Information Officer Robert Fleig.
But another proposed lakefront transportation project could complicate rail service expansion. As part of the conversion of the Shoreway into a boulevard, East 18th Street could be extended north to the converted Shoreway, with a roughly 55-foot-tall ramp leading gradually down from a bridge over the Norfolk Southern tracks to an intersection with the boulevard. The added roadway linkage to the boulevard could reduce traffic at East 9th and promote development at the northeast corner of downtown, planning documents show.
Stu Nicholson, executive director with the rail and transit advocacy nonprofit All Aboard Ohio said the roadway would wipe out the west half of the former East 26th Street Rail Yard whose ownership is split between passenger railroad Amtrak and freight railroad CSX Transportation. He said that yard has been the favored site for a train layover and servicing facility if the state should ever purchase expanded Amtrak service to Cleveland. Amtrak's Connects US vision proposes expanding service to Cleveland from 28 trains per week now to 154, with destinations like Cincinnati, Chicago, Detroit, and the East Coast via both Buffalo and Pittsburgh. ODOT and the Northeast Ohio Areawide Coordinating Agency are seeking funds for service development plans.
"Failing to protect our existing rail infrastructure, even what appears to be a moribund rail yard, can adversely impact passenger rail development to Cleveland," Nicholson said. "Now is not the time to be building highway ramps over this land."
Spokespersons for Amtrak and the city of Cleveland did not respond to e-mails from NEOtrans seeking comment prior to publication of this article.
END