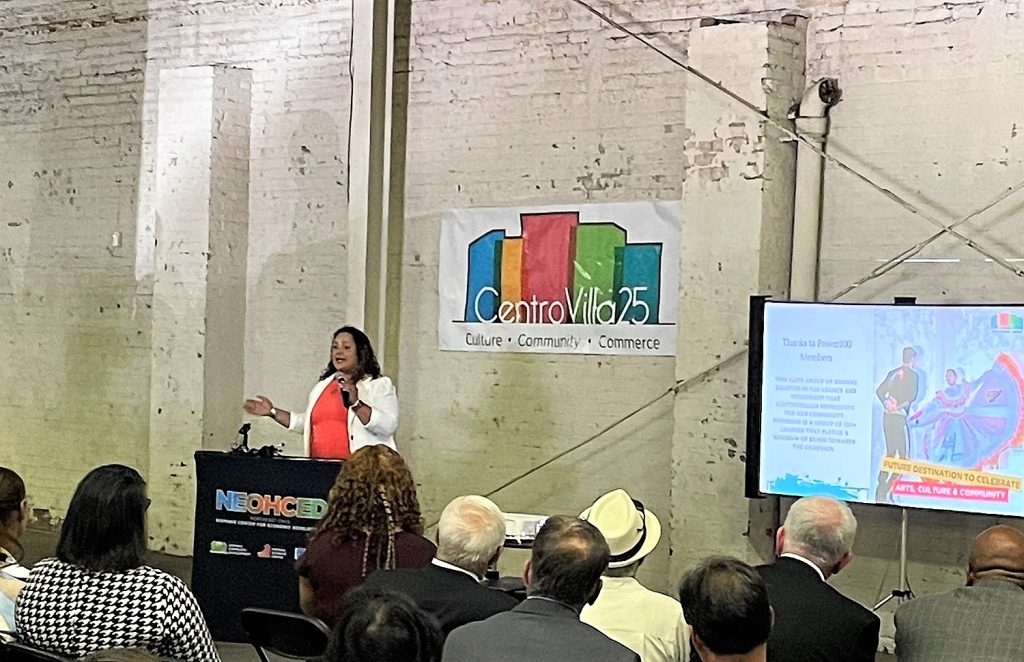 At today's groundbreaking ceremony for CentroVilla25, Jenice Contreras, executive director of the Northeast Ohio Hispanic Center for Economic Development, spoke on the decades-long development necessary to make the centro mercado, or central market, for Cleveland's Latino community a reality (Cleveland Construction). CLICK IMAGES TO ENLARGE THEM.
Groundbreaking starts year-long construction
A $12 million project to redevelop a vacant warehouse as the cultural and business center of Cleveland's Latino community got underway today after many years of planning and fundraising led by the Northeast Ohio Hispanic Center for Economic Development (NEOHCED). Their unceasing efforts were rewarded with a groundbreaking ceremony at the former H.J. Weber warehouse, 3140 W. 25th St., that is due to reopen as CentroVilla25 in Fall 2024.
Mentor-based Cleveland Construction, Inc., a national construction management firm, is the project's general contractor and will convert the two-story, 103-year-old warehouse into CentroVilla25, a multi-functional center. When complete, NEOHCED Executive Director Jenice Contreras said the La Villa Hispana neighborhood on the city's near-West Side will enjoy a culturally rich retail, office, and grocery store that pays homage to the Hispanic heritage in Northeast Ohio.
According to a press release from Cleveland Construction, the first floor of the 31,500-square-foot warehouse will be transformed into a market featuring kiosks, lounge, commercial kitchen, gallery area, live music entertainment, grocery store and a multipurpose area. The second floor will be reimagined as office space and a collaboration area. NEOHCED is also known as the Hispanic Business Center.
The renovation scope for CentroVilla25 includes the adaptive reuse of the warehouse, renovation of the second-floor office spaces, and the creation of 20 kiosk-style retail spaces, a commercial kitchen, a business innovation center, and office spaces for Latinos and neighborhood organizations. The addition of this Hispanic "centro mercado" will contribute to the Latino community's economic growth and also foster generational wealth through business ownership and commerce.
"CentroVilla25 holds great significance in representing the vibrant and beautiful Hispanic culture," Cleveland Construction said in its written statement. "Its impact extends beyond cultural preservation, benefiting the Hispanic community and Cleveland. The project will address food insecurities in the area by providing a grocery store with fresh produce and a food hall. Additionally, a commercial kitchen will be available for use by neighborhood restaurants, caterers and food trucks."
The marketplace will feature various products and services offered through the kiosks. The Galleria and plaza spaces will serve as a community gathering place for entertainment and showcase Hispanic culture and businesses. Once renovated and adaptively reused, CentroVilla25 will house offices for NEOHCED, the Northeast Ohio Hispanic Chamber of Commerce, Metro West Community Development Organization , Cleveland Housing Network Office, Latino Grocer, and more healthcare resources for the community.
Cleveland Construction, Inc., as the construction manager for the CentroVilla25 project, said it is ensuring the smooth progress of trade contractors' work according to the scheduled workflow. This includes conducting pre-installation meetings to identify obstacles, solve problems, and approve plans, specifications, materials, inspection schedules, and safety requirements. The project encompasses a complete renovation with construction procurement currently underway and construction operations mobilizing onsite in September 2023. The construction timeline is 12 months.
CentroVilla25 was designed by RDL Architects, owned and developed by NEOHCED and Northwest Neighborhoods, formerly known as the Detroit-Shoreway Community Development Corp. Cleveland Development Advisors is financing this project. In May, it received $1.7 million in American Rescue Plan Act funds from the city thanks to Ward 14 Counciwoman Jasmine Santana. Last winter, JumpStart, a business innovation center, approved a three-year, $750,000 commitment.
The project got its first big break in 2019 with a $690,000 loan from the Cleveland Development Partnership II LP to acquire the 1.8-acre HJ Weber property. And Cleveland Development Advisors' Community Reinvestment Fund Inc. provided an additional $280,000 loan to the Hispanic center to cover predevelopment costs necessary to finalize the various stages of project development in preparation for construction.
"The mission of La Villa Hispana is to establish itself as the economic and cultural hub of the Hispanic community in Greater Cleveland," said NEOHCED's Contreras. "CentroVilla25 represents the foundational development within this district."
Latinos comprise 13 percent of Cleveland's population and is one of the fastest-growing ethnic groups in the city, according to Census data. Clark-Fulton's population is growing as a result, being home to over 50 percent of the city's Hispanics and La Villa Hispana, the Latino cultural center. The Clark-Fulton neighborhood boasts a rich history and West 25th is one of Cleveland's main thoroughfares. Since 1990, the Hispanic culture has been deeply ingrained in the Clark-Fulton community, comprising residences, businesses, and a dedicated workforce. La Villa Hispana envisions a vibrant, authentic, and inclusive Latino community.
END