Corporate HQ to relocate within Mayfield Village
All Progressive Insurance employees received a notice this morning announcing that, due to remote working, the company would be slashing the square footage of active office spaces and attempt to sell or lease those it will no longer occupy. As a result, about 850 employees who continue to work in the office will be consolidated into the company's Campus 2, 300 North Commons Blvd. It will also move the corporate headquarters from Campus 1, 6300 Wilson Mills Rd., but remain in Mayfield Village.
Progressive's notice on The Highway, Progressive's employee intranet service, says it will maintain its three office locations, called Omega North, Delta, Omega West at 603, 624 and 625 Alpha Dr. in Highland Heights, Company officials also said they will retain the company's training facility called Discovery (Studio 96) at 6671 Beta Dr., Mayfield Heights. Progressive office locations in other parts of the nation are also affected by the consolidations, but Greater Cleveland is seeing the largest reductions in office space. It should be noted that there is no information about any job cuts.
"Our average occupancy numbers since re-opening following the pandemic are at 8-10 percent in Campus 1, Campus 2, and our Alpha Campus combined," the intranet notice said. "In real numbers, that means an average of 850 employees are filling 9,500 seats. Based on these numbers and to promote employee engagement, it just doesn't make sense for us to maintain two campuses in close proximity. We will move people from Campus 1 to Campus 2 over the next 18 months or so. We may hold Campus 1 in our real estate portfolio for the time being, or we may sell it based on the market."
There are two main reasons why the consolidations are taking place. First, Progressive officials said they "learned that it's important bring people who choose to work in the office closer together. Consolidating into Campus 2 will help those on campus generate a more energetic and collaborative atmosphere that inspires impromptu conversations, small, in-person brainstorms, and other personal moments that can make a difference each day."
Second, company officials said the consolidations will reduce operating expenses and improve customer service by providing a better workplace environment. Having so few employees scattered among its many lonely office buildings can be uncomfortable to some.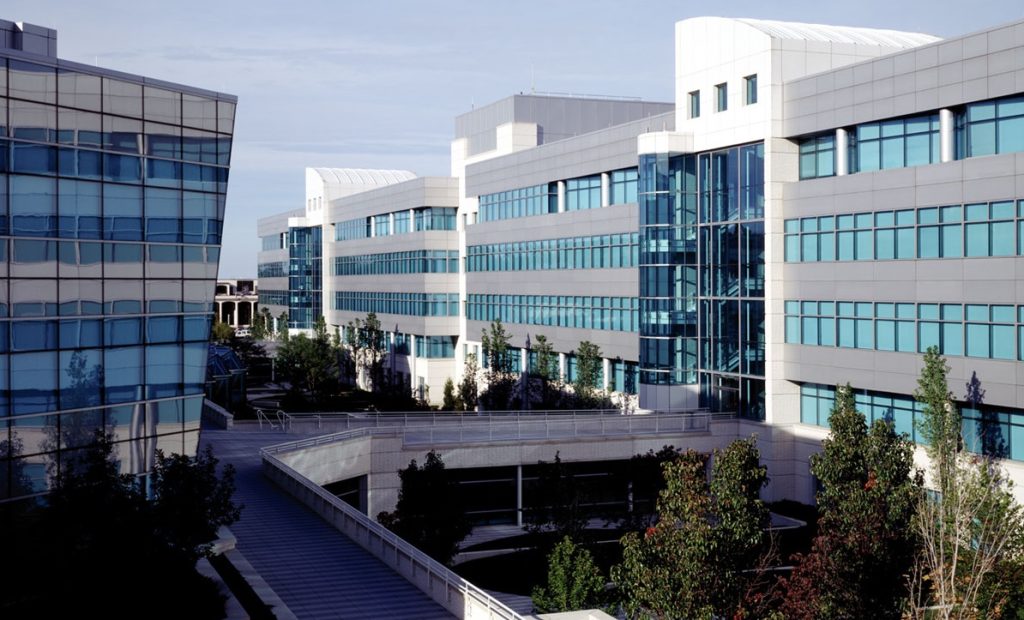 Progressive Insurance's 30-year-old Campus 1 on the west side of Interstate 271 south of Wilson Mills Road has more than 1 million square of office space plus a fitness center, cafeteria and public spaces. Selling or leasing this as an office property is likely very problematic, a real estate executive said (Hines).
"In this spirit, we continue to monitor how our workspaces are being used throughout our footprint," the e-mail said. "As previously communicated on The Highway, we already made decisions last year to end leases and put a few Progressive-owned buildings up for sale." That included its Alpha Campus (Alpha Annex, North and South), Eastmark site, 6055 Parkland Blvd. in Mayfield Heights, and Omega East.
In response to an e-mail from NEOtrans seeking comment for this story, Jeff Sibel, Progressive's public relations representative, referred to the notice sent to employees this morning, quoting it verbatim. There are still many unknowns associated with the proposed changes, including the tax revenue implications for the affected communities of Mayfield Village, Mayfield Heights and Highland Heights.
Many call center and information technology teams worked at Campus 1, which has more than 1 million square feet of space. The building houses an on-site fitness center, healthcare facility and cafeteria. It's also the home of the Progressive Art Collection department that purchases and installs art pieces, installations and exhibitions at Progressive's major locations countrywide. Selling or leasing that much office space could be difficult in a rapidly retreating office market.
"That's a lot of office space to put on the market at one time," said Terry Coyne, vice chairman in the Cleveland office of commercial real estate services firm, Newmark. He noted that Progressive has their own real estate salespeople who will try to sell or lease their large and increasingly vacant inventory of office properties.
Progressive said it chose to make Campus 2 its corporate headquarters because it has the company's major infrastructure, including its data center and solar array. The buildings are newer, built in 1998-2003, than the ones at Campus 1, built 1993-94, and have more up-to-date spaces and finish standards. The 70-acre Campus 2 also has more growth potential than the 32-acre Campus 1 if the company decides to increase its footprint in the future.
Progressive also said it plans to consolidate offices in some of its non-Cleveland-area campus locations. Impacted campuses/areas include Colorado Springs, CO, Riverview, FL, Progressive Home in St. Petersburg, FL, and Protective in Carmel, IN will consolidate into small footprints.
"Like Campus 1, we may keep these locations in our portfolio for the time being, or we may sell them based on the market," the intranet notice said. "Our real estate team will work with business groups at each site to determine space needs that provide the best possible experience for our employees regardless of where they work. We have always evaluated the portfolio and optimized where possible and will continue to do that in the future to support business needs. These changes are decisions we're aware of currently. If there are any upcoming changes, we'll be sure to keep people informed."
Progressive is the fifth-largest property and casualty insurer in the Fortune 500 with 55,000 employees companywide. Its performance in 2022 saw a 4 percent increase in revenue but a 79 percent decrease in profit compared to the prior year, and it dropped nine places on the Fortune 500 to 88. The company was roughly in the middle of the Fortune 500 or lower prior to 2003 and before, Fortune reported.
Progressive Insurance was founded in Cleveland in 1937 by Joseph Lewis and Jack Green to provide automotive and casualty insurance. The company moved its headquarters in 1974 from downtown Cleveland to Mayfield Village. In the early 1990s, it considered building a new headquarters tower downtown near the lakefront but disagreements between CEO Peter Lewis and Mayor Mike White prevented that tower from happening.
END