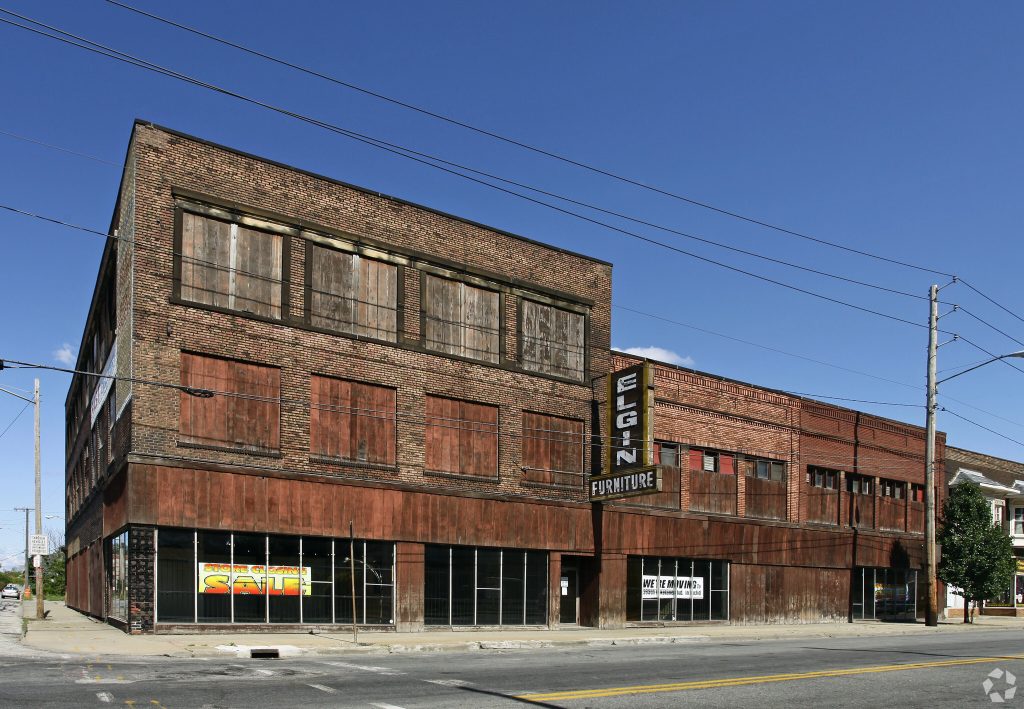 The vacant, former Elgin Furniture store, 5217 Broadway Ave. in Cleveland's Slavic Village, is spread across five parcels and for sale along with another vacant building at 5236 Broadway. A seventh parcel at 5311 Magnet Ave. is owned by the same Columbus-based firm and next to the ex-Elgin site. That site is across the street from The Rising, the largest development in Slavic Village in 25 years (LoopNet). CLICK IMAGES TO ENLARGE THEM.
Offering signals new interest in Broadway
Seven high-profile properties along a short section of Broadway Avenue in Cleveland's Slavic Village have hit the market after years of inactive ownership by a Columbus-based real estate firm. All of the properties except one which is an empty lot, have historic but vacant buildings on them. But the offerings are not publicly listed as available for sale by ME Real Estate LLC.
Their availability became known after inquiries were made by NEOtrans. The properties, bundled into three groupings, were the subjects of certificates of disclosure recently requested from the city by Michael Onore of Hampton Title LLC in Powell, OH on behalf of ME Real Estate LLC. Typically, certificates of disclosure reveal past owners, uses and any liens or other legal encumbrances and are requested by a prospective buyer after a purchase agreement is signed but before a pending sale closes and the deed is transferred.
These certificates were requested by the owner as part of its efforts to sell the properties more quickly. And, according to ME Real Estate Principal Eliahu "Eli" Adahan, he has no plans to develop them. Instead, he would like to put the historic properties into the hands of a new owner who would like to develop them, potentially as part of a larger, overall development vision for the neglected neighborhood.
"It's been on the market for a couple of months as an entire block that could be developed," Adahan said in e-mail to NEOtrans. In a follow-up e-mail he was asked if there was a buyer for any of the parcels. He replied "Not yet."
ME Real Estate owns properties in multiple cities including Cleveland, Columbus, Cincinnati and Rochester, NY. In 2021, when it was based in Rochester, ME Real Estate sold 1250 Riverbed St. on the West Bank of the Flats to Apt Development Group LLC. That firm want to turn 1250 Riverbed into the Apollo Apartments with 70 market-rate units. An interior demolition permit requested from the city last October is still being processed by the Building Department, public records show.
The largest grouping of ME Real Estate's Slavic Village properties is a six-parcel block measuring 0.85 acres and bounded by Broadway, St. Alexis Court alley, plus McBride and Magnet avenues. The block is owned by three affiliates of ME Real Estate — 5311 Magnet LLC, 5243 Broadway LLC and 5217 Broadway LLC. However, 5311 Magnet was not included among the certificate of disclosure applications. The other two affiliates, 5217 and 5243 Broadway own 52,650 square feet of buildings dating to 1908 that were used most recently and most visibly by Elgin Furniture. Elgin, founded in 1949, moved to Euclid in 2010. It had locations in Cleveland Heights and North Randall as well, according to business listings.
This block is located across McBride from Slavic Village Gateway, now called The Rising, one of the largest single developments in Slavic Village in 25 years. NRP Group redeveloped a 5½-acre lot left vacant after the 2003 closure and subsequent demolition of St. Michael Hospital (originally St. Alexis). It was a fixture on Broadway since 1884 and became and economic lifeline for nearby restaurants and to, a lesser extent, area shops. Until just after World War II, that area of Broadway was the city's second-largest retail district behind downtown until suburbanization and industrial decline drained the near-East Side of most of its residents.
The Rising has 10 townhomes fronted by a 78-unit apartment building over ground-floor commercial spaces. It includes a new 20,000-square-foot address for the University Settlement, a 90-year-old nonprofit social service organization in Slavic Village. Work is about to begin to build out the commercial space for the University Settlement and promises to add new street life to this stretch of Broadway. Local development officials also hope the old Elgin Furniture property will fall into the right hands, too.
"When it comes to restoring historically significant buildings on our main street corridors, our preference is always to have investors move quickly to stabilize and restore the structures before they deteriorate further," said Chris Alvarado, executive director of Slavic Village Development.
The other ME Real Estate property, owned by its affiliate 5362 Broadway LLC and located at that address, is an 1885-built, three-story building with an ornate turret above the southwest corner of Broadway and Barkwill avenues. The back and top-rear portion of the residential-over-retail building was added onto circa 1920 with a warehouse. The 22,880-square-foot building was mostly recently used by Forward Church which continues to own the property next door.
Interestingly, 5362 Broadway and 5311 Magnet have a shared history, both relating to motion pictures as movies were called a century ago. According to a 1912 Sanborn Fire Insurance map, the ground floor of 5362 Broadway was used for the showing and storage of motion pictures. Into the 1910s, motion pictures were typically seen in nickelodeons –cramped spaces in which customers could drop a quarter into a viewing machine and watch short, one-reel films that were generally 10 to 12 minutes long. But these faded in popularity during the 1910s and were replaced by larger, more glamorous movie houses and theaters to accommodate the growing movie audiences.
In the warmer weather, Cleveland's growing film audiences would wander over to 5311 Magnet and pay to enter an open lot that had an outdoor stage and screen at the north end with St. Alexis Court behind. Along the sides of the property were high, wooden board fences to prevent prying eyes from watching the films without paying. The site was labeled by the Sanborn map as used for "motion pictures – open air."
Over at 5362 Broadway, when its owner James V. Peterka died about 1919, it was sold to Frank J. Svoboda who leased the former nickelodeon space to The National Home Club for $50 per month, county records show. More recently, from 1992-2008, Dennis Althar owned 5362 Broadway. Althar has renovated a number of other commercial and residential properties in the Broadway neighborhood 20-30 years ago but the foreclosure crisis at the start of the Great Recession in 2008 ravaged Slavic Village and Althar's renovation efforts. Althard LLC, an audio equipment supplier, remains in business at 5432 Broadway.
The Broadway corridor is the subject of new public and private planning and development efforts. Last November, the Greater Cleveland Regional Transit Authority (GCRTA) won a $432,000 grant to redesign the Broadway corridor from the Turney-Ella bus loop near Calvary Cemetery to downtown as a bus rapid transit (BRT) route with enhanced pedestrian and bicycle infrastructure.
Once those plans are complete, GCRTA can then apply for federal funds to build that infrastructure. The planning work will also help guide land use decisions involving zoning, parking policies and public incentives to support local transit-oriented development — mixed-uses in dense, walkable settings served by frequent transit. It will support potentially significant redevelopment efforts that are already in the works but haven't been publicly revealed yet.
END