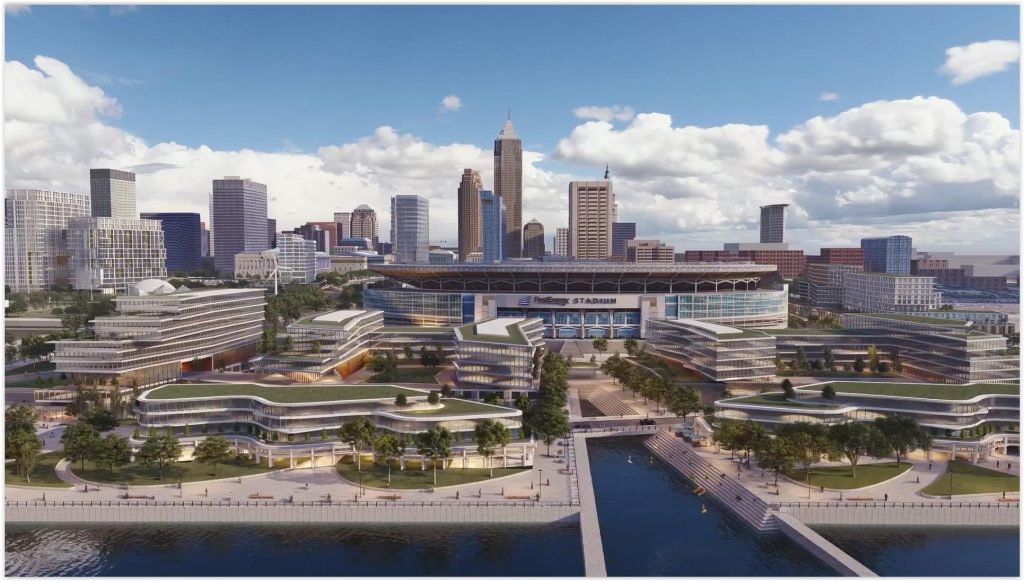 Talks between representatives of the Cleveland Browns and the City of Cleveland about renovations to the existing football stadium and lakefront development, portrayed here, reportedly have hit reportedly stalled. That is what apparently prompted the team's owners to drop a subtle warning this week to the city that it could the city leave for the suburbs (AoDK). CLICK IMAGES TO ENLARGE THEM.
Browns-city negotiations are 'stalled'
At a press conference this week, Cleveland Browns owners Jimmy and Dee Haslam raised some eyebrows with their comments about the current stadium and where the football team might play in the future. Among other remarks, Jimmy Haslam interjected that "The only thing Dee and I would say for sure is we're not leaving Northeast Ohio." According to a team source familiar with its negotiations with the city of Cleveland, that remark was a subtle nudge to the city to resolve an apparent impasse in negotiations. The source added that, if the team doesn't see more progress, it could leave Cleveland for a new stadium in the suburbs.
The source, contacted by NEOtrans after the Haslams held their press conference on Monday, was asked if there was anything to read into the Haslam's remarks. And did their comments mean that the suburbs are on the table for a football/multiple-purpose stadium if things don't progress with the city?
"Yes, there is something to read into that," the source said, speaking on the condition of anonymity. "Talks have stalled and the suburbs may be on the table (for a stadium)."
When asked if the negotiations with the Browns have stalled, city of Cleveland Press Secretary Marie Zickefoose told NEOtrans: "Talks between the City and Browns organization continue. We have no further updates at this time." The city is scheduled to unveil design concepts for its lakefront development plan tomorrow at the Great Lakes Science Center.
Peter John-Baptiste, senior vice president of communications for the Haslam Sports Group and the Cleveland Browns, did not respond to a e-mail from NEOtrans seeking confirmation and comment on the talks with the city.
A real estate source suggested three potential suburban sites might be on the Haslams' radar if talks with Cleveland break down. A mostly vacant, 100-plus-acre site with as few different owners as possible, that's close to an Interstate highway interchange or two and accessible to public transit would be preferred for the National Football League venue, he said. The three sites could be:
Independence — 157 acres owned by the cities of Independence, Brooklyn Heights and several private owners north of Rockside Road between Lombardo Center and West Creek Road;
Highland Hills — 330 acres of the Highland Hills Golf Course owned by the City of Cleveland between Harvard Road, Chagrin Boulevard, Northfield Road and South Green Road;
Brook Park — 175 acres owned by a three-company joint venture called DROF BP I LLC ("Ford" backwards, "BP" for Brook Park) which was the Ford Motor Co.'s engine and casting plants at Snow and Engle roads.
The team source declined to identify what points in the negotiations with the city were causing the reported disagreement. But given the nature of the comments made in the press conference yesterday, it likely dealt with how much of a financial contribution from the city could be forthcoming versus contributions from the county, region and state.
Cost of renovating the 24-year-old, 67,431-seat stadium when the Browns' lease with the city ends after the 2028 season could reach nearly $1 billion, or half the cost of building a new, comparably sized, open-air stadium, according to real estate sources. Adding a fixed roof could cost upwards of $2.5 million and a retractable roof at least $3.5 billion. The team source said the Browns wanted a new stadium on the northeast side of downtown but the cost and lack of city support for it doomed the idea. Now, it seems the city wants fewer stadium improvements and/or a lower financial contribution.
"It's really complex," said Dee Haslam. "It's really hard. A lot of details. And we look forward to continuing our conversations with the city on how we develop the lakefront. We think we're an integral part of the lakefront, a really important part and we want to be a part of the process. Outside of us, the lakefront in Cleveland has to be developed. You need a vibrant city. That's a really important part of who Cleveland should be. We think the connection bridge has to happen regardless of what happens with our stadium. I think it's premature to say that (a new stadium is possible) because we're really focused on staying downtown on the lakefront. But I can't predict what's going to happen because it's really complex."
"These are big complex projects, okay?" Jimmy Haslam added. "There is going to be a public-private partnership. and getting that right is not easy. We do have experience from having done it down in Columbus. We did it quickly but that was not easy during COVID. The only thing Dee and I would say for sure is we're not leaving Northeast Ohio. That's for sure. Our preference is for us to be on the lakefront. But we've got to see how things play out. It will be fluid. There will be bumps in the road and it may be different in three months than it is now."
He complimented the team's Chief Operating Officer Dave Jenkins and Chief Administrative Officer and General Counsel Ted Tywang for their frequency of conversations with Cleveland Mayor Justin Bibb, Cuyahoga County Executive Chris Ronayne, Lieutenant Governor Jon Husted and Governor Mike DeWine. He said Jenkins and Tywang reach out to them weekly if not "almost daily."
"They're all talking to them on a regular basis," Jimmy Haslam said. "When you work through a public process, it's by nature and probably good that it's messy. It's just going to be that way. There's going to be bumps and bruises, and it's going to take some time. We have some time. The important thing is to get it right."
Dee Haslam complimented the city of Columbus in working with them on building the $313.9 million, 20,000-seat Lower.com Field, home of the Columbus Crew Major League Soccer team. Located just west of downtown Columbus, private funding amounted to $217.5 million, $20 million from the state, $25 million from a state-funded loan and $51.3 million in bonds paid for by Franklin County. The city of Columbus' contribution amounted to $63 million for developing Astor Park, a mixed-use district developed by Haslam around Lower.com Field and pledged another $50 million to turn the Crew's previous stadium site into the team's training center and a community sports park.
"I would say we are great partners in Columbus with the city, county and state and I think that's our goal here (in Cleveland), too, is how can we be great partners working with them," she said.
END