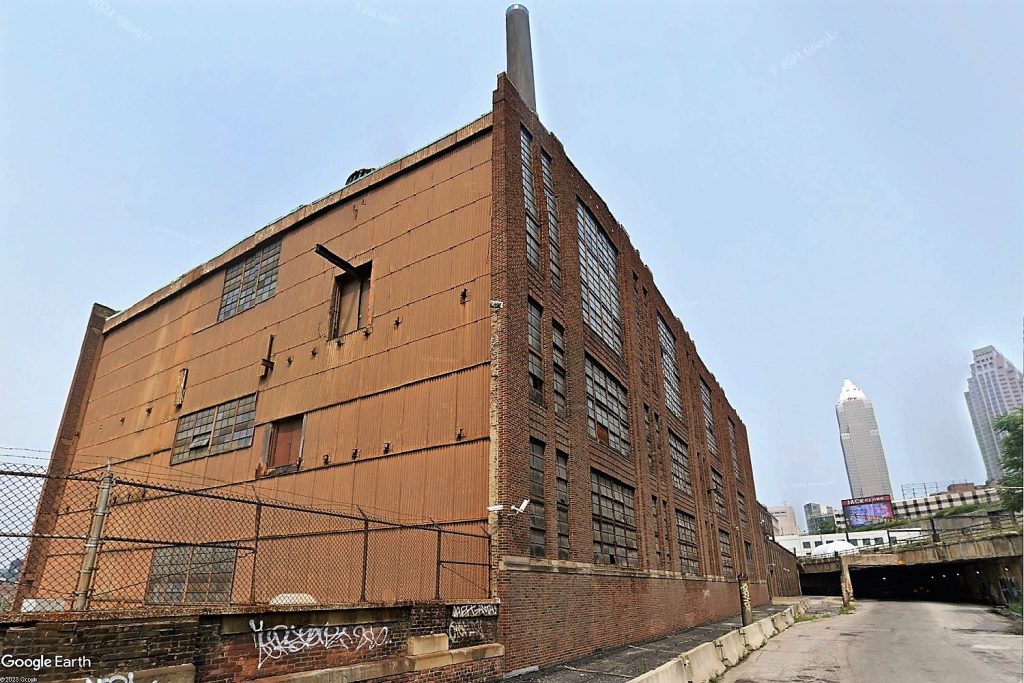 The 129-year-old coal-fired Cleveland Thermal steam heating plant on Canal Road, at right, in downtown was shut down nearly seven years ago and is next to the big Bedrock riverfront development site. It's worth watching to see what happens next to this and a couple of other sites around town (Google). CLICK IMAGES TO ENLARGE THEM.
Closed steam plant is next to Bedrock megaproject
As Dan Gilbert's real estate firm gets ready to roll out the details of phase one of its riverfront development, a neighboring fixture on the banks of the Cuyahoga River since 1894 may not be around much longer. The long-closed Cleveland Thermal steam heating plant, 2274 Canal Rd., along with possibly other properties of Cleveland Thermal Generation LLC are in the process of being acquired, according to a real estate source.
Using coal-fired boilers, Cleveland Thermal provided steam heat for more than 100 downtown buildings for more than a century. But as concerns over carbon emissions from the burning of coal grew, the plant near a hairpin turn in the river called Collision Bend was shut down in December 2016 in favor of Cleveland Thermal's modernized plant at 1921 Hamilton Ave. that also provides chilled water to downtown customers. The Hamilton plant was upgraded with boilers that burned cleaner natural gas. Cleveland Thermal was acquired by Canadian energy company Corix in 2015.
But its assets are going through a due-diligence phase after a purchase agreement or letter of intent was offered for the company and its assets, a source with inside knowledge of the deal told NEOtrans. The sale has not yet closed. Furthermore, the source said the unknown buyer is trying to purchase Cleveland Thermal for cash. It is not part of a refinancing as the company took out a mortgage when interest rates were lower in 2016 on its Cleveland assets to provide a $65 million line of credit. It is the only active debt on its books, the source said.
In addition to the Canal Road and Hamilton Avenue plants, another property that's reportedly part of the deal is a 3-acre vacant lot Cleveland Thermal acquired last year at 1160 E. 26th St., near Cleveland's lakefront, for $915,000, according to county records. That site, plus its two heating plants were appraised by the county at about $8 million for tax purposes.
An e-mail sent to a spokesperson for Cleveland Thermal was not answered prior to publication of this article as to whether they are selling the company or individual properties belonging to the company and to whom they may be in the process of selling.
It would take someone with deep pockets to acquire those properties for cash. And the prize property is the Canal Road plant that's located next to a development hot zone. The plant is closed, rusting away and an eyesore — not something that's befitting the $3.5 billion vision Gilbert and his Detroit-based Bedrock Real Estate have for the neighboring riverfront below Tower City Center. Demolishing the Canal Road plant would require significant clean-up costs, but it would allow Bedrock to start anew here.
Chante Jones, associate vice president of communications at Falls & Co. in Cleveland which handles media relations for Bedrock locally, opened an e-mail from NEOtrans seeking comment on whether Bedrock is the suitor of Cleveland Thermal or parts thereof but otherwise didn't respond to it as yet.
Bedrock's first phase of its riverfront megaproject is planned immediately west of the Canal Road plant with work to begin soon on rehabilitating riverfront bulkheads along and below a parking lot owned by Gilbert's Rock Ohio Caesars Cleveland LLC that's next to the decaying Cleveland Thermal plant. Bedrock and the city are in the process of updating a Master Development Agreement for the riverfront to specify what infrastructure improvements and development of public spaces is to be done and by whom.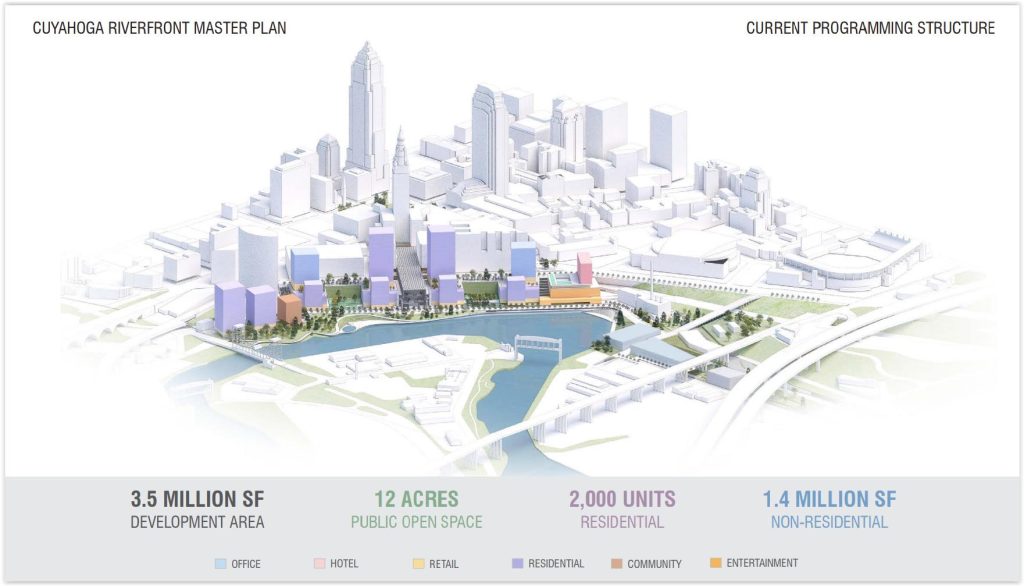 Bedrock Real Estate's development masterplan for the riverfront is large and ambitious. But it will be tackled in phases, starting with the proposed group of buildings on the right side above Collision Bend in the Cuyahoga River. To the immediate right of those buildings is the closed and decaying Cleveland Thermal coal-fired plant (Adjaye Associates).
Bedrock has made some high-profile real estate acquisitions in downtown Cleveland, especially along the riverfront, in recent months. In July, Bedrock paid $48.5 million for Sherwin-Williams' global headquarters at 101 W. Prospect Ave. and its Breen Technology Center at 601 Canal Rd. which also included the historic Baltimore & Ohio Railroad station. Sherwin-Williams' headquarters will move into a new skyscraper west of Public Square in 2024 and its research activities are being consolidated in suburban Brecksville.
Also on the riverfront, a Gilbert affiliate last month acquired a 2-acre site at 1900-1960 W. 3rd St. for $2.8 million from local real estate company Flats South Cleveland led by partner Joel Scheer, county records show. And last winter, Bedrock bought 3 acres of mostly parking lots in downtown's Gateway District from Stark Enterprises for $26.5 million. Real estate sources suspect Bedrock will construct a "ballpark village" entertainment complex on the site where Stark tried for nearly a decade to build skyscrapers.
As part of Bedrock's riverfront development, Canal Road is to be rerouted to the river side of the Cleveland Thermal plant. The old road will be converted for use as access for service vehicles to buildings in Bedrock's first phase — reportedly a new Cleveland Cavaliers practice facility, a Cleveland Clinic sports medicine office, a mid-rise hotel, a high-rise office building possibly for Rocket Mortgage and riverfront residential. A source close to Bedrock said plans for the first phase will be revealed publicly in the coming weeks.
Existing Canal Road ducks under a section of the Greater Cleveland Regional Transit Authority (GCRTA) combined Red, Blue and Green rail lines entering Tower City Station from the East side. Like the Cleveland Thermal plant, the GCRTA concrete and steel bridge is in disrepair and an eyesore. But unlike the steam heating plant, the 93-year-old bridge is scheduled for an $8 million rehabilitation in 2025-26, according to the Northeast Ohio Areawide Coordinating Agency's Transportation Improvement Program that was updated in April.
The GCRTA overpass of Canal was built as part of the Cleveland Union Terminal development to accommodate intercity passenger trains and urban rapid transit trains in and out of the city's main station that was converted into Tower City Center in the late 1980s. The overpass was squeezed past the Cleveland Thermal plant, which stands only inches away. Thus if the plant is going to be demolished as a result of the pending purchase, demolition crews will have to take special care to not damage the bridge.
END