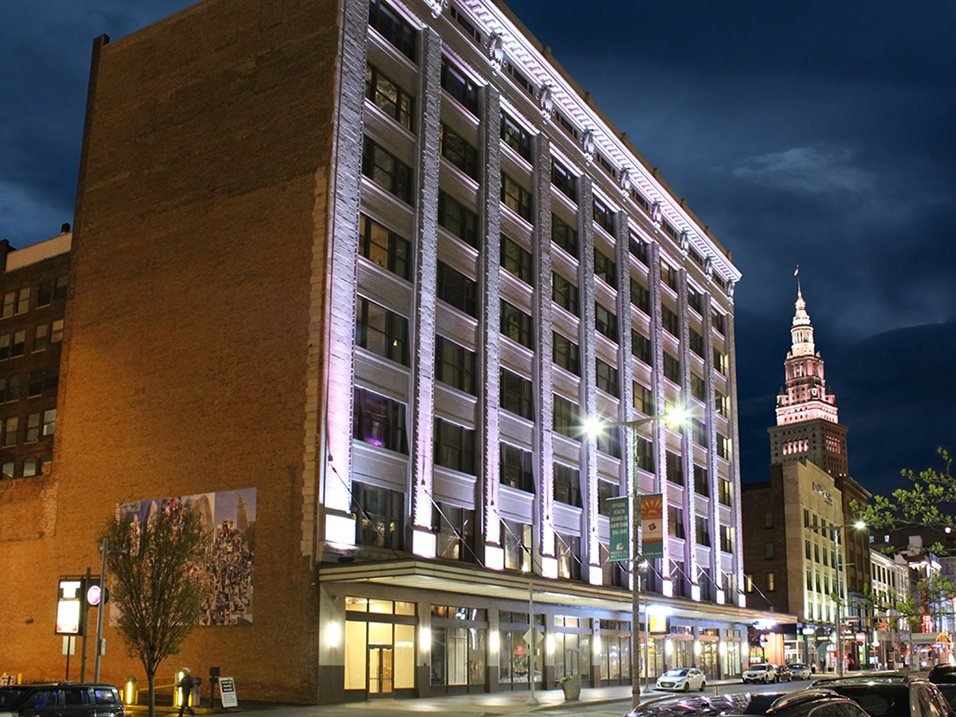 Starting next year, the new home of Downtown Cleveland Inc., formerly the Downtown Cleveland Alliance, will be 668 Euclid Ave., just a short walk from its current home at 1010 Euclid Ave. The move is touted by the nonprofit development corporation as putting it more in the center of the action downtown and will help it reduce operating costs (Yelp). CLICK IMAGES TO ENLARGE THEM.
Nonprofit organization moving west on Euclid Avenue
In written statement to the media and others, Downtown Cleveland, Inc. today announced board approval of its move to a new office location next year. The decision comes after careful consideration of the organization's operational needs and strategic goals, with the aim of bolstering visibility, enhancing accessibility for stakeholders and the community, and reinforcing its refreshed brand identity.
Downtown Cleveland, Inc.'s lease at 1010 Euclid Ave. is set to conclude in May of 2024. In its written statement, representatives of the former Downtown Cleveland Alliance say its new space, located at 668 Euclid Ave., is in close proximity to City Hall, Playhouse Square, and Public Square and offers a shorter walk to the Warehouse District and Flats, vibrant areas Downtown Cleveland, Inc. staff maintain and activate throughout the year.
"We've had a wonderful experience at our current location for the last 10 years," said Downtown Cleveland, Inc. President and CEO Michael Deemer. "This move is not merely about a change of address. It is about us redefining our presence and approach to serving downtown's communities and neighborhoods. It is a clear statement that we are evolving and our commitment to the core is stronger than ever."
The new office provides the open floor plan needed to modernize workstations and will include a conference center, allowing Downtown Cleveland, Inc. to reduce operational costs and host its board meetings, committee meetings, and other events onsite. The facility boasts an abundance of natural light and space to serve as a hub for collaboration and engagement with stakeholders, as the organization leads efforts to revitalize downtown's environment, economy and experience.
"This is a pivotal time for downtown and our work as a convener and champion for its future," noted Karen Fanger, board chair of Downtown Cleveland, Inc. and who also is president and chief operating officer of K&D Group. "Our organization is better positioned than ever to meet the moment."
To further emphasize openness, accessibility and availability to the public, some of Downtown Cleveland Inc.'s staff of Downtown Ambassadors will be stationed at the front of the office and visible from the street, creating a safe, welcoming, and inviting atmosphere for all. The relocation also represents a positive step in breathing life into a long-vacant storefront prominently situated on Euclid Avenue. The Ambassadors are a staff of 100 uniformed, unarmed people working to help make downtown clean and safe.
"We would like to thank (real estate broker) JLL for leading our board committee through a comprehensive search to help us identify our new home," stated Tom Coyne, Downtown Cleveland Improvement Corporation board chair. He is also Real Estate Practice Group leader at law firm Thompson Hine.
"It is great to see this organization have a high-profile home in the middle of the city for which it has created special events and unique experiences for all residents, visitors and businesses to enjoy year-round," emphasized Rob Falls, Downtown Cleveland Alliance Board chair and chairman & CEO at marketing firm Falls & Co. "There will be so much more to come in building a livelier and more walkable downtown."
Earlier this summer, Mayor Justin Bibb, with support from Downtown Cleveland, Inc. and other community leaders, announced Reimagining Downtown Cleveland, a framework for completing Downtown's transformation from a traditional 9-to-5 central business district to a vibrant, mixed-use 18-hour, 15-minute city center and neighborhood.
"We envision Downtown Cleveland as a welcoming city center that weaves districts and surrounding neighborhoods into a seamless urban fabric, attracts modern economic activity, and provides a world-class experience for people of all backgrounds," Deemer added.
END