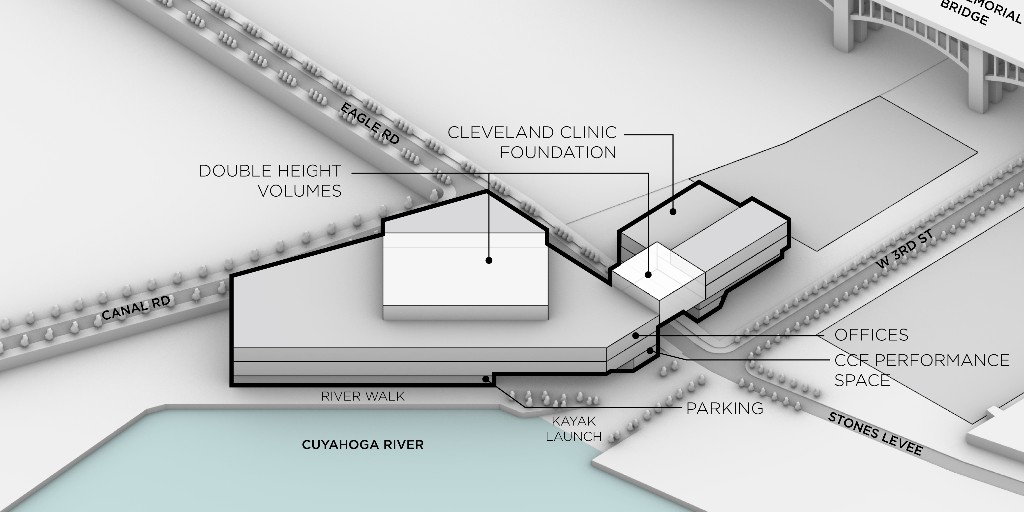 This basic rendering, called a massing to demonstrate the scale of new buildings rather than the design of them, shows the location of the conceptual Cleveland Clinic Global Peak Performance Center. It also shows at upper left a restored Eagle Avenue ramp to Ontario Street as well as a relocated Canal Road at lower left (Populous). CLICK IMAGES TO ENLARGE THEM.
News confirms NEOtrans reports from June
In a formal announcement made today, the Cleveland Cavaliers, the Cleveland Clinic and Bedrock Real Estate officially unveiled a partnership for and conceptual plans of the Cleveland Clinic Global Peak Performance Center – a first-of-its-kind sports performance center and training facility. Proposed plans include the development of an interdisciplinary training center which would be located on the Cuyahoga River's waterfront in downtown Cleveland. The center would be the only Cleveland Clinic-backed professional facility to be open to the public.
NEOtrans first reported in June that the Cleveland Cavaliers, owned by billionaire Dan Gilbert, were planning to bring their basketball team's practice facility back downtown for the first time in 16 years. Located at the Cavaliers Cleveland Clinic Courts, 6101 Brecksville Rd., in suburban Independence since 2007, the 50,000-square-foot practice facility with a 19,330-square-foot underground parking garage is set on 32 acres of wooded, city-owned land. Two weeks later, NEOtrans also learned and reported that the Cleveland Clinic was joining forces with the Cavs in their new riverfront facility by including sports health-related medical services to be developed by Bedrock, also owned by Gilbert.
The Cavs moved their HQ and practices to suburban Independence in part to appease basketball superstar LeBron James who was still in his first stint with the Cavs. James lived in the Akron suburb of Bath, farther south down Interstate 77. The suburban practice facility was a shorter drive from James' home than downtown Cleveland. After the facility relocation was announced in 2006, James signed a three-year, $60 million contract extension with the Cavs. But at the end of that deal, he took his talents to Miami before returning to Cleveland in 2015.
The formal riverfront location of the site had changed to one that's next to Eagle Avenue at West 3rd Street. That will ultimately require the restoration of the Eagle Avenue ramp up to Ontario Street and Rocket Mortgage FieldHouse where the Cavs play home games. Other infrastructure projects that are integral to this portion of the riverfront development include the relocation of Canal Road to the river side of nearby unused railroad tracks, the demolition of the Eagle Avenue lift bridge, and the reconstruction of bulkheads around the river's hairpin turn, called Collision Bend. However, the fate of the closed Cleveland Thermal steam heating plant on Canal remains unresolved.
More is coming. Just around the river bend, additional facilities in Bedrock's first phase could soon be announced. Two sources who spoke on the condition of anonymity said the plans may include a roughly 20-story office tower with Rocket Mortgage as the anchor tenant, a five-star national chain hotel and a mid-rise apartment or condominium building. More details about the first phase of the riverfront project are reportedly going to be announced soon.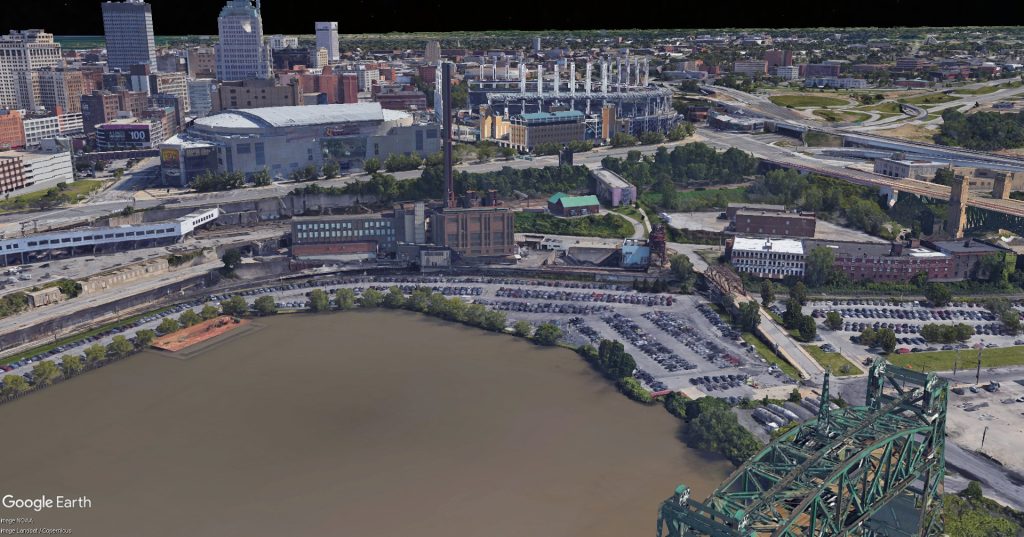 The riverside parking lot near the center-right of this image is the proposed location for the new Cleveland Cavaliers-Cleveland Clinic Global Peak Performance Center. Major investments to nearby infrastructure are planned including new riverfront bulkheads, restoration of the Eagle Avenue ramp to Ontario Street and the Rocket Mortgage FieldHouse, demolition of the Eagle Avenue lift bridge and relocation of Canal Road nearer to the Cuyahoga River (Google).
"This past December, Bedrock unveiled its visionary and ambitious Cuyahoga Riverfront Master Plan that will transform Cleveland's riverfront into one of the world's premier waterfronts," said Dan Gilbert, Cleveland Cavaliers governor and Bedrock chairman, in a written statement. "With today's announcement, we are taking the first step in realizing that vision by joining forces with Cleveland Clinic to design an innovative Cleveland Clinic Global Peak Performance Center right in Downtown Cleveland. This center will not only serve our team on and off the court, but it will create an opportunity for the everyday athlete to receive state-of-the-art care in Northeast Ohio."
Designed by Populous, a global design firm based in Kansas City and experienced in designing sports facilities, the proposed development will anchor Bedrock's Cuyahoga Riverfront Master Plan and further solidify downtown Cleveland's position as a global medical destination. The center aims to be a top-notch landing place for athletes from numerous sports. Through a revolutionary approach, the center plans to offer personalized expertise in training, treatment, nutrition, and recovery from Cleveland Clinic's professional medical specialists.
"Our vision for the Cleveland Clinic Global Peak Performance Center is to serve as more than just a practice or training facility. By creating a sustainable hub of resources to serve our players, we have an opportunity to retain and attract the league's top talent, strengthen the life-span of their careers, and help them reach their highest potential. These plans represent a substantial investment in the Cleveland Cavaliers' Championship Culture." said Koby Altman, president of Basketball Operations for the Cleveland Cavaliers.
The Cuyahoga Riverfront Master Plan involves a long-term public-private partnership between Detroit-based Bedrock and the city of Cleveland, which is an important part of the city's infrastructure that focuses on sustainability and resiliency. This bold plan features a vibrant riverfront neighborhood with core-to-shore connectivity, new residential and commercial space, enhanced pathways to the riverfront, and transit-oriented development.
This site plan for phase one of Bedrock's riverfront development originally showed parking garages in the vicinity of of Eagle Avenue and West 3rd Street, south of Collision Bend in the Cuyahoga River. However those have since been replaced by the proposed Cleveland Clinic Global Peak Performance Center (Adjaye Associates).
"Cleveland Clinic is proud to partner with Bedrock and the Cleveland Cavaliers to announce our intention to move forward with this monumental plan that will greatly impact the health and well-being of our region for generations to come," said Cleveland Clinic CEO and President Tom Mihaljevic. "Our sports medicine teams are known around the world for treating and taking care of athletes of all abilities and ages; it would be an honor to grow this program in our hometown of Cleveland with two great partners as we engage in the revitalization of downtown."
Cleveland Clinic also has Adult Rehabilitation & Sports Therapy programs as part of larger Clinic facilities offering additional services in Beachwood, Willoughby and Middleburg Heights. It isn't clear yet what impact this proposed new presence downtown will have on those locations. When asked about what impact the new downtown sports health services facility will have on them, Angela Smith, senior director corporate communications at the Clinic, told NEOtrans that today's announcement "is all the information we have at this time."
"After over 30 years of partnership with Cleveland Clinic, the proposal for the Peak Performance Center represents the most ambitious project our organizations have ever contemplated. We have an opportunity to create an exciting project together that will impact our region for years to come," said Nic Barlage, Cleveland Cavaliers, Rock Entertainment Group, and Rocket Mortgage FieldHouse CEO.
END