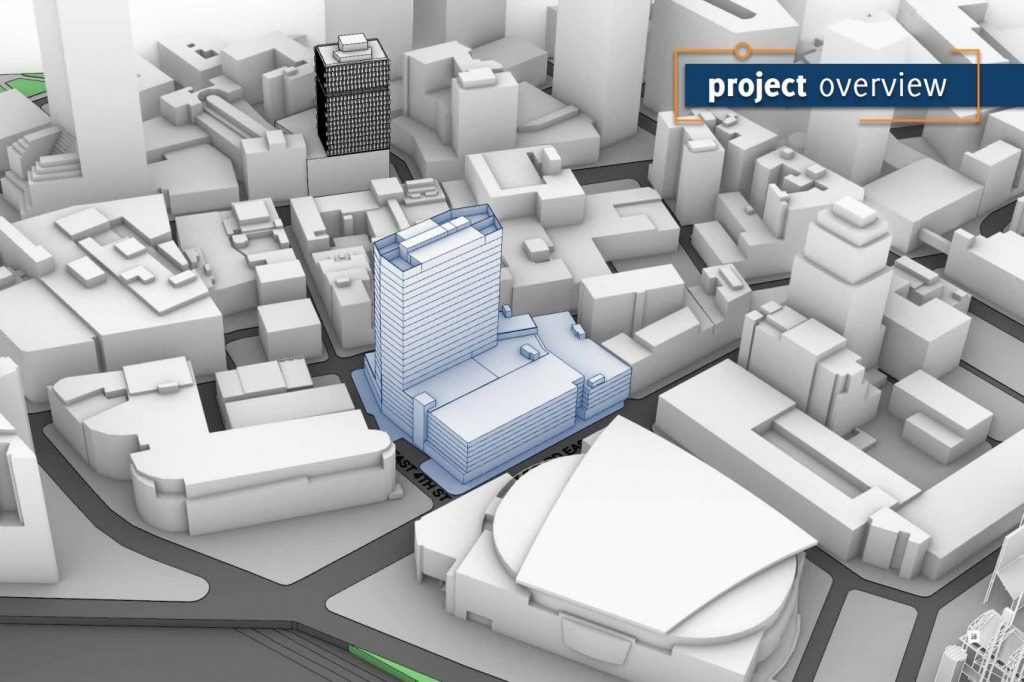 Last year, Stark Enterprises was ready to build this scaled-down version of nuCLEus featuring a 24-story office tower above a pedestal of retail and parking. But a Stark representative blamed the pandemic and difficulties competing with Steelyard Commons in attracting retail to downtown Cleveland (Stark). CLICK IMAGES TO ENLARGE THEM
A Stark Enterprises executive has confirmed the firm's dramatic and ambitious nuCLEus development planned for downtown Cleveland is on hold.
The project was originally proposed in 2014 as a multi-structure, 2-million-square-foot, mixed-use development marked by a 54-story tower. Since, nuCLEus was shrunk twice to a single 24-story office tower atop a pedestal of parking and retail as Stark searched for a public subsidy to overcome Cleveland's high construction costs and low rents.
"It's in a holding pattern," said Ezra Stark, chief operating officer of Cleveland-based Stark Enterprises during Crain's real estate forum recorded Sept. 27 but broadcast online today. "We were shovel-ready at one point."
The question about nuCLEus was posed by moderator and Crain's Cleveland Business reporter Michelle Jarboe five days after NEOtrans broke the news that nuCLEus was likely losing its largest pledged tenant for nuCLEus. Law firm Benesch, Friedlander, Coplan & Aronoff LLP is reportedly expanding its offices and hundreds of employees to Cleveland's tallest and most prestigious skyscraper — Key Tower, 127 Public Square. The firm has outgrown the four floors and about 120,000 square feet it occupies at the 45-story 200 Public Square.
The next day, NEOtrans reported information from sources who said Stark wasn't even going to submit an application for the new Transformational Mixed Use Development (TMUD) tax credit, a public subsidy that was Stark's brainchild to close an equity gap in nuCLEus' financing. It took several years of efforts to get the TMUD legislation through the Ohio General Assembly before it was finally passed at the end of last year.
In the days leading up to the pandemic-induced economic shutdown last year, there were signs from Stark representatives that they were indeed ready to announce a groundbreaking for a scaled-down version of nuCLEus. In early March 2020, Ezra Stark told NEOtrans to "touch base next week to discuss" rumors about an official groundbreaking announcement.
In 2014, through a joint venture, Stark Enterprises and J-Dek Investments Ltd. bought from Los Angeles-based L&R Properties multiple downtown assets with most bounded by Huron Road, Prospect Avenue and East 4th Street just north of then-Quicken Loans Arena, now Rocket Mortgage Fieldhouse.
Those Gateway District properties included two parking lots, a parking garage and the Herold Building, 310 Prospect. Stark also acquired a large parking lot southeast of the intersection of St. Clair Avenue and West 9th Street in the Warehouse District. Total purchase price for all of the properties was $26 million, county records show.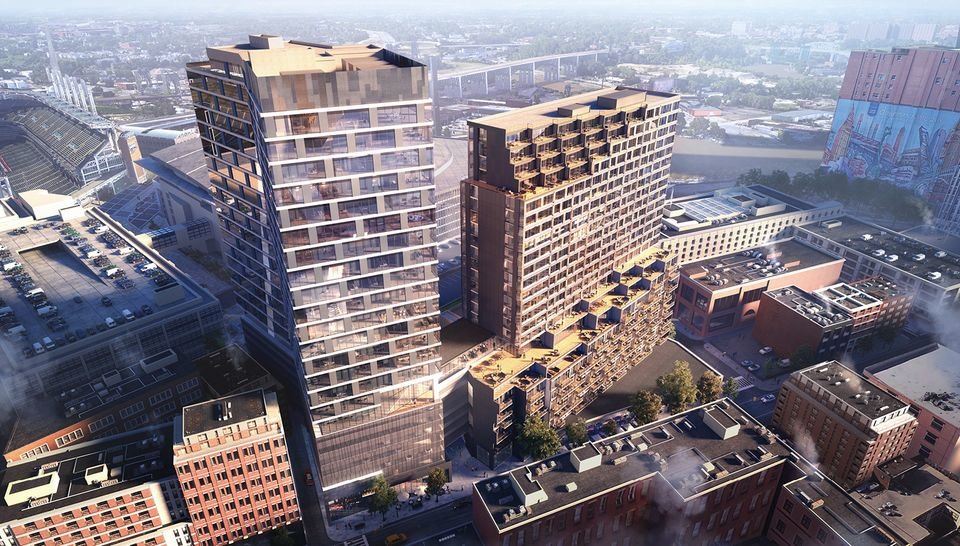 This was the second iteration of nuCLEus which featured two 23-story towers — one for offices and the other for apartments. As with each scale-down of the project, the two towers in this 2019 image were to be built over a 1,300- to 1,500-space parking deck and tens of thousands of square feet of retail (Stark).
In the Crain's forum, Stark said they tried to attract more retailers to nuCLEus but that they would duplicate the already successful Steelyard Commons which he described as the location where downtown residents go to shop. Stark criticized the mayoral administration of Jane Campbell in the 2000s for supporting Steelyard Commons which he said attracted downtown-catering retailers.
That sentiment was echoed by developer Scott Wolstein who was also a Crain's forum participant. He was joined by another forum participant, Ivy Greaner, chief operating officer and executive vice president at Bedrock Detroit, who said downtown Cleveland needs tens if not hundreds of thousands more residents living in and near downtown as well as 50,000 to 100,000 workers to justify new retailers downtown in addition to those already at Steelyard.
"I think 50,000 (downtown residents) is achievable," said Wolstein. "I think we'll see that sooner than we think. The problem is it's more expensive to build in Cleveland than Chicago. The main reason is there's less competition among construction contractors."
Both Stark and Greaner said that providing experiences such as concerts and shows for residents and visitors is a realistic near-term objective to attract more retailers. That's what Bedrock is starting to do at Tower City Center by holding more concerts, boxing matches and side-events relating to the upcoming Rock and Roll Hall of Fame induction ceremonies and the National Basketball Association All-Star Game, Greaner said.
"The only way to get over the hump and get a fraction of what they're doing in Detroit is to have a catalyst," Stark said, "There's a necessity for public-private partnerships. Our population is not big enough."
END