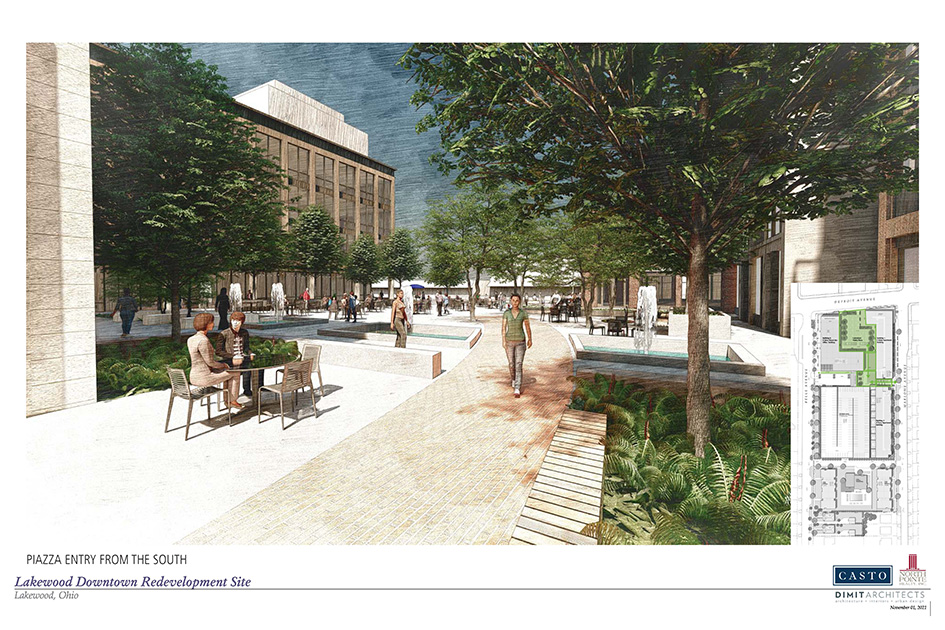 This plaza at the north end of the proposed downtown Lakewood development and a filling in of "the pit" retention basin will probably have to wait a while until lending and equity markets improve enough for developers to pursue the larger, more expensive portions of the project. Instead, two 34-unit apartment buildings at the south end of the development may be pursued first (Dimit). CLICK IMAGES TO ENLARGE THEM.
Financial markets won't let project happen all at once
Over the 60-90 days, the city and its development team will explore the feasibility of breaking up into more achievable pieces or phases the ambitious, $100-million-plus-dollar vision to redevelop the former Lakewood Hospital site in Downtown Lakewood. But city officials and the development team they chose said the basic, long-term vision for the site will remain largely unchanged from what city review boards have approved thus far.
Mayor Meghan George's administration and developers of the downtown redevelopment project informed City Council earlier this week they are being forced to consider building the project in phases. The reason is due to a nationwide tightening of lending, with capital being limited to smaller construction projects. And the financing is coming only from smaller banks and equity firms after large banks have mostly stepped away from supporting new real estate endeavors.
Because of the need to build utilities, stormwater retention and parking, along with a desire not to build something expensive that has ripped out later to add planned buildings, it is likely that Downtown Lakewood developers CASTO of Columbus and North Pointe Realty of Mayfield Heights will pursue a sequence of achievable components. That means they may have to start construction at the south end of the 6-acre city-owned property that was home to Lakewood Hospital until it closed in 2016. The site is bounded by Detroit, Belle and Marlowe avenues.
The first phase of the project could involve constructing two 34-unit, garden-style apartment buildings in between which would be a swimming pool and residential amenity building with a community room, fitness center and changing rooms for the pool. Immediately south of the apartment buildings, on Belle, the construction of a half-dozen for-sale townhouses would be put on hold so that a temporary surface parking lot could be built for the apartments. A second temporary surface parking lot for those apartments would be built where a four-story, 76-unit apartment is envisioned along Marlowe.
A proposed 540-space, five-level parking garage costing upwards of $15 million is too expensive to pursue right now, city Planning and Development Director Shawn Leininger told a City Council Committee of the Whole meeting Sept. 18. It is proposed to be built over "The Pit" — a derisive name for the stormwater retention basin in the middle of the site. But he said The Pit could be "dressed up" a bit to improve its appearance in the short term, until the financial markets improve which he hoped would happen in a year or so.
"Where we are right now is not where we were 30 days ago, is not where we were two weeks ago," Leininger said. "There's a lot of headwinds in the (lending) marketplace beyond Lakewood. It's a national issue. CASTO and North Pointe Realty reached out to the city and asked for 90 or so days to go and assess and analyze the market. What we have learned … is that the multifamily market continues to be strong in the region. With that, we anticipate that it would be strong here in Lakewood. Things are getting more challenging to get financing, to get equity to invest in the projects. But it's not impossible. We just have to think more creatively about the project and how we can advance it."
"The biggest thing has been the debt and equity markets particularly for large projects," said Brent Sobczak. president of CASTO Communities. "We just put a project on hold this week on a similar size and scale project in Columbus. The lending pool is shrinking fast so financing is a real challenge especially when you get over a $50 million loan request which this (Lakewood project) would fit into. So given where we're seeing that market go and what we're hearing from our lenders, and we think it will get worse before it gets better, we feel like at least in the interim, the path forward is a phasing or sequencing plan so we can potentially start with a smaller project in terms of dollar size out of the gate."
This was council's first update on the project since early June, shortly after the development plan had to be modified from including an office building at the southeast corner of Detroit and Belle. That change was prompted by Roundstone Insurance withdrawing its headquarters and 240 employees from the project and, ultimately, from its existing location, 15422 Detroit Ave. in Lakewood, for a new building and property it could own on Lake Road in Rocky River. The weakening of the office market meant there are few other potential tenants or lenders willing to finance the office building.
Downtown Lakewood's simplified aerial graphic, called a massing to show the scale of proposed structures rather than the designs of them, is viewed from the northeast corner of the site, above the intersection of Detroit and Marlowe avenues and the two-story Curtis Block. The only major change to this plan is that Building A would grow from four stories to five, be residential-over-retail rather than all commercial, and the overall development could be built in phases starting with the garden apartments instead of all at once (Dimit).
That four-story office-over-retail building, called Building A, would instead be pursued as a five-story building with 80-90 apartments over expanded retail/commercial ground-floor spaces. The number of residential units in the Downtown Lakewood development would grow to 314 with 20 percent reserved as affordable. It is the only significant change in the overall vision for the site since the city approved conceptual-level plans. However, the site plan and renderings will be updated by the development team's designers Dimit Architects LLC of Lakewood and resubmitted for schematic and final reviews by the city.
Sobczak said that, given how fast the financial markets are changing, they would need to get through the city approvals process within 30-60 days to get shovels in the ground. Whether that then turns into two phases or three phases will be subject to the market at that time. Sobczak said there's even the possibility that, by the time they get through the city approvals process, the financial markets could improve enough to move forward with the Downtown Lakewood project all at once.
"From my perspective, it's unfortunate that we even have to consider a phased approach but it's also at least a nod towards progress that we're able to start anything at all," said City Council President John Litten, representing Ward 3. "I was coming into this meeting a little worried that this would not be on the table to get things moving more quickly."
CASTO and North Pointe Partners also reassessed the project's estimated construction costs. Because of higher interest rates, projected costs rose from $100 million to $120 million, Leininger said. The city's incentives, including tax abatement and tax-increment financing, it offered for the project have prevailing wage requirements. So the city and the developers worked with the Cleveland Building and Construction Trades Council to get "some flexibility" on the requirements. Because of that deal, Sobczak said "we were able to mitigate a lot of that (cost) increase."
City Council Vice-President and At-Large Councilwoman Sarah Kepple expressed concern over what any delay would mean for the historic, decaying Curtis Block at Detroit and Marlowe. The façade of that 98-year-old building is proposed to be restored and incorporated into Building 1, a five-story apartment building that may be held off for a later phase. Leininger said the city has made repairs to the building's roof to keep the interior dry and allow it to endure Northeast Ohio's freeze-thaw cycles. Three years ago, the city parted ways with the first developer it had chosen to develop the site in a story originally broken by NEOtrans.
END