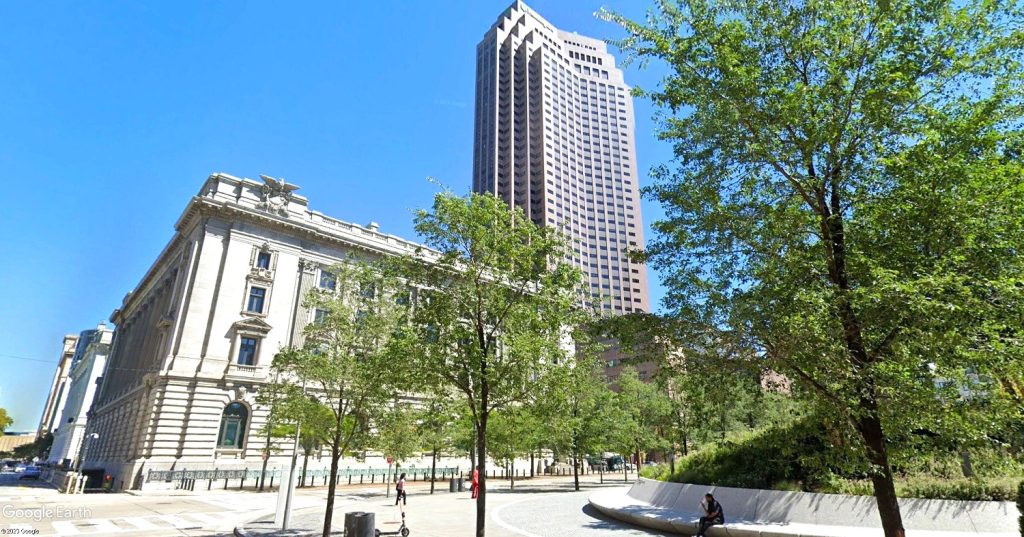 The lofty 200 Public Square is Cleveland's third-tallest tower at 658 feet and will remain so after Sherwin-Williams' new 616-foot headquarters tops out on the other side of downtown Cleveland's Public Square. Cleveland-Cliffs' headquarters is in 200 Public Square but may be on the move in the coming years (Google). CLICK IMAGES TO ENLARGE THEM.
Cliffs current HQ lacks Gonçalves' 'panache'
ARTICLE UPDATED SEPT. 27, 2023
Something is happening inside 200 Public Square that isn't happening at many other downtown Cleveland office towers — a major tenant is gobbling up more office space. The tenant, Cleveland-Cliffs Inc., is adding hundreds of office workers to the building, a number that could reach 2,000 employees in the next few years if it is able to acquire Pittsburgh-based rival US Steel. If that happens, two sources who are close to Cliffs' executives say Cliffs will reconsider 200 Public Square as its headquarters of what would become the nation's largest steelmaker.
Those two sources confirm that Cliffs executives are already considering what would happen if they are successful in acquiring US Steel. They are already bringing to 200 Public Square, also called the Huntington Building, employees from their most recent acquisitions — ArcelorMittal USA (AMUS), AK Steel and Ferrous Processing and Trading Company (FPT). The Huntington Building is owned by a joint venture led by DRA Advisors of New York City and has listed it for sale by CBRE's Chicago-based capital markets group.
While there is room to move US Steel's roughly 800 HQ employees from Pittsburgh to 200 Public Square after the departure of law firm Benesch to trophy-class Key Tower, an expanded Cliffs would leave for the same reason Benesch left. The Huntington Building lacks the "panache" that Cliffs' empire-building CEO Lourenço Gonçalves would demand from America's largest steelmaker and one of the 10 largest such firms in the world, said one of the two sources. CBRE advertises 200 Public Square as a trophy-class building, but it's not. It wouldn't even be a Class A building in New York or Chicago. But it is one here. It's not what Gonçalves apparently wants for his growing empire's HQ, the sources said.
And both say they are aware that Cliffs would consider either a new tower downtown or a campus in the suburbs that could also bring along offices of some of its largest suppliers and business-servicing firms, namely those in legal and accounting. Cliffs had done an HQ assessment shortly after they acquired AMUS and AK but the pandemic and temporary remote working put any HQ talk on hold.
As a result of recent acquisitions, Cliffs staffing and leased space at the 45-story skyscraper is already on the rise. In 2020, Cliffs acquired AMUS for $3 billion and recently moved several hundred employees from AMUS's regional headquarters in suburban Richfield to downtown Cleveland. The Richfield office has since closed and was sold by Cliffs. AMUS's HQ in downtown Chicago is now been reduced to a regional office for Cliffs. Luxembourg-based ArcelorMittal international moved its North American HQ from Chicago to suburban Schererville.
That same year, Cliffs also acquired AK Steel for $3.3 billion, based in the Cincinnati suburb of West Chester. AK's headquarters staff weren't moved to Cleveland right away due to the pandemic and, at the time, a lack of vacant, contiguous office space in 200 Public Square to accommodate them. But the two sources both say that's now starting to change, with the West Chester building officially becoming a regional office. Hundreds more employees are about to be relocated to Cleveland, if that hasn't started already.
A year later, Cliffs acquired for $775 million FPT, the nation's top ferrous scrap processor in the United States. FPT currently processes approximately three million tons of scrap per year, approximately half of which is prime grade. Cliffs expects to grow its prime scrap presence through its existing relationships with industrial steel consumers. So far, FPT corporate offices remain in Detroit.
Patricia Persico, Cliffs' senior director of corporate communications, denied the sources' information about a potential new HQ in the future, calling it "not factual" and "made up." She did not respond to NEOtrans' questions about AK's HQ employees relocating to Cleveland, or the future of Cliffs at 200 Public Square.
Somewhere between 500 and 1,000 more employees are bound for 200 Public Square as a result of the relocations of former AMUS and AK HQ workers. That's on top of Cliffs' nearly 700 HQ employees who are already there. If US Steel is added to Gonçalves' empire, the total HQ employment of Cliffs could reach 2,000, taking into account paring of duplicative staffing.
Before 2010, when Cliffs underwent downsizing, it occupied 185,000 square feet at the 1,269,584-square-foot tower, according to one of the two sources. Before it acquired AMUS and AK, it had 110,000 square feet. Now it's heading back to and likely above its former occupancy share of downtown Cleveland's third-tallest building. It occupies all of floors 31, 33 and 34 plus part of 32. It also has most of the extra-large sixth floor in the building's podium where it has a 50,000-square-foot training/conference center. Floorplates in the tower average about 30,000 square feet. It will be adding more, especially now that Benesch has left.
Huntington Bank, whose name adorns the top of the tower, is reducing space at 200 Public Square, according to CBRE which leases the property. With Cliffs adding space, look for Cliffs to eventually take over naming rights to the tower, the two sources said. But will that be enough to satisfy Gonçalves? Not according to Cliffs executives NEOtrans' two sources spoke with. Gonçalves not only wants to be the nation's largest steelmaker and one of the top-10 steelmakers in the world. He wants the HQ to go along with it. And Gonçalves usually gets what he wants.
END