City weighs follow-on action to create TIF district
Yesterday, at its regular weekly meeting, Cleveland City Council voted to approve an updated and expanded Master Development Agreement (MDA) between Bedrock Real Estate and the city of Cleveland that serves as a guiding framework for Bedrock's planned $3.5 billion riverfront development project. As one might expect, with such a large, multi-phase development, the project and its legal and fiscal frameworks are very complex. But the new frameworks helps spell out what is expected of each party.
The MDA is aligned with the Cuyahoga Riverfront Masterplan, a comprehensive multi-year plan that reimagines and transforms 35 acres along the riverfront, including Tower City Center and the surrounding landscape with the core tenets of accessibility, equity, sustainability, and resilience. Bedrock will begin construction on initial public infrastructure improvements, including rehabilitation of the existing bulkhead, in October 2023.
"We are embarking on projects that reconnect us to our waterfronts and bring us closer to our goal of an 18-hour, 15-minute downtown that benefits all Clevelanders through people-centered development," said Mayor Justin Bibb in a written statement. "This is a great example of how public-private partnerships can accelerate the pace of change and a jumping off point for our continued collaboration with Bedrock as we design the future of the riverfront together."
The plan, in coordination with other public and private resources and efforts, anticipates more than 3.5 million square feet of commercial mixed-use development along the Cuyahoga riverfront anchored by transformational public improvements and accessibility. This includes residential — both for-sale and rental units — commercial, office, retail, entertainment and a riverwalk with more than 12 acres of public parks and open space. Many of these components may be included in the riverfront development's first phase.
"We look forward to the ongoing collaboration with the (Bibb) Administration, Cleveland City Council and stakeholders across the community to deliver a vibrant, accessible and connected riverfront neighborhood," said Kofi Bonner, chief executive officer at Bedrock. "This is a once-in-a-generation endeavor and every partner is critical to its success. We are honored to participate and partner with the city of Cleveland."
The MDA is the first to be established under the city's new community benefits package. Under the ordinance passed by Council on Sept. 24, Bedrock and the city would enter one or more community benefit agreements to maximize opportunities for minority-owned and female-owned small businesses as well as incorporate the city's sustainability and affordable housing goals into the project.
"This legislation sets the stage for myriad public infrastructure, right of way, public parks, and public space investments," said the city's Chief of Integrated Development Jeff Epstein. "Above all, these plans call for unprecedented public access to the Cuyahoga Riverfront. This work, in tandem with the North Coast Connector and lakefront master planning process, is the foundation of the mayor's sweeping Shore-to-Core-to-Shore development vision for Cleveland."
To help advance these goals, which will require substantial public infrastructure investments, the city proposes the creation of a Shore-to-Core Tax Increment Financing (TIF) Overlay District — a designated area where new taxes generated by an increase in property values contribute to a public improvement fund. In addition to the reconstruction of the riverside bulkheads, infrastructure projects associated with the riverfront development will including relocating Canal Road closer to the river, restoring the Eagle Avenue ramp between Canal and Ontario Street, construction of public spaces and more.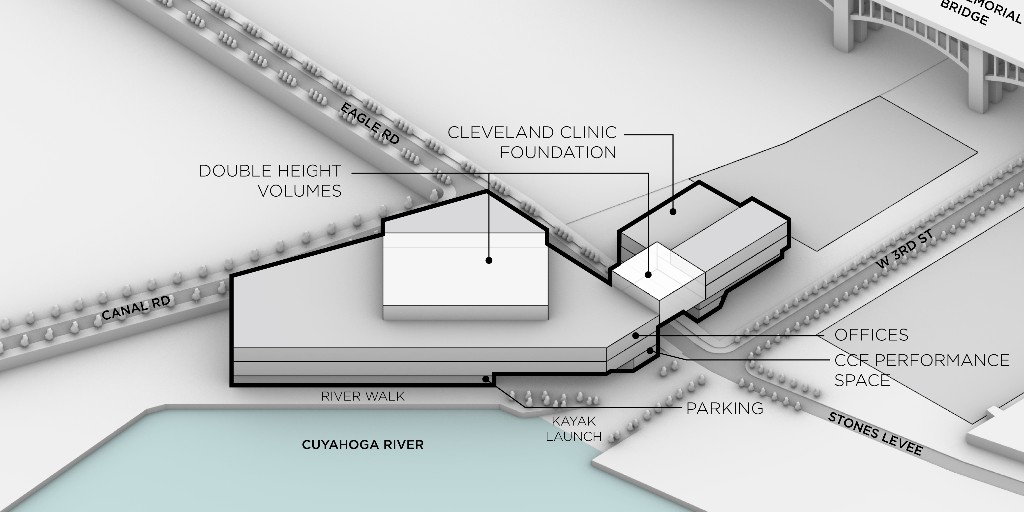 This massing demonstrates the scale and location of proposed new buildings, rather than the design of them, associated with the Cleveland Clinic Global Peak Performance Center. It also shows at upper left a restored Eagle Avenue ramp to Ontario Street as well as a relocated Canal Road at lower left (Populous).
Some of those infrastructure projects are essential for Bedrock to move forward with part of its first phase which was announced officially last week. That was the proposed Cleveland Clinic Global Peak Performance Center on the site of a parking lot next to Collision Bend on the Cuyahoga River. Additional projects may be part of the first phase, between Huron Road and Collision Bend. They could include a roughly 20-story office tower with Rocket Mortgage as the anchor tenant, a five-star national chain hotel and a mid-rise apartment or condominium building. More details about the first phase of the riverfront project are reportedly going to be announced soon.
Historically, Cleveland has used TIF districts and their revenue to fund individual projects, but this will be the first time the city is considering a TIF on such a broad scale. In addition to riverfront and lakefront infrastructure, some of the dollars generated through the TIF will be spent in neighborhoods across the city, funding upgrades to public spaces and other improvements.
Models like the Shore-to-Core TIF have been successfully utilized across Ohio and the country. Locally, cities like Columbus and Independence use similar models to create and sustain catalytic growth for their cities. Cleveland city officials are also considering additional project-specific TIFs to help fund other aspects of waterfront development and related projects.
The city is currently analyzing the potential scope and geography of the Shore-to-Core TIF District. Specifics will be included with the additional legislation required to create the district, which is anticipated later this year. The Shore-to-Core TIF District will not reduce current taxes paid to entities, like the Cleveland Metropolitan School District, that receive a share of property taxes, city officials emphasized.
END