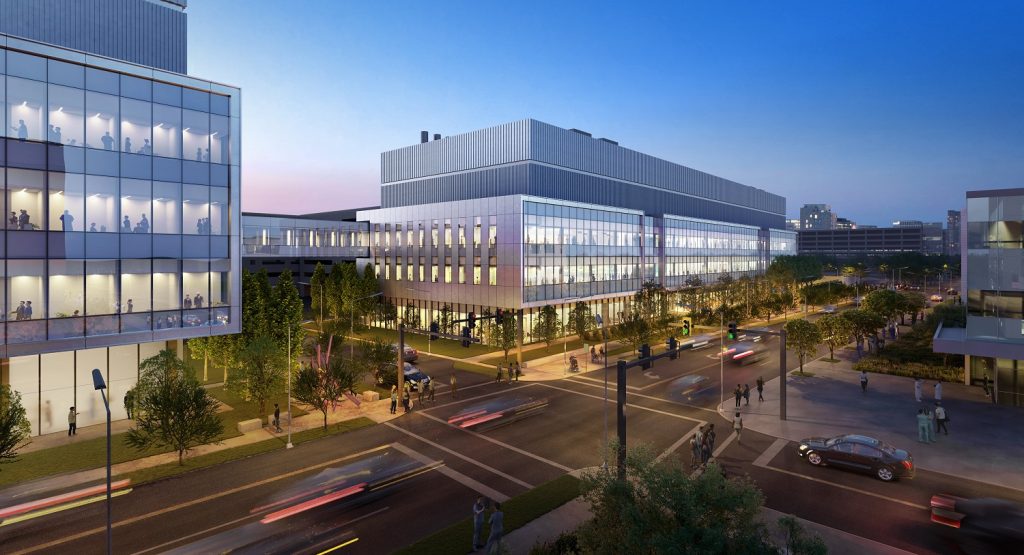 In 2025, this will be the view when looking northeast at the intersection of Cedar Avenue and East 100th Street. At far left and at the center of this rendering are the two buildings of the Sheikha Fatima bint Mubarak Global Center for Pathogen Research and Human Health, the largest research initiative in Cleveland Clinic's more than 100-year history. Their construction, a result of the Cleveland Innovation District initiative, is due to start early next year (Cleveland Clinic Foundation). CLICK IMAGES TO ENLARGE THEM.
Opens expanded Lerner Research, two new buildings starting
In the midst of a global pandemic, state, local and Cleveland Clinic officials in 2021 announced the Cleveland Innovation District to expand health care research. Today, as part of that initiative, Cleveland Clinic unveiled the first phase of its expanded research facilities and announced plans to launch major construction of two new research buildings. The state-of-the-art facilities will be dedicated to scientific investigation and will significantly increase laboratory research space on Cleveland Clinic's main campus.
Clinic officials said this week that the Cleveland Innovation District, which they described as a unique public-private initiative, is already bringing the State of Ohio and JobsOhio together with Cleveland's healthcare and higher education institutions to create jobs, accelerate research and educate the workforce of the future. They gave examples of this progress in a written statement issued today.
"These new research facilities mark a significant step in our commitment to the Cleveland Innovation District, representing the largest research investment in our history," said Cleveland Clinic CEO Tom Mihaljevic. He is also president and holder of the Morton L. Mandel CEO Chair. "Our focus on innovation not only helps to develop new treatments to improve patient care, but also contributes to the growth of our region's economy and efforts to train the workforce of tomorrow."
Opening this month is 45,000 square feet of remodeled space to house leading-edge laboratories at the Lerner Research Institute, 9620 Carnegie Ave. Several of Cleveland Clinic's fastest-growing research programs have moved to the space including the Center for Computational Life Sciences, Center for Immunotherapy and Precision Immuno-oncology that includes the Cell Therapy Program, and vaccine development. It also includes the Center for Therapeutics Discovery, which features floor-to-ceiling glass walls, providing a "Science on Display" feature with a view of scientists at work.
Cleveland Clinic is also opening a new biosafety level 3 laboratory for sophisticated pathogen research. The biosafety lab will enable researchers to expand their work to investigate infectious pathogens. The facility operates under stringent biosafety protocols set by the Centers for Disease Control and provides an important resource for scientists to safely develop diagnostics, treatments and vaccines to prevent and treat infectious diseases, according to the Clinic.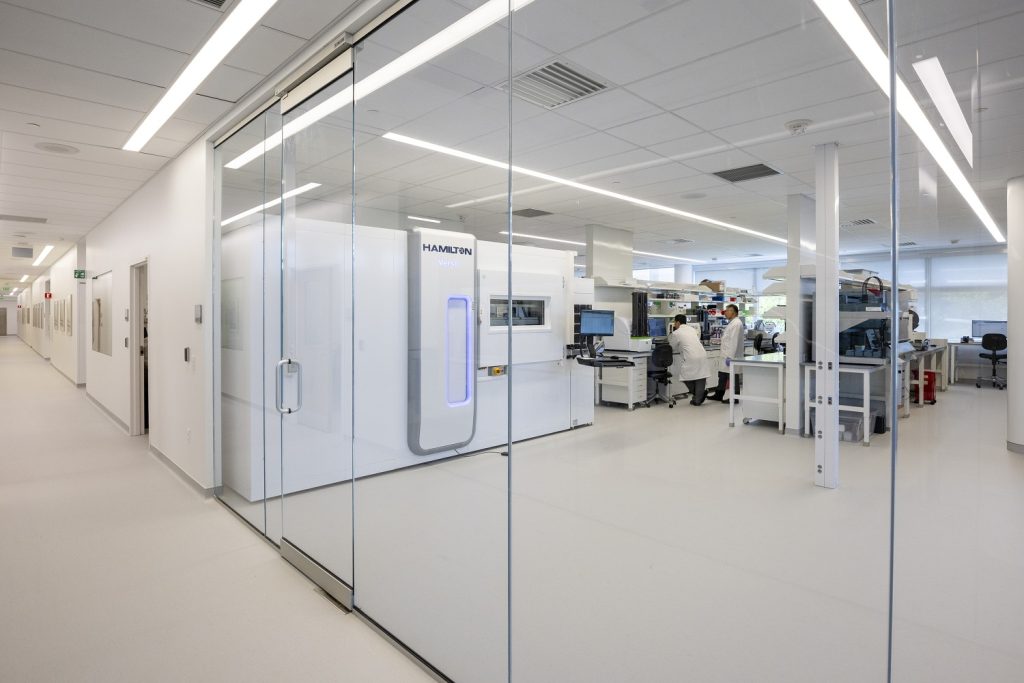 This is a "Science on Display" lab with floor-to-ceiling glass walls at the Center for Therapeutics Discover in Cleveland Clinic's Lerner Research Institute. This is one of the results of renovations to the institute resulting from the Cleveland Innovation District initiative (CCF).
Next year, Cleveland Clinic plans to begin major construction on two new research buildings, totaling approximately 296,000 square feet, at Cedar Avenue on the northwest and northeast corners of East 100th in Cleveland's Fairfax neighborhood. Featuring research laboratories, dedicated classroom space, offices and a café, the buildings will also include additional green space, landscaping and walking paths that will offer a new entrance to the southeast section of the main campus. Construction is expected to be completed in 2025, Clinic officials said.
The new buildings will be home to the Sheikha Fatima bint Mubarak Global Center for Pathogen Research and Human Health, the largest research initiative in Cleveland Clinic's more than 100-year history. Headquartered in Cleveland, the center positions Ohio at the forefront of pathogen research. The new buildings represent a roughly $420 million chunk of the $565 million Cleveland Innovation District budget, with $300 million from the Clinic and $265 million in public funds. Of the public dollars, the Ohio Development Services Agency is providing $155 million and JobsOhio $110 million.
Philanthropic funding has supported the Cleveland Innovation District, too. To date, more than $47 million has been raised from individuals, corporations and foundations. In addition, annual donor support fuels ongoing research programs at Lerner Research Institute with more than $17 million raised to date this year, according to the Clinic.
"These new state-of-the-art research facilities will provide the infrastructure and technology necessary to grow Cleveland Clinic's research efforts," said Serpil Erzurum, Cleveland Clinic's chief research and academic officer, in a written statement. "They will be a tremendous resource for our scientists in the Sheikha Fatima bint Mubarak Global Center for Pathogen Research and Human Health, enabling them to expand their vital work in preparing for the next pandemic, and discovering and developing critically needed new therapies and vaccines."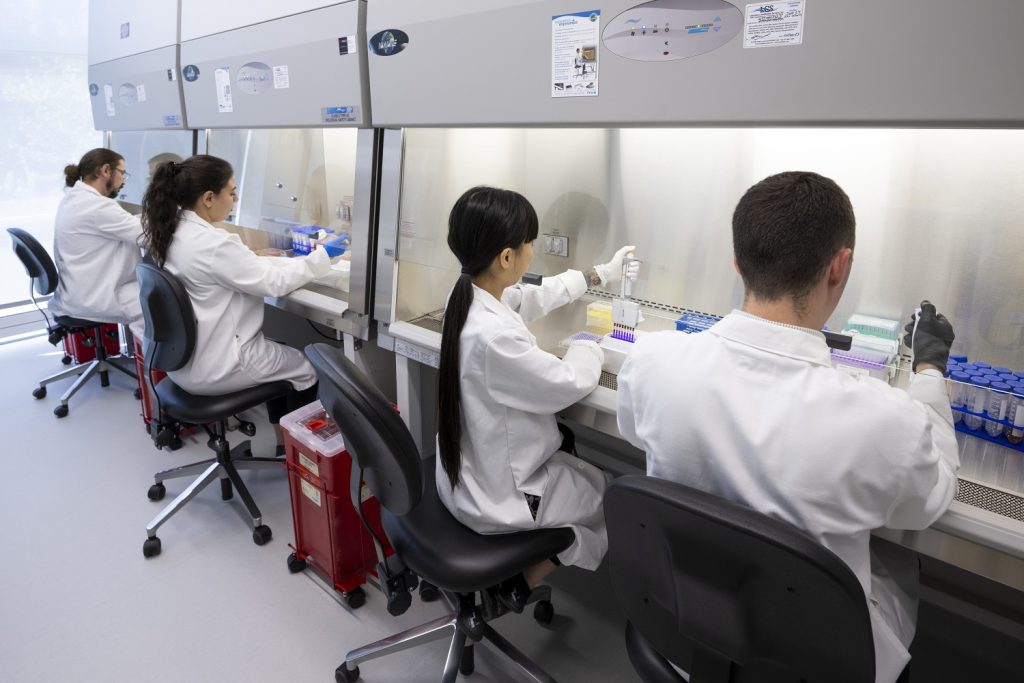 At the Ted Ross Lab at Lerner Research Institute, workers help develop vaccines in a tissue culture room. Ross is Global Director of Vaccine Development at Cleveland Clinic. Originally, Ross' had only a lab at Cleveland Clinic's Florida Research and Innovation Center but now has a new lab on the main campus (CCF).
In addition, Cleveland Clinic said it has made significant progress in its commitment to the Cleveland Innovation District, including:
Recruited research leaders: Cleveland Clinic has recruited world leaders in immunology, cancer biology, vaccine development, immune-oncology and pathogen research, as well as technology development and education.
Job creation and education: Cleveland Clinic has already created nearly 1,000 new jobs. In collaboration with Cleveland State University, the health system has created courses and degrees for new workforce demands. Since 2021, nearly 2,000 degrees and certificates were awarded in programs such as phlebotomy, cardiac ultrasound and diagnostic medical sonography.
Opened Cleveland Clinic BioRepository: The first new building in the Cleveland Innovation District, a 22,000-square-foot facility at 9808 Cedar Ave., increases and centralizes storage capacity for biologic samples. This allows researchers to study human tissue samples more effectively for the purpose of developing new treatments and advancing personalized medicine. Since opening in 2021, the BioRepository has collected more than 140,000 biospecimens from 10,000 patients.
Launched Partnership with IBM: The partnership aims to advance the pace of discovery through high performance computing. This spring, the two organizations unveiled the first quantum computer dedicated to healthcare which is located on Cleveland Clinic's main campus.
Community investment: Cleveland Clinic continues to collaborate with other community organizations to revitalize the Fairfax neighborhood. A new  $52.8 million development that includes a 40,000-square-foot Meijer grocery market and 196 apartment complex called Medley on East 105th Street and Cedar Avenue is expected to open later this year. Additionally, Cleveland Clinic has provided funding, along with other organizations, for an 82-unit apartment development – the Aura at Innovation Square.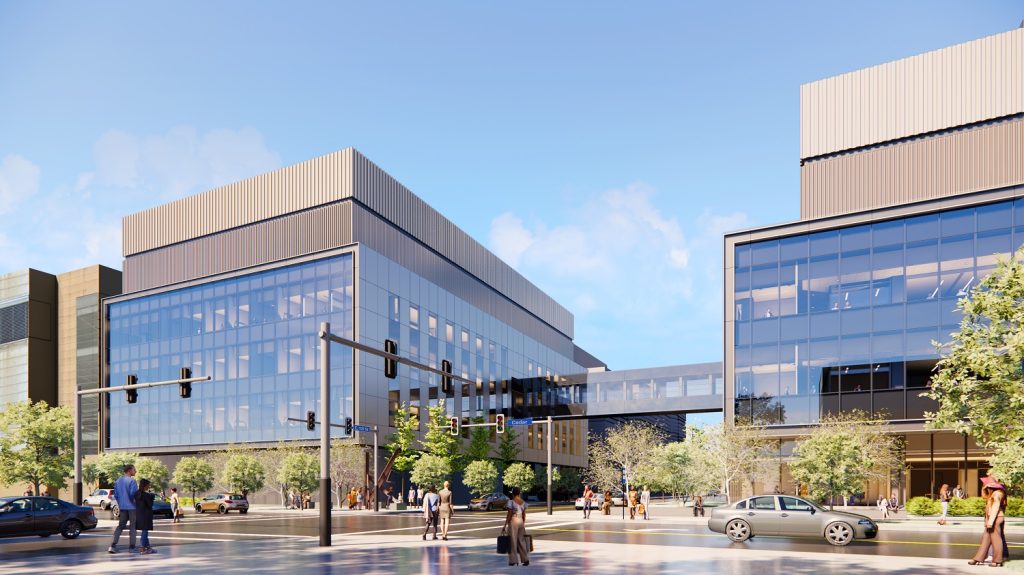 Looking north on East 100th Street from the south side of Cedar Avenue, the planned Sheikha Fatima bint Mubarak Global Center for Pathogen Research and Human Health will consist of two buildings connected across East 100th. Construction permits are already being submitted to the city so work can start in a few months (CCF).
Additionally, Cleveland Clinic has other major construction projects occurring at its main campus near University Circle. A $1.3 billion construction program throughout the entire health system is heralded by the Clinic's largest-ever building project to date — the 1-million-square-foot Neurological Center now under construction on Carnegie, between East 86th and 89th streets. Additionally, the Clinic is constructing the 150,000-square-foot Jeffrey and Patricia Cole Building at Cole Eye Institute on East 105th Street south of Euclid Avenue and renovating the 25-year-old, 130,000-square-foot Cole Eye Institute, 2042 E. 102nd St.
"JobsOhio and our state partners invested in the Cleveland Innovation District to spur the next generation of Ohio leaders while establishing the state as a global leader in healthcare, life sciences, and technology. Collectively, the region's dynamic healthcare and higher education research institutions will serve as a magnet to retain and attract elite talent from home and around the world to Northeast Ohio," said J.P. Nauseef, JobsOhio president and CEO.
"In this case, the rapid pace of development being led by Cleveland Clinic on its main campus is bringing cutting-edge research facilities to the Cleveland Innovation District," Nauseef added. "These facilities are critical for the advancement of the pioneering research being led by Ohioans and eventually brought to scale worldwide."
END