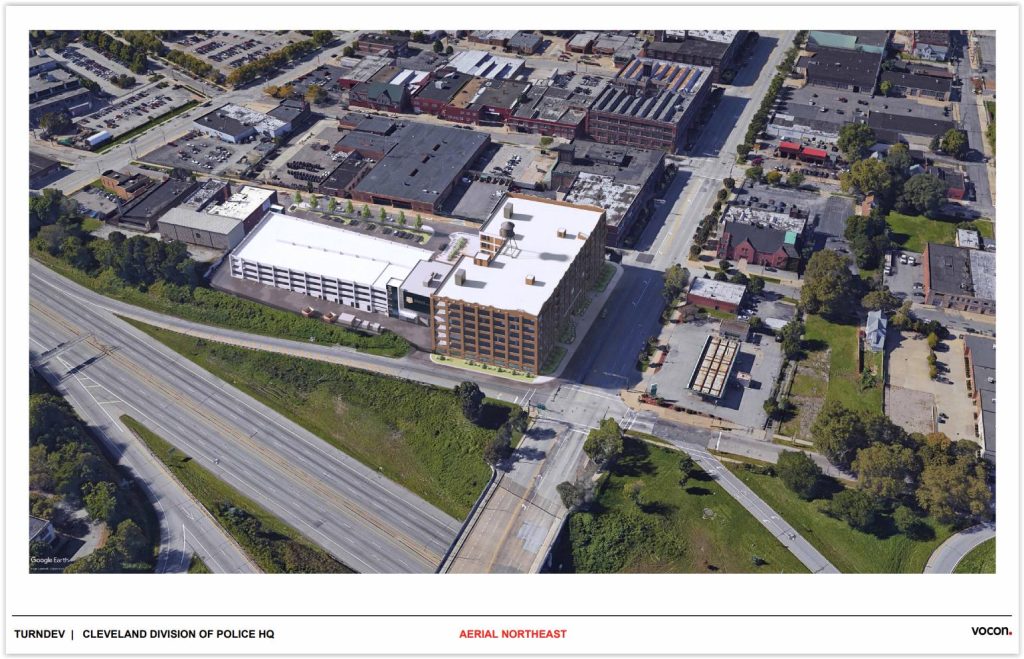 Although the new Cleveland Police Division headquarters in the old ArtCraft building and planned parking garage is the focus of this view at Superior Avenue and Interstate 90, it's not the only project due. The north side of Superior is getting more attention from investors and developers, too (Vocon). CLICK IMAGES TO ENLARGE THEM.
North side of Superior to get attention
The south side of Superior Avenue in the Superior Arts District has been getting all the love in recent years. And why not? The sunny side of the main drag on the east side of downtown Cleveland is the new home of Cross Country Mortgage which relocated more than 600 employees from suburban Brecksville. You can also find residential conversions at 2320 and 2104-2110 Superior. And, of course, the new Cleveland Police Division headquarters will put several hundred employees in the ArtCraft Building overlooking Interstate 90. But the north side of the street is about to grab its share of attention, too.
Indeed it has already started with real estate developer and financier GBX Group LLC relocating its headquarters in 2018 to the renovated former Empire Improvement Building, 2101 Superior. It continued with 2125 Superior Living/Airriva apartments and the neighboring Green Goat Cafe opening two years ago. And now it's advancing with several new projects that are underway or about to begin.
GBX is renovating a 9,850-square-foot, 73-year-old building at 2331 Superior, former site of commercial printer DK&J Inc. GBX tapped the city's storefront renovation program for an unidentified amount of funding so contractor Rycon Construction of Cleveland could gut the building, do tuckpointing plus masonry repairs, and build-out the space. That will make the building marketable for a future retail tenant that's yet to be determined, according to plans submitted by Cleveland-based Van Dyke Architects to the city. GBX anticipates that retailers will be drawn to a district that is adding more than 1,000 new employees and hundreds of new residents.
This week, another potential project became visible on the landscape. Demolition of three houses on two lots at 1434 and 1442 East 24th St. got underway on Monday. Express Demolition LLC of Cleveland is doing the work and awaiting another permit to raze the former Dimension Auto, 2343 Superior. All of these properties were acquired last year by affiliates of TurnDev, a new but well-connected real estate development firm that is making major plays in the Superior Arts District, including the new police headquarters. According to Managing Partner Jon Pinney, TurnDev is planning to build a mixed-use development at the northwest corner of East 24th and Superior.
"Mostly retail but (we're) considering an office user," Pinney said in an e-mail to NEOtrans. When asked about rumors that it would be Dunkin, he replied "Not Dunkin, (we're) working with a few tenants that align with the District."
When pressed, he declined to identify the office user, but TurnDev has been seeking to attract to the Superior Arts District suburban companies seeking new offices in a walkable, bike-friendly urban setting to attract younger, creative employees. The Superior Arts District will become more pedestrian and bike friendly in the coming years as the Superior Midway project gets rolling in 2025. The $25 million project will insert into the center of an overly wide Superior a landscaped cycle track extending 2.5 miles from Public Square to East 55th Street.
Next, revised plans were submitted on behalf of ROAR Entertainment of North Carolina to the city last month for approvals to renovate for $2 million the former Superior Street Baptist Church, built in 1891, and attached commercial building, from 1926, at 2435 Superior. Most recently, they were used as the offices and warehouse for State Chemical Manufacturing Co. Together, they could become a 37,300-square-foot entertainment complex and beer garden that could accommodate more than 1,000 customers at a time. Up to 100 new jobs are proposed. GBX is the developer and LDA Architecture of Cleveland is the architect, city records show.
"The scope of the project is to convert the existing buildings into a single occupied tenant," wrote Dom Vokic, senior project manager at LDA, in submitting plans to the city. "This work includes tenant improvements consisting of a new bar and restaurant to include the following: a full commercial kitchen, axe throwing, arcade and gaming on the lower level (basement), a digital putt-putt course and full bar on the ground floor, and duck pin bowling lanes with a full bar and private party areas on the second floor. The project has been approved for historic tax credits."
Another building on the north side of Superior that's worth watching is the former Plain Dealer building, at 1801 Superior. A source who spoke on the condition of anonymity says a potential user for that 235,000-square-foot building, most of which is vacant, is the Cuyahoga County Board of Elections. A new, 180,000-square-foot site for the board of elections is the subject of a request for proposals. Solon-based Industrial Commercial Properties LLC, which acquired 1801 Superior one year ago, is reportedly interested but did not respond to recent NEOtrans inquiries.
Lastly, Mark Lammon, executive director of Campus District Inc., said Four Aqua Holdings LLC of Wadsworth, owner of the BP gas station on Superior at Interstate 90 has plans to redevelop it with a convenience store and leasable retail spaces. It's a similar type of investment the owner is making at its other downtown Cleveland gas station, located at East 9th Street and Carnegie Avenue. Construction is underway on the gas station redevelopment at 900 Carnegie featuring up to 6,600 square feet of leasable space.
In total, all of the new developments will feed off each other and create synergies, especially after the $90 million police headquarters opens at the seven-story, 260,000-square-foot ArtCraft Building, 2530 Superior. The police headquarters redevelopment is going through the city's design-review process and should see construction start next year. Renovation work on the 109-year-old building and construction of the four-level parking garage and storage building should take about two years. The police headquarters has been located at 1300 Ontario St. since 1977.
Things could also pick up as Cleveland State University begins to implement its $650 million campus development masterplan. That plan was approved by the university's board of trustees and is being set into motion this year. Some of the components of the masterplan are one block south of the Superior Arts District, namely a proposed new 5,000-seat multi-purpose arena at Payne Avenue and Interstate 90 and mixed-use district immediately west of it. CSU's primary consultant on the arena project is Brailsford & Dunlavey Inc. (D&B) of Washington DC.
"The (arena) project site is right in the heart of the Campus District and Superior Arts Improvement District neighborhood," said Katie Lutton, project manager for B&D. "I just want to reiterate here a lot of the activity that's going on. It wouldn't just be this new arena project. We also have revitalization at Cross Country Mortgage's headquarters with new construction and significant foot traffic there every day, the police headquarters building which is currently being renovated in the historic Artcraft Building (and) some other improvements in the area that are going to come together to help activate this part of town."
END