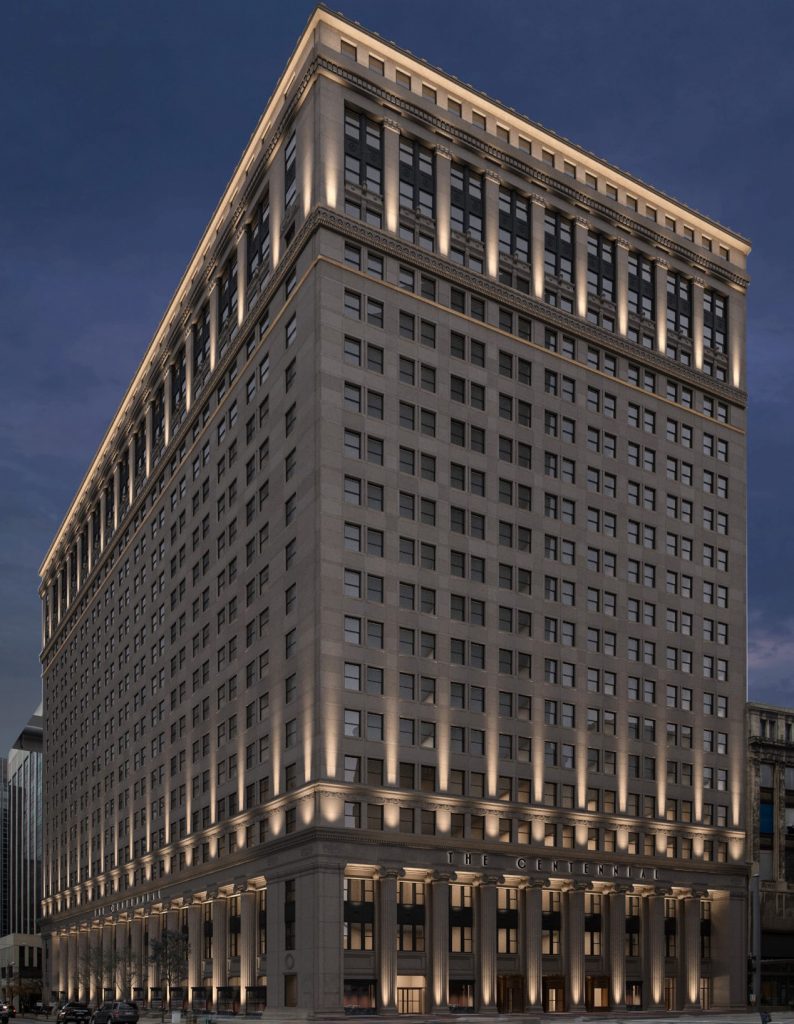 One of downtown Cleveland's largest buildings and one of its most difficult office-to-residential conversions is The Centennial at East 9th Street and Euclid Avenue. Despite and because of it winning multiple sources of public funding, the redevelopment project continues to lack a start date (Sandvick). CLICK IMAGES TO ENLARGE THEM.
Still no start date for complex project
The Centennial, one of downtown Cleveland's most complicated, expensive and elusive redevelopment projects, got another sign that it is very much alive by winning a $15 million loan guarantee from the U.S. Department of Housing and Urban Development (HUD). The financial assistance will be provided through HUD's Section 108 Loan Guarantee Program and will be used to help finance the half-billion-dollar conversion of the former Huntington Building, 925 Euclid Ave., from mostly offices into primarily a residential property.
Located at the corner of East 9th Street and Euclid Avenue, this 1924-built building is one of downtown's largest at 1.3 million square feet. According to HUD, the 21-story building is 99 percent vacant. Its owner, Cleveland-based Millennia Companies, will renovate this building as The Centennial and convert it back into productive use, including affordable housing, commercial and retail space, and a museum. At least 51 percent of the units will be occupied by low- and moderate-income households.
The Centennial will house 864 affordable housing units with boutique hotel suites on several floors. The ground floor will house a restaurant, event space, a Western Reserve Historical Society museum, and The Cleveland Exposition, a tribute to northeast Ohio's rich history. The project is expected to create 300 permanent jobs and more than 3,000 construction jobs, according to Millennia. A year ago it renovated and converted from offices to apartments the 15-story 75 Public Square for $43 million. But Centennial is expected to cost more than 10 times as much.
"Section 108 Loan Guarantees allow communities to invest in critical infrastructure, including housing," said HUD Secretary Marcia L. Fudge, a former Congresswoman who represented the city's East Side and its eastern suburbs. "I am pleased that Cleveland will be able to use this funding to transform this historic space and bring much needed affordable housing and community amenities to the area."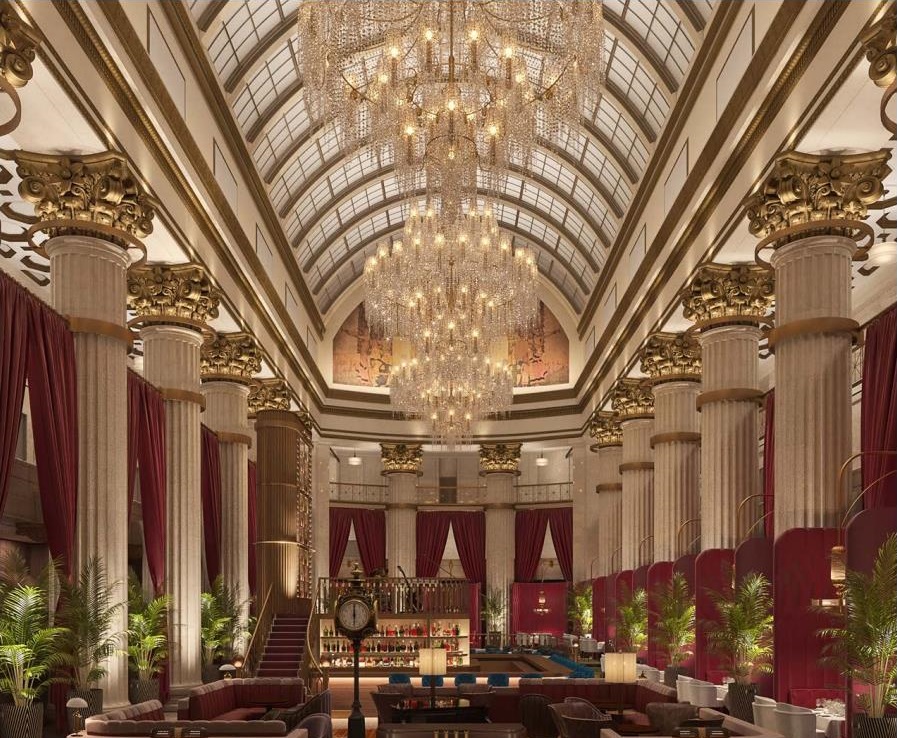 When built nearly a century ago as the Union Trust Building, it had the largest bank lobby in the world. This post-renovation rendering shows only half of the lobby. But since only 73 percent of the massive building offers the potential for revenue-producing spaces, the project remains a financial challenge (Sandvick).
"With HUD's loan guarantee, Cleveland will revive a gorgeous historic building in the heart of its downtown that has sat vacant for the past decade. The property will turn into a hub for retail, commerce, and affordable housing," Marion McFadden, principal deputy assistant secretary, Office of Community Planning and Development at HUD said in a written statement. "Prioritizing affordable housing units with historic preservation isn't just good for our economy. It gives families a new opportunity to strive for more, once they have rent they can afford."
Section 108 provides states and communities with low-cost, long-term financing for economic and community development projects that primarily benefit low- and moderate-income persons. Section 108 can be used for a variety of projects, such as housing, infrastructure, and other physical development projects. The flexibility of the program makes it an attractive and effective tool for states and local governments that receive funding under the Community Development Block Grant program.
Local real estate insiders continue to disagree on the project's viability and/or Millennia's financial wherewithal to deliver the difficult project, despite of because of it winning numerous public sources of financing in recent years. Those include a $40 million Transformational Mixed Use Development (TMUD) tax credit from the state, a $25 million state catalytic historic tax credit, millions in federal historic tax credits, Low Income Housing Tax Credits, a $5 million brownfield loan from the state, a $5 million development loan from Cuyahoga County and a $15 million construction loan from the City of Cleveland. Private sector financing hasn't been revealed by Millennia. All of those sources of funding have different benchmarks and other requirements that have been described to NEOtrans as herding cats.
END