There's no mistaking that a portion of the Longfellow School Apartments in Cleveland's North Collinwood neighborhood was fashioned from a former school building. Chalkboards, wood cabinets and students' cubbies remain for residents' use in the new senior housing complex (Vesta). CLICK IMAGES TO ENLARGE THEM.
Apartments opened last week to seniors
When schools are converted into apartments, they don't always look like schools anymore — at least on the inside. The Longfellow School Apartments in Cleveland's North Collinwood neighborhood put that notion into detention. Located at 650 E. 140th St. just south of Interstate 90, Longfellow had its second ribbon-cutting ceremony last week nearly 100 years after its first.
The Longfellow is a brand-new senior living community with 80 affordable apartments for seniors aged 62 years and older. The apartment complex is spread between the historic rehabilitated Henry W. Longfellow Elementary School made up of 30 apartments and its newly constructed addition with 50 apartments. The new and old portions of the apartment complex are connected by a walkway providing residents access to features in both buildings without exposure to inclement weather.
In 2006, classes were dismissed at the elementary school for the last time and the building sat vacant and decaying for more than a dozen years, to the dismay and detriment of the surrounding neighborhood. The school district was under pressure to demolish or repurpose the building that was built in 1924 and designed by the renowned Cleveland school architect, Walter McCornack, in the Dutch Baroque Revival Style.
Cleveland Restoration Society intervened and led a three-year effort to save Longfellow School. The nonprofit organization actively campaigned to have the building rehabilitated and returned to productive use in the neighborhood. In 2018, a land swap deal was worked out with the city in which the city gave the Cleveland Metropolitan School District a property near Wade Park School. The school district wanted to use the city-owned parcel for parking, alleviating a shortage of spaces for the school. The land swap spared the district the cost of demolishing Longfellow School, saving an estimated $425,000, school officials said.
Vesta Corporation of Connecticut, a Connecticut-based real estate firm that specializes in the acquisition, development and management of multi-family affordable housing communities, acquired the Longfellow school property earlier this year. It joined forces with Marous Brothers Construction of Willoughby and Cleveland-based financier Bellwether Enterprises to pursue the $23.7 million renovation and construction project.
The project involved renovating the 50,000-square-foot school and constructing the 60,000-square-foot addition. It received federal and state Historic Tax Credits, Low-Income Housing Tax Credits, as well as various types of funding and grants from the U.S. Department of Housing and Urban Development. The Longfellow development also received a loan from the City of Cleveland, according to Ward 8 City Councilman Michael Polensek who has served on council since 1978, longer than any other in the city's history. Greater Collinwood Development Corporation and other neighborhood groups supported the renovation and conversion of the school.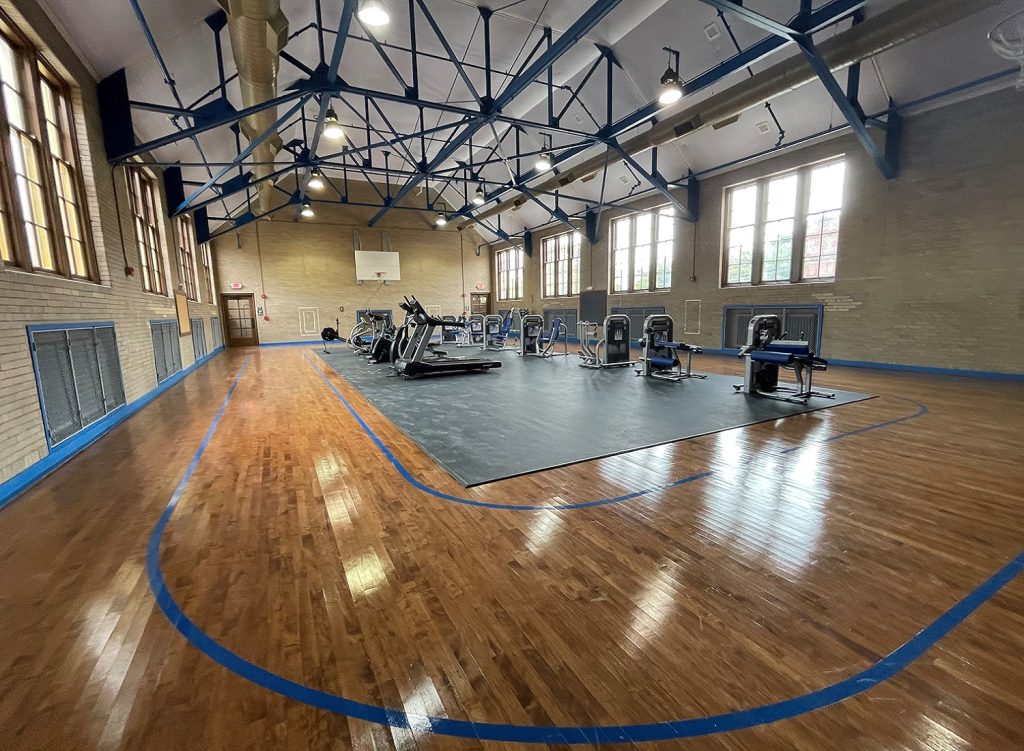 In the center of the old school is its former gymnasium-turned-fitness center. While the school sat vacant for a dozen years, the wooden floors were damaged when copper roof ventilators were stolen for scrap and allowed water to enter the building. All of the wooden floors have since been restored to their original condition (Vesta).
"Vesta Corporation met all of our prerequisites and put forth a true restoration plan to save this critical property for our community," Polensek said in a written statement. "Having lived in the community my entire life, I understood all too well the historical significance of the Henry W. Longfellow School. When I picked up this geographical area with the most recent council redistricting, I made it my personal commitment to landmark the vacant building and to work toward a redevelopment plan."
With affordable apartments, The Longfellow serves seniors whose incomes are 30-60 percent of the area's median income. Rents range from $323 to $721 for one-bedroom units and from $378 to $830 for two-bedroom suites. One-bedroom apartments range from 608-820 square feet while two-bedroom suites range from 797-821 square feet, floorplans show. There are more than 50 off-street parking spaces available plus there is frequent, 24-hour bus service on the No. 10 route on East 140th Street with a stop at Darley Avenue, right in front of The Longfellow.
Amenities include dedicated common areas for socializing, a large 4.58-acre park-like setting with a walking trail, a sitting area with a gazebo and benches, and a school gymnasium that was converted into a fitness center. Elevators were added to the school building. There is also a wellness room on-site that will feature third-party healthcare providers who will conduct confidential healthcare examinations. On-site support services will be provided by Lifelong Learning, an affiliate of Vesta, in conjunction with local organizations.
A three-story, 60,000-square-foot addition to the 50,000-square-foot Longfellow Elementary School was constructed to bring the total number of senior apartments to 80 units. More than 50 off-street parking spaces were also provided to complement bus service scheduled every 15 minutes on East 140th Street (Anthony Love).
"Available in select apartments, residents can enjoy the nostalgia of the original school cubbies refurbished into wardrobes," noted a Vesta project summary. "You will also find walk-in closets in the apartments and wood flooring that has been restored from the original building."
Apartments in the old and new buildings have brand-new energy-efficient appliances, plus every bathroom and bedroom in each apartment has an emergency pull-cord. There are laundry rooms on each floor as well as trash rooms. While grab bars are offered in some units, every apartment has a walk-in closet. In the former school building, its wood floors in the hallways, former gymnasium-turned-fitness center and repurposed classrooms were restored to their original beauty.
END