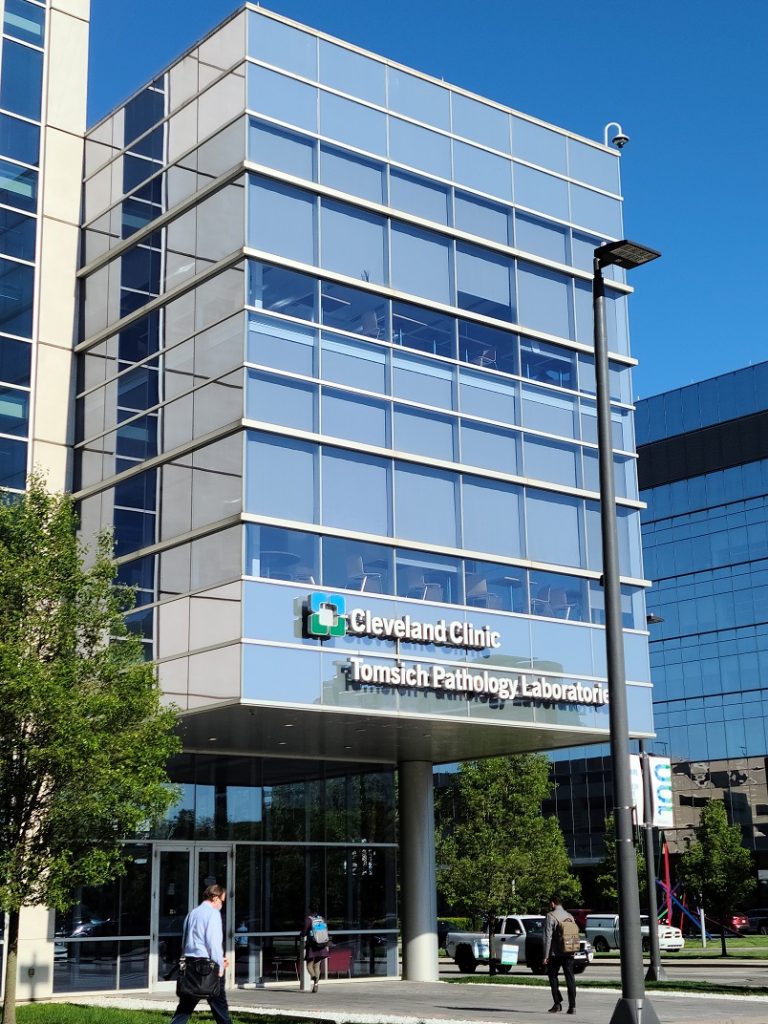 Joining other research buildings near the intersection of Cedar Avenue and East 105th Street will be the new Global Center for Pathogen Research & Human Health. With construction due to start one year from now, the new structure will be one of the first tangible results from the new Cleveland Innovation District (KJP).
CLICK IMAGES TO ENLARGE THEM
Earlier this year, state and local officials announced the launch of the Cleveland Innovation District and the availability of $565 million in public funds to get it rolling.
Not wasting any time, Cleveland Clinic Foundation (CCF) has issued a request for proposals (RFP) to firms to design and build a research campus led by a new Global Center for Pathogen Research & Human Health. The RFP provides a little more clarity on what CCF has in mind for the research campus and pathogens center.
Groundbreaking for the new $500 million, 1,000-employee pathogens center is anticipated in Spring 2022, said Alicia Reale Cooney, CCF's senior manager, corporate communications, in a e-mail sent in response to questions posed by NEOtrans.
"Planning is in early stages but Cleveland Clinics Global Center for Pathogen Research & Human Health, part of the Cleveland Innovation District, will include approximately 400,000 square feet of additional research space to be located along Cedar Ave. for the growth of research operations and training and innovations," she said.
Cooney did not have a cross-street to identify where along Cedar the pathogen center would be located. She added that a more general location would be in the area of "Cedar Avenue near Cleveland Clinic's main campus."
Construction industry sources who spoke on the condition of anonymity said CCF didnt provide a map or detailed location information in the RFP. But they were told by CCF representatives the clinic wants the pathogen center to connect to their existing research buildings.
That would put it in the vicinity of Cedar and East 105th Street, in the midst of IBM Explorys Solutions, Tomsich Pathology Laboratories, Global Cardiovascular Innovation Center and Brooks Life Sciences' biorepository.
The RFP also didn't specify how the 400,000 square feet of space should be provided — be it in a horizontal or vertical building.
But the scale of the building and the diminishing amount of land near the intersection of Cedar and East 105th suggests a structure similar to that of the new, 400,000-square-foot Neurological Institute at 9606 Euclid Ave. Conceptual renderings show that facility could top out at seven stories.
The pathogen center will also be the first phase of a larger research campus containing multiple smaller buildings with different focuses, sources said. Sizes of the individual buildings are not yet indicated by CCF. They will be determined by the winning design-construction team based on program needs.
"We can share more information once details are available," Cooney said. "We hope to have more details soon."
Some of the funding for the new pathogen center will be used to foster new technology companies in the Cleveland Innovation District and/or attract major employers here. The goal is to add 1,000 new jobs at Cleveland Clinic by 2029 and another 7,500 jobs in Ohio by 2034, state officials said in January.
Also last winter, CCF reissued requests for proposals for its new Neurological Institute and for nearly doubling the size of its 130,000-square-foot Cole Eye Institute. The added Cole Eye building will be located at 2030 E. 105th St. Both expansions were put on hold during the pandemic.
Additional development is coming to the area of Cedar and East 105th. On 3 acres of land at the southeast corner of that intersection, CCF is partnering with Fairmount Properties to develop up to 300 micro-unit apartments, several dozen townhomes and a 40,000-square-foot Meijer grocery store. Financing for the project is still coming together.
Fairmount is considering a second phase of roughly equal scale on the block immediately west, bounded by Cedar, East 103rd, East 101st Street and Wain. Both phases could rise to about 5-10 stories each, sources said.
END