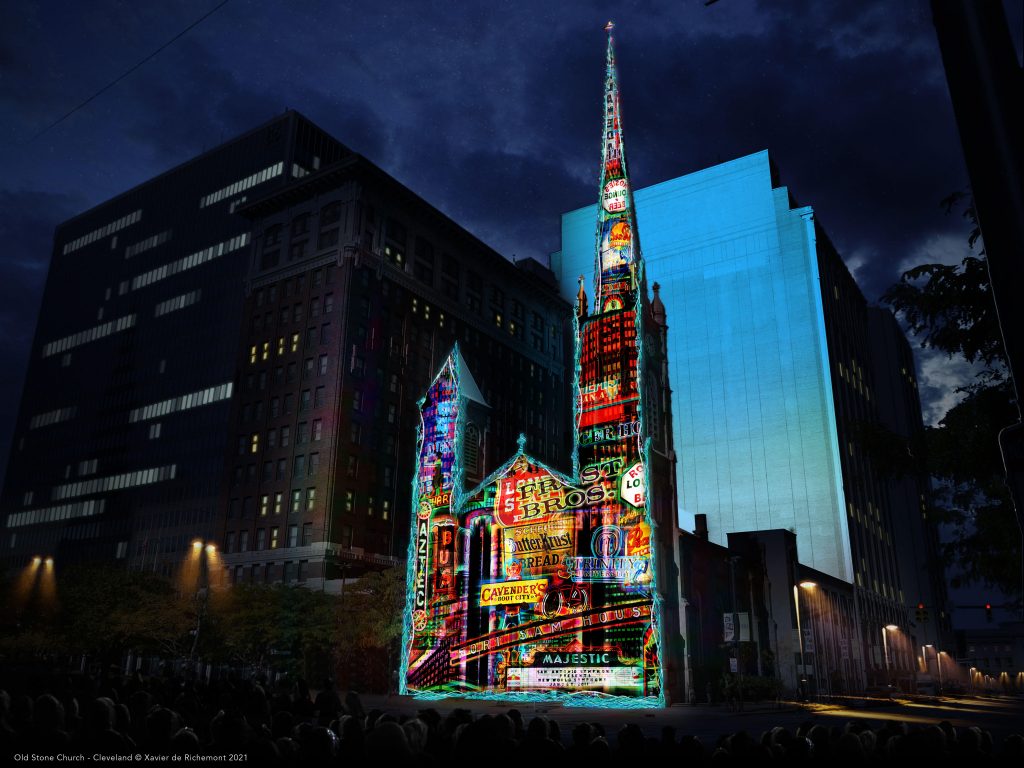 A sample of what a light painting of the Old Stone Church could look like. The program including music could run for up to four evenings per week and for about 20-30 minutes several times during each of those evenings. Downtown Cleveland Residents is sponsoring the effort and looking for financial and volunteer contributions to make the project happen by this time next year, in time for FRONT International's Cleveland Triennial for Contemporary Art (Xavier de Richemont).
CLICK IMAGES TO ENLARGE THEM
Two significant art installations could turn the north side of downtown Cleveland's Public Square into a bright, uplifting and active canvas. The canvas would be two historic buildings that may come alive with stories about Cleveland using not only imagery, but also light and sound on select nights.
Those two buildings are the Old Stone Church and the blank backside of The Standard apartment tower. The feature-less south side of The Standard, 99 W. St. Clair Ave. has cried out to be finished since the terra cotta structure was built in 1923.
Its 21-story wall was to have another building constructed next to and south of it but it never happened. Instead, it has gazed with a blank stare on Cleveland's geographic heart and central commons for nearly a century.
If anything, that empty canvas has only made the Old Stone Church (home to the 200-year-old First Presbyterian Society of Cleveland congregation) more noticeable to visitors. The 166-year-old Romanesque-style church is the oldest structure standing on Public Square.
Together, the pair of historic structures could become a dynamic duo of contemporary art that tells Cleveland's historical, cultural and economic story, said Alan O'Connell, president of the nonprofit Downtown Cleveland Residents, a municipally recognized community relations board.
"I saw The Saga in San Antonio, Texas on a trip with my family and thought about how cool it would be to have something like that here in Cleveland," O'Connell said. "Then Ian (Meadows, assistant city planner at City Architecture) posted something online about activating that big blank wall behind the church. I connected with him, and we started down this road to make it happen."
O'Connell calls The Saga laser-light show and others like it a "light painting." The program in San Antonio lasts 24 minutes, is accompanied by music and is free to the public on the city's historic Main Plaza. It is projected onto San Angelo Cathedral which opened in 1750 and is one of the oldest continually operating cathedrals in the USA. Founded by a congregation at the urging of King Phillip V of Spain, its structure is 105 years older than Cleveland's Old Stone Church.
Leadership at both Old Stone Church and the First Presbyterian Society granted permission for the light painting project to appear on their church's façade, O'Connell said. Ward 3 Councilman Kerry McCormack also reportedly supports the project. Next up, Downtown Cleveland Residents will seek approvals from the city's Group Plan Commission which oversees Public Square. That is where display equipment would have to be permanently installed.
Xavier de Richemont, the artist who worked on the San Antonio project, has been engaged for the Cleveland project as well. He provided several mock-ups of what the light painting on Old Stone Church could look like.
O'Connell says the French artist fully immerses himself into the history and culture of a city before composing the artwork. Local musicians, including the Cleveland Orchestra, are desired. During the six-month to one-year development process, he would take several trips to Cleveland.
Based on O'Connell's conversations with the Main Plaza Conservancy, the San Antonio organization that oversees The Saga, the upfront costs for Cleveland's light painting will be somewhere around $1.25 million. Annual costs to run the show four days per week with three shows in each of those nights is about $25,000 per year.
In San Antonio, The Saga was funded almost entirely by local business owners and philanthropic organizations. The ongoing maintenance costs are paid for with tax dollars from the city and county.
The timing of Downtown Cleveland Residents' light painting project is desired to coincide with that of FRONT International's Cleveland Triennial for Contemporary Art. The inaugural festival, held in 2018, featured 345 works by 129 global artists at 25 Northeast Ohio venues attracted 227,000 visitors. The $5 million project was funded mostly through private sources.
FRONT's next installment was originally scheduled to be held again this year. But in 2020, with uncertainties surrounding the pandemic, the festival was postponed until July 16-Oct. 2, 2022.
A significant piece of that festival involves installation of a permanent mural on the blank south façade of The Standard. FRONT has reportedly engaged an international artist to compose the mural but their identity remains unknown. Ed Winstead, FRONT's director and cultural counsel did not respond to an e-mail from NEOtrans seeking more information prior to publication of this article.
"The postponement will allow us to present the best version of FRONT that we can – something we hope will serve as a beacon of hope at the end of this difficult time," said FRONT Executive Director and CEO Fred Bidwell in a written statement.
FRONT partners in the Cleveland Triennial for Contemporary Art include the Akron Art Museum, Allen Memorial Art Museum at Oberlin College, Cleveland Institute of Art, The Cleveland Museum of Art, Cleveland Public Library, moCa Cleveland, Spaces and Transformer Station.
"We're still working out the details of the large blank wall behind Old Stone Church," O'Connell added. "I know there was a mural planned to go there and we are hoping to coordinate that mural with the light show somehow. Ideally it would be a beautiful mural during the day that acts as a sort of "stage" for certain scenes of the light painting show at night."
To help with fundraising and volunteering for the light painting effort, contact Alan O'Connell at 440-417-3807 or by e-mail at president@downtownresidents.org.
"I think this will be a really incredible, world-class attraction that all Clevelanders can be proud of," he said.
END