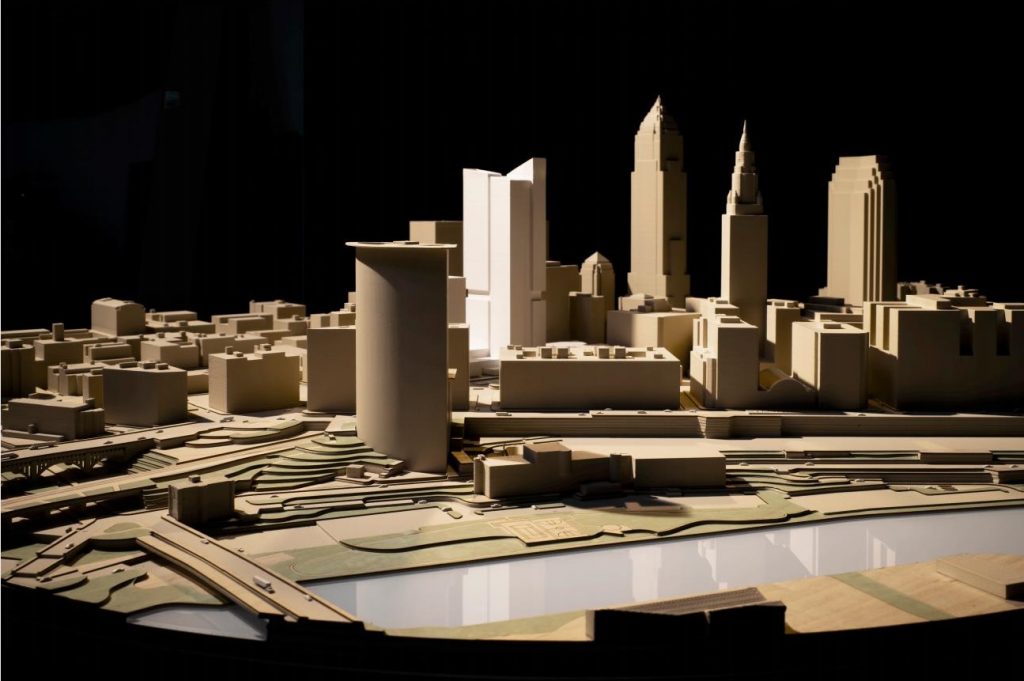 Sherwin-Williams' new HQ tower will be Cleveland's fourth-tallest skyscraper and be a unique shape in the city's skyline. But as members of city planning review boards applauded the soaring tower's design, how the project might create or discourage interaction with pedestrians along downtown's sidewalks was among the concerns shared at a meeting today (SHW).
CLICK IMAGES TO ENLARGE THEM
A joint meeting of city planning committees partially approved conceptual plans for Sherwin-Williams (SHW) headquarters (HQ) today. For the portions the review panels didn't approve, they offered guidance on how to enhance the early designs to improve the pedestrian experience along downtown Cleveland's sidewalks.
The plans were jointly reviewed and approved by the Cleveland City Planning Commission, Cleveland Landmarks Commission, Downtown-Flats Design Review Committee and the Warehouse Historic District Design Review Committee. Plans included a more detailed massing whose crown was first described visually and verbally in detail here at NEOtrans earlier this month.
City officials approved SHW's location and height of buildings in its proposed vertical urban campus with these conditions and exceptions:
Approval excludes the northwest block of SHW land where future development by others is desired.
Provide a traffic study that includes pedestrian circulation.
Consider a pavilion height increase with public roof access.
Demonstrate the street-level experience of the entire site, especially the temporary lots and along Frankfort, through drawings.
Provide a retail strategy for the site.
Timothy Muckley, SHW's director of corporate real estate, said a new HQ is desperately needed as it has outgrown its obsolete home of 91 years at 101 W. Prospect St. He said the Landmark Office Tower suffers from low ceilings, aging mechanicals, company parking that has a 10-year wait list, and elevators that have "a mind of their own." While employees will work remotely a couple days each week, Muckley said SHW never considered relying wholly on remote employment going forward.
"We believe the key to innovation is to connect and collaborate," he told joint committee meeting members. "We need to be one elevator ride away from each other. While other (companies) are fighting to push people out of their headquarters, we're fighting to get them in."
He pointed out that the HQ project is desired to have these features:
A 616-foot-tall, roughly 36-story HQ tower that will rise at the northwest corner of Superior Avenue and West 3rd Street.
A site for a future office tower is reserved at the northeast corner of Superior and West 6th Street but will be held as a visitor parking lot rather than greenspace.
The HQ property will be secure and convenient for employees and visitors.
The 920-space parking garage will accommodate nearly one-third of of SHW's 3,100 HQ employees.
The garage was set back from St. Clair Avenue, West 3rd and West 6th to put a retail liner and/or future development around it.
The 2,500-square-foot retail liner along West 3rd barely exceeds the city's building code.
A goal of the project is to spur downtown development. SHW noted it already has, with the renovation of 55 Public Square, Rockefeller Building redevelopment, the demolition of the Rockefeller garage for a major development and the proposed Magellan development.
A glassy Public Square pavilion rising only two-stories and nearly 50 feet tall will pull elements out of the office tower (like a learning center, conferences, Center of Excellence, etc) and will be the cultural hub of SHW.
Pedestrian skybridges will connect the SHW HQ tower to its parking garage and Public Square pavilion.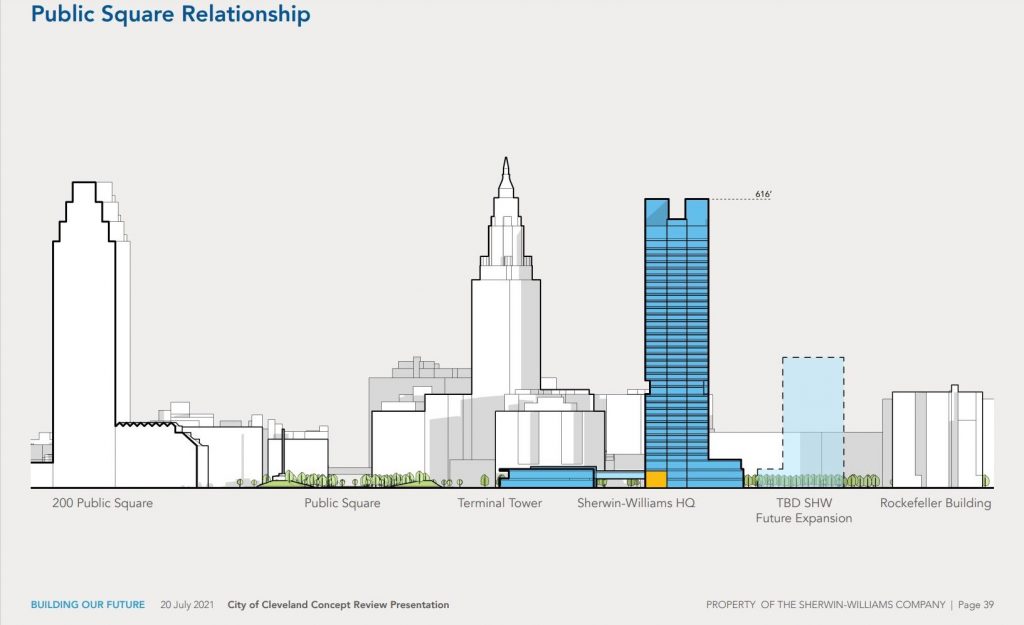 The 616-foot height of SHW's HQ tower as it relates to two of its Public Square skyscraping neighbors is shown with a future expansion office building of roughly 20 stories (SHW).
SHW's proposed pair of 15-foot-wide skybridges received significant pushback from planning committee members as well as at least half of the public comments received by the committee prior to the meeting. But the city cannot legally prevent them as they are permitted in the city's building code and the city recently approved two bridges to cross above Ontario Street into the JACK Cleveland Casino although only one skybridge was built.
"I understand the skybridges aren't favored but they are critical," Muckley said. "These two buildings (HQ and pavilion) need to function as one organism."
Bill Chilton, principal at Pickard Chilton, SHW's lead architect for the HQ, added that the skybridges will not pull people off of city streets. The skybridges will be open only to SHW employees. For workers going to lunch, shopping or to catch their buses and trains, they will be setting foot on downtown sidewalks when the HQ is finished in 2024. Many employees don't go outside now as the existing HQ is connected by walkways to Tower City Center.
Muckley said one-third of SHW employees use Greater Cleveland Regional Transit Authority (GCRTA) buses and trains. In fact, SHW officials met with GCRTA staff yesterday to improve transit access for them. SHW is using every HQ employee's home address to create a heat map of where workers live and will share it with GCRTA to seek better transit access to/from where concentrations of their employees live.
Planning committee members also questioned why the two-story, nearly 50-foot-tall Public Square pavilion was desired and/or why it was designed to be so short. They noted that Public Square is surrounded by two types of buildings — skyscrapers and lower-level structures. The lower-level structures — Metzenbaum U.S. Courthouse, 200 Public Square's atrium, Higbee's/JACK Casino, Renaissance Hotel and Old Stone Church — are all in the 65- to 165-foot range of height.
Chilton said a lot of thought went into putting the pavilion and not the HQ tower on the Public Square lot, called the Jacobs Site. It's dubbed the Jacobs Site because it was previously owned by the Jacobs Group. He noted that the floor plate for the HQ, its loading docks and central utilities plant would be too big to fit on the Jacobs Site. Loading docks for the pavilion will be in the HQ tower, off Frankfort, with supplies delivered to the pavilion via the skybridge.
"We view the pavilion as the front door to Sherwin-Williams," Chilton said. "As for putting the (HQ) tower on the Jacobs Site, it creates tension with Terminal Tower. Pulling it back (to West 3rd) gives it that relief. When looking at it (the HQ tower) from different views around the city, it retains views and allows terminal Tower to breath visually."
The pavilion will have at its southwest corner a Barista store filled with Sherwin-Williams-branded merchandise, such as clothing, coffee mugs and other promotional items. But those reportedly will be for employees. Right now, SHW hasn't decided whether to make the pavilion open to the public, said Matt Heisey, principal at Vocon Partners, SHW's interior architect.
Warehouse District Executive Director Tom Yablonsky suggested opening up the pavilion to public access, enlarging it and putting a café on its rooftop. He added that a taller pavilion would also make the skybridge across West 3rd appear less prominent.
Furthermore, city planning officials expressed concern about pedestrian flows between the Warehouse District, Public Square and Euclid Avenue where transportation, restaurants and stores are located for downtown residents and businesses. SHW will direct its traffic engineering consultant Nelson Nygaard to also evaluate pedestrian traffic flows through the HQ site.
Frankfort Avenue between West 3rd and West 6th is being vacated as a city street and will become SHW property. SHW will close it off to through traffic for vehicles but leave it open to pedestrians. There will be bollards or some other vehicular barrier on Frankfort just west of West 3rd. Employee vehicles entering the parking garage will stack up on Frankfort in the mornings. Delivery trucks to SHW are also more numerous in the mornings. After work, employee vehicles will exit onto West 3rd.
However, Muckley said Frankfort will be landscaped and, at the city's urging, be the subject of a retail study that could possibly result in raising the garage's ground level from 11 feet to 20 feet to accommodate more ground-floor retail uses.
The site for future expansion of the SHW HQ also received some attention — both by SHW's Muckley and by city planning representatives. Muckley said SHW needs to have room for expansion as the company has grown rapidly in the last few decades.
"We've made this mistake with manufacturing plants of not planning for the future," he said. "We want this to be our headquarters site for a long time. It's important to be able to have that for growth."
Even though a significant structure of roughly 20 stories is shown in basic massings of the HQ campus, SHW officials declined to discuss publicly when it might need to build that second office building. Muckley did say that no new parking facilities are anticipated for that future building. The proposed parking garage will not be designed to construct additional levels on top of it. He said the future expansion site would temporarily remain as a parking lot.
"I've been on this (city planning) committee for a long time," responded Thomas Zarfoss, a retired landscape architect. "Whenever I hear the term 'temporary' it gets my attention. To make cities walkable, you can't be walking along parking lots."
Before the HQ project was officially acknowledged by SHW, NEOtrans reported information from sources close to the project that the HQ+R&D project would measure as much as 1.8 million square feet and ultimately accommodate up to 6,000 employees. About 1,000 of those workers will be based in the new 500,000-square-foot research center in Brecksville.
HQ design team sources say the first-phase, 1-million-square-foot office tower will have enough space for 3,500 employees although 3,100 office workers will be located there at the outset. If the 6,000-employee, 1.8-million-square-foot goal for the HQ+R&D is still the target, another 1,500 workers have yet to find their way into the HQ campus. Another 300,000 square feet office space may be coming.
SHW has yet to include in its HQ plans any efforts to relocate more than 250 workers from its 151,830-square-foot swing/office space at 4780 Hinckley Industrial Parkway in Cleveland. Or, for that matter, there are roughly 1,000 workers in Minneapolis in facilities previously owned by Valspar until SHW acquired the rival company in 2017.
A phase two office building measuring 300,000+ square feet for roughly 1,500 or more employees appears to be on SHW's to-do list. But it's not likely to make any of that public until after it takes care of its first priority — its new, 21st-century global HQ and research facilities.
END