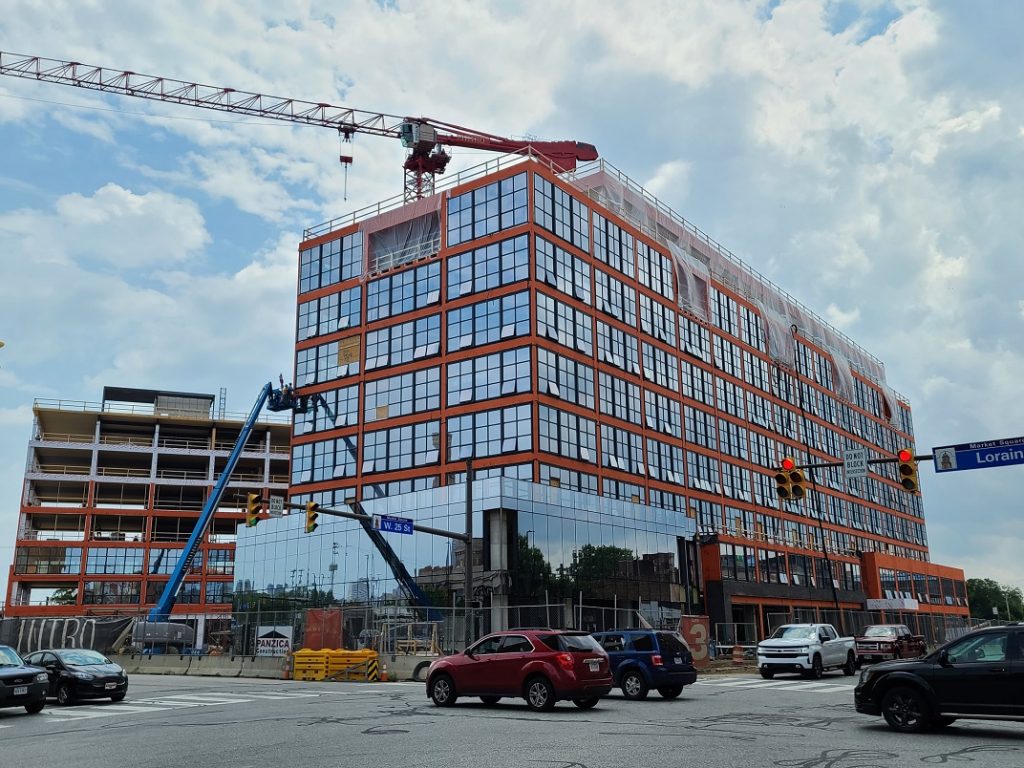 The nine-story, 350,000-square-foot INTRO would be large enough for most developer's to be their finale. Instead, as the project's name implies, it's just the beginning for Harbor Bay Real Estate Advisors in terms of their potential development activity in Cleveland (KJP).
CLICK ON IMAGES TO ENLARGE THEM
When Harbor Bay Real Estate Advisors held a topping-off ceremony July 28 for its $145 million INTRO development, it wasn't signifying the peak of something. It was signifying the start of something even bigger.
More than the final form of the mixed-use development is coming together on the southeast corner of Lorain Avenue and West 25th Street in Cleveland's Ohio City neighborhood. The tenants and end-users of the 350,000-square-foot development are also coming together. And Harbor Bay's own businesses are going to be the largest commercial end-users.
In an interview last week, Harbor Bay's Vice President of Design & Development Dan Whalen revealed that only about 6,000 square feet of commercial space remains uncommitted in the nine-story, two-winged complex. INTRO is Cleveland's first and America's tallest mass-timber building. It is due to be completed in Spring 2022.
How do we know this is just the start of the Northbrook, IL (Chicago suburb) company's foray into Cleveland? Because actions speak louder than words.
Whalen acknowledged that Harbor Bay will establish a significant office presence at INTRO, measuring about 30,000 square feet. Harbor Bay does more than just build things. It also owns and manages its real estate portfolio including restaurants, event centers and other properties.
"We will have a Harbor Bay office here in Cleveland at INTRO," he said. "We're looking at hiring about 150 employees for our hospitality, construction and real estate lines of business here."
He emphasized the office staffing will be to manage its Cleveland portfolio including construction, not a relocation of Chicagoland personnel. The inclusion of a construction office is a pretty strong indication that Harbor Bay plans to develop more properties in Cleveland.
"We've only just begun," Whalen sang, channeling The Carpenters' 1970 hit song.
When it was first proposed, INTRO was going to include a roughly 10-story office building just south of the expansive structure that's under construction now. But state-led financing including a temporary tax exemption was stopped at the behest of city, school and Cleveland Metroparks officials in the 11th hour.
Without the exemption, the 150,000-square-foot office component wasn't going to pencil so it was dropped. Harbor Bay also couldn't interest office tenants seeking a new or larger space to pay downtown rents in Ohio City. Then there was the pandemic's affect on encouraging more remote work and less office time.
Whalen confirmed recent rumors that Harbor Bay was instead considering a multi-family building for its phase two in the Market Square District instead of the office building. He wouldn't confirm or deny additional rumors that the building's height would approach the 175-foot zoning limit for this area, meaning a building possibly exceeding 15 stories.
He also would not discuss whether Harbor Bay would seek a Transformational Mixed Use Development tax credit for a phase-two building. A 15-story height and a $50 million project cost are among the minimum requirements for a development to tap the new TMUD program.
A possible second phase for INTRO might also depend on successful leasing for phase one. However, residential leasing for phase one hasn't yet begun. Whalen said it would start in mid- to late-September with several types of model units in the building that will be available for tours.
Although formal residential leasing hasn't started, Harbor Bay has been accepting residential inquiries for weeks. They have more inquiries than the 288 apartments that will become available for move-in by March or April 2022.
Meanwhile, retail/restaurant leasing at INTRO has been under way for months with the first retail tenants already announced. They include a Bank of America branch, an AT&T Store plus two Harbor Bay-managed businesses. NEOtrans broke the news about those two businesses last month.
One will be a café and market called Leaps & Bounds that will fill a 3,328-square-foot ground-floor space at the corner of Lorain and West 25th, across from the West Side Market. Whalen said the café will roast Harbor Bay's own brand of coffee.
The other Harbor Bay-owned tenant will be Truss Cleveland — a top-floor, 12,000-square-foot event center. It will have five event spaces including a 6,000-square-foot main event hall, a 4,000-square-foot rooftop terrace, plus a 500-square-foot wedding suite with make-up vanities and private bath.
"We've had 450 inquiries in eight weeks and booked 30 weddings already and we don't even have a finished space on the top floor," Whalen said.
The rest of the building won't be done by February 2022 but he said Harbor Bay will have Truss Cleveland finished by then. The reason? The top-floor event space will host private parties for the National Basketball Association's All-Star Game weekend Feb. 18-20, 2022, Whalen said.
Whalen was tight-lipped about the three-story, 14,108-square-foot restaurant space at the northeast corner of INTRO, across Gehring Avenue from the Ohio City Red Line train station. All he would say is that the space would actually be two Harbor Bay restaurants, each with independent concepts. They will be a casual restaurant on the first floor and an upscale restaurant on the second floor topped by a third-floor terrace, he said.
But detailed plans were submitted to the city this week showing more than just the $2.7 million price tag for building out the two restaurant spaces.
The public record also revealed the identities and themes of the two restaurants, albeit buried in the fine print of the architectural drawings. The first-floor casual restaurant will have a wood theme and be called Pioneer, offering "Quality fire-grilled meats sourced from local farmers," plans show.
Upstairs, the drawings reveal a Spanish-Portuguese restaurant and tapas bar to be called Jajá. A tapa is an appetizer or snack in Spanish cuisine. In some bars and restaurants, tapas have evolved into a more sophisticated cuisine.
And "Jaja" in Portuguese is pronounced "zha-zha." In Spanish, it means laughter, like "haha." In Portuguese, it means "now now." But Whalen said his company didn't intend for it to mean anything, so they're having the last laugh.
For the remaining 6,000-plus square feet in uncommitted retail spaces, Whalen said he is seeking tenants that will serve the neighborhood on a daily basis. Those could include a barber, nail salon, class-based fitness tenant and more. There will be no large-scale retailer in INTRO.
"We don't need an anchor in our building to attract tenants," he said. "The West Side Market is already the anchor. There's an authentic neighborhood vibe about it."
In the public space between INTRO's two building wings, Whalen said Harbor Bay will be hiring someone to activate it with public art and engaging programming. He specifically mentioned as a potential program the Christkindl Holiday Market which is offered in more than a half-dozen cities in the U.S. and Canada during the holiday season.
"We want to make it the town square of Ohio City," Whalen said.
Other than the news that Harbor Bay will staff a construction office at INTRO, there have been other recent actions that underscore the Chicagoland firm is just getting started in establishing a larger presence in Cleveland.
Sources said in 2019 Harbor Bay was near to buying the Voss Industries building across West 25th from INTRO. Again, Whalen wouldn't confirm or deny the rumor. Instead, an investor team led by real estate broker Terry Coyne bought the property for $4.8 million after selling to Voss a newer plant in Berea.
County records show MRN Ltd. bought the 237,106-square-foot Voss plant and 4-acre property in March for $7.5 million, adding to its portfolio on the west side of West 25th. MRN is aggressively moving forward in redeveloping the large, 85-year-old factory into a mix of residential and commercial spaces.
Considering the scale of the Voss property, it shows how big Harbor Bay was willing to expand here locally. And its latest actions and plans show the firm remains serious about additional expansion here after construction work of INTRO's phase one is done.
Tyler Kapusta contributed to this article.
END