It's generally a good sign for a proposed development when demolition work is getting organized to make way for that development. But it doesn't guarantee construction will start soon – or ever – for the project or appease concerned neighbors.
A request for a demolition permit was submitted to the city today by Cleveland-based LDA Architects Inc. on behalf of developer Bridgeworks LLC. It is seeking to build a 16-story tower with 130 hotel rooms, mid-building restaurant, plus 170 apartments over ground-floor retail at the northeast corner of West 25th Street and the Detroit-Superior Bridge.
Bridgeworks is a project-specific joint venture between Grammar Properties and M. Panzica Development who previously collaborated on Church+State nearby in the Hingetown section of Cleveland's Ohio City neighborhood.
Their two-building, $60 million development, with its 11-story State tower and 6-story Church companion, has leased 86 percent of its 158 market-rate apartments and nearly all of its ground-floor retail spaces just one year after the entire complex opened, according to Apartments.com. And that was during the worst pandemic in a century.
That success has the developers desiring to set the stage for an encore. Their application for a demolition permit targets the former Cuyahoga County Engineer's property, to which Bridgeworks LLC took title on June 30. Bridgeworks paid the county $4.15 million for the 2.5 acres of land, easements and on-site structures, county records show.
According to today's application, the developers will expend about $320,000 to raze the 57-year-old, 22,395-square-foot Engineer's laboratory/office building and remove other site features. They propose to remove parking lots on the west and east sides of the site, pull up the sidewalk from the property's frontage along old Superior Viaduct/Vermont Avenue, and do selective demolition or removal and storage of features from the 80-year-old Art Deco-designed garage.
Items to be tagged, removed and stored include the garage's time-worn stone veneer from the north and west sides of that building. Salvageable stone will be restored and reattached during Bridgeworks' construction. Some interior and exterior furnishings and features from the 13,649-square-foot garage will be removed and discarded. They include garage doors, windows, partitions, casework, slab floors and roof structure, plans show.
Text messages left for Michael Panzica and Graham Veysey of Bridgeworks were not responded to prior to publication of this article. A source close to the developers said they do not have all of their layers of financing in place to begin construction. The developers reportedly want to get the demolitions out of the way so they could start construction as soon as they finalize their financing, the source said.
That same source said a big piece of that financing is desired to be a Transformational Mixed Use Development (TMUD) tax credit. The TMUD program doesn't yet exist and has run into multiple delays in implementing its rulemaking and program administration.
Todd Walker, chief communications officer for the Ohio Development Services Agency, told NEOtrans the Ohio Tax Credit Authority hoped to launch the new TMUD program by the end of September and begin accepting applications for tax credits as large as $40 million. Bridgeworks' height and construction cost would meet or exceed the TMUD program's 15-story and $50 million minimums.
The TMUD program is expected to be very competitive. There are potentially dozens of projects just in Greater Cleveland that could be submitted for TMUD credits with many more statewide. For example, developers of the half-billion-dollar Centennial project downtown said they are seeking the maximum $40 million TMUD tax credit. Up to $80 million will be available in each of the next four years for eligible projects within 10 miles of Ohio's six largest cities.
"It is my understanding that the Bridgeworks project is holding out and plan to apply for a TMUD tax credit," confirmed Michael Rogalski, chair of the Waterfront District Block Club which represents the neighborhood's residents. "Until there is a yes or no on the tax credit, I don't believe Bridgeworks will proceed or change in scope of what it is as a project. The neighborhood is generally supportive of development, if done well and done respectfully."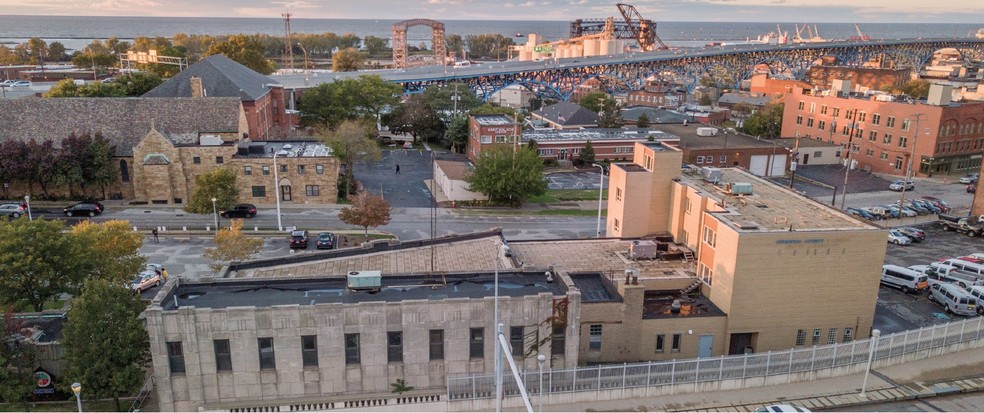 Most of the county engineers buildings are visible in this aerial view looking north with the Detroit-Superior Bridge visible at the bottom. The lab/office building is at the right, the Art Deco-styled maintenance garage in the center, and a portion of the long-closed subway station entrance building is at the left in the trees (Allegro).
Demolishing buildings for a proposed development that isn't fully secured may bring back bad memories for some Clevelanders. In 1989, the Jacobs group proposed the AmeriTrust headquarters supertall (63 stories, 1,198 feet tall) for the west side of downtown's Public Square. In 1990, they demolished two significant buildings, the 12-story 1 Public Square built in 1913 and the 13-story 33 Public Square built in 1895 to prepare for the tower's construction.
But the national banking industry was going through a wave of consolidations and AmeriTrust, once the Midwest's largest bank, was acquired in 1991 by Society Bank (later merged with Key Corp.). Society was finishing work on its own tower on Public Square at the time and didn't need two Cleveland skyscrapers. Plans for the AmeriTrust tower were scrapped. The site has been a parking lot for three decades but is proposed for Sherwin-Williams new HQ tower.
"I am not necessarily a fan of the buildings currently on the Bridgeworks site being demolished until a pretty sure guarantee that Bridgeworks project in some capacity will go forward," Rogalski added. "The last thing we need in this city is more surface parking lots."
But he explained that removing the existing parking lots on the Engineer's property may also be premature. The westernmost lot is used by St. Malachi Church, located across the street, for overflow parking on Sundays and for special events.
"I think it is important for the Bridgeworks development team to consider its neighbor, St. Malachi, the relationship they hope to have with the church going forward, when making that decision," Rogalski said. "It's good to be a good neighbor."
END