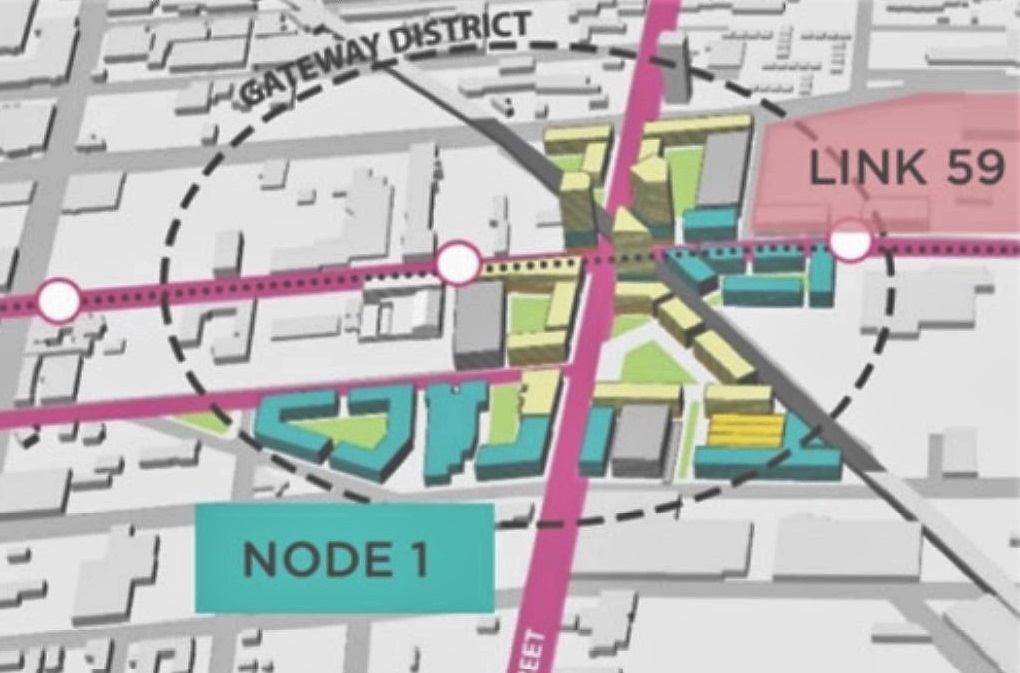 The intersection of Euclid Avenue and East 55th Street was one of Cleveland's most densely developed urban nodes. That is, until post-war urban sprawl, white flight and deindustrialization drained the city of more than half of its population. MidTown Cleveland Inc. is undertaking an effort to help reverse that trend and re-energize this once-vibrant urban node (MTC). CLICK IMAGES TO ENLARGE THEM
Goal is to add up to 1 million square feet
MidTown Cleveland Inc. wants to restore much of the density and vibrancy at what was once among the city's most important intersections. It is requesting a development partner to help it achieve that goal.
Its ultimate development goal is to construct at Euclid Avenue and East 55th Street up to 1 million square feet of new mixed-use space — residential, retail, lodging and offices/labs for research, start-up firms and established employers. MidTown Cleveland says it will be developed with its newly adopted Neighborhood Vision Plan in mind to maximize employment and/or residential density, create a sense of place while honoring, valuing and connecting the neighborhood to its surroundings.
The Euclid-East 55th effort intends to move forward quickly with responses to a request for qualifications (RFQ) due by Dec. 8. MidTown Cleveland officials say the market demand exists to realize this ambitious vision, pointing to efforts already under way involving another development partnership.
That development partner, Wexford Science & Technology, LLC of Baltimore, reportedly intends to break ground in 2022 for a five-story, 150,000-square-foot office building and multilevel parking deck at the northwest corner of Euclid Avenue and East 66th Street.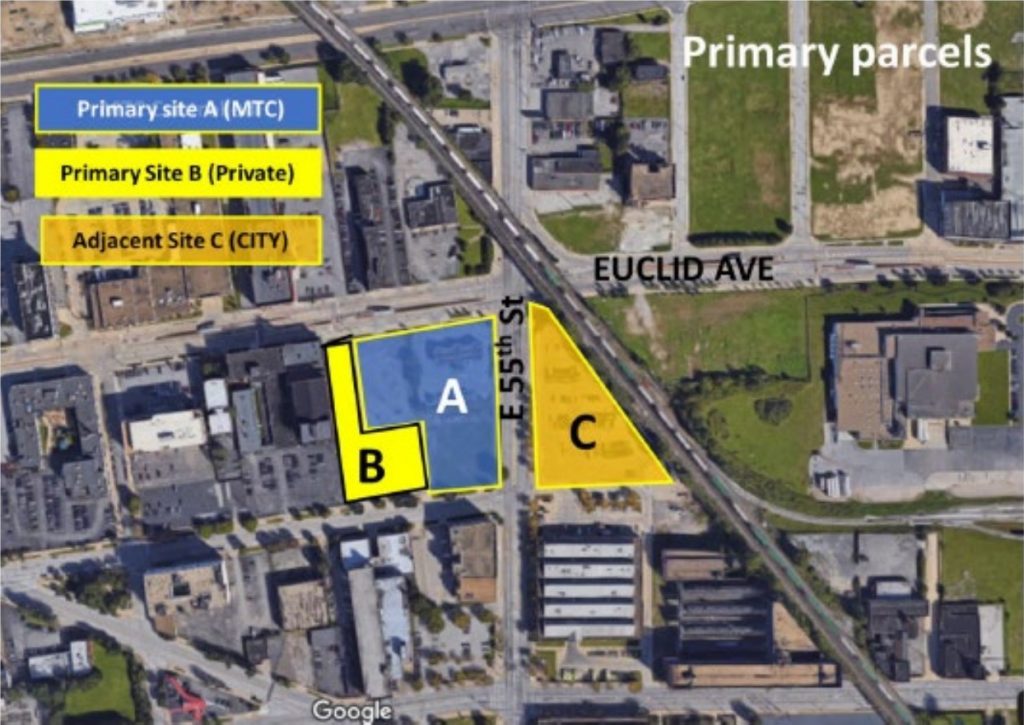 These are the primary sites in MidTown Cleveland's request for qualifications to developers, totaling 6 acres. All are vacant or used for surface parking. Primary site A is 3 Acres and controlled by MidTown Cleveland. Primary site B is one acre and the only one in the RFQ controlled by a private owner, AEG Presents. Adjacent site C is 2 acres, owned by the city of Cleveland. Just south of it is the former Warner & Swasey complex, part of another planned development (MTC).
Wexford typically doesn't move forward with a project unless it is at least 50 percent pre-leased. The proposed building could house anywhere from 700 to 1,000 office and research workers and be the first phase of an innovation campus. It is across East 66th from the Cleveland Foundation's new 54,000-square-foot headquarters, now under construction.
"The first phase includes 150,000 square feet of new development along a historic north-south corridor on land that has been vacant for decades," MidTown's RFQ reads. "Meant to corral institutional buy-in and stimulate regional economic growth, the innovation campus seeks to employ the best practices from innovation districts around the nation. Land is under control for future phases that will add up to 1 million square feet of additional space."
MidTown's long-range planning documents show several proposed buildings on the north and east sides of the Euclid-East 55th intersection to be of comparable height to the Wilson Apartments at East 55th and Chester Avenue. That tower is 22 stories and 210 feet tall. It was built in 1971. However, market demand will ultimately determine the scale of development desired in Midtown's RFQ.
The nonprofit community development corporation has identified properties it will develop with its chosen partner as well as which ones it considers to be priorities. According to the RFQ that was issued Nov. 1, the first priority includes development of three vacant sites totaling 6 acres south of Euclid and west of the elevated Norfolk Southern railroad tracks.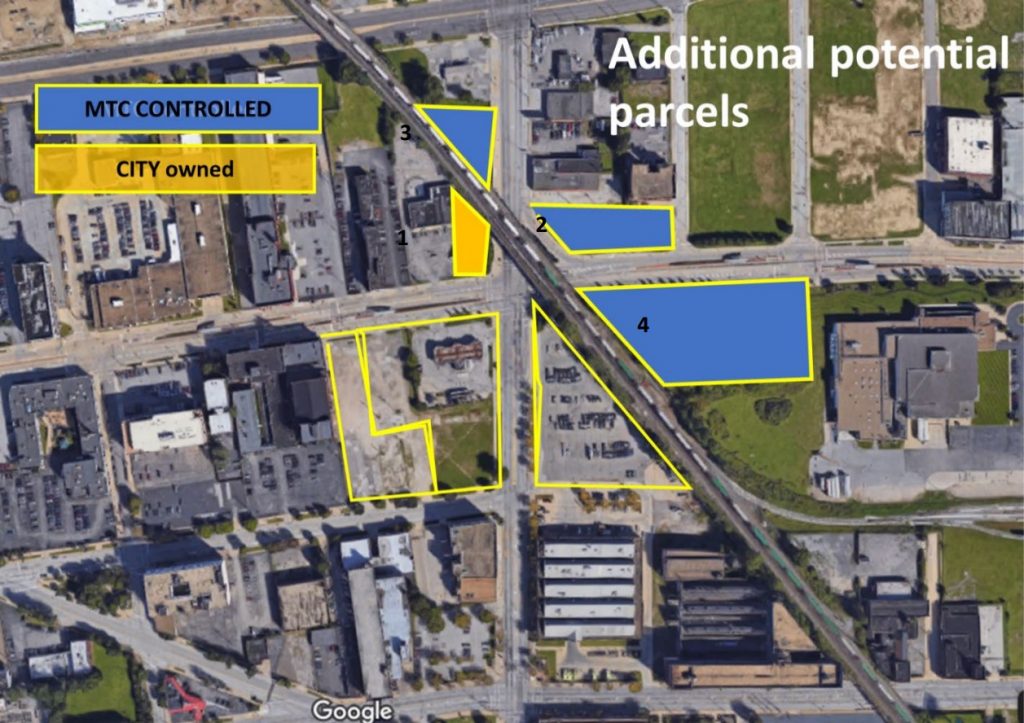 Ancillary properties in MidTown Cleveland's request for qualifications are numbered in the image above, although the numbers are difficult to see. Ancillary site 1 is a vacant, 0.3-acre parcel owned by the city of Cleveland. Sites 2-4 are controlled by MidTown Cleveland. Site 2 is 1.1 acres and a vacant lot. Site 3 is 0.3 acres and has a vacant commercial building. Site 4 is 2.3 acres and a vacant lot (MTC).
Each of the three primary sites have different owners. The city of Cleveland owns vacant land southeast of the Euclid-East 55th intersection with the Cleveland-Cuyahoga County Port Authority owning vacant land to the southwest of the intersection. MidTown Cleveland has worked closely with the port authority and others for more than two years on acquiring, clearing and cleaning properties around the Euclid-East 55th intersection.
In 2019, the port authority amended a longstanding property access and assessment agreement with Lassi Enterprises, LLC, the land assembly and project partnership equity subsidiary of MidTown Cleveland Inc. The agreement gives Lassi site control over port authority-owned properties included in the RFQ.
The only privately owned site in the RFQ is a parking lot owned by AEG Presents, the world's second-largest concert promoter. In 2018, it completed a $3 million rehabilitation of the historic Agora Theater. An adjacent office building in the Agora complex is being converted to apartments. The parking lot that's part of the RFQ is located along the east side of the Agora Theater. MidTown said it will address district parking, including a potential parking garage for Agora concert traffic.
"AEG Presents is engaged in the current RFQ process along with MidTown and will be part of the proposal evaluation process," the RFQ document reads. "The terms and extent of AEG's involvement in the project are still to be determined."
"(We are) excited to be announcing an incredible opportunity for redevelopment of a 6-acre site located at the heart of Cleveland's east side, the intersection of E55th and Euclid Ave.," said Richard Barga, vice president of economic development at MidTown Cleveland, in a LinkedIn post. "MidTown is releasing an RFQ for a development partner to help us transform one of the most important intersections in the city."
Another 5 acres of properties considered "ancillary" in the RFQ are mostly east of the elevated railroad except for a 0.3-acre city-owned lot on the north side of Euclid. The largest ancillary site is a 2.3-acre swath that was once owned by the Greater Cleveland Regional Transit Authority (GCRTA) and sold in March 2020 to an affiliate of the Cleveland Foundation. It was transferred at the end of the year to the port authority so it might eventually be included in MidTown Cleveland's development vision.
Jeff Epstein, MidTown's executive director, said the goal of the development corporation's vision for Euclid-East 55th is to restore the density and vibrancy the neighborhood once had. Today, Euclid-East 55th is a place people travel through, be it in cars on major thoroughfares or on GCRTA's HealthLine bus rapid transit. But from the mid-1800s to the mid-1900s, it was a place called Penn Square that many people traveled to, making it a mini-downtown district.
It was called Penn Square because the main Cleveland railroad passenger station for the Pennsylvania Railroad was located here, southeast of the Euclid-East 55th intersection. At this station, travelers could board and alight two dozen daily passenger trains to/from places as far west as St. Louis and as far east as New York City.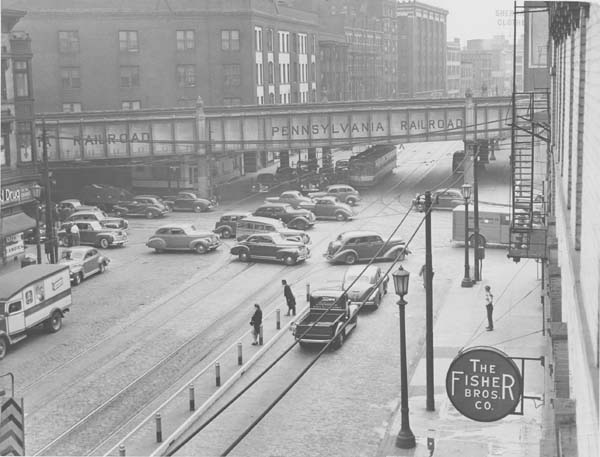 Streetcars, a passenger train station, pedestrians and vehicular traffic all combined at the intersection of Euclid Avenue and East 55th Street to create a mini-downtown called Penn Square. The convergence made this a vibrant neighborhood until the 1960s after which it quickly faded. Today, out of all the buildings seen here in this 1940s view, only one (barely visible in the distance) still stands. MidTown Cleveland is trying to restore some of that lost vibrancy (Press/CSU).
Two busy streetcar lines also crossed here, carrying as many riders as all of Northeast Ohio's transit agencies combined do today. The mix of those transportation modes and mixed-use density featuring theaters, apartment buildings, shops and industries gave the immediate neighborhood the activity level of a 24-hour, satellite downtown.
One of the key projects for the area is to redevelop the long-vacant Warner & Swasey machine-tool factory on Carnegie Avenue just east of East 55th into 140 apartments and 20,000 square feet of office space for $54 million. The project has received some Low Income Housing Tax Credits from the state but not as many as its developer Pennrose Properties LLC had hoped.
More than $80 million in new developments have occurred within a few blocks of the Euclid-East 55th intersection in recent years. In addition to the renovations of the Agora complex, this investment includes a new Link 59 office building, University Hospitals Rainbow Center for Women and Children, and Dave's Supermarket.
END