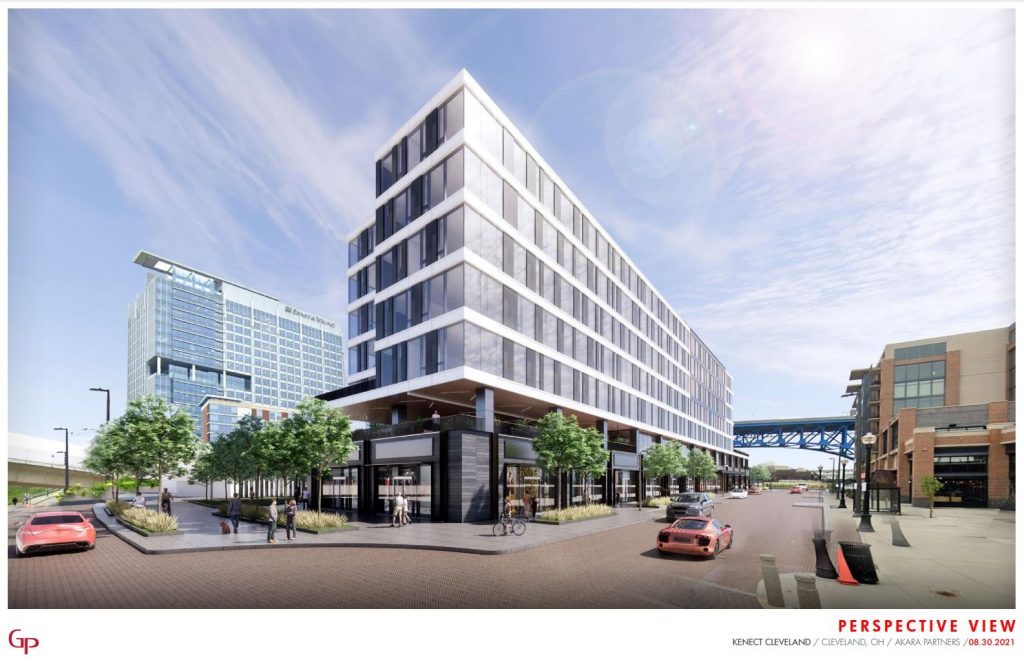 Plans were shared with NEOtrans today for Kenect Cleveland, the proposed next phase of development of downtown Cleveland's Flats East Bank. This conceptual rendering by Goettsch Partners for developer Akara Partners, both of Chicago, shows a wide-angled view looking generally east from the intersection of Front Street on the left and West 11th Street on the right. Currently occupying the site is a 173-space, 2.45-acre surface parking lot (GP). CLICK IMAGES TO ENLARGE THEM
The next phase of development at Flats East Bank has undergone some refining in the last couple of years as the pandemic and technological advances have affected the real estate market. Although the plan was always to build a mixed-use but residential-focused structure, this next phase (dubbed by some as Phase 3B), has been pruned somewhat.
With an early construction cost estimate of $84.4 million and a project size of 213,376 square feet, Kenect Cleveland is still a significant project. The seven-story building is proposed to have 229 market-rate apartments above three levels of parking with 229 spaces, plus 10,000 square feet of ground-floor retail and a leasing office of about 5,000 square feet.
Also planned are 10,500 square feet of co-working space on the first and second floors, an indoor amenities fitness/lounge/gaming room measuring 13,278 square feet on the second floor, plus an outdoor pool and an indoor wet bar/lounge on the third floor. Lastly, Kenect Cleveland will have second-floor, covered, outdoor terraces facing north and south as well as a lawn space on the north side of the building, plans show.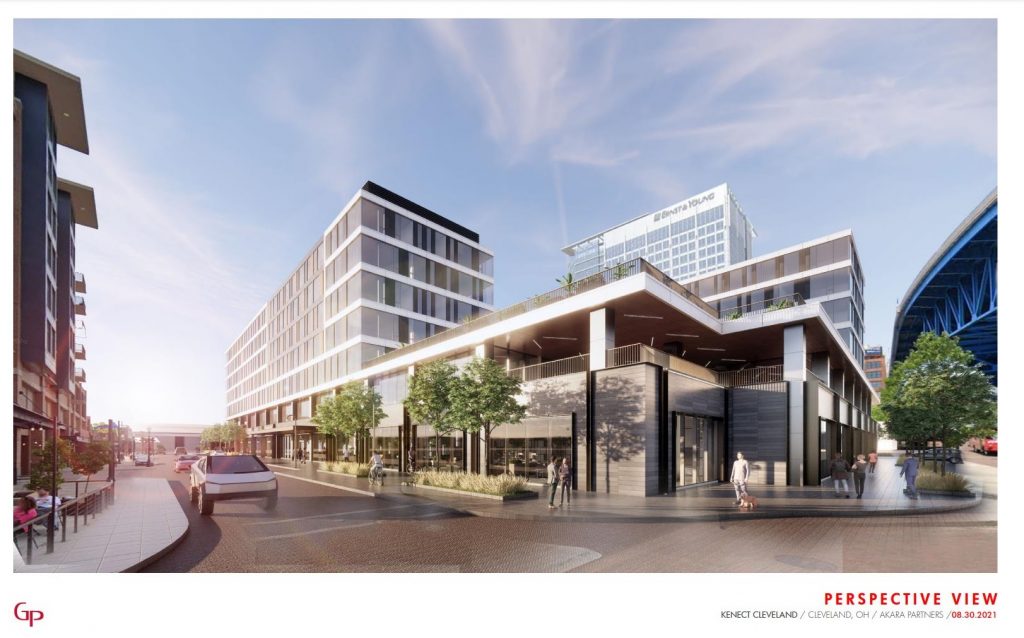 Looking generally north up West 11th Street with Main Avenue and the Shoreway bridge at right. The first floor to the left of the near corner will have a leasing office. The first and second floors to the right of the near corner will have co-working spaces. One of two second-floor, outdoor, covered terraces is at this corner. Above it is an outdoor swimming pool with an indoor wet bar and lounge both of which are not visible here (GP).
Proposed by Chicago-based Akara Partners with the Cleveland-based Wolstein Group as a minority partner, the developers hope to start construction in the second quarter of 2022 if they can secure city approvals this winter, said Stephen Ng, vice president of investments at Akara Partners.
"Having already received entitlements (from the city) for a larger iteration of the project on the same site, we understand the city design parameters," Ng wrote in an e-mail to NEOtrans. "We have ongoing communications with the city to make them familiar with the current design. Other than building permits, land use is subject only to Site Plan Review, which we expect to complete by January 2022."
NEOtrans reported last March that the project was being scaled back from having 325 mostly micro-unit apartments and more retail space in a 12-story building. It also no longer includes things like a multi-screen movie cinema and as much co-working space as before, according to conceptual plans drafted by Chicago-based Goettsch Partners.
Although the micro-units are no longer part of the plan, Kenect Cleveland still has 65 units called "junior one-bedroom" apartments that measure anywhere from 452 to 605 square feet. Nearly all of the 109 regular one-bedroom apartments are proposed to offer 700 square feet with a few as large as 759 square feet. The 25 two- and 30 three-bedroom units are proposed to measure just over 1,000 and 1,300 square feet, respectively.
"I'm excited about the future plans for growth in the Flats East Bank and the continued improvement and revitalization of our riverfront," Ward 3 Councilman Kerry McCormack said recently. "We've got to continue opening up our waterfronts to people, housing, business and visitors. We've got to maximize the potential of our God-given assets."
Ng said Kenect Cleveland's construction duration should last about 24 months. In earlier communications with NEOtrans, Akara Partners CEO Rajen Shastri said he had hoped to get construction underway by the end of this year. But financing wasn't yet available.
Last December, Cleveland City Council extended by 30 years an existing 30-year Tax Increment Financing (TIF) arrangement for the Flats East Bank development that began a decade ago. That will let Wolstein's Flats East Bank affiliates forego non-school property taxes on the 23-acre parcel until 2071.
Freeing up resources also included refinancing a $30 million Department of Housing & Urban Development loan which took longer to secure than planned. Kenect is a brand name prefix for multiple developments in multiple cities by Akara Partners.
Along the downtown banks of the Cuyahoga River, the first phase of the Flats East Bank development, valued at $275 million, consisted of a 23-story, 480,000 square foot office tower that's 95 percent leased, an eight-story, 150-room Aloft Hotel and 30,000 square foot of restaurant and retail space. It was completed in 2013.
In 2016, the second phase was finished, totaling $146 million not including boardwalks, streets and other infrastructure. This phase featured an eight-story, 247-unit apartment building with 100,000 square feet of ground-floor retail and restaurant space.
Like the office tower, the apartments are 95 percent leased. They are commanding rents of $1.89 per square foot, on average. All of the restaurant/retail spaces are leased after Cherie Win Bar, ESPN Cleveland and Cocky's Bagels chose to open here, NEOtrans reported. Total value of the completed phases which counts new riverside restaurants as phase 3A, is $500 million.
The first two phases were a joint venture of the Wolstein Group and Fairmount Properties. Fairmount sold its interest in Flats East Bank in 2018. Soon thereafter, Akara Partners entered the picture. Later phases of Flats East Bank could total nearly 2,000 residential units and tens of thousands of square feet of commercial space including co-working spaces, retail and restaurants, bringing the total Flats East Bank investment to $1 billion, said Scott Wolstein, CEO of the Wolstein Group.
END