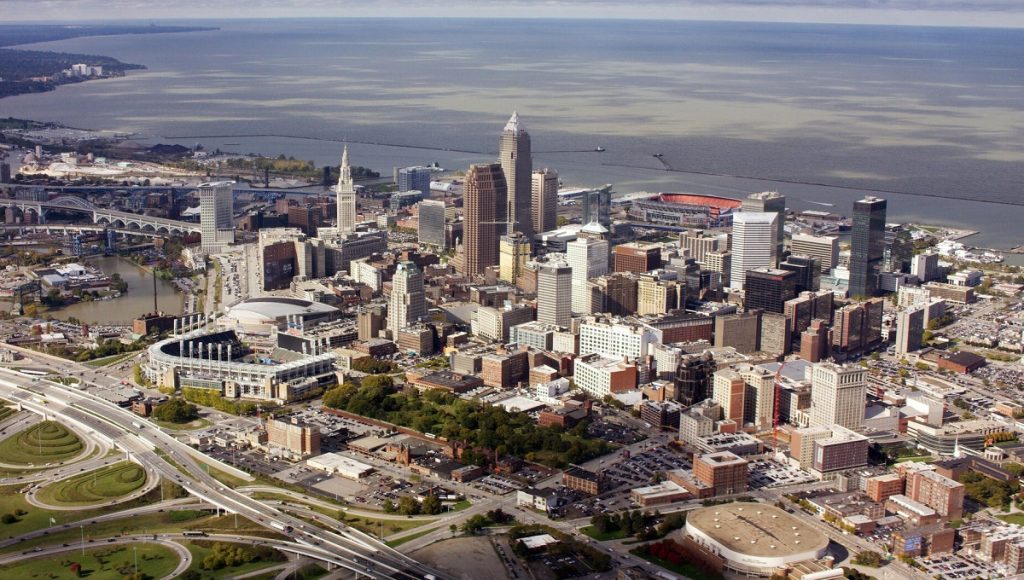 Downtown Cleveland's residential market has proven resilient in the face of recent crises. Now it is on course to break through the 30,000 population ceiling by the end of the 2020s which should attract more employers and neighborhood-style retailers, perhaps even some regional retailers as well (LoopNet). CLICK IMAGES TO ENLARGE THEM
If you spend too much time on social media, you might encounter a few folks who are under the false impression that parts of downtown Cleveland burned to the ground during the nationwide racial unrest last year. But while downtown's commercial market is still recovering from the ongoing pandemic, the residential market is hot. You might even say it's on fire.
Three data sets confirm this. One is downtown's population, which is now above 20,000 people using the only resource that matters — the U.S. Census. Another is a recent CoStar report that says downtown apartment demand is on pace for a record-breaking year. The third data set comes from a unique source.
Select investors recently received an offering memorandum regarding the off-market sale of two adjoining downtown apartment buildings — The Bingham and The Archer, 1220 and 1278 W. 9th St. in the Warehouse District. Both buildings are owned by Zeisler Morgan Properties Ltd. of Beachwood and are reportedly for sale for $110 million total.
The data shows an average occupancy for 15 comparable apartment buildings, including the subject properties, is just below 94 percent. Those buildings are also commanding rents that average $1.80 per square foot. The offering memorandum used data compiled by real estate firm Marcus & Millichap which is handling the sale of the Bingham and Archer.
Data for those buildings encompasses a total of 3,449 housing units, or just over one-third of downtown's roughly 9,000 homes. It's a sizeable sample, but not a complete sample. Many other significant apartment buildings like the 21-story Residences at 1717, 16-story The Athlon, 15-story Residences at Leader and others were not included. Meanwhile two buildings just across the Cuyahoga River valley from downtown, The Quarter and Church+State, were included in the memorandum.
Also not included is Ohio's tallest residential building, the 34-story Lumen Apartments. Completed just as the pandemic hit last year, it is too new to be included in the list. But its website lists available units and shows the building is 89.3 percent leased. The newly constructed 28-story Beacon Apartments which opened in 2019 and the converted department store The May that opened last year were included among the comparables. Both did not have their occupancy data as part of the set because they are still in their stabilization periods.
However, the Beacon's website shows that building is 94.1 percent leased. The May's website isn't clear about unit availability. Property owner Bedrock Cleveland recently switched building management firms and is making a block of 62 apartments available to ROOST Apartment Hotel for use as short- and extended-stay hospitality suites.
CoStar reports healthy absorption of available apartments so far this year in downtown Cleveland, despite that many units command top-of-the-market rents. More than 2,500 apartments have rented in Greater Cleveland with one-third of the demand occurring downtown. CoStar cites "a return to the office and to downtown living are fueling demand in the market."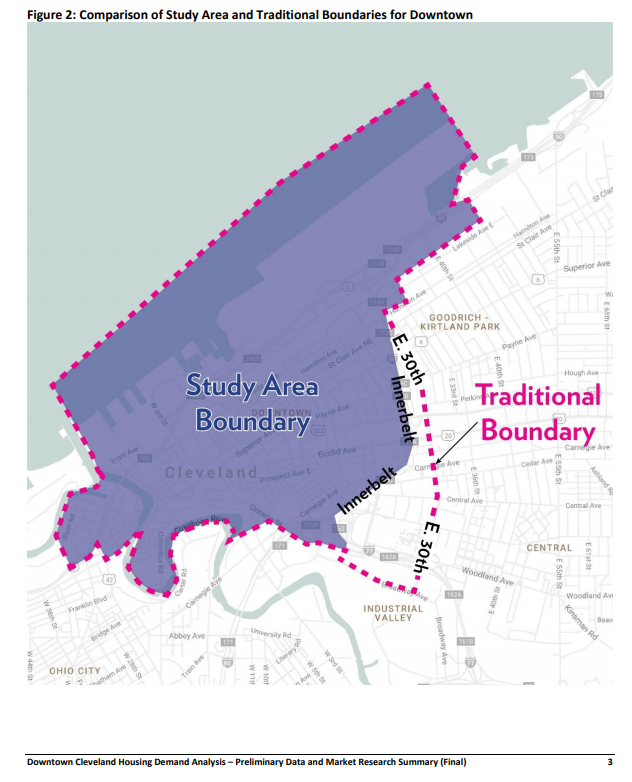 What is downtown and what areas of population should be included in its counts? Traditionally, downtown population counts have included everything inside the dashed pink line where population has surpassed 20,000. But that dashed pink line cuts across Census tracts. The purple-shaded area accounts for the entirety of four Census tracts in which population has surpassed 16,000 people (DCA).
Overall, vacancy in downtown Cleveland in the third quarter was dropping quickly below 14 percent, down from its peak of more than 20 percent in the fourth quarter of 2020, CoStar's report said. Multiple large downtown apartment buildings are due to see construction in the coming months, but won't hit the leasing market until the end of 2022 at the earliest.
The largest planned additions to the apartment market include City Club Apartments, The Centennial, 55 Public Square, 45 Erieview and the Rockefeller Building. Those and other projects represent 60 percent of the planned apartment units in Greater Cleveland and may keep downtown vacancy rates above historical averages.
But it will also help push downtown population figures ever higher, up from the current 20,013 people in four Census tracts and a sliver of additional land west of East 30th Street that has been the traditional eastern boundary of downtown, according to a summary by NEOtrans contributor Tyler Kapusta.
Downtown's actual population has been a topic of debate lately. At issue is a recent Downtown Cleveland Alliance (DCA) housing study. The 2018 study predicted the 20,000 figure and estimated that by 2021, the four census tracts would have a population of 16,409. The U.S. Census in April 2020 counted 16,098 people in those tracts. So achieving 16,409 in 2021 was a solid estimate, Kapusta noted.
The missing population is in the non-shaded section of the map (shown above) between the Inner Belt and East 30th that DCA estimated would have a population of 3,604 in 2021, Kapusta said. That area is filled with public housing units and homes for low-income families. This area's population may briefly plunge in the 2020s. The Cuyahoga Metropolitan Housing Authority continues to raze and replace the 17-acre Cedar Estates. Among its first efforts is the development of Sankofa Village and Scholar House just west of East 30th.
END