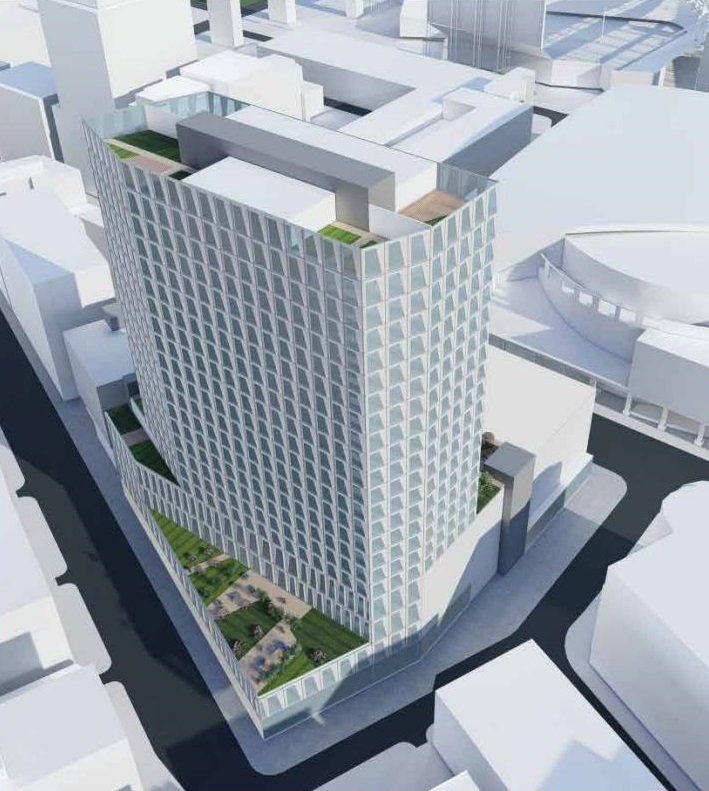 This is the most recent proposed version of One nuCLEus Place, a 24-story office tower atop a podium of parking and retail planned in downtown Cleveland. This proposal spurred the creation of a new state program to support the development of large, complicated projects that could positively transform their communities. But the largest announced tenant for nuCLEus appears to be courting a new landlord and could further frustrate long-standing efforts to develop this project (Stark). CLICK IMAGES TO ENLARGE THEM
UPDATED SEPT. 23, 2021
One the eve of submitting applications for a new state tax-credit program to aid transformational real estate projects, the project that instigated the program is facing a major stumbling block. In fact, it isn't publicly known if NuCLEus, announced seven years ago, is even still alive and if so in what form.
One of Cleveland's largest law firms, Benesch, Friedlander, Coplan & Aronoff LLP, is reportedly considering expanding its offices and hundreds of employees to Cleveland's tallest and most prestigious skyscraper — Key Tower, 127 Public Square.
That's according to four independent sources with direct knowledge of the relocation, but who were not authorized to speak publicly about it. Benesch currently occupies four floors and about 120,000 square feet at the 45-story 200 Public Square with the main entrance to their offices on the 23rd floor. Benesch's lease at 200 Public Square runs out in the summer of 2022. The firm hadn't extended its lease as of August 2020.
Jeanne​ Hammerstrom, chief marketing officer at Benesch, was contacted for confirmation of the reports and for additional details.
"Sorry, we don't have anything to say as we have no decisions at this time," Hammerstrom said in an e-mail to NEOtrans this afternoon.
The Millennia Companies' Marketing and Communications Manager Valerie Jerome was also asked to confirm or deny the reports of Benesch moving or expanding to Key. Key Tower is owned by The Millennia Companies, a Benesch client.
"I cannot confirm the accuracy of this information," she said in an e-mail to NEOtrans.
Stark Enterprises' President and CEO Robert Stark acknowledged receiving an e-mail seeking clarification and comment but otherwise did not respond prior to publication of this article.
It is not known what floors in Key Tower Benesch might be considering or what operations it may move there. There is speculation it could be Benesch's real estate practice, given its work with Millennia. Only two contiguous full floors appear available. The 22nd floor is available through a direct lease with the landlord and the 23rd floor through a sublease. Combined, they total about 45,000 square feet which is enough to accommodate more than 200 office workers.
Tenants prefer to have their offices on contiguous floors when possible. The next closest floors in the 57-story Key Tower with available space appear to be the 16th and 28th floors. Not all subleasing opportunities are publicly listed, however. Benesch's move may be a reduction in space compared to their tenancy at 200 Public Square.
Shortly after nuCLEus was proposed in 2014 as a $500 million, 54-story mixed-use tower in downtown's Gateway neighborhood, Benesch committed to taking a substantial amount of space in the project. The law firm was to be the anchor tenant for nuCLEus and would have naming rights for the office component.
To afford building nuCLEus, Stark Enterprises floated several public financing schemes. The one that grew legs was the Transformational Mixed Use Development (TMUD) tax credit. It was created to fund major real estate construction and renovation projects within 10 miles of Ohio's six largest cities.
After several years of debate, Ohio lawmakers passed the program late last year and Gov. Mike DeWine signed it. The TMUD program was expanded in June to achieve its originally intended length and scope — four years of $100 million worth of tax credits per year.
The deadline for submitting TMUD applications to the Ohio Department of Development is Oct. 29.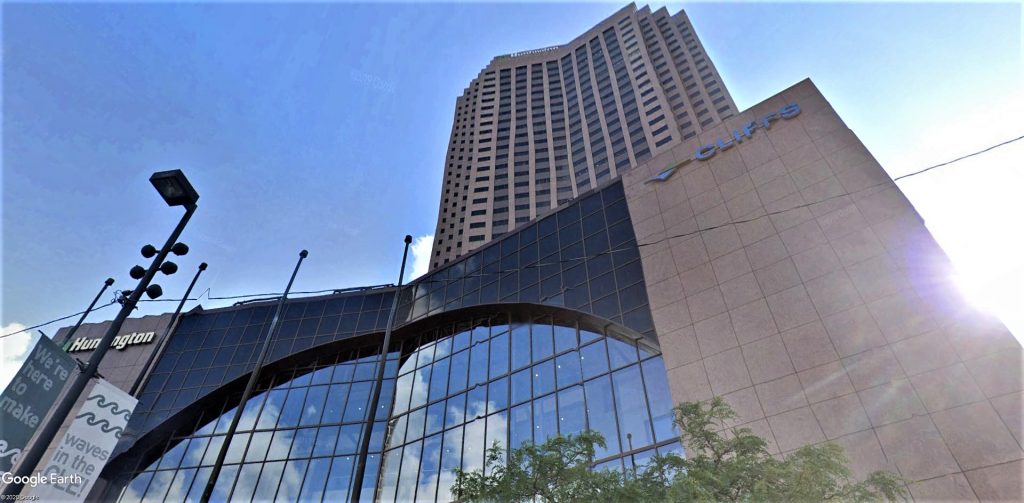 Benesch's current home is the 23rd and nearby floors at 200 Public Square, a 45-story skyscraper that opened in 1985 (Google).
Benesch's space requirements started out as a 66,500-square-foot commitment to nuCLEus but soon grew. Two years later, it upped its space needs to 100,000 square feet. Last year, Benesch said it needed 180,000 square feet in the mixed-use development. But by keeping most of its staff at the 200 Public Square and moving other staff into Key Tower, Benesch could have enough space to expand.
In a scaled-down version of nuCLEus, Benesch said it would occupy nearly half of a separate 24-story building with 400,000 square feet of office space, next to another 24-story tower with 250 apartments with a construction cost totaling about $353 million. Both would be atop of a pedestal of retail, restaurants, entertainment and structured parking totaling 1,300 spaces. Stark also said it will relocate its 28,000 square feet of offices from 629 Euclid Ave. to nuCLEus.
Last year, nuCLEus was scaled down again, this time as a single, 24-story building. Although Stark never confirmed it, there were conflicting rumors that nuCLEus would be just an office building or a mixed office-residential tower over retail and parking. In March 2020, Stark appeared to be days away from announcing a summer groundbreaking date for nuCLEus. That was interrupted by the pandemic and an economic shutdown.
In addition to being one of Cleveland's largest law firms, Benesch also has been one of its fastest growing. Benesch has more than 200 attorneys and hundreds more employees in Cleveland and nationwide. The firm was founded in 1938 and enjoyed a growth spurt in recent years.
Since making its debut on the AmLaw 200 list in 2016, populated by the 200 largest law firms in the nation, Benesch has risen to 168th with 2019 revenues of $160 million. In just the past few years, more than 80 attorneys have joined the firm.
END