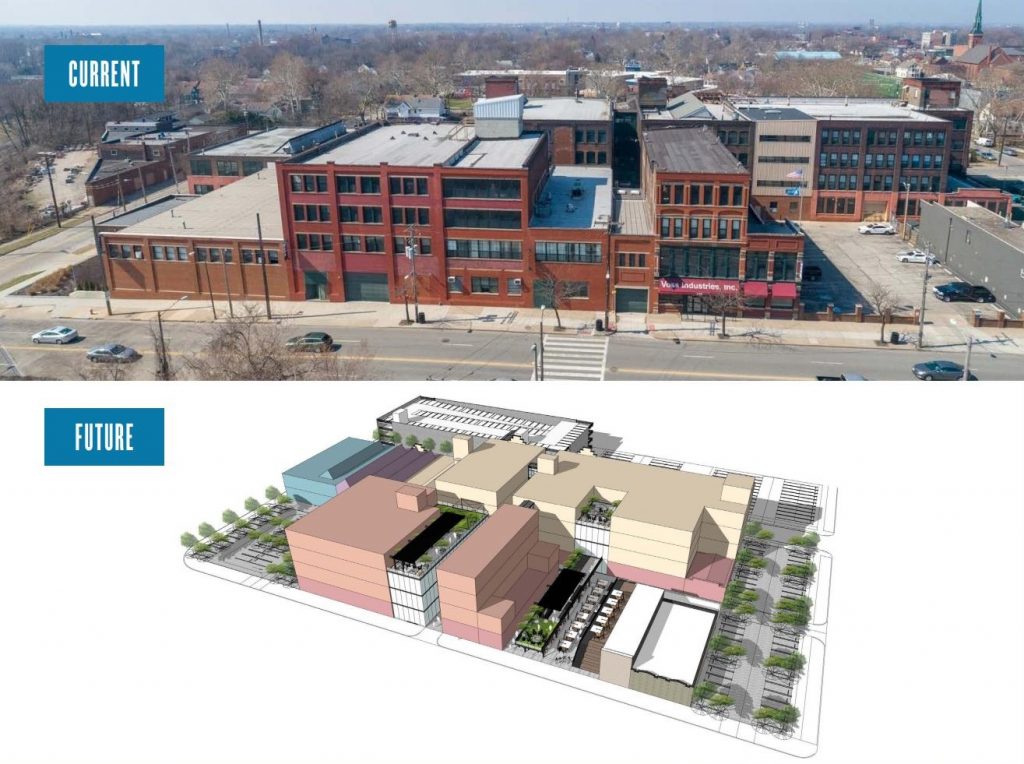 Everything from a maker space, to a tiny hotel to a speakeasy are planned for the vacant Voss Industries plant on West 25th Street. Some parts of the complex are proposed to be demolished while other parts would be added. The demolitions would create pedestrian laneways through the site, lined with retail and restaurants as well as some strategically placed parking lots (CBRE). CLICK IMAGES TO ENLARGE THEM
New details have emerged about a significant adaptive re-use of the vacant Voss Industries plant, 2168 W. 25th St., in Cleveland's Ohio City neighborhood that is proposed to see construction start in early 2022. As outlined in a real estate brokerage's marketing piece, MRN Ltd.'s Carriage Works would deliver by the end of 2023 some very diverse uses that may overshadow the project's 80-apartment residential component.
The Carriage Works redevelopment is proposed to have 50,000 square feet of retail plus food and beverage space, 40,000 square feet of office/co-working space, a 15-room hotel and 300 parking spaces, preliminary plans show. Plans will be submitted to the city for approvals this fall.
Specifically, some of the retail uses may include a 12,369-square-foot "market," a 4,800-square-foot food hall, an outdoor beer garden, a 7,000-square-foot basement speakeasy reminiscent of 1920s-30s Prohibition-era Cleveland, and a 6,000-square-foot Makers Space. Most of the apartments will range from 526 to 1,114 square feet.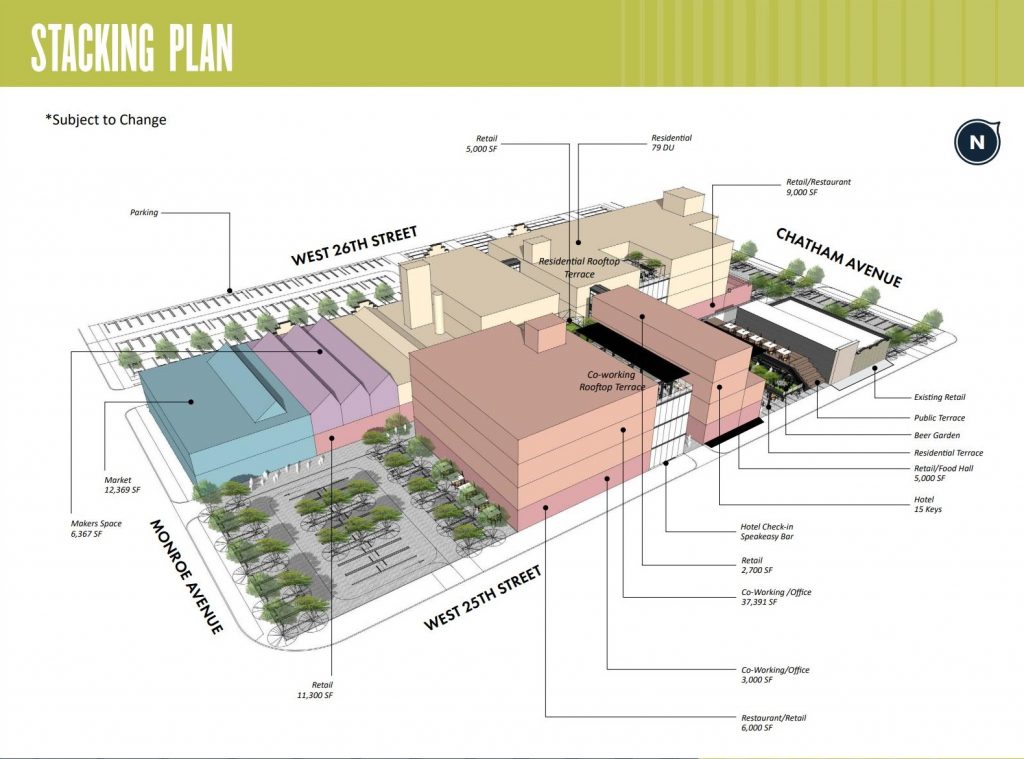 The wide variety of proposed uses is more evident in this image, looking generally northwest from West 25th Street. The West Side Market is out of view to the right or north. Unlike in the first image, which shows a parking garage and surface lots along West 26th Street, this view shows only surface parking lots (CBRE).
A Makers Space is a community workspace that offers new technology and equipment like 3D printers, computer numerical control (CNC) machines and more. It's a place for people and start-up businesses to learn, experiment, collaborate and use equipment that they may not be able to afford or otherwise have access to. Instructional workshops and open hours allow the public to master new software and create personal projects.
The development plan also shows new pedestrian-oriented laneways with shops along them. The laneways would use existing passageways between the buildings in some sections. Other portions would be cut through via selective demolitions, thereby extending Hancock Avenue east of West 26th and creating West 25th Place.
The development is called the Carriage Works because the Rauch & Lang Carriage Company preceded Voss Industries at this site, according to a 1912 Sanborn Insurance map. The selective demolitions would restore the original alleys that existed through the factory prior to its expansion in the 1930s.
In 2019, an investor team led by real estate broker Terry Coyne bought the 4-acre Voss Industries property and 237,106 square feet of structures for $4.8 million after selling to Voss a newer plant in Berea. Voss, an aerospace manufacturer, moved out its 300-plus employees the following year.
MRN Ltd. acquired the property for $7.5 million in March 2021, county records show. The real estate development and management firm already owns the 10-story United Bank Building at the southwest corner of West 25th and Lorain Avenue as well most of the properties extending south from there to the Carriage Works site.
"Carriage Works is a fantastic example of a creative adaptive reuse project that will not only bring a variety of uses together, but one that will also create some extremely unique spaces by activating the long dormant West 25th Place and Hancock Avenues," said Ohio City Inc. Executive Director Tom McNair.
This development is proposed across West 25th from Harbor Bay Real Estate Advisors' $145 million INTRO that has been under construction since spring 2020. It is due to be completed next spring and feature 300 apartments, about 35,000 square feet of retail and restaurants plus 30,000 square feet of new local offices for Chicago-based Harbor Bay. A second phase with a 15-plus-story residential building is being considered just south of the nine-story, 350,0000-square-foot first phase.
"Along with what is happening across the street at INTRO, these projects will help to completely transform the commercial stretch south of Lorain Avenue and tie the neighborhood together," McNair said.
Parking for the Carriage Works is shown in multiple settings. A half-dozen parking areas are contained within the main block bounded by West 25th and 26th streets plus Chatham and Monroe avenues. But most of the spaces are proposed on vacant land on the west side of West 26th. One rendering shows the parking in that area would be entirely in surface lots. Another shows a multi-level garage just north of Monroe.
"In one of the city's densest and fastest-growing neighborhoods with a variety of transportation options, we are constantly pushing for the best land use," McNair said of the proposed parking. "That being said, we understand that this project is significant in scale and one that also has ability to grow in the future, and as the market continues to evolve we hope that those opportunities present themselves."
MRN Ltd. also has a development agreement with the Greater Cleveland Regional Transit Authority to build on land owned by the transit agency along and possibly above the Red Line rail corridor, just south of its Ohio City train station. However, no plans have been brought forward yet for that site.
E-mails seeking more information were sent to Ari Maron, a partner in MRN Ltd., as well as to the property's brokers at CBRE — Jeremy Bates, vice president of retail leasing services and Stephen Taylor, vice president of CBRE's restaurant practice group. However, those e-mails were not responded to prior to publication of this article.
Tyler Kapusta contributed to this article.
END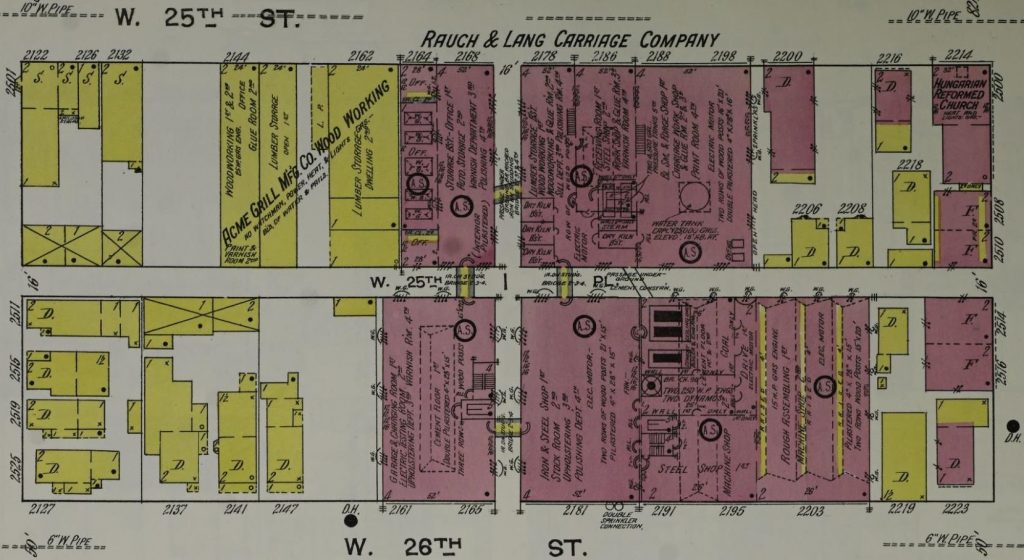 Buildings surrounding the mid-block intersection of West 25th Place and Hancock Avenue were the home of the Rauch & Lang Carriage Co. which produced horse-drawn wagons, carriages and specialty vehicles in the late 1800s. But by the time this data-heavy Sanborn Fire Insurance map was drawn in 1912, Rauch & Lang was all but converted over to the manufacture of electric automobiles that would continue here for another decade until the company went into receivership (Sanborn).