Brent Zimmerman, a real estate developer and co-founder of Saucy Brew Works, signed a ground lease today with University Circle Inc. that opens the door to a planned multi-story, mixed-use development on Stokes Boulevard. This is an old rendering of the proposed development which Zimmerman pledged will be at least as dense as this (Maison). CLICK IMAGES TO ENLARGE THEM
UPDATED SEPT. 30, 2021
On his second-to-last day as president of University Circle Inc. (UCI), Chris Ronayne signed a ground lease agreement with real estate developer Brent Zimmerman Development LLC for a proposed mixed-use development. The lease includes a triangular piece of land measuring about 2.2 acres and bounded by Stokes Boulevard, Cedar Avenue and East 107th Street. Terms of the deal weren't disclosed.
With tomorrow being his last day at UCI so he can focus on his campaign for Cuyahoga County executive, Ronayne wanted to set into motion the development or repurposing of nine underutilized UCI-owned sites. Those locations were considered by the community development corporation to be strategic to its service area.
"We proudly crossed the finish line of our ninth of nine strategic investment sites today," Ronayne said. "And with it there's a sense of satisfaction in building a place out of a parking lot in the Circle."
"UCI has been a phenomenal partner," Zimmerman said. "Covid got in the middle of it so we've been chipping away it. But it's great that we were able to get it done the day before Chris (Ronayne) moved on."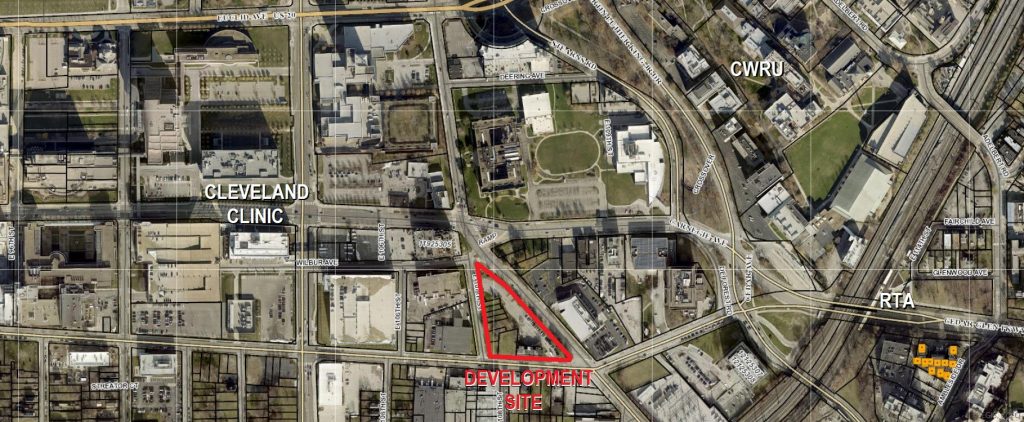 University Circle Inc.'s triangular-shaped site to be developed by Brent Zimmerman Development LLC is located between the Cleveland Clinic Foundation's main campus to the west, with Case Western Reserve University and the Greater Cleveland Regional Transit Authority's Cedar-University Red Line rail station to the east (MyPlaceCuyahogaCounty).
The site whose development was set into motion today is called the Stokes West property. Except for a vacant, century-old, six-unit brick townhouse structure, the site is used primarily as a parking lot for employees of the Cleveland Clinic to the west and for staff and students at Case Western Reserve University to the east. The townhouse structure will be razed.
In an extended interview, Zimmerman said he has been working on concepts for the Stokes West development for a year. He said a rendering posted online last year is similar to what he has in mind now except it will be larger. The old rendering shows a 121,000-square-foot development. Now, Zimmerman and his equity partner ACRE are planning a roughly 150,000-square-foot building with 255-305 apartments, most of which will be micro units that are about 250-300 square feet each.
"We'll market them to students, medical workers, professors and even surgeons who need a place to sleep in between shifts," Zimmerman said. "A new tenant will come in literally with a suitcase in their hands. We will pre-model the units with basic furniture and you pay one fee that includes your rent, utilities and internet. They will be super affordable."
The rendering shows two structures along the west side of Stokes with the taller of the two at the north end of the site, near the Tudor Arms Hotel. The taller of the two buildings is shown as a seven-story building with an active ground-floor which Zimmerman will market to neighborhood-style retailers like a small-chain drug store, bike shop and maybe some start-up businesses. Connected to it is the shorter of the two buildings, a five-story structure. Zimmerman said the updated plan will both increase the buildings' heights and footprints slightly. A small surface parking lot will be provided.
"The Stokes West site adds more density to the Circle and further builds our west end, closing any gap between the Circle, Fairfax and the Cleveland Clinic campus," Ronayne added. "This is filling in a gap and bridging neighborhoods with vitality and pedestrian traffic that breathes more life into the the already vital University Circle neighborhood."
Zimmerman is best known for co-founding the Saucy Brew Works with Brewmaster Eric Anderson. Their original location is in the Hingetown section of Cleveland's Ohio City neighborhood. Saucy has since expanded to six locations in Ohio and Michigan and ships its various beers to several states. However, he said he has no plans at this time to locate a seventh tap room at Stokes West.
Zimmerman has developed the 16-unit, for-rent Milton Townhomes on Superior Avenue at East 15th Street in downtown Cleveland. And he led the development of the 32-unit The Forty-One townhouse-style apartments at Lorain Avenue and West 41st Street in Ohio City, in partnership with Sam Messina, project executive at Geis Construction and Brad Gorman, managing director of Bear Gulch Capital.
He also led the development of a condominium complex on Hilliard Road in Rocky River that caught fire in February 2020 while the wooden structure was still under construction. The structure burned to the ground and the fire damaged a neighboring apartment building, displacing about two dozen residents. The fire was ruled an accident. Zimmerman repaired the neighboring building.
The Stokes West development site is surrounded by recent community investment initiatives. Perhaps the largest is the Cleveland Innovation District spearheaded by the state and announced last winter that is leading to the planned development of the Cleveland Clinic's massive new Global Center for Pathogen Research & Human Health.
It is near where the Clinic plans to build a new Neurological Institute and an expanded Cole Eye Institute. All three Clinic developments may total nearly 1 million square feet of space. Construction on these three large projects is due to get underway in 2022.
Stokes West is also near Fairfax Renaissance Development Corp.'s impending Innovation Square development with hundreds of thousands of square feet of housing, recreation and shops including a new Meijer grocery store along East 105th Street. The street itself is part of another community investment initiative — the Opportunity Corridor boulevard that will open to Interstates 77 and 490 in November.
Development of two other strategic investment sites were set into motion by UCI this year. One is located at the corner of Ford Drive and Hessler Road with the other being the Woodhill Supply site, located between Coltman Road and East 123rd Street in Little Italy. Construction at the Woodhill site began in August but was temporarily halted by a lawsuit filed by two nearby residents.
END