Looking generally south along East 123rd Street in Little Italy, Woodhill Coltman Partners LLC will reportedly restart construction work on a four-story apartment building following a judge's ruling. South and east of the 80-unit apartment building, the development team will also build 17 townhouses (SixMo). CLICK IMAGES TO ENLARGE THEM
A Cuyahoga County Common Pleas Court judge has ruled that two residents of Cleveland's Little Italy neighborhood lacked the standing and evidence to sustain an appeal challenging the development of a nearby apartment building. Judge Michael J. Russo dismissed the lawsuit, allowing construction at the former Woodhill Supply, 1862 E. 123rd St., to restart.
Construction on the $15 million development consisting of a four-story, 80-unit apartment building and 17 townhomes started Aug. 23 but was halted Sept. 16 after Russo issued a preliminary injunction. Construction will take a few days to restart because workers, equipment and material have to re-mobilized and returned to the site, said a source close to the development team, Woodhill Coltman Partners LLC. Another source said the development team was previously expecting that construction might be shut down for much of the winter.
The lawsuit was filed by David D. Watson and Susan C. Stone who live together near the development site at 1876 E. 120th St., according to public records. They contested the granting of a zoning variance for the project June 7 by the city of Cleveland's Board of Zoning Appeals (BZA) and Zoning Administrator Richard Riccardi for the development on property owned by University Circle Inc., a community development corporation. The city, Riccardi and UCI were all named as defendants. The development team, led by M. Panzica Development, was not named.
John Slagter, attorney for Watson and Stone, did not wish to comment on whether his clients will appeal. They have 30 days from the date when Russo's opinion was publicly filed to appeal it. Russo rejected Watson's and Stone's lawsuit and ended the preliminary injunction via a 15-page opinion filed Oct. 5.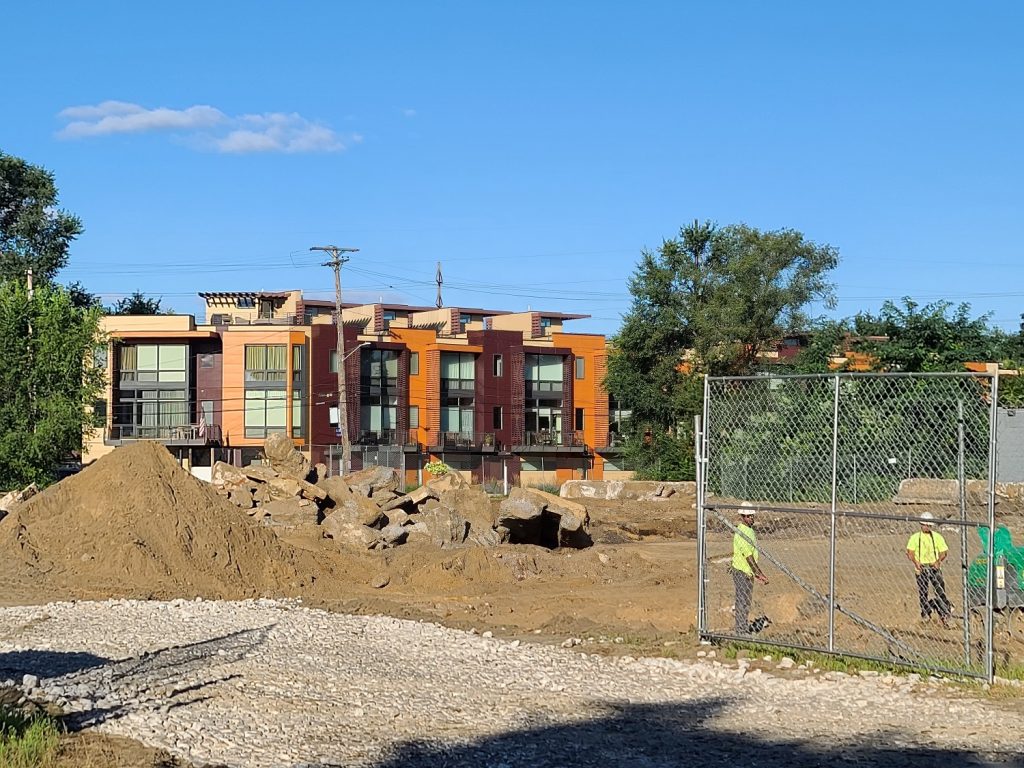 Construction work on an apartment building at the Woodhill site had just gotten under way Aug. 23 when this west-looking photo was taken Sept. 2 from East 123rd Street. Beyond the apartment development site is a parcel where a row of four-story townhouses are proposed, then there is an intersection of two streets. Beyond that are the 27 Coltman Townhomes where the two plaintiffs reside. (KJP).
"As there is no further need to protect the status quo, the preliminary injunction is hereby dissolved," he wrote. "Appellants do not have standing to appeal the decision of the Cleveland Board of Zoning Appeals. Appellants also have not articulated a lack of a preponderance of reliable, probative, and substantial evidence to allow the court to overturn the well-supported decision from the City of Cleveland."
In denying their standing to appeal the BZA's decision, Russo cited several factors. First, of the two plaintiffs, only Watson was in attendance at the June 7 BZA hearing and objected to the board's granting of a zoning variance. Neither Stone or her attorney were present at the BZA hearing. Thus, Russo said the court lacks jurisdiction to hear Stone's appeal.
Watson and Stone are partners in separate law firms; Watson is at Thompson Hine and Stone is at Kohrman Jackson & Krantz LLP, according to each firm's Web site.
In 2014, Watson objected to a proposed 205-unit apartment complex by Visconsi Companies Ltd. at the same Woodhill site. Delays from his repeated legal actions caused that project to fail and the appeal was dismissed as moot in 2018. No final decision was ever rendered in that case, court records show.
A second reason Russo gave in saying the plaintiffs lacked standing was because a complainant must show that they and not the community at large are uniquely affected by the BZA's administrative decision.
"Watson argues that he is an adjacent property owner, but the court disagrees with this assessment," Russo wrote. "Parcel 120-31-085 is the only property at issue that is directly adjacent to Watson's property, and that is the site of thirteen of the planned townhomes. As expressed numerous times at the preliminary injunction hearing in this matter, Watson explicitly does not contest the construction of townhomes, which is the only aspect of the development that will be built adjacent to his property. Watson argues that because the development is composed of the entire vacant area, part of which borders his property, that he is entitled to aggrieve the project."
In the 2014 development, apartments were to be built throughout the site. In the current development, a parcel closest to Watson's home was created from the larger Woodhill site. The townhouses are proposed to be built on that newly created lot. No zoning variance apparently is needed to build them and none has been requested.
"When the (apartment building) variance was granted, they had just recently split the lot," Slagter said last month.
Additionally, Russo said an appropriate way to measure if a complainant has standing to appeal a BZA decision is whether he has complained of "harm which is unique to himself" as opposed to the community at large. The judge said Watson failed to show how the development project would harm his property values.
Russo said the proposed apartment complex is not anticipated to be visible from Watson's home. Traffic to and from the apartment building will primarily be accessible from East 123rd St. Watson's home is on East 120th but his garage is accessible from a private drive even farther away, he said. Furthermore, Russo said Watson presented no expert testimony of how his home's value would be harmed.
"Instead, Watson testifies only that he 'feels' that the project would negatively impact the value of his property and 'thinks' that an apartment building would fail to adhere to the character of the neighborhood," Russo wrote.
Russo extolled the virtues of the planned development, noting it will provide a sculpture garden, dog park and playground area that will be available for all residents of the neighborhood, not just those in the townhomes and apartments. Additionally, the owner of the apartment building will be providing an $18,000-per-year contribution to enhance safety and security in the neighborhood.
"Finally, Watson's former view of a blighted and vacant lot will be replaced by classically designed townhomes which correlates with the city-wide master plan for the City of Cleveland directing this area to be developed for mixed-use residential, retail, office space and townhomes," Russo added. "The proposed development will be attractive to professionals, students and others who work at the Cleveland Clinic, the Case Western Reserve University and the University Circle areas, and the development will be within easy walking distance to public transportation."
END