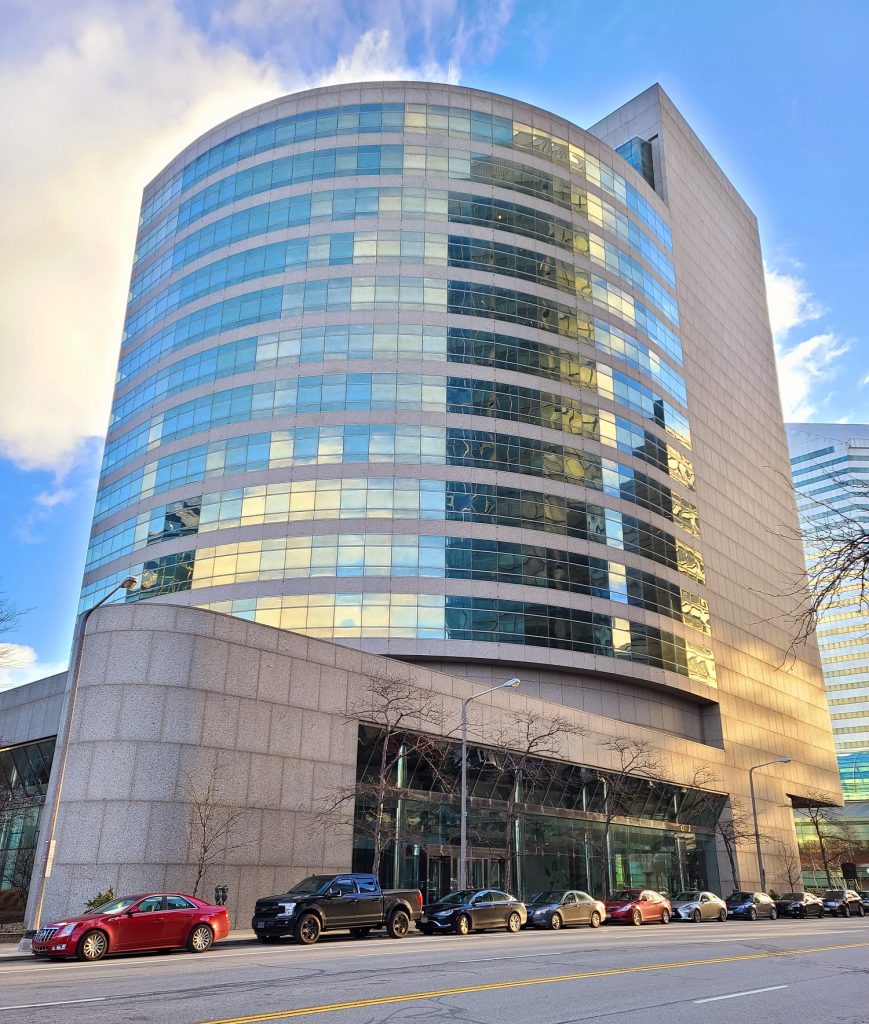 A formal groundbreaking ceremony was held this week to reactivate the former Ohio Bell Telephone Co. headquarters at East 9th Street and Lakeside Avenue in downtown Cleveland. The vacant office building will be revived with apartments, restaurants, shops and eSports gaming within 14-16 months (KJP). CLICK IMAGES TO ENLARGE THEM
$102 million project to reactivate NE corner of downtown
NOTE: This article is sponsored content
The wide variety of top-notch, on-site amenities will probably be the first thing to grab your attention at 45 Erieview. But the unobstructed views of Lake Erie and downtown Cleveland from the tower's unique curving, glassy façade will stay in your memories. With this week's groundbreaking for the renovation and conversion of the former Ohio Bell headquarters building, 45 East 9th St., those features are just 14-16 months away from being enjoyed by hundreds of residents, office users and restaurateurs.
In between will be a $102 million renovation led by a diverse development team comprised of Bluelofts Inc. and Wolfe Investments, both of Greater Dallas, along with general contractor Leopardo Companies, Inc. of Chicago, plus Sandvick Architects Inc., Steve Larson of Ulmer Berne LLP, Zak Baris of Comprehensive Zoning Services/LRB Development, with retail leasing by Jamie Dunford and Jeremy Bates at CBRE, each of Cleveland. Their teamwork will turn the vacant 1983-built office building on the southeast corner of Lakeside Avenue and East 9th Street into a mixed-use community to work, live, play, drink or dine. Residents of the 45 Erieview community will be just a short walk from all of the dining, shopping, theaters, spectator and active sports, plus lakefront recreation that downtown Cleveland offers.
Post-redevelopment, the dominant use of 45 Erieview's 492,864 square feet of space will be for 367 luxury, contemporary apartments offering a variety of bright, spacious floorplans. Residential levels will start at the third floor and continue to the 16th floor. That means every apartment will have a view of soaring skyscrapers and/or of a Great Lake. Each residential floor will have a small, interior co-working space. On the 15th floor, a large, indoor community room will open up to an outdoor pool, hot tub and large patio with a commanding view of the downtown lakefront. Of course, 45 Erieview will have a spacious fitness room, storage lockers for residents and on-site management by Allied Property Management.
On a majority of the second floor will be a data center in a comfortable workspace with high-capacity digital connections to the world. Ground-floor and basement spaces will offer retail, dining and entertainment for residents, workers and visitors alike. There are visible retail spaces, a restaurant with an outdoor patio and a coffee shop on the ground level plus an eSports venue in the lower level offering video game competitions. The property includes a 348-space parking garage next to the building plus 32 parking spaces under 45 Erieview.
"This is our third joint venture with Bluelofts," said Kenny Wolfe, president at Wolfe Investments, said at the July 12, 2022 official groundbreaking ceremony. "Commercial real estate is a team sport and we've got a good team. This is a good building that doesn't require a lot of repairs. It's a thoughtful repositioning of a building and a sustainable adaptive reuse. It's the ultimate upcycle."
"Innovation is the ability to see change as an opportunity not a threat, and there is a crisis behind this glass that most people don't see – the rising vacancies in office buildings and the shortage of housing within urban markets," said John Williams, co-founder of Bluelofts with Ike Bams. "We're so happy to say that we've finally started construction on the 45 Erieview project in booming downtown Cleveland. Thanks to everyone who made this possible! You are all truly amazing and we can't wait to see this beautiful building reborn with much-needed housing and commercial activities."
"When I look back at all of the hurdles we've gone through, it's very satisfying to get this project to the start of construction," said Michael Mastin, project executive at Leopardo Companies. "There was COVID, then inflation and ultimately price escalations that we worked through. We're looking forward to transforming this building into a beautiful new space that hundreds of people will soon call home."
"We're ready to get rocking and rolling in the Rock and Roll Hall of Fame city," added Anthony Leopardo, director of strategic relations at Leopardo Companies.
The development team was able to wrap up its project financing in February and purchase the property for $21.15 million from investor SomeraRoad of New York City after securing a maximum $5 million state historic tax credit last December. The 45 Erieview conversion is one of three major downtown Cleveland properties due to start their redevelopment this summer. The other two are the Rockefeller Building, 614 W. Superior Ave., and The Centennial, 925 Euclid Ave.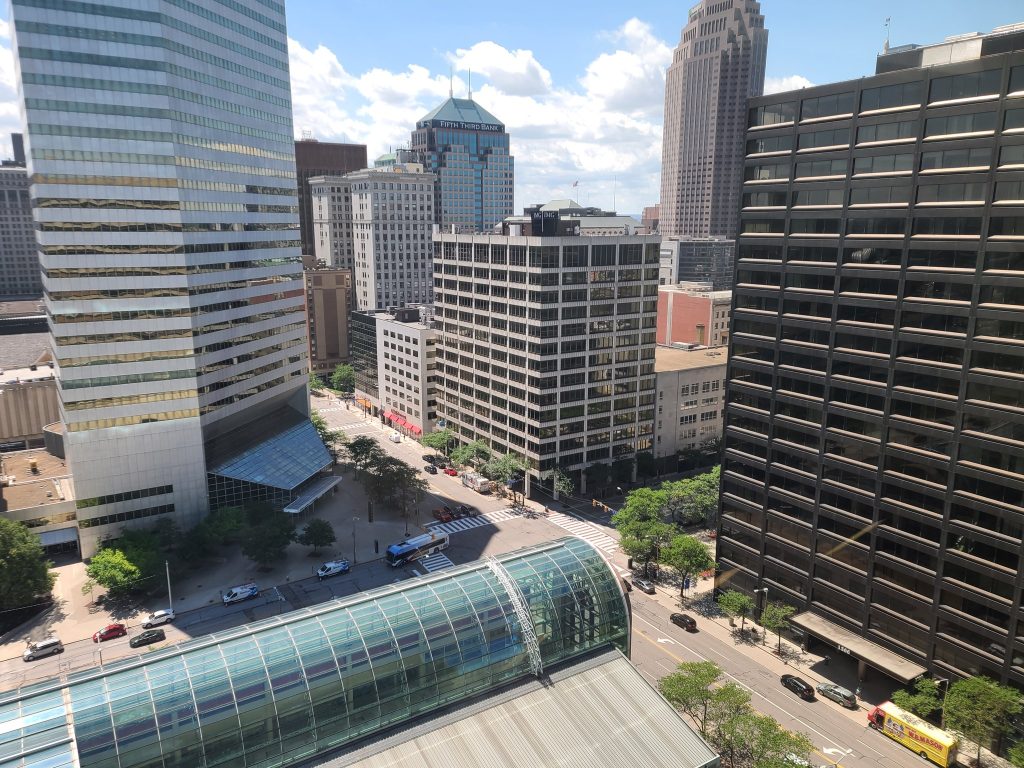 For residents living on the south side of 45 Erieview, they will also have a great views of downtown Cleveland from their spacious apartments. The intersection visible here is East 9th Street and St. Clair Avenue. The lowest residential floor will be the third, which is high enough to offer views above the north wall of the neighboring Galleria, seen at the bottom of this image (KJP).
END