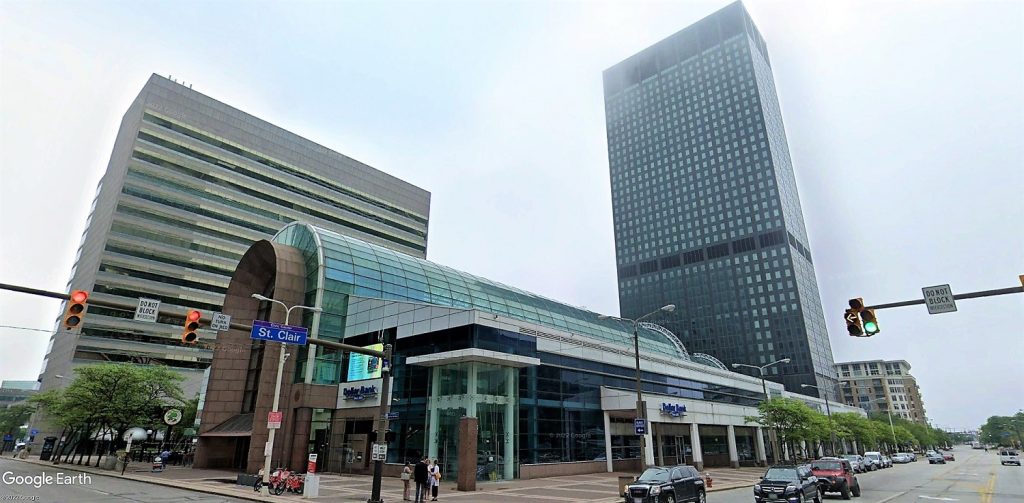 The underperforming Erieview Tower office building and its Galleria retail center received the maximum historic tax credit from the state for its $100 million redevelopment into modern offices, apartments, shops, restaurants and a five-star W-brand hotel. At left is 45 Erieview, rebranded as The Bell for its now-underway conversion to apartments. It won historic tax credits at this time last year (KJP). CLICK IMAGES TO ENLARGE THEM
Cleveland projects win $14.5 million in credits
Ohio announced state support for 54 rehabilitation projects that will restore 57 historic buildings across the state including eight redevelopment projects in Cleveland. According to state officials, the projects statewide are expected to leverage approximately $1.01 billion in private investment. The projects were awarded funding as part of the Ohio Historic Preservation Tax Credit Program (OHPTC), administered by the Ohio Department of Development. In total, 21 communities across the state are receiving awards, which total $64,132,847 in tax credits with $14.5 million of that going to Cleveland projects.
In terms of a sheer number of projects, Cleveland's East Side cleaned up with five projects winning $6.6 million in credits from the OHPTC program. Specifically, the city's Midtown district centered on Euclid Avenue at East 55th Street won big in this round, called the 29th round, announced yesterday. Three Midtown projects won awards — the Agora Building apartments, conversion of the long-vacant Warner & Swasey site to a 57-unit senior housing complex, and redevelopment of a classic Holiday Inn into a modern hotel.
Crimson Rock Capital's 73-year-old Holiday Inn, 3614 Euclid, got a $3.9 million OHPTC award to turn the 10-story building into a 189-room Delta by Marriott hotel for $39 million. Rehab of Warner & Swasey 5701 Carnegie Ave., won $2 million to help Pennrose defray costs of that $50 million project that had been passed over each time in previous OHPTC rounds although it had won $1 million in Low-Income Housing Tax Credits in 2020.
And thanks to a $242,000 historic tax credit, Renew Partners LLC-Sabor Group USA will invest nearly $1.5 million to add 13 loft-style apartments to its mixed-use, 110-year-old Agora, 5000 Euclid Ave. Another part of that large building saw construction start this fall on a $15 million project to add 48 market-rate apartments plus renovated offices and restaurants. Midtown's attraction for new residential offerings was buoyed recently by the news that the Foundry Lofts has leased out 75 percent of its 160 apartments shortly after it opened this fall and is adding a second phase.
Although a bit dated, this map shows how the tax-credit-winning Warner & Swasey building, marked as "A" here, is an important piece of Midtown's redevelopment. Other properties of note is the Agora building which also won historic tax credits yesterday. And, potential redevelopment of the now-former RTA property, since purchased by the Cleveland Foundation, is also in the works (Moody Nolan).
These latest tax credit awards continue Midtown's string of recent wins. Last week's Brownfield grant awards provided $1.4 million to clean up pollutants at a 2.4-acre vacant lot at 5508 Euclid Ave., just east of the railroad bridge. That lot is owned by a Cleveland Foundation affiliate Civic Property Development LLC which seeks to redevelop it with a mix of residential and commercial uses. The Cleveland Foundation is building its new headquarters and adding an innovation center a few blocks east on Euclid.
And, farther west in Midtown, at 3615-3635 Euclid, the future site of a high-rise Dream Hotel next to and including the Masonic Auditorium won $1.45 million in Brownfield funds to clean up that property. There, Templelive Cleveland, an affiliate of Beaty Capital Group, intends to build what now appears to be a 15-story hotel, conference center, rooftop restaurant and 200-car parking facility. It is across the street from the Holiday Inn, noted above.
But the biggest award winner in Cleveland was the $100.6 million renovation of the 38-story, 58-year-old Erieview Tower and 1987-built Galleria addition. Their owner, the Kassouf family, won a maximum $5 million historic credit. While not empty, Erieview is underperforming as an office building and the Galleria as a shopping mall. The tower will offer a mix of apartments, W-brand hotel and offices while the Galleria will be updated to attract new stores, restaurants and entertainment. A zombie office building next door, the 16-story 45 Erieview that was the former Ohio Bell headquarters, won a max tax credit one year ago to convert to The Bell, with 367 apartments and ground-floor restaurants for $102 million.
Erieview had also won a maximum historic tax credit in August 2020 — along with a $13 million Transformational Mixed Use Development tax credit awarded earlier this month. Erieview was able to win historic tax credits twice thanks to Senate Bill 225 that was passed last summer. It modified the OHPTC program, including boosting the amount of credits that could be awarded. In previous rounds, which are awarded twice each year, typically about $30 million in historic tax credits are awarded. This round was more than double that.
Also winning historic tax credits twice was the 1373 East Blvd. Apartment Building in Glenville. This time, the $4.2 million project won $236,000. In June 2021, the four-story building won $159,000 from the OHPTC program. The Havyn Apartments, 1780 E. 89th St. in Hough, was awarded $247,000 to support Michael Nance's $2.25 million vision to renovate and expand the 113-year-old residential building. In Cleveland's Ohio City, redevelopment of the West Side YMCA, 3105 Franklin Blvd., into 49 apartments called Franklin Yards received $1.2 million to help Dalad Group finance the $32 million project. On the West Bank of the Flats, Apt Development Group LLC won $1.7 million for its $17 million conversion of the 1887-built Lyman, Strong & Co. – Kaplan-Shanman Building, 1250 Riverbed St., into 70 apartments.
"By rehabilitating these historic buildings today, we can preserve the heart of our communities for future generations of Ohioans," said Gov. Mike DeWine in a written statement. "Once restored, these sites will help renew local communities and create additional opportunities for Ohioans."
OHPEC awards are intended to assist private developers in rehabilitating historic buildings in downtowns and neighborhoods. Many of the buildings are vacant today and generate little economic activity. Once rehabilitated, they will drive further investment and interest in adjacent property. Developers are not issued the tax credit until project construction is complete and all program requirements are verified.
"Revitalizing these underutilized spaces creates new opportunities for Ohioans and the local neighborhood," said Lydia Mihalik, director of the Ohio Department of Development. "These are unique spaces in our communities, and once they are transformed, they will be catalysts for future economic development and growth."
All of the Northeast Ohio OHPTC award winners are listed here. It is worth noting that all of the Cuyahoga County OHPTC winners are located in Cleveland.
END
Our latest Greater Cleveland development news