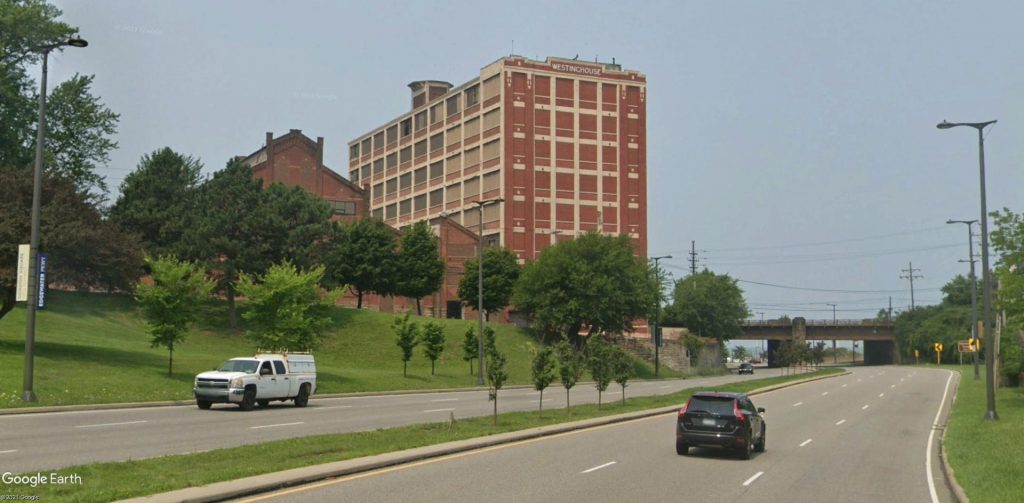 One of the impossible-to-ignore landmarks on Cleveland's West Side is the former Westinghouse plant which towers over the West Shoreway near Edgewater Park. But the vacant monolith could soon regain signs of life under a new owner with deep pockets who wants to redevelop the property (Google). CLICK IMAGES TO ENLARGE THEM
Another lakefront industrial site poised for redevelopment
One of the most visible properties on Cleveland's West Side is the former Westinghouse plant, as it towers over the West Shoreway near Edgewater Park. And it's now in the hands of an investor who intends to redevelop the historic property into a mix of uses including residential, hotel, restaurant and commercial. News of a pending sale was first reported by NEOtrans in July.
Westinghouse-Breakwater Properties LLC, an affiliate of Trebilco LLC, acquired the property at 1200 W. 58th St. from Paramount-Breakwater Properties LLC, an affiliate of the Peter and Nancy Kole Charitable Remainder Trust. The Kole family of Westlake had owned the property since 1986. The sale closed and was recorded by Cuyahoga County on Oct. 18, according to county records.
Terms of the sale were not disclosed; the property had been listed for sale at $6 million. It includes 3.62 acres of land on which 303,000 square feet of buildings set. The most visible is an eight-story, 112-foot-tall building measuring 112,000 square feet and built in 1915. Just south of it are shorter and more historic buildings 1-3 stories tall and dating as far back as 1882.
The deed transfer dates to Sept. 17 and doesn't identify the buyer beyond the LLC. However, an affidavit was also filed with the county three days after the deed transfer was filed. It was signed by Michael Trebilcock, Jr. manager of Trebilco, LLC who identified himself on the document as the buyer of the former Westinghouse property. The transaction had been in the works for nearly a year. The affidavit also noted that, "On Nov. 4, 2020, the owner and purchaser entered into a purchase agreement for the property."
The former Westinghouse property, seen at far-right, has become surrounded by residential developments at the north end of the Gordon Square neighborhood. But none of the new developments can offer the lakefront and downtown views offered by a conversion of the Westinghouse tower into residential and hotel uses (Aerial Agents).
Trebilcock confirmed the sale in an interview conducted via LinkedIn. However he was not prepared to answer detailed questions including those involving the rumored uses for the property.
"I'll be able to answer most of this in a week or two," he said. "Our plans are not confirmed at the moment but we're moving quickly so hopefully very soon. We're just now getting back into the planning and design work so I'm afraid there are not many details confirmed yet."
Trebilcock is also managing director of development at Cleveland-based MCPc, a fast-growing information technology company that helps businesses manage security risks and logistical challenges. Through its MCPc Family Charities, the Trebilcock family with the assistance of Allegro Realty rescued an historic complex in Cleveland's Flats District and turned it into a non-profit rowing facility called The Foundry.
NEOtrans reported in July that the Westinghouse plant's redevelopment costs could be near $85 million and include a boutique hotel. However the brand wasn't known nor were any other particulars such as how many residential units or commercial uses or tenants would be part of the project. The project architect is AECOM and the general contractor is Krill Co.
This represents yet another sale and potential redevelopment of a former lakefront industrial property into residential and other non-industrial uses. NEOtrans reported two days ago about the sale of a light-industrial/warehousing property overlooking Edgewater Park. Property Advisors Group last week acquired for $1.25 million a 2.156-acre property at 8400 Lake Ave. on which it intends to build housing.
Unlike Property Advisors Group's purchase, the former Westinghouse plant is surrounded by brand-new, market-rate housing at the north end of the Gordon Square neighborhood. It has been sought after by other developers for years, including a 2019 deal by Sustainable Community Associates (SCA) that was discovered and reported by NEOtrans. But SCA couldn't make the numbers work and dropped its pursuit of the property.
The plant's history began in 1882 when John Walker founded Walker Manufacturing Co. to produce power-transmitting machinery for street railways. His company substantially rebuilt and expanded the plant in 1891, three years before Westinghouse successfully sued Walker Manufacturing for patent-infringement.
Court-ordered constraints on the firm's activities led to its sale to Westinghouse for about $1 million in 1898. Westinghouse manufactured aluminum and brass castings at Walker's plant but transitioned in the 1930s to become the headquarters of the Westinghouse Lighting Division. It produced lights for use in industry, at airports and along highways, including the 1939-built West Shoreway.
Looking north on West 58th Street, the former Westinghouse plant looks faded but still has good bones. Most of the easier-to-develop sites nearby have already been built out. This is one of the more complicated ones but could also offer some of the greatest rewards to its investors and the surrounding neighborhood (KJP).
More than 500 people were employed at this plant at its peak. It closed in 1979 and the Lighting Division was relocated to 5901 Breakwater Ave. from 1980-82, according to the Encyclopedia of Cleveland History.
In 1986, the plant was sold to the Kole family of Westlake, county records show. Peter Kole was president & CEO of Paramount Stamping, Welding & Wireforming Co. In 1978, Kole purchased a manufacturing company, Farco, in Elyria and in 1981 moved the company to the Westinghouse plant where he started another company, Paramount, that manufactured steel automobile seat frames. He employed 300 people.
Kole sold off pieces of the 14-acre factory property to developers, with the remaining portion of the plant transferred in 2016 to a company Kole created — Paramount-Breakwater Properties LLC. That company was renamed on Jan. 7, 2019 as Paramount-Breakwater LLC, according to Ohio Secretary of State records.
END