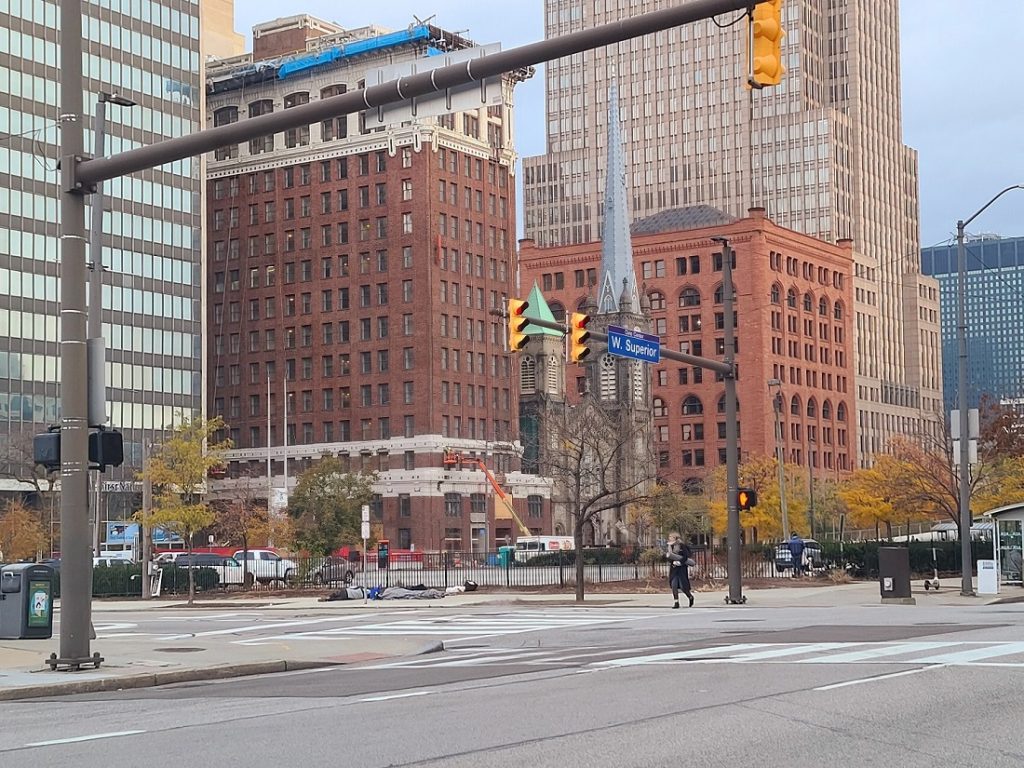 An empty Jacobs Lot on Public Square in downtown Cleveland greeted pedestrians, motorists and homeless people this morning. Instead, there was supposed to be a large tent set up on this lot for a ground-breaking ceremony to celebrate the official start of construction of Sherwin-Williams' new global headquarters (KJP). CLICK IMAGES TO ENLARGE THEM
SHW cites 'scheduling conflicts' for the delay
Today was to be the day that VIPs and media would record for posterity the official start of construction on Sherwin-Williams' (SHW) new $300-plus million global headquarters. However, that celebration is going to have to wait for another day.
"Due to scheduling conflicts, the HQ groundbreaking event will not take place today," said Julie Young, SHW's vice president of global corporate communications, in an e-mail to NEOtrans. "A new event date has not been finalized."
She would not comment on the specific cause of the scheduling conflict. There are several potential reasons why golden shovels won't be turning over some ceremonial dirt as originally scheduled.
On Oct. 12, 2021, and at the direction of Sherwin-Williams (SHW), Lasting Impressions Event Rental of Bedford Heights submitted a large permit application to the city of Cleveland's Building and Housing Department for setting up two tents, a stage, media riser, toilet trailer, plus parking areas for VIPs and media on the 1.17-acre "Jacobs Lot" just west of downtown Cleveland's Public Square.
Among the documents submitted by Lasting Impressions Event Rental was this groundbreaking ceremony site plan for the event dated Nov. 16. This and many other documents will likely have to be resubmitted to the city's Building and Housing Department for review and approval for a rescheduled groundbreaking (B&H).
But final approval for setting up an enclosed ceremonial tent of this size — 20 meters by 35 meters (about 60 x 105 feet) — rests with the State Fire Marshall. That typically happens the day before the tent is set up, which in this case was to be Friday, Nov. 12.
The city had yet to approve the event's permit application by today. Even through there is no new date for a groundbreaking ceremony, construction materials for the new headquarters site preparation and foundation work began showing up on site last month.
The groundbreaking ceremony's permit application was voluminous, requiring 10 separate application documents, some of them many pages long, for everything from site plans to fireproofing certificates to structural calculations to renderings of tent doors. Cost of the event was estimated to be $30,000, according to an application summary on the Building and Housing Department's web portal.
Another possible issue is that the headquarters project isn't scheduled to appear before City Planning Commission for final approval until Nov. 30. It may not be a good look for SHW to hold a groundbreaking ceremony two weeks before the city can give a green light to the project. As of the last meeting Sept. 14 when schematic designs were reviewed, there were no major design issues to be resolved.
Documents relating to the Nov. 30 hearing were due to be publicly released today, according to a timetable of document releases provided by SHW last summer. In previous planning document releases for the HQ and the now-underway Brecksville research facility, those disclosures were done through SHW's Building Our Future web site.
"The final design package will be submitted later today," Young said. "The city of Cleveland will issue a press release announcing the submission."
An e-mail requesting more information and comment was sent to Chief Building Official Tom Vanover who acknowledged receiving it but otherwise did not respond. Ryan Harmon of Lasting Impressions, the contact person listed on the permit application, refused comment and referred all questions to SHW. Councilman Kerry McCormack whose Ward 3 includes downtown said he had no information as to why the groundbreaking was delayed either.
One permit relating to the event was approved on time — for a temporary generator and related electrical work submitted by Loveland Enterprises Inc. of Montville, OH. That permit was approved Oct. 19, public records show. However, the permit's wording is specific to the Nov. 16 groundbreaking event and cannot be used for a rescheduled event. Thus, it and likely the other permit applications by Lasting Impressions will have to be resubmitted to the city for a rescheduled event.
SHW has proposed a 36-story, 616-foot-tall office tower at the northwest corner of West 3rd Street and Superior Avenue, a two-story corporate training/orientation pavilion on Public Square and a 920-space parking garage north and west of Frankfort Avenue and West 3rd. The project has thus far received conceptual and schematic approved by the City Planning Commission.
Stacks of sheet piles and I-beams were unloaded Oct. 27 on the west end of the HQ site, near West 6th Street. That's where SHW will have its construction staging area for the two-year duration of phase one of its HQ project. The materials will be pile-driven around the perimeter of the site where the new office tower will rise — 1450 W. 3rd St.
According to filings with the city by SHW's project engineer Osborn Engineering Co., permit applications are still pending for excavation work necessary to conduct pre-construction environmental remediation. Once approved, the work will be done by Independence Excavating, the applications show.
END