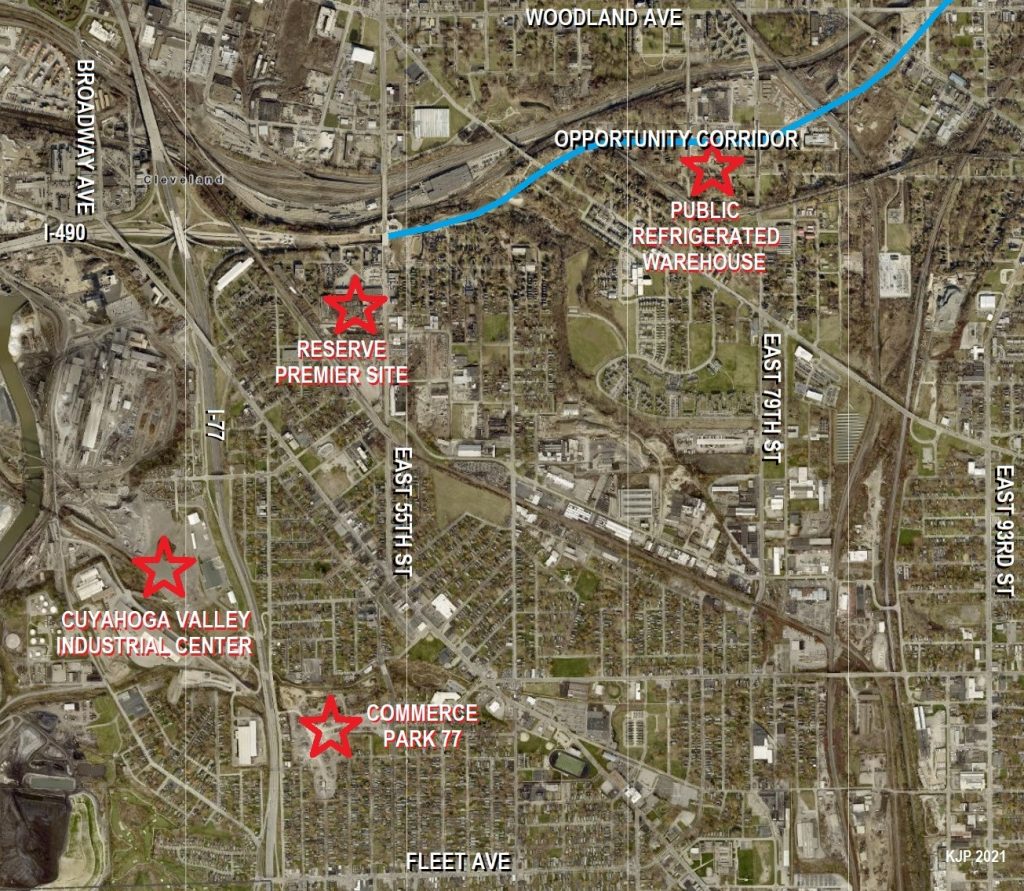 Four large development sites on Cleveland's near-east side, ranging in size from 11 to 40 acres, are already on the market and/or being developed for one user or many end users to capitalize on the locally and nationally booming warehousing and light-industrial market. All the sites are close to major highways and transit lines to ensure access to shipping routes and the region's workforce (MyPlace/KJP). CLICK IMAGES TO ENLARGE THEM
Opportunity Corridor, Slavic Village host the most
Article updated November 19, 2021
More than 1,000 jobs and hundreds of millions of dollars worth of investment are some of the potential spin-off benefits from multiple large warehousing projects blooming on Cleveland's East Side — along the Opportunity Corridor and in Slavic Village.
Two of the projects are reportedly a direct result of the Opportunity Corridor roadway project which opened to traffic last weekend. But all of them are the result of the city's efforts in recent years of assembling many contiguous parcels of land into larger, development-ready sites. The efforts are being rewarded by investors' interest in developing numerous large warehouses and distribution centers.
NEOtrans recently broke the news about one of those sites — the 40-acre Commerce Park 77. That site is just east of Interstate 77 and a short walk from Broadway Avenue that hosts several bus lines with service every few minutes. To the west of I-77 is the Cuyahoga Valley Industrial Center where Amazon sought to build a 112,000-square-foot delivery station before dropping the plans.
On land currently owned by Morabito Enterprises, Atlanta-based Stonemont Financial Group would develop Commerce Park 77 with up to 500,000 square feet of warehousing and logistics space. The city will be vacating unused portions of Morgana Avenue, East 52nd Street and East 53rd Street to open up more land for Stonemont's development that could bring several hundred jobs to the Slavic Village neighborhood. The former Mound School property was also sold for this project.
Two more large warehousing facilities are in the works, including one not reported anywhere else before now. That one is a 182,000-square-foot facility planned by Reserve Premier LLC, a newly created affiliate of Cleveland-based Premier Development Partners. It is considered a "speculative" project in that it would be built with the speculation that it will be leased due to the strength of the region's booming warehousing market.
"Modern industrial space is a huge need in this market," said David Ebersole, the city's director of economic development. "This is something that needs to get built constantly because we don't have enough older modern industrial space. We really need to be pushing this not just for today but for 20 years from now to help keep our industrial and commercial space competitive. It's going to turn around a piece of property that's really an ugly use into something that's really needed for the economy and position the city well for future."
In June and for $1.05 million, Premier has so far acquired 3 acres of the desired 10.9-acre site. It reportedly has the remainder of the site under contract. Several representatives of Premier Development Partners were contacted for comment on this story but none had responded prior to publication.
The city is entering into agreements with the developer for a 100-percent, 30-year property tax abatement for site improvements and a chain-of-title deal to secure non-school tax-increment financing to help develop the site. Improvements would include demolishing and remediating several active and abandoned structures, including for Tyroler Scrap Metals, Inc., Finish Line Binderies/BindTech and the Black Lion Tire Co.
Although the number of potential jobs from the Reserve Premier warehouse was not revealed, a 215-car parking lot along Bragg Road is proposed. On the south side of the 700-by-200-foot warehouse, Sweeney Avenue is to be vacated. In its place would be a docking area for 38 trucks with access directly to/from East 55th.
Chris Alvarado, executive director of the Slavic Village Development Corp., said the Reserve Premier warehouse also offers an inducement to develop the land north of it along East 55th to the Opportunity Corridor and to the East 55th train station. That includes a vacant 2-acre development site at the northwest corner of East 55th and Bragg owned by Exit 55, LLC.
"There is definitely a need for retail along that corridor," he said. "The (Exit 55) property had been used for staging for the Opportunity Corridor, and was previously a shuttered brass foundry, if I recall correctly."
More details became public this week regarding another large warehouse planned along the Opportunity Corridor Boulevard at the southeast corner of its intersection with East 75th Street in the Kinsman neighborhood. Previously called the Northeast Ohio Food Hub, the Public Refrigerated Warehouse is being developed by Warrensville Heights-based Weston Group and Cleveland Cold Storage, LLC, an affiliate of the Orlando Baking Co., 7777 Grand Ave.
Floor space within the planned 156,775-square-foot warehouse would made available for lease to smaller, growing companies who cannot afford the high cost of building their own freezer facilities. It is also hoped by Weston and Orlando Baking that the warehouse will spur the creation of new local businesses and attract new companies to Greater Cleveland, according to a project briefing paper made available to NEOtrans.
"The addition of this space along Opportunity Corridor will help fill an urgent gap in demand," the briefing paper notes. "There are no single-tenant, high-ceiling freezer spaces for lease within a six-hour drive."
"Cold Storage is a huge issue in the market," Ebersole said. "Orlando rents space in Columbus. I dealt with another business who was looking for space. The best they could find was Harrisburg, Pennsylvania. So this is a huge economic asset to the city when it gets constructed. Not only will this be used by Orlando but I've had conversations with Miceli Dairy which has expressed interested in space as has Pierre's (Ice Cream Co.)."
As proposed, local companies would lease only the pallet space they need in the Public Refrigerated Warehouse. Using software, Cleveland Cold Storage would employ a technique called "consolidation warehousing" to combine shipments from local companies into larger, more economical shipping loads to various markets, thereby minimizing transportation costs.
The Public Refrigerated Warehouse is proposed to be built on the left, or south side of the Opportunity Corridor Boulevard, as seen in this aerial view from early October looking west from East 79th Street. The warehouse would be entered from East 75th Street whose intersection is seen in the background. Orlando Baking Co.'s headquarters and plant is to the right with downtown Cleveland in the distance (TacoSlayer).
Cleveland-based grocers and food-service operators would also utilize Cleveland Cold Storage as a consolidation center to manage numerous inbound deliveries from suppliers that can be brought to the grocers' warehouse or sent directly to their stores, the briefing paper notes. Food manufacturing in Northeast Ohio is a $3.4-billion-per-year industry that employs 22,000 people.
The city of Cleveland will sell to Project Boron LLC, a Weston Group affiliate, numerous parcels of City Land Bank-owned properties totaling nearly 12 acres. The city is also entering into a tax increment financing agreement with Project Boron to provide a debt reserve for the financing of the Public Refrigerated Warehouse and to provide for payments to the Cleveland Metropolitan School District, planning documents show.
"The (Cleveland) Department of Economic Development has been engaged in the acquisition and assembly of property in and around the Opportunity Corridor in order to make property available for future development," said Richard Switalski, administration bureau manager for the Mayor's Office of Capital Projects.
As large as this development is, earlier versions were proposed to be even larger. Switalski said those plans offered the largest cold storage warehouse east of the Mississippi River. Previous plans showed a 205,000-square-foot warehouse structure in the first phase, followed by a 70,000-square-foot second phase.
Commerce Park 77, to be developed by Stonemont Financial Group on land currently owned by Morabito Enterprises, offers a 40-acre site that could grow further if additional land around the perimeter of the site is acquired. As it stands, the site could accommodate a mix of small or large buildings totaling up to 500,000 square feet (JLL).
But development costs and site constraints limited the project's scale. Properties south and east of the Public Refrigerated Warehouse were rezoned and considered off-limits by the city so that future residential over commercial uses could be developed by Burten, Bell, Carr Development, Inc. near the East 79th Street Blue/Green Lines rail station.
Ed Asher, president of Weston Development which is overseeing this project, did not respond to an e-mail and a LinkedIn message requesting more information for this article.
In its third-quarter 2021 industrial report issued last month, Jones Lang LaSalle said the Greater Cleveland area saw more than 915,000 square feet of mostly warehouse space absorbed (leased or otherwise filled) in the prior three months. The latest 5.2 percent vacancy rate remains near Cleveland's historical low despite over 10 million square feet of construction deliveries since 2018. Industrial asking rents grew more than 16 percent in the last five years.
But many of new mammoth warehouses end up getting built near the suburban fringe on clean-and-green farmlands and forests. Although offering cheap land and low development costs, these developments enable urban sprawl and often have difficulty attracting workers because they cannot easily be reached by a significant portion of the region's workforce.
That's especially true of city of Cleveland residents, more than 25 percent of whom either do not have a car or must share one with other wage-earning members of their household, according to Census data. Urban in-fill sites for the planned warehouses near the Opportunity Corridor and Slavic Village are within a 15-minute walk of frequent train and bus services, and near major highways for truck and shipper access.
END