Currently downtown Cleveland's biggest real estate development, construction of the new Sherwin-Williams global headquarters is already underway west of Public Square and will deliver the fourth-tallest tower in the city. But it remains to be seen if another project might soon challenge this HQ project (KJP). CLICK IMAGES TO ENLARGE THEM
Works in progress to watch in 2022
If you thought 2021 was busy real estate-wise, there is every indication that 2022 is going to be even busier. And it looks to start off big in January with announcements about what Cleveland-area projects will win the first round of Transformational Mixed Use Development (TMUD) tax credits. There are nine Greater Cleveland megaprojects that are TMUD applicants, so the fate of half of the projects in this list of what to watch out for in 2022 will depend heavily on which projects win TMUD credits and how much of their originally requested amount they will receive.
Sherwin-Williams (SHW) Headquarters & Research Center — The largest single project in Greater Cleveland is actually two projects. Work has begun on both the 1-million-square-foot global headquarters complex just west of Public Square in downtown Cleveland and the 500,000-square-foot research center at Valor Acres in suburban Brecksville. While both are just muddy holes right now, they will go vertical in 2022 and begin to assume their final form, at least from the outside, by this time next year. Look for downtown tower cranes in the spring.
Circle Square — Greater Cleveland's second-largest development could be Circle Square at Euclid Avenue and Stokes Boulevard in University Circle — if all of its proposed buildings are built. The first new structure, the 24-story Artisan Apartments, saw construction begin last spring and should be completed or nearly complete by the end of 2022. The next building, the 11-story Library Lofts, has reportedly seen its construction budget escalate for its residential portion (not the library portion). Midwest Development Partners remains hopeful about its groundbreaking in awaiting a TMUD award of up to $19 million.
City Club Apartments — Although a groundbreaking ceremony was held Dec. 10 and the site at 776 Euclid Ave. cordoned off Dec. 20, the real dirty construction work got rolling this week. This project will add a second downtown Cleveland development with a construction crane above the city later this year, and coming at the expense of another parking crater.
Studio West 117 — It started as a $75 million renovation and repurposing of the memorable Phantasy Theater, 11802 Detroit Ave., in Lakewood along with neighboring structures into a hub of entrepreneurship, arts, culture, health and human services for Greater Cleveland's LGBTQ+ community. But if blessed with a TMUD award, this development would be even more sizable. Tax credits would allow the development to expand across the street to the closed NTB shop on which a 265,000-square-foot apartment building for seniors is proposed.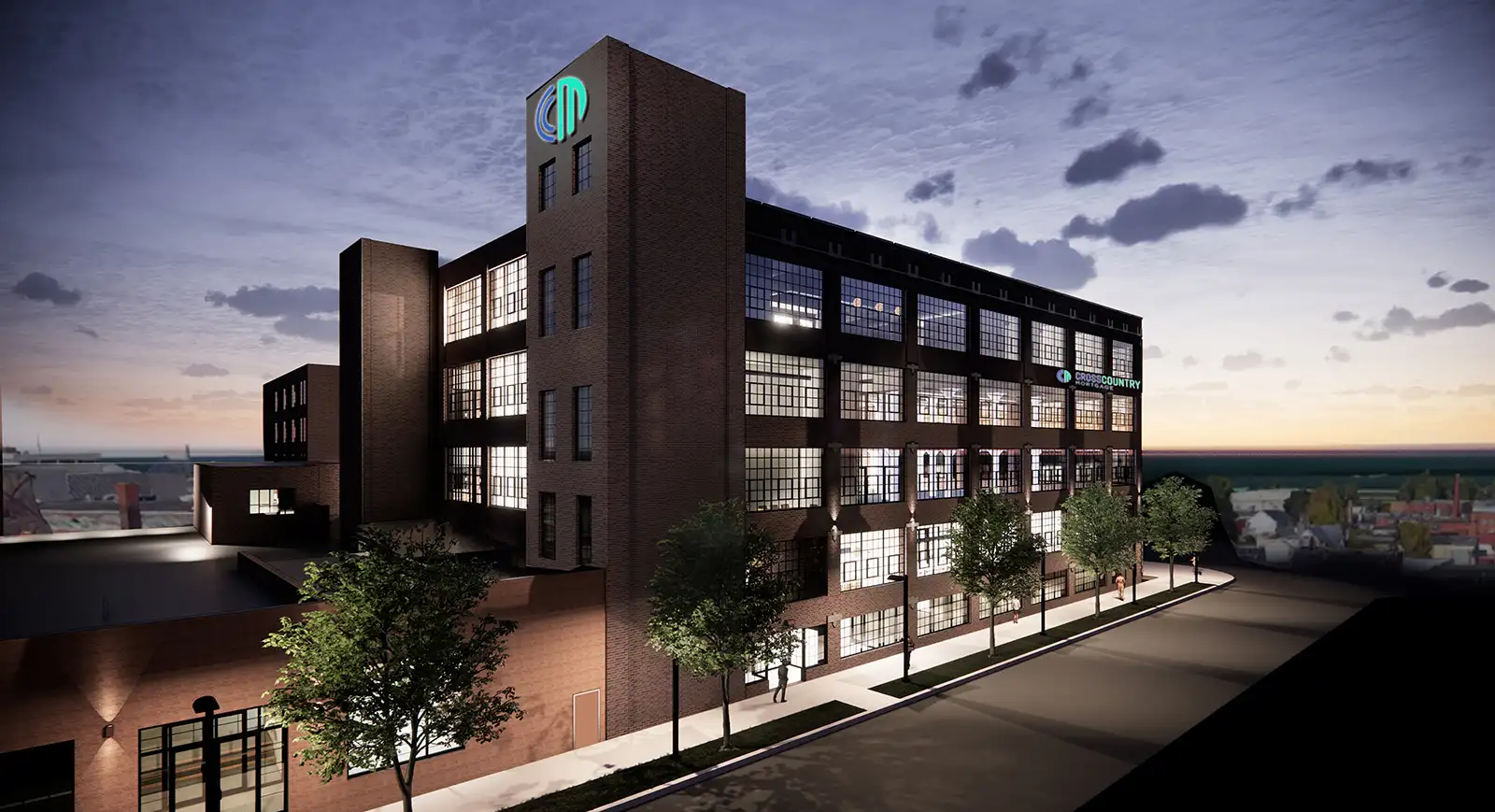 Turning the century-old, former headquarters, packaging and warehouse facilities for TAP Packaging & Design, previously the Chilcote Co., is a major effort. This is just one of the buildings in the 2100 block of Superior Avenue in downtown Cleveland's Campus District that is being rejuvenated with spaces for hundreds of new workers as well as residential units and ground-floor retail/cafes (CCM).
Projects to be completed in 2022
The Ascent At Top Of The Hill — Construction on the 10-story apartment building at the top of Cedar Hill in Cleveland Heights has topped out, but interior buildouts and furnishings of the $83 million project will continue until summer 2022. Ascent's developer Flaherty & Collins recently won the chance to build a second project in Cleveland Heights — a $50 million development of 200-plus apartments at the Cedar-Lee-Meadowbrook site.
Battery Park — Development of the former Eveready Battery plant site continues just north of Gordon Square. In advanced construction are two four-story buildings totaling 258 apartments by Columbus-based Avenue Partners on West 73rd Street, overlooking Edgewater Park. Across the street are the 25-unit Park Place Townhomes developed by Marous Brothers of Willoughby. A summer completion for each is in the cards.
CrossCountry Mortgage HQ — Making steady and nearly silent progress in the 2100 block of Superior Avenue in downtown Cleveland's Campus District is the $46 million, 168,000-square-foot headquarters for fast-growing CrossCountry Mortgage. This project is relatively silent as many Clevelanders have focused on the larger SHW HQ+R&D complex. While SHW's R&D facility is taking jobs to Brecksville, CrossCountry is bringing 1,000 jobs from Brecksville to downtown after several historic warehouses are converted to offices and apartments atop retail/restaurants this summer.
Intro at Market Square — Due to be completed this spring at the southeast corner of Lorain Avenue and West 25th Street in Cleveland's Ohio City neighborhood, the $145 million Intro will bring hundreds of residents and lots of new shopping and restaurants to a fast-growing area. As its name suggests, it's just the beginning. Chicago developer Harbor Bay Real Estate Advisors in October bought one-third of an acre just south of Intro for $2 million for a second phase, possibly a 15-plus-story-tall residential tower.
Treo — A 171-unit apartment complex on West 25th Street south of Train Avenue is replacing a car junkyard and repair shop that overlooks Walworth Run, providing a clear view of downtown from the building's north side. The site is in the Lincoln Heights section of Tremont where more developments could soon rise. Construction is due to be completed late-2022. Chicago-based Mavrek Development and Cleveland-based Krueger Group are partnering on this building.
Waterford Bluffs Apartments — Another Chicago developer, Stoneleigh Cos., will complete construction of 241 apartments in a five-story building a short distance east of Intro on Lorain Avenue in Ohio City. At West 20th Street, the project's construction has been progressing relatively slowly compared to the larger Intro. The developer anticipates a "late 2022" opening, according to the Waterford Bluffs website.
Waverly & Oak — With a couple of exceptions, most of the sizable developments in this section went from idea to construction with comparatively little drama or delay. Waverly & Oak fell in the middle, as its Bond Street developers had to find a new home for Mexican-American cultural activities from the razed Club Azteca. The project is under construction on Detroit Avenue at West 58th Street. By the end of this year or perhaps early in 2023, it will offer 122 apartments above 17,500 square feet of retail and co-working office spaces. And there will be a courtyard for public events.
The Baseball Heritage Museum, Signet Real Estate Group and Ozanne Construction Co. are partnering on a $5.5 million project to construct 27,000 square feet of mixed-use among three buildings across the street from League Park in Hough where the Cleveland Indians and the Cleveland Buckeyes professional baseball teams played until 1950 (CPC).
Trending positive
Cudell/western Detroit-Shoreway — Redevelopment activities are pushing west from Gordon Square into Cudell, especially near Lake Erie. Look for more, starting with the new $3 million Horizon Education Center, 8701 Detroit Ave. and the 51-unit Karam Senior Living apartments atop a new Walz Library at 7910 Detroit Ave. Rochester, NY-based LLD Enterprises which acquired a former Burger King and its 1.25 acres at the intersection of Detroit and Lake avenues in September for $1.75 million. There it plans residential over retail. Separately, a mix of townhomes and apartments is planned by Property Advisors Group after its October acquisition of 2.156 acres of light-industrial property at 8400 Lake Ave. for $1.25 million.
Hough — What's happening in Hough would be remarkable even if the neighborhood didn't have a tumultuous history. The amount of investment is amazing and it looks like it's just getting started. It began years ago with Famicos Foundation's efforts to stabilize and improve housing conditions, and grew seven years ago with the Innova Development on Upper Chester. It spread west and north from there. Since then, Axis on Ansel was built, followed by Addis View apartments and The Lumos apartments started construction with 9410 Hough, Park Lamont, The Allen Estates, Chester75, the Greenwood District, redevelopment of the MLK High School into mixed-use and more soon to follow.
Fairfax — While Hough is frequently breaking new ground north of University Circle and the Cleveland Clinic Main Campus, Fairfax will make its best effort to catch up south of those dynamic employment centers. It actually started years ago with the development of IBM/Explorys Solutions' new building on East 105th Street at Cedar Avenue. It continued with Cleveland Clinic's Global Cardiovascular Innovations Center and then Brooks Automation Biorepository, both on Cedar. Now, large mixed-use developments are popping up in the area, including Fairfax Market and Square 105, with more coming at the east end of the Opportunity Corridor, especially infill housing.
Midtown — Midway between downtown Cleveland and University Circle is a place people passed through between the two. But it used to be a destination back in the days of trains and trolleys. With multiple office, residential and retail developments, it could be that way again. It started with the Link55 office building, UH Rainbow Ahuja Center for Women & Children, Tru by Hilton hotel and Dave's Supermarket. It's continuing with the Cleveland Foundation HQ, multiple planned office buildings for new-start firms and more residential and retail.
Opportunity Corridor — Speaking of the newly opened boulevard, multiple employers and housing developments are rising or planned along it, including those mentioned in the Fairfax section. Also under construction is the Woodhill Station mixed-income apartments, the first of six phases for replacing the 80-year-old Woodhill Homes public housing complex. Employers include new distribution centers like the new Cleveland Cold Storage facility and the planned Reserve Premier warehouse that need lots of open land. Also planned is the new Cleveland Police Division HQ on East 75th Street and McTech Inc.'s Construction Opportunity Institute of Cleveland on East 79th Street.
Slavic Village — Continuing the geographic connect-the-dots, Slavic Village, just south of the Opportunity Corridor, is about to see some significant investment in new jobs that could jumpstart its long-declining Broadway Avenue commercial district. Most of the investment so far is coming from new distribution centers and warehouses to satisfy the booming e-commerce market. Three major warehouse sites — Reserve Premier, Commerce Park 77 and the Cuyahoga Valley Industrial Center — with potentially hundreds of jobs are in the works. Also in the works is a comprehensive rejuvenation program of Broadway's commercial district into a thriving mixed-use community.
Playhouse Square — Keep an eye on downtown Cleveland's theater district in 2022 and beyond. Thanks to federal CARES Act funds and good financial management, the Playhouse Square Foundation (PHS) is weathering the pandemic. And its 34-story Lumen apartment tower that opened at the start of the pandemic is now leased at 89.3 percent full thanks to a hot downtown residential market. Look for PHS to continue to improve its financial position and start pursuing more community projects in 2022 and in coming years.
SHW HQ neighbors— Surrounding Sherwin-Williams' new HQ are a trio of three $80+ million projects that are a direct result of this major corporate campus. Those spin-offs are 55 Public Square's conversion to apartments, modern offices and retail; Renaissance Hotel's renovation into the high-end Cleveland Hotel; and the Rockefeller Building's conversion to apartments, updated offices and ground-floor food services that's about to get underway. More developments may rise nearby, including Chicago-based Magellan Development Group's proposed residential/hotel high-rise on the northwest corner of West 3rd Street and St. Clair Avenue that is awaiting a friendlier financing environment.
Van Aken District — Another proposed development dependent on a TMUD award are two high-rise apartment buildings planned in the Van Aken District in Shaker Heights. Developers RMS Investment Corp. seeks $11 million in tax credits to expand on their first phase of the mixed-use neighborhood at the east end of the light-rail transit Blue Line. Proposed is the 230-unit Farnsleigh Apartments in connected 15- and 18-story buildings.
Trending negative
Cleveland Cliffs new HQ — Despite growing through acquisitions and organically, Cliffs may not need a new headquarters after all. Its HQ is located in the 46-story 200 Public Square downtown where companies like Morgan Stanley and others are reducing their space needs. The Albert M. Higley Co. and Vocon are undertaking a high-end suite expansion for Cliffs CEO Lourenco Goncalves. In other words, Cliffs probably isn't going anywhere anytime soon.
Cleveland Clinic — With COVID-19 raging once again and more resources needed to handle it, the Cleveland Clinic may pause development of at least one of its Big Three construction projects in Fairfax — the new Neurological Institute, the new Global Pathogens Center and the expanded Cole Eye Institute. The odd one out appears to be the Cole expansion. It would be ironic if the pathogens center was delayed because of a pandemic, plus there's a lot of public funding in that project. And there's every indication from Clinic sources that all lights are still green on the huge new Neuro building.
Erieview Tower — The Kassouf family wants a $9.34 million TMUD tax credit to aid in its remake of downtown's 40-story Erieview Tower into apartments, luxury W hotel and modern offices. But sources say his chances of nailing down the W hotel chain for this building aren't very good. Still, Cleveland's fourth-tallest building (soon to be fifth after SHW's HQ is done) needs a jolt from a TMUD award and another hotel flag just might do it.
May start or be announced in 2022
Abbey Avenue Apartments & Townhomes — With some design refinements to meet Tremont's Duck Island neighborhood and planning commission support, look for M Panzica Development and GLSD Architects to come back to the City Planning Commission with a new plan offering more ground-floor retail and the bulk of the multi-family building oriented toward the west side of the property, farther from Abbey Park and closer to the Red Line rail station plus the Morgan Linen Services property which everybody except perhaps Morgan anticipates could become a significant redevelopment site someday.
The Apartments at Bolivar — City Planning Commission finally gave the OK Dec. 17 for a large (wide, not tall) apartment development across East 9th Street from Progressive Field. That paves the way for construction to start, possibly this summer. The 184-unit apartment building above new and existing garages will expand downtown's residential Gateway District to the east and fill a gap between Gateway and Playhouse Square. Other property owners and investors are watching this project closely to see if this area is worth further development, a source said.
Bridgeworks — This proposed 16-story apartment, hotel, restaurant and retail building at the northeast corner of West 25th Street and the Detroit-Superior Bridge in Ohio City is a follow-on to the success of the 11- and 6-story apartment-over-retail buildings at Church + State in the 2800 block of Detroit Avenue. Both projects are a partnership between M Panzica Development and Grammar Properties. But Bridgeworks depends on a successful TMUD application. If the project wins its nearly $8 million request, look for demolition and site preparation work to start right away.
Carriage Works — MRN Ltd.'s intriguing remake of the Voss Industries plant, 2168 W. 25th St. in Ohio City is still in an early development stage. So don't look for it on planning commission's design-review docket anytime soon. But there is still a possibility this project could start this year and deliver 80 apartments, office/co-working space, food hall, market, Makers Space, a tiny hotel and a speakeasy. MRN's plan for the Greater Cleveland Regional Transit Authority property across West 25th and continuing up Columbus Road is even farther out into the future. No active planning has begun for it, said MRN Principal Ari Maron.
The Centennial — Both in terms of square feet (1.3 million) and capital (approximately $500 million), this downtown endeavor is the largest project in Greater Cleveland. For it to start construction in 2022, sources say the 98-year-old former Union Commerce Bank Building is going to have to win the max TMUD award requested by its owner, The Millennia Companies. Some say it's going to need even more financial help to be able to undertake the entire project in a single phase, as Millennia wants. Time will answer all questions, eventually.
Cleveland Clinic Neurological Institute — Expected to be one of Cleveland Clinic's largest buildings on its main campus, the new Neuro building is projected to measure about 900,000 square feet and rise where the Surgery Center (P Building) now stands at 2083 E. 89th St., off Carnegie Ave. in Fairfax. The Clinic still intends to raze the vacated Cleveland Playhouse complex a block west for construction staging for the new Neuro building. It apparently has no long-term plans for the playhouse site.
The Fidelity Hotel — Redevelopment of the 11-story Baker Building (originally the Fidelity Mortgage Building), 1900-1940 East 6th St. in downtown Cleveland, is getting started soon with the city approving a permit for interior alterations of the building including the removal of non-structural elements. However, formal plans have yet to be announced publicly for the planned 71-room boutique hotel to be operated by an Accor brand, likely 21c Museum Hotel. The announcement should come within a matter of weeks if not days.
Flats East Bank Phase 3B — Despite the news that Flats East Bank developer Scott Wolstein is fighting cancer, his dreams of further developing along the Cuyahoga River are being continued by Akara Partners of Chicago. Its Founder and CEO Rajen Shastri said the $84 million mixed-use development Kenect Cleveland is "Full steam ahead." Planned is a seven-story building with 229 market-rate apartments above parking, retail and co-working spaces on a surface parking lot along West 11th Street, between Front and Main streets. Look for plans to go before design-review early this year.
45 Erieview — With a max-level $5 million historic tax credit won in December, look for detailed plans for a $102 million conversion of downtown's former Ohio Bell HQ into 367 apartments above co-working spaces, retail, a restaurant and a coffee shop. The project is a partnership of Bluelofts Inc. and Wolfe Investments, both of Greater Dallas.
Gateway District "mystery project" — Keep your eyes wide open for a lot more news soon on what may be one of the largest development projects downtown. The site is the location on which Stark Enterprises sought to build another megaproject — nuCLEus. Although the buyer is still unknown, it is undoubtedly one with deep pockets who is able to afford what may be a $20 million to $40 million sale price, based on other recent, similar property transactions nearby. Perhaps those deep pockets can afford to deliver a big project where Stark could not.
Great Lakes Brewing Co. — On the largest amount of developable property on Scranton Peninsula, Great Lakes Brewing is getting closer to building an expanded production facility and riverfront brewpub on Carter Road. How close? NEOtrans posted an article shortly before Christmas that the regional brewer will begin site preparations on nearly 10 acres of land as soon as building permits are issued. The permit application also suggested that structural construction work could occur within six months, barring any delays.
MetroHealth Apex Project — At the south end of the rejuvenated Clark-Fulton campus of MetroHealth System, construction is getting underway for the new $140 million Outpatient and Administrative Center, called the Apex Project. Located on West 25th Street, the six-story, 312,000-square-foot office building with an 875-space parking garage will be one of the largest development projects in Cuyahoga County outside of downtown. Nearby, several new residential developments are also capitalizing on the growth of employment at MetroHealth.
NRP Group project — Again, we're looking at Scranton Peninsula for another development that could start this year. This time, it's an abandoned project that appears to be coming back to life, according to two sources. Cleveland-based NRP Group is looking at returning to a 7.44-acre parcel just north of Great Lakes Brewing Co.'s proposed production facility to build a multi-family development with some accessory uses like townhomes or a small commercial space like a restaurant or shop. This possibility is still in the early stages, however.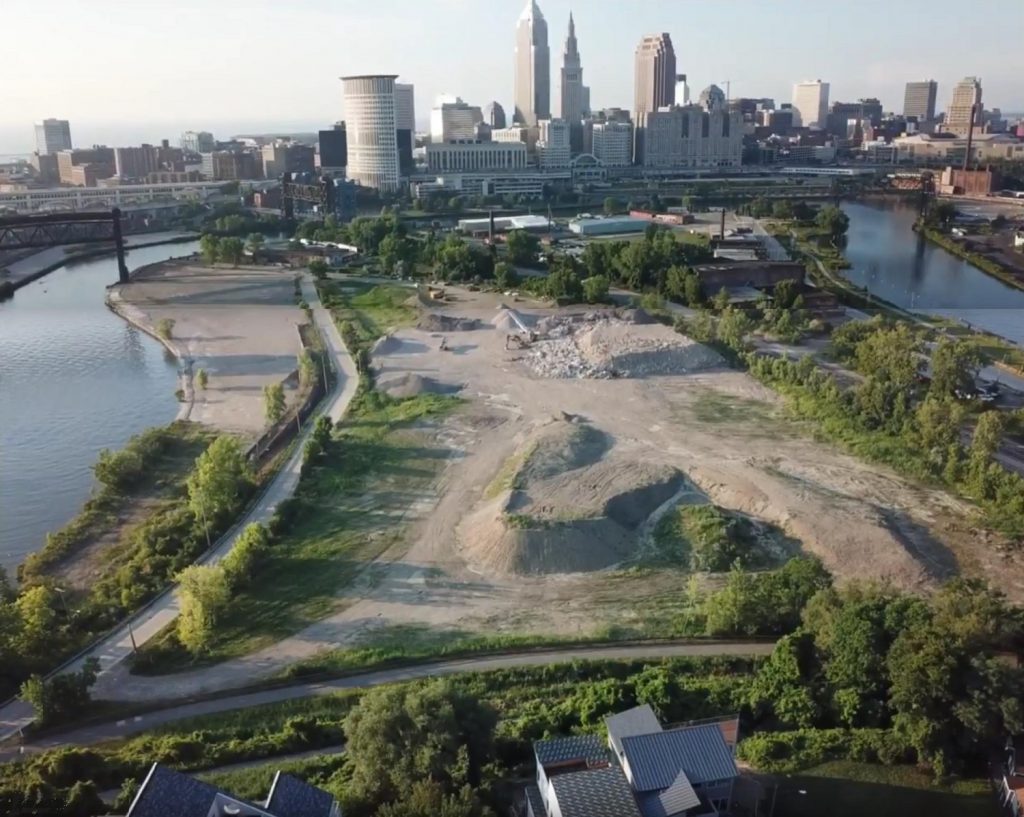 Scranton Peninsula is another area that's trending in a positive direction with two confirmed developments (Great Lakes Brewing Co. expansion and Silverhills at Thunderbird apartments) with a third project reportedly being reconsidered (NRP Group's former The Peninsula). This barren landscape along the Cuyahoga River could be a vibrant neighborhood in a few years (AerialAgents).
The Pearl — A new development that could see its construction start this year is The Pearl, a large, mixed-use development in the south end of Tremont's Duck Island neighborhood. Realife Real Estate Group recently stated its intentions to build 185 apartments over parking and a retail space where Columbus Road meets West 25th. The plans are being refined so the programming can and probably will change.
Progressive Field — Details are starting to come out about the $435 million renovation of the home of the Cleveland Guardians baseball team in the Gateway District. The first phase of construction, starting in April and continuing for about one year, will be for the transformed left-field terraces. According to sources, included in the $33 million price tag will reportedly be the replacement of the Terrace Club restaurant with a sports betting parlor, made legal by a new state law passed shortly before Christmas. The Guardians may also buy the Gateway East parking garage for $25 million from the city and a half-acre parcel east of it, on East 9th Street at Bolivar Road, for $2 million from the Gateway Economic Development Corp. of Greater Cleveland for development, according to planning documents.
Silverhills at Thunderbird — Back on Scranton Peninsula, Silver Hills of Cleveland and Edwards Communities of Columbus are partnering on the development of 300 apartments along the Cuyahoga River, west of Carter Road. Plans for the development are progressing through the city's design-review process. Their goal is to start construction possibly this summer, perhaps at the same time construction on the Great Lakes Brewing expansion gets underway.
Tremont apartment buildings — A trio of medium-sized apartment buildings are being proposed by different developers at widely different locations in Tremont. Because these projects are still very early on in their development, their backers aren't ready to talk about them publicly yet. Nor do they want their locations revealed. But one of them is being planned on the site of the Fairfield Food Market, 1027 Fairfield Ave., next to the South Side restaurant. The market was demolished last month. Each development will be kept to about 100 apartments or less and could get underway this year.
Tremont Knez development — One of the largest, never-developed properties in the City of Cleveland is a 3.55-acre piece of land soon to be sold by the Cleveland Animal Protective League to Knez Homes, one of Northeast Ohio's largest housing developers. The site in Tremont's Lincoln Heights section was left undeveloped during Cleveland's industrial heyday because it was once a manmade pond to help supply and flush a downstream slaughterhouse that closed a century ago. The pond was drained more than 80 years ago and filled in a decade later.
It's certain to be a busy year for Cleveland real estate development, from big projects to small. And the news in 2022 is already starting to move, with more real estate project discoveries and announcements coming in a matter of days. One of the biggest announcements will be which projects win TMUD awards, but some eye-opening discoveries are already being made. The coming year is going to be an interesting ride.
END