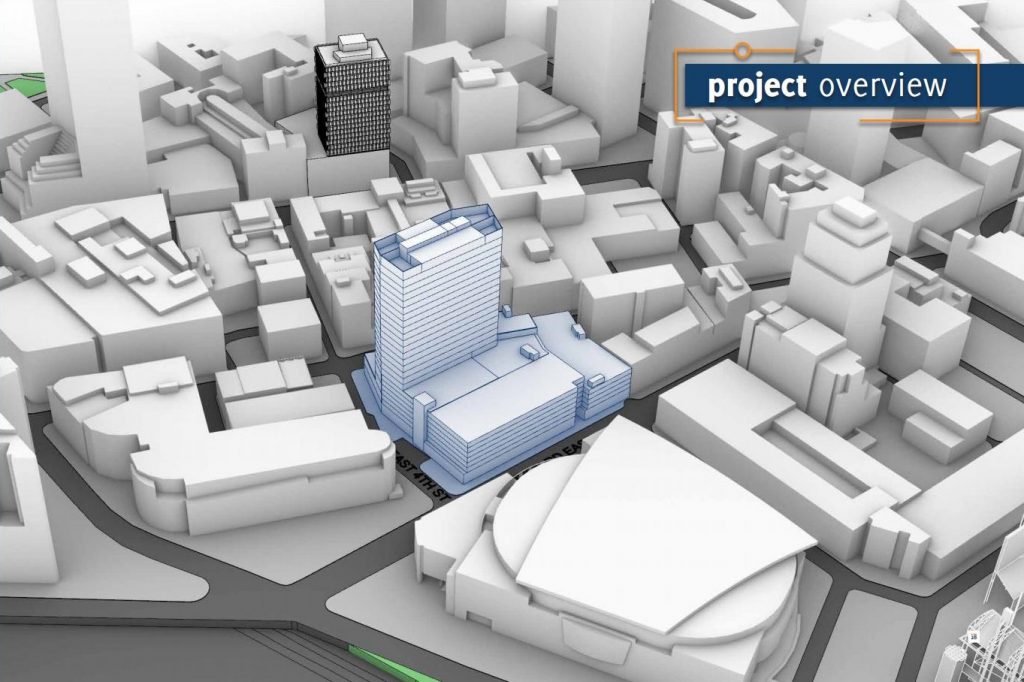 This was the last of several incrementally smaller designs for nuCLEus prior to Stark Enterprises abandoning the development and selling the properties on which it would have been built. It isn't known who the buyer is, but based on recent, comparable downtown property sales, the buyer would have to have deep pockets and want to deliver a large development of its own to get a return on its sizable investment (Stark). CLICK IMAGES TO ENLARGE THEM
Comparable downtown sales suggest big plans
Article updated Jan. 7, 20222
Properties that were part of Stark Enterprises' ill-fated nuCLEus megaproject are in the process of being sold in a private, off-market transaction. However, the scope of the sale, the buyer's identity and the buyer's intentions remain a mystery. Public records emerged this week showing that there is a pending transaction.
But given the likely large sale price of the transaction and the physically large site of interest, a buyer with deep pockets seeking to build a significant project appears to be in play here. Based on recent, nearby, comparable property sales, the sale price of the ex-nuCLEus site is likely in the $20 million to $40 million range. The buyer would have to have deep pockets and want to deliver a large development of its own to achieve a return on its large investment.
Stark's ex-nuCLEus Gateway District site measures approximately 2.85 acres and is comprised of 24 parcels. Most of that land is used as surface parking lots. The rest has a two-story historical building at 618 Prospect Ave. with Mr. Albert's Men's World store on the ground floor; the four-story historical Herold Building at 310 Prospect; and a seven-level parking garage at 501 Huron Rd. Stark intended to raze all of those structures.
Certificates of disclosure were requested and received on Dec. 29 through the city of Cleveland's Building & Housing Department for the Gateway District properties on which Stark had sought to develop starting seven years ago. At first, Stark wanted to build a 54-story, 647-foot-tall, mixed-use development but it was incrementally scaled back to a single, 24-story office tower atop a pedestal of retail and parking.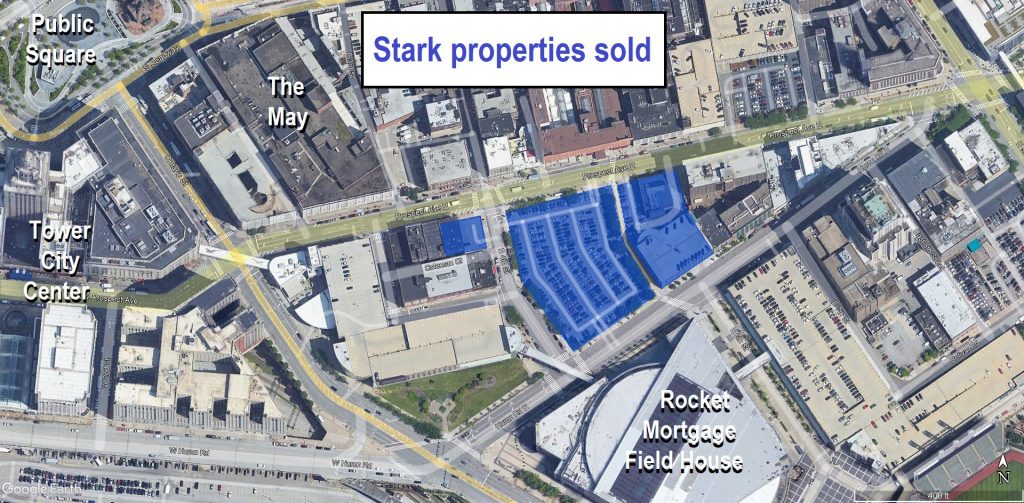 Properties highlighted in blue are those which are being sold by Stark Enterprises to an unknown buyer. The land area is approximately 2.85 acres and is next to the Rocket Mortgage Fieldhouse where the Cleveland Cavaliers and Lake Erie Monsters play (Google).
Typically, certificates of disclosure are requested for all properties subject to a sale and transfer to a new owner. The certificate will disclose if there are any unresolved building or zoning code violations for that property. They are legally required for all residential property sales in the city of Cleveland. But some lenders and title companies also request them for commercial property transfers as part of their due diligence into the history and zoning of a property.
The certificates are for only a few of Stark's parcels and, in one of them, the parcel didn't align with its address. The person who requested the documents, Zach Milvo, an associate in Cleveland law firm Thompson Hine LLP's real estate group, declined to comment on who the buyer is. He also declined to answer why a certificate's parcel didn't align with its address. He referred NEOtrans' questions to Thompson Hine's media relations department. An e-mail sent to their general address was not answered prior to publication of this article.
Ezra Stark, chief operating officer of the Cleveland-based real estate firm, said his firm has received interest in the Gateway District properties but he disputed NEOtrans' sources that there is a deal in place.
"We are not selling anything," he said. "And we're not actively marketing the property. The certificates of disclosure are anticipatory."
Certificates of disclosure were requested for 618 and 620 Prospect Ave.; both specified permanent parcel number 10129002, which aligns with the street addresses. The location is the two-story building that contains Mr. Albert's Men's World store, a fixture on lower Prospect for more than 30 years.
Another certificate was requested for 501 Huron and specified permanent parcel number 10128007. The street address 501 Huron is for Arena Stadium Parking — a seven-level parking garage just south of Mr. Albert's Men's World. But the parcel number is for a small surface parking lot at 320 Prospect, located at the southwest corner of Prospect and East 4th Street. Yet another certificate was requested for 507 Huron, part of a large swath of surface parking lots next to a public walkway linking the Fifth Street Arcades and the Gateway Sports and Entertainment Complex.
The choice of locations suggest a "sampling" from different land uses or individual purchases within Stark's Gateway District site. The certificates were requested by Stark's legal representative and not a title agency which may point to a possible last-minute finalizing of a document package necessary to complete the transfer. The activity comes at the flipping of a calendar year when many property transactions are closed.
Otherwise, certificates of disclosure tend to be a matter that's addressed earlier in the due diligence phase of a property transaction. For example, certificates of disclosure were secured in November 2019 for Sherwin-Williams' (SHW) purchase of 7 acres of downtown land that closed in March 2020 for its new headquarters for a robust $49.4 million.
That's another aspect to this sale — the price. Although unknown at this time, the dollar amount is almost certainly significant. Breaking down SHW's purchase, it paid $9.2 million for a 1.17-acre parking lot on Public Square and $40.2 million for 6 acres of parking lots just west of it, or $6.595 million per acre. SHW is building on those parcels a 1-million-square-foot headquarters campus topped by a 36-story, 618-foot-tall office tower.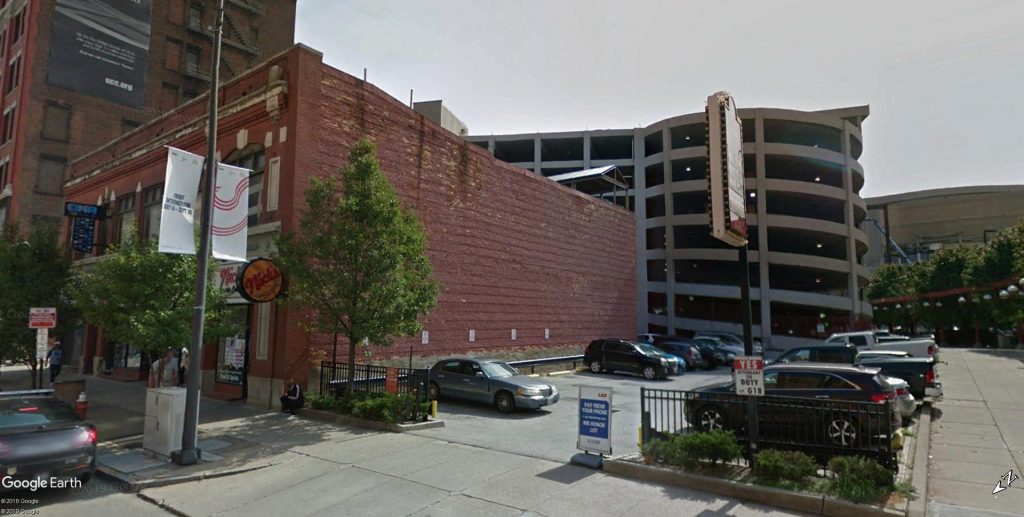 These two structures, a two-story commercial/retail building at 620 Prospect Ave., home of Mr. Albert's Men's World, and behind it a seven-level parking garage in the 500 block of Huron Road are two Gateway District properties Stark Enterprises is selling. Stark planned to demolish all structures on its Gateway District properties for its nuCLEus development. But with the demise of the nuCLEus project, these two structures and the other properties are being sold (Google).
Last week, an affiliate of City Club Apartments closed on the sale of a half-acre parking lot property just north of Stark's ex-nuCLEus site. The sale price for that small piece of land was $7.15 million, public records show. City Club Apartments has started site preparation for a 23-story residential tower on the parcel.
High prices paid for properties can be justified if a large development is built on them with the potential for lots of tenants or other activities to generate lots of revenue to at least service the debt from the purchase price. And that's likely to be the case with Stark's former nuCLEus site as well. That is, unless the buyer doesn't build anything and turns around and sells the underutilized land again for a profit in seven years.
In 2014, Stark acquired this site in a joint venture called Gateway Huron, LLC with Solon-based J-Dek Investments Ltd. for $18.653 million, or $6.54 million per acre, county records show. At the same time, Stark also bought 2.3 acres of parking lots at West 9th Street and St. Clair Avenue in the Warehouse District, paying $9.5 million. Both acquisitions were from Los Angeles-based L&R Properties. Stark never publicly released any development plans for the Warehouse District site which apparently is not part of the currently pending sale.
The nuCLEus development reached shovel-ready status in the weeks leading up to the pandemic-induced economic shutdown in March 2020, Ezra Stark said several months ago. In early March 2020, Stark told NEOtrans to "touch base next week to discuss" rumors about an official groundbreaking announcement. As the nation and the world shut down, the announcement never came. Ezra Stark confirmed in October that nuCLEus was "on hold." This week's evidence that the nuCLEus site is being transferred to a new owner confirms the nuCLEus project is dead.
Interestingly, the Herold Building, 310 Prospect Ave., was not among Stark Enterprises' Gateway District properties or land uses for which certificates of disclosure were sought. It is owned outright by Stark rather than by the joint venture with J-Dek Investments Ltd. under the name Gateway Huron LLC. A parking lot at 320 Prospect, at the southwest corner of Prospect and East 4th Street, was the subject of a disclosure certificate for the sale. That property is shown as developed here with the nearest, glassy building. To the right of it is the historic Herold Building (NBBJ).
Stark scuttled plans to build nuCLEus a few months ago after its largest pledged tenant, law firm Benesch Friedlander Coplan & Aronoff, walked away from Stark's project. The law firm was facing a lease expiration in Summer 2022 for its 120,000 square feet of offices at 200 Public Square. Sources said Benesch would apparently stay where it is and possibly expand some legal practice groups into Key Tower on the other side of Public Square.
Although Stark's nuCLEus project did not directly add to downtown Cleveland's skyline, it might do so indirectly — and to other skylines in Ohio's largest cities as well. Stark sought several public financing schemes to fill a gap in the capital stack for the project, ultimately leading to the creation of the State of Ohio's Transformational Mixed Use Development (TMUD) tax credit program that could make its first project-specific awards in January.
Thompson Hine, at Stark's request, drafted the original TMUD legislation in 2017. The text was amended multiple times over the next three years until the Ohio General Assembly finally passed it in December 2020. The TMUD program appears to be nuCLEus' sole legacy.
END