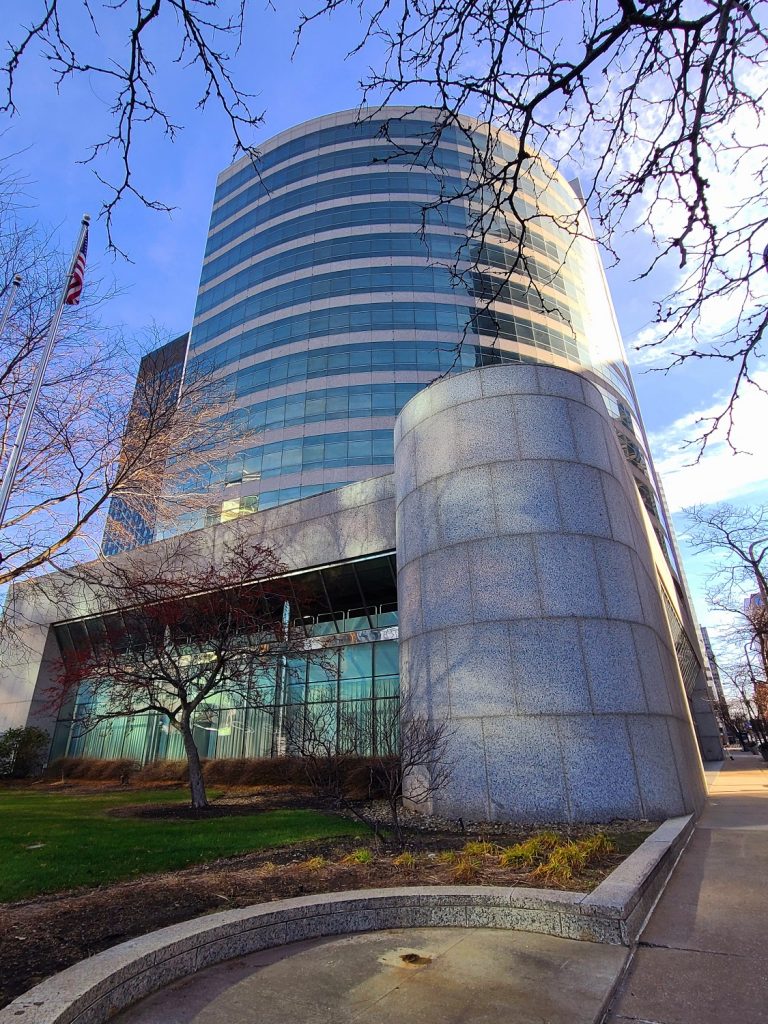 Another $100+ million residential development in downtown Cleveland is due to get underway by spring. The conversion of the former Ohio Bell headquarters in downtown Cleveland won the state's largest historic tax credit, even though the building was built in 1983. It was one of three Cleveland projects and among 36 projects statewide to win Ohio historic tax credits (KJP). CLICK IMAGES TO ENLARGE THEM
Project was one of three in Cleveland to win historic tax credits
Champagne was flowing in the lobby of 45 Erieview as Ohio Department of Development officials announced the winner of one of the state's largest historic tax credits — a 38-year-old office building to be converted mostly into high-end housing. The $5 million tax credit may round out the $102 million project's financing, allowing its sale and redevelopment to move forward.
The project, located at the southeast corner of East 9th Street and Lakeside Avenue, features a mix of out-of-state buyers, sellers and builders.
Selling 45 Erieview is SomeraRoad of New York City which is expected to win final design approval Friday for its large Apartments at Bolivar, 1060-1124 Bolivar Rd. Broker Terry Coyne represented SomeraRoad locally. Buying and redeveloping the property is a partnership of Bluelofts Inc. and Wolfe Investments, both of Greater Dallas. The general contractor is Leopardo Companies of Chicago. The architect is Sandvick Architects Inc. of Cleveland which has much experience in historic renovation projects.
Planned are 367 apartments on floors 3-16 with co-working spaces on the first and second floors and retail, a restaurant and a coffee shop on the ground level. The commercial tenants weren't publicly identified. The property includes a neighboring 348-space parking garage plus 32 parking spaces under 45 Erieview that has been empty for more than two years.
The 16-story building features a distinct curved, glassy façade facing Lake Erie. But that curved part of the building tops out at 14 floors. On the roof of the curved portion will be a swimming pool and jacuzzi accessed from a 15th-floor community room with 16 apartments down the hall. The 16th floor will be comprised of a few penthouses. Most floors will have 31 apartments each, preliminary plans show.
But the fact that the project won an historic tax credit at all raised some eyebrows, including among the state officials who awarded it. Historic tax credits are usually awarded to structures that are at least 50 years old. But exceptions are made if a property is located in an historic district and it contributes to the character of the designated area. Last February, the area bounded by Lakeside and Chester avenues plus East 9th and East 12th Streets was declared by the U.S. Department of the Interior as the Erieview Historic District.
The building's contribution comes from the architect of 45 Erieview Plaza — Norman Perttula. He contributed to the urban renewal efforts of the Erieview plan, including with the 1960s- and 1970s-era Park Centre along East 12th between Superior and Chester avenues. Perttula died one year ago at the age of 93. Now the building is in the hands of investors at Bluelofts and Wolfe.
"Gentlemen…congratulations on an amazing building," said Mariangela Pfister, department head of Technical Preservation Services at the State Historic Preservation Office, before joking about the building being considered historic at today's announcement. "I just wanted to say I got married in 1983. But I believe very sincerely in you and all of the recipients of the Round 27 Ohio Historic Preservation Tax Credits."
"This is the biggest zombie building in downtown Cleveland," said Ike Bam, co-founder of Bluelofts with John Williams, referring to the 492,864-square-foot office building being completely empty yet it counts in downtown's available office inventory. It will be filled with residents and amenities, he added. "We're going to have a 15th-floor pool even though Cleveland is a cold-weather city and a 30,000-square-foot basement with eSports (competition using video games)."
With all of the apartments, amenities and coworking features, 45 Erieview aims to be Cleveland's first post-pandemic remote-work property. Bluelofts and Wolfe jointly acquired 45 Erieview and its nearby parking garage for $21 million. They say renovations and conversion of the property will take approximately two years.
"This building will add to the heart of booming downtown Cleveland," said Kenny Wolfe, president at Wolfe Investments. "This is our third joint venture with Bluelofts. Commercial real estate is a team sport."
One of the challenges of converting 45 Erieview to residential was its large floorplates that exceeded 30,000 square feet. Most residential buildings have floorplates that are less than half that. Complicating the design was that the city of Cleveland requires residential units to have external windows.
State officials today released the list of Round 27 Ohio Historic Preservation Tax Credits award winners totaling $36.2 million. But there were only three winning projects in Cuyahoga County, all in Cleveland. That compared to 12 in Hamilton County with all but one of those in Cincinnati. The other two projects in Cleveland were:
Consolidated Fruit Auction Co. Building, 601 Stones Levee — $815,000 in tax credits was awarded to Cleveland Whiskey to convert this 110-year-old warehouse in the Flats South District into a distillery, bar, restaurant, store and offices.
Agora Complex Phase II, 4900 Euclid Ave. — $250,000 in tax credits was awarded to RS Agora Partners LLC, a joint venture of Renew Partners LLC in Montville, OH in Geauga County and Budapest-based Sabor Group USA, to help convert part of the Midtown complex into 35 apartments.
Two other large historic renovation projects in Cleveland applied for Ohio Historic Preservation Tax Credits but were denied funding again. One was the ArtCraft Building, 2570 Superior Ave.; the other was the Warner Swasey Building, 5701 Carnegie Ave., according to a source close to the State Historic Preservation Office.
The source said that the two properties weren't in prime locations and wouldn't make enough of a transformative impact on their surroundings. However, the ArtCraft building is just east of what will soon be the new CrossCountry Mortgage headquarters and the Warner Swasey Building is part of the Euclid/East 55th Street area that MidTown Cleveland Inc. is seeking to aggressively develop with mixed uses.
END