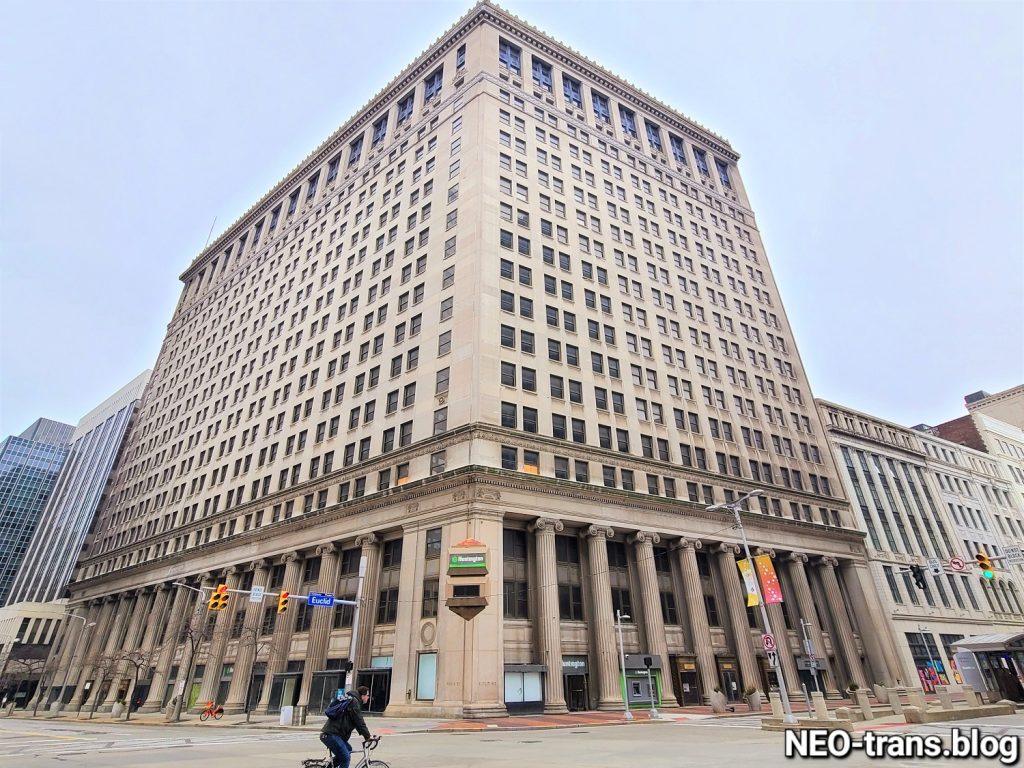 Once one of the busiest intersections in Ohio, Euclid Avenue and East 9th Street may start gaining new life this summer as workers descend upon 925 Euclid to remove and store historic features and undertake selective demolition of non-load-bearing walls, conduits and other building components that will not be part of the renovation of the former Union Trust Building into The Centennial (KJP). CLICK IMAGES TO ENLARGE THEM.
Demolition work may start this spring
Although a "groundbreaking" ceremony for the start of one of downtown Cleveland's largest-ever building renovations may not happen until late summer, you may see work crews going in and out of the former Union Trust Bank, 925 Euclid Ave., even earlier. That's because an interior demolition permit application was submitted to the city this week to prepare for construction work in converting the 1.4-million-square-foot behemoth into The Centennial, featuring nearly 600 apartments, 170 hotel rooms, plus retail, restaurants and a museum.
Sandvick Architects of Cleveland submitted the application on behalf of building owner The Millennia Companies, also based in Cleveland. Millennia's portfolio includes more than 280 multifamily housing communities in 26 states. The permit will allow work crews to carry out selective demolition of non-structural components in the building as well as the removal, storage or dismantling of historic features for later reinstallation in The Centennial. Crews for the general contractor, a joint venture of the Marous Brothers Construction and Gilbane Building Co., have been doing some work inside the building, but that work had to stop as their permit was no longer valid.
"The team has been quietly conducting interior demolition preparing for the major interior renovation," said Valerie Jerome, Millennia's director of marketing and communications. "Millennia was issued an initial permit in 2018 to allow for selective demolition, which has been happening. That permit is now outdated and not reflective of the current planned uses; hence, the application for a new permit to so that selective demo can continue ahead of the major groundbreaking."
The change in planned uses was announced at a public meeting earlier this month in which Tom Mignogna, vice president of Millennia Housing Development, Ltd., shared updates about The Centennial project, whose development cost is projected to exceed a half-billion dollars. The meeting was required to comply with requirements associated with some of the public funding the project has received. Millennia has thus far secured more than $476 million in private, federal, state and local financing commitments that comprise a complex capital stack.
That public financing includes a $40 million Transformational Mixed Use Development (TMUD) tax credit from the state, a $25 million catalytic historic tax credit from the Ohio Historic Preservation Tax Credit Program, $15 million federal Housing and Urban Development loan, and Low Income Housing Tax Credits (LIHTC) through the Ohio Housing Finance Agency. There are also non-competitive federal historic tax credits, a $5 million brownfield loan from the state, a $5 million loan from Cuyahoga County and a $15 million loan from the City of Cleveland.
"There has been a change in the number of residential units and the mix of those units," Jerome told NEOtrans. "Financing challenges prompted the change, which reverts the project back to the original vision of a true mixed-used project with a mix of affordable workforce, market-rate, and luxury housing units. The development team had a difficult time finding tax credit investors, lenders, and syndicators to take on the deal at 864 units of affordable housing. After speaking with 20 to 25 firms, the size of the deal left Millennia with only one or two national investors to pursue, and progress was not being made as quickly as needed to keep the pre-development work moving, so the team diversified the uses."
The Centennial will now offer 177 units of luxury apartments and 413 units of workforce apartments. Residents will have access to on-site amenities such as a fitness center, work lounge, dog wash and dog park, ample bike and scooter storage, and storage units. Also announced is the addition of a 170-room Curio Collection by Hilton four-star luxury hotel with associated event space, according to a fact sheet shared by Millennia on its updated plans for the rehabilitation and adaptive reuse of the former Union Trust Bank. Built in 1924, the 21-story, 1,390,824-square-foot structure was one of the largest office buildings in the world and had the world's largest bank lobby at that time.
There will also be 180,000 square feet of office space at 32-acre The Centennial. Millennia officials said that, although companies are downsizing their offices in the post-pandemic market, they are also seeking higher-quality spaces with lots of on-site amenities to compete for workers, The office spaces at The Centennial will upgraded to Class A quality, and provide valet and dedicated connected self-parking options at a parking garage Millennia is acquiring north of Chester Avenue. That garage is connected by a pedestrian tunnel below Chester to The Centennial.
"Millennia will transform the office spaces into a fully amenitized Class A office building much like how the company repositioned Key Center as a premier office building, hotel and wellness center," the project summary states.
Conceptually like The Marble Room, 623 Euclid Ave., The Century Club will be constructed in the East 9th Street Bank Lobby of The Centennial. The quality and experience of The Century Club is intended to meet, if not exceed, that of The Marble Room. The Marble Room's owner Malisse Sinito of Savour Hospitality Group is in the planning stages of how to create a unique fine dining experience that will be positioned in the Gilded Age former bank hall. Sinito is the wife of Millennia CEO Frank Sinito.
Collaborating with Western Reserve Historical Society, Millennia will develop a museum celebrating the innovation, achievements and history of Northeast Ohio in the Chester Avenue Bank Hall. This space will also convert into a more than 630-seat event space — the Centennial's largest event space. It will feature multiple lounges and breakout rooms and will be adjacent to The Century Club which will offer catering options to serve the guests in the hall.
The 21st Floor has multiple event spaces with rooftop access and panoramic views of Lake Erie and the city for hosting smaller meetings. This space will be home to an ultra-high- end bar, pool and dining options and will be accessible to both residents and hotel guests. The second rooftop on top of the annex will feature resident activity spaces and a dog park, the fact sheet for The Centennial noted.
Ascend Fitness & Spa will be expanding into The Centennial. Currently located at The Marriott at Key Tower, Ascend will offer a 20,000-square-foot fitness facility, day spa and wellness store. It is open to the public for spa services and membership and will offer the same at The Centennial. Also, 35,000 square feet of retail space is available for lease. Among the tenants will be Savour Coffee and Creations and Marble Room Sushi are opening new locations. Additional retail tenants are rumored to be on board but Jerome said "I am unable to confirm that rumor."
END