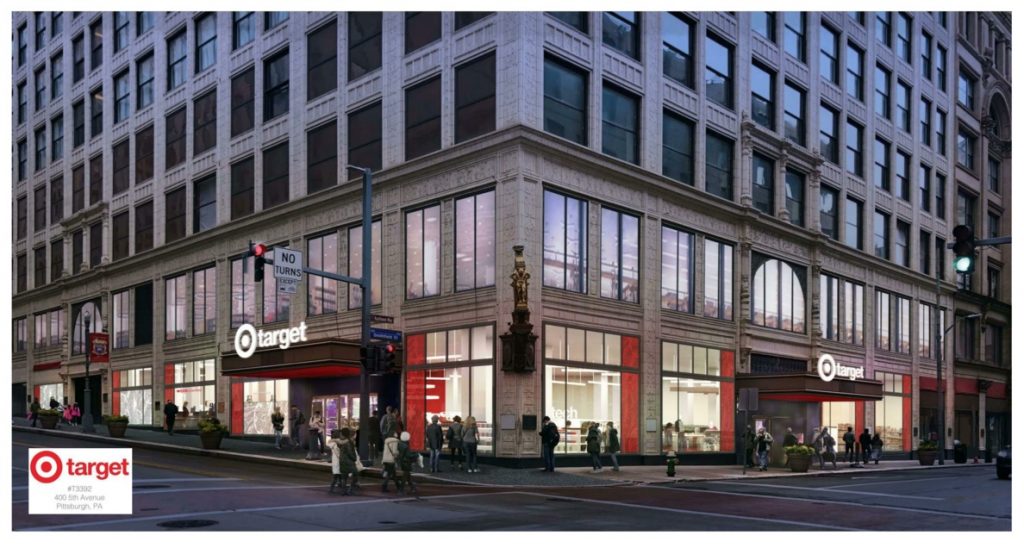 Coming soon to downtown Cleveland? Target reportedly is in talks with several downtown Cleveland property owners about locating a small, urban-format store in their buildings. The store would be similar to this 22,000-square-foot store opening this Spring in the former Kaufmann's department store in downtown Pittsburgh (Target). CLICK IMAGES TO ENLARGE THEM
National retail chain expanding in downtowns & near colleges
The upscale discount retail giant Target is in expansion mode. It is focusing on locations in downtowns, near colleges and dense suburbs for small, urban-format stores. But will downtown Cleveland or perhaps University Circle be under consideration?
Yes, says at least one source, but no decisions have been at this time. And not everyone in the local real estate scene agrees with the source about winning one of those small-format stores that measure anywhere from 15,000-40,000 square feet.
An owners' representative for multiple downtown Cleveland property owners and development teams said if Target could find a site and a deal it liked, it would be a validation of downtown Cleveland as a location worthy for other retailers as well. Indeed, he and another source said the foot traffic that an urban-format Target, often branded as a City Target, would be a lure to other retailers and ultimately attract more residential and office development nearby.
"They are definitely looking," said the owners' representative on the condition of anonymity. "We're hoping to bring them downtown."
But another source, a real estate broker who represents downtown properties with suitable retail spaces for a small-format Target, said he thinks Target will ultimately come downtown when its population approaches 30,000. Downtown's population is 20,000 and growing. In other words, not yet.
"If downtown keeps growing like it does and CSU (Cleveland State University) keeps adding more resident halls and off-campus housing, then I think it's only a matter of time before Target comes downtown," said the broker who also spoke on the condition of anonymity. "If not downtown, then perhaps University Circle considering its growth trajectory."
Downtown Cleveland Alliance's Twitter account teased urbanistas with a wink earlier this month after a resident shared her thoughts on the social media platform what retailer she wanted to open a shop downtown. The nonprofit community development corporation generated interest from that tweet but offered no further comment.
Small-format or urban-format Target stores offer scaled-back offerings of furniture, electronics, clothing, groceries and home goods that are provided at their full-size stores. But customers can order merchandise at the store or online and pick it up at the store in a day or two, or have it shipped to them.
When Target was asked to comment on whether they are considering a downtown Cleveland store, a company spokesman didn't provide much more insight than what the Downtown Cleveland Alliance gave.
"We are continually evaluating potential store locations to serve new guests, but I don't have any new-store news to share at this time," said Anthony Thomas, communications business partner at Target's Properties & Fulfillment office.
Earlier this year, Target announced in a company statement it is investing $4 billion over the next few years on new distribution centers, supply chain improvements and more and better stores. As part of its investment, Target said it plans to accelerate the pace of its store openings by opening 30-40 new stores every year. The retailer intends to offer a hybrid mix of traditional retailing and Amazon-style e-Commerce.
The company says it will focus investment on urban centers, college campuses and denser suburbs nationwide, the statement added. The new stores will be a mix of small-format venues for urban neighborhoods and sites near colleges. Mid-sized stores would be set in dense suburbs. Of Target's 1,915 stores across the USA, 150 are small-format — so far.
A full-size Target was opened in 2011 in Pittsburgh's once-dangerous East Liberty neighborhood 4 miles east of downtown Pittsburgh. The two areas are linked by fast, frequent bus service on the MLK Busway with a station behind the five-year-old apartment complex at right. Yet Target will open a small-format store in downtown Pittsburgh in 2022 (Google).
Target is planning only one new store Ohio at this time — a 33,000-square-foot setting in east-suburban Woodmere, at the Village Square shopping plaza on Chagrin Boulevard, just east of Interstate 271. The space was occupied by a Whole Foods grocery store, but it moved several years ago to the new Pinecrest lifestyle center in Orange Village.
The two sources said Target locating in downtown Cleveland would be a huge boost for the central business district where 20,000 people live and demand for more housing remains strong. It would create a feedback loop of attracting more foot traffic there as well as more retailers which, in turn, would draw more residential and office development.
However, only 55 percent of downtown Cleveland workers have returned to their offices in November. That's down from 58 percent in September but better than the roughly 20 percent where it held throughout the second half of 2020. Over in University Circle, its large health care and university workforces like the Cleveland Clinic, University Hospitals, Case Western Reserve University and the various arts institutes have returned 93 percent of their staffs to the workplace, according to a recent report by WKYC.
Before the pandemic, the owners' representative said he also had conversations with Target management who said that it wants to locate in downtowns that have more than 20,000 residents. He said Target representatives told him two years ago they were looking at downtowns in Pittsburgh, Kansas City and Cleveland in that order.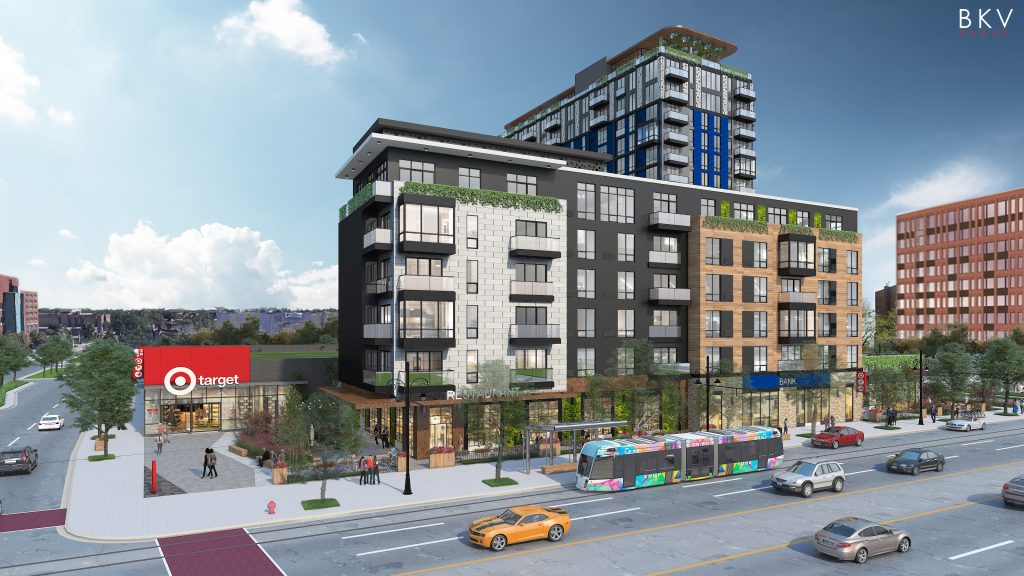 In Midtown Detroit, City Club Apartments, based in the Detroit suburb of Farmington Hills, is building this 350-unit apartment complex with a ground-floor Target store. Its tallest building is 16 stories and is located a mile north of downtown on Woodward Avenue, served by the QLine streetcar (Target).
Construction is underway to put a 22,000-square-foot City Target in Downtown Pittsburgh, on the ground floor of the Kaufmann's Grand on Fifth, once the city's regional-draw, 1.2-million-square-foot Kaufmann's department store. But like many downtown department stores, it fell on hard times with suburban sprawl. The city subsidized the department store to keep it open, including after its acquisition in 2006 by Macy's. But Macy's continued to downsize the store to where it occupied only one-third of the building. The department store closed in 2015.
"The new Target store will be a very welcome addition to downtown Pittsburgh's streetscape," wrote Michael Lisicky in a recent Forbes article. "The long-empty banks of display windows at the Kaufmann's building are a stark reminder of the city's former glory as a retail center. Target will replace those windows with merchandise and fill its interior with local shoppers. However, Core Realty's plan to transition the building into the new multi-purpose project, named Kaufmann's Grand on Fifth, has been slow to materialize and has achieved less-than-desirable results."
The Pittsburgh Downtown Partnership says there are roughly 16,000 people living in that city's urban core as of 2018. That includes 5,270 in the heart of the central business district, dubbed the Golden Triangle, and another 10,586 residents in the "greater downtown" area. Pittsburgh's greater downtown includes The Bluff/Uptown, Crawford-Roberts neighborhood in the Hill District, North Shore (across the Allegheny River), South Shore (across the Monongahela River), South Side Flats (across the Monongahela River) and the Strip District.
More people live in neighborhoods just beyond downtown including students at the University of Pittsburgh (28,000 enrollment) and Carnegie Mellon University (14,000 enrollment) in Oakland. Just past Oakland, or four miles east of downtown Pittsburgh, Target in 2011 opened a 145,000-square-foot store in East Liberty.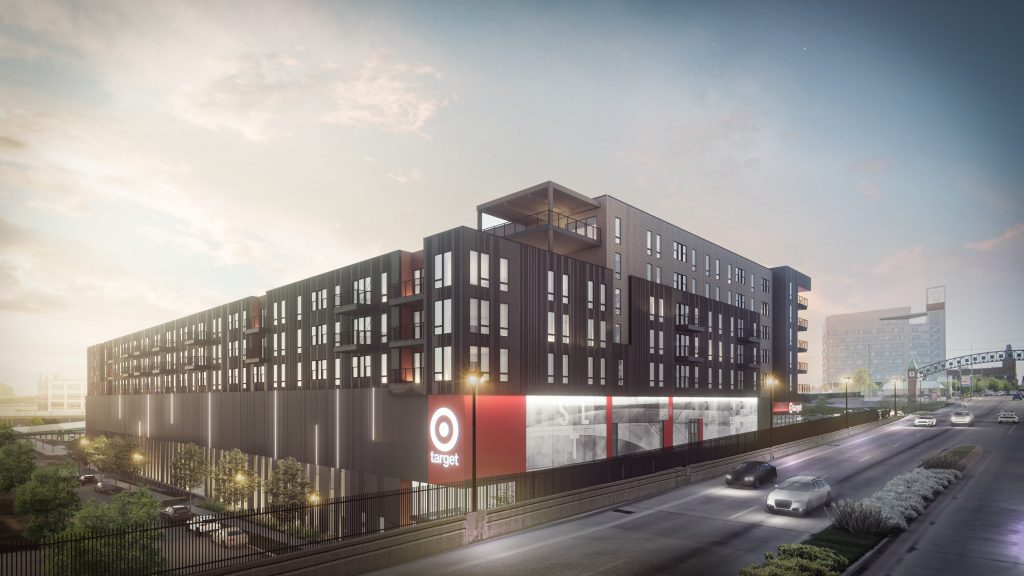 In Midtown St. Louis, next to the south end of the Grand Boulevard viaduct in a faded industrial area will be this large apartment complex above a 70,000-square-foot Target department store. Grand links the St. Louis University hospital in the background with the university itself and a light-rail station in between (Target).
Progress in Kansas City has been far less tangible, limited to locally authored articles suggesting Target is considering downtown because of its recent development and growth. The downtown district on the Missouri River was credited with 27,831 residents in its 2020 Census count. KC's CBD population is expected to grow to 30,000 in the near future, prompting downtown advocates to point out what Target is missing.
"We absolutely have the population they're interested in," said Tommy Wilson who handles business recruitment for the Downtown Council in a Flatland article. "I think Target is looking at downtown because we have 28,000-30,000 residents plus visitors and office workers."
Target also plans a 31,000-square-foot City Target in Midtown Detroit, one mile north of downtown on Woodward Avenue — the Motor City's version of Euclid Avenue. The store will be on the ground-floor of a new high-rise planned by City Club Apartments which has started building a high-rise in downtown Cleveland on Euclid.
Another high-density mixed-use development, this time on Grand Boulevard in Midtown St. Louis has attracted a 70,000-square-foot Target store, two miles west of downtown. The former industrial site is fairly barren for now, but is within walking distance to a Metrolink light-rail station, St. Louis University Hospital and the St. Louis University campus (7,000 enrollment).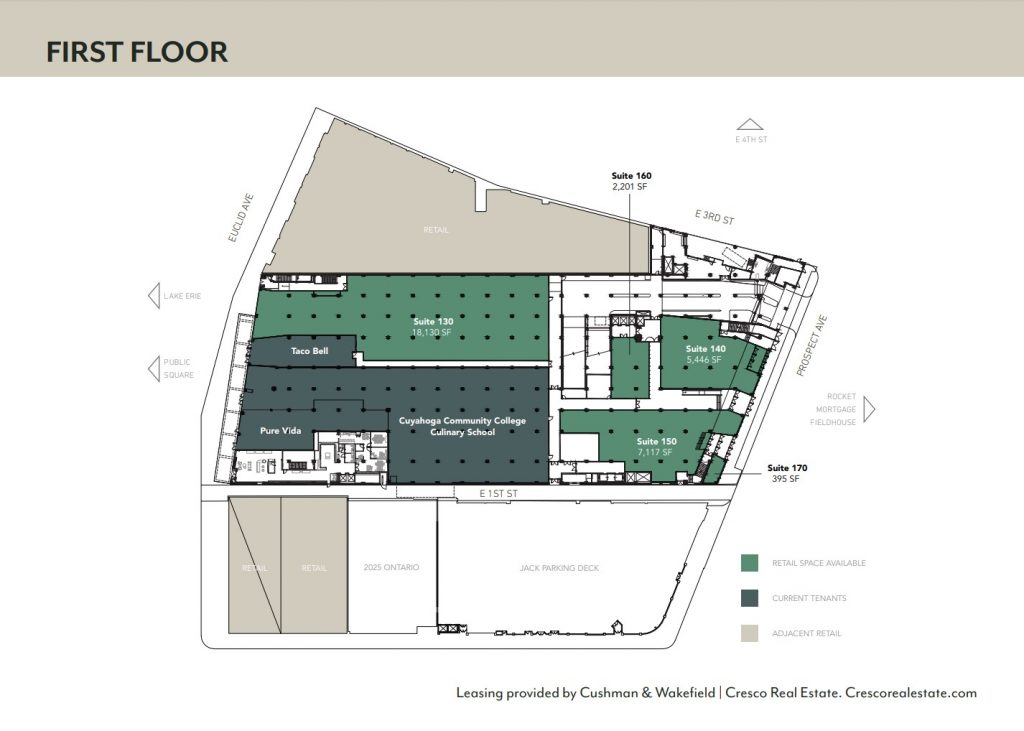 First floor plan of The May Apartments in one of downtown Cleveland's former department stores. It is located where Euclid Avenue meets Public Square. The light-green retail spaces are available, including an 18,130-square-foot space facing Cleveland's main street. That space would be large enough for one of Target's smaller urban-format stores (Cresco).
Much smaller cities have small-format Target stores in their downtowns, but only because they have large colleges as Iowa City, IA does with the University of Iowa (30,000 enrollment) or East Lansing, MI does with Michigan State University (40,000 enrollment).
The Target store closest to downtown Cleveland is a 127,000-square-foot mart at Steelyard Commons. The suburban-style strip shopping center also has a Walmart and two dozen other stores and restaurants. Some are open 24 hours. It is 3 miles as the crow flies from downtown's Public Square to the Target store at Steelyard but 4.3 miles by car, according to Googlemaps. By bike it takes 20 minutes via the Towpath Trail and 30 minutes by the No. 25 bus route.
A few downtown real estate developers blamed the city for allowing Steelyard Commons to be built, which they said the duplication made it difficult to attract retailers downtown. Ezra Stark, chief operating officer of Cleveland-based Stark Enterprises said his firm, which expanded rapidly in the 1980s by finding the right mix of retail tenants at its growing number of properties, tried to attract more retailers to its now-dead nuCLEus development in the Gateway District downtown.
Stark said downtown and its surrounding neighborhoods lacked the population and purchasing power to support both a stronger retail presence downtown in addition to Steelyard Commons. He described Steelyard as the location where downtown residents go to shop. Stark specifically criticized the mayoral administration of Jane Campbell in the 2000s for supporting the development of Steelyard Commons.
The owners' representative disagreed, saying Steelyard Commons doesn't work for him and other downtown residents. He said the distance between downtown and Steelyard and the lack of good transportation alternatives force someone to drive. He said Steelyard is fine for suburban lifestyles, but not for downtown living.
"Downtown is a totally different, higher-income demographic and Steelyard Commons is a suburban-style shopping center with no walkability," he said. "You can also drive to a grocery store from downtown but people would rather walk to Heinen's or Constantino's. Downtown is safer walking around at night. I don't drive to Steelyard. I'd rather order something from Amazon and get it the next day. Downtown retail is underserved. You see it when you go to the downtown CVS stores which are always packed."
He said that, in the absence of a new-construction development, downtown buildings with enough available retail spaces that could generate the foot traffic to support a City Target would be The May Apartments on Public Square, The Centennial at East 9th Street and Euclid Avenue and possibly Tower City Center.
The May Apartments has an 18,130-square-foot space available on the Euclid side, facing Public Square that would have high visibility to pedestrians and transit riders. So might a spot in Tower City, if a few smaller retail spaces could be connected together. The largest retail spaces are the former Brooks Brothers clothier (Unit 226) near the Public Square entrance and the former Sustainable Cleveland Center, originally a J Crew store (Unit 306).
Both retail spaces are about 8,000 square feet and cover two floors yet at opposite corners of the mall. But Bedrock Management Services has a tenant it will announce in January for the ex-Sustainable Cleveland Center, associated with the National Basketball Association All Star Game that will be played in Cleveland Feb. 20. The tenant may be an NBA Store or a Nike store, said the owners' representative.
Millennia Group is awaiting word, likely in January state officials say, whether its 1.3-million-square-foot Centennial redevelopment of 925 Euclid Ave. will win a $40 million Transformational Mixed Use Development tax credit. If it does, some of the retail spaces on the ground, first and/or second floors at the corner of East 9th and Euclid could meet Target's needs, the source said. There is 18,784 square feet of contiguous retail space on the ground and first floors, 20,233 on the first and second floors and 32,145 among all three floors, project plans show.
One more possibility might be the Circle Square development in University Circle. On the ground floor of the 24-story, 298-unit Artisan apartment tower now under construction will be 14,005 square feet of retail. Another 24,600 square feet of ground-floor retail will be below other parking structures offering 488 more parking spaces. However, Meijer's decision to locate on the ground-floor of the 190-unit Fairfax Market apartments two blocks south of here may turn retail leasing efforts in another direction.
END