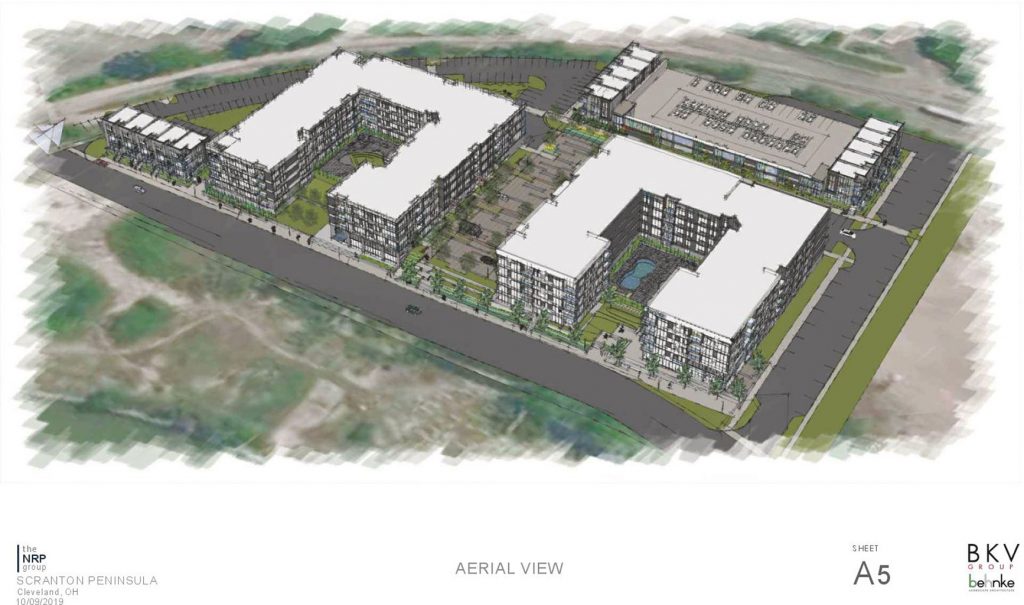 NRP Group's city-approved plan for The Peninsula in 2019 featured 330 apartments and 15 townhomes, with most of the townhouses used to screen a two-level parking garage. This aerial graphic looks east at Scranton Peninsula with Carter Road and the Cuyahoga River at the bottom and the curving Flats Industrial Railroad across the top (BKV). CLICK IMAGES TO ENLARGE THEM
NRP enticed by riverside brewpubs, trails, other projects
When NRP Group abandoned its plans in September 2020 to develop several hundred residences on Scranton Peninsula, the pandemic had just started and so had the economic uncertainty. Since there wasn't much happening in this part of the Flats, it apparently wasn't a good time for the Cleveland-based apartment developer to set out as a pioneer in a nearly empty landscape.
But things have changed. If someone would have suggested 16 months ago that evening traffic jams would be occurring on this isolated spit of land across the Cuyahoga River from Tower City Center, few would have believed it. With the early popularity of the Towpath Trail extension to Canal Basin Park and BrewDog Cleveland's aptly named "Outpost," things started looking up for Scranton Peninsula at the end of 2021.
The coming year is looking even better, with construction likely for a Great Lakes Brewing Co. production facility and riverfront brewpub. Add to that the planned development of Silverhills at Thunderbird, a 300-unit apartment complex between the river and Carter Road, and the long-dormant Scranton Peninsula may soon be buzzing with activity.
That has reportedly caused NRP Group to have a change of heart about its decision to walk away from developing on the peninsula, according to two sources with direct knowledge of the company's plans. Neither was authorized to speak publicly about the project. Taylor Brown, NRP Group principal and president of construction and Aaron Pechota, NRP Group's executive vice president of development, didn't respond to e-mails seeking more information about the company's plans.
However, the sources said the same development plans for which NRP Group won city approvals in fall 2019, featuring 330 apartments, 15 townhomes and no commercial uses, are unlikely to be different this time.
That project, called The Peninsula, featured two multi-family buildings four and five stories tall along the east side of Carter with a mix of surface parking and a two-level parking deck partially screened with rental townhomes. Additional townhomes were planned in a narrowed portion of the 7.44-acre property, near to where Carter and the Flats Industrial Railroad intersect.
Both sources acknowledged that NRP Group is again pursuing a multi-family development plan on Scranton Peninsula. But they said its scale and scope has yet to be fleshed out.
"NRP has renewed interest in this site," said one of the two sources. "I have ben unable to confirm to what extent it will be redesigned. It definitely will be redesigned in some fashion though."
"I would doubt they would do commercial spaces here unless forced to by the city," said the other source. "Any townhomes it builds would be for rent similar to The Edison. That component might still stand in some way."
Plans for The Peninsula that NRP Group abandoned were the second variation it submitted to the city. Previously, the Cleveland firm proposed two multi-family buildings with only 181 apartments in them, plus another 18 townhouse units. But City Planning Commission pushed back, saying there was too much surface parking and a lack of density. NRP Group returned with a plan offering more apartments, fewer townhomes and a parking garage.
To develop on Scranton Peninsula may require even more density and possibly some mixed use after Planning Commission voted in December to rezone the Columbus and Scranton peninsulas in the Flats with an Urban Form Overlay. City Council has yet to take up the rezoning. If approved, a ground-floor commercial use may have to be included in NRP Group's new development here but could be done without the need of securing zoning variances or other complications.
NRP Group LLC is one of the nation's largest vertically integrated developers, owners, builders and managers of multi-family properties. Its offices relocated a few years ago from suburban Garfield Heights to the Halle Building in downtown Cleveland as part of its commitment to invest in more urban and fewer suburban properties.
If all parties interested in Scranton Peninsula follow through with their plans, it would mean that all 27 acres in the original, 2017-announced Thunderbird development vision have be utilized. Considering only 2 acres have been developed so far — that of the BrewDog Cleveland site — a lot of construction activity could be occurring simultaneously and soon turn Scranton Peninsula from a desolate place into an urban neighborhood in a matter of a few years.
END