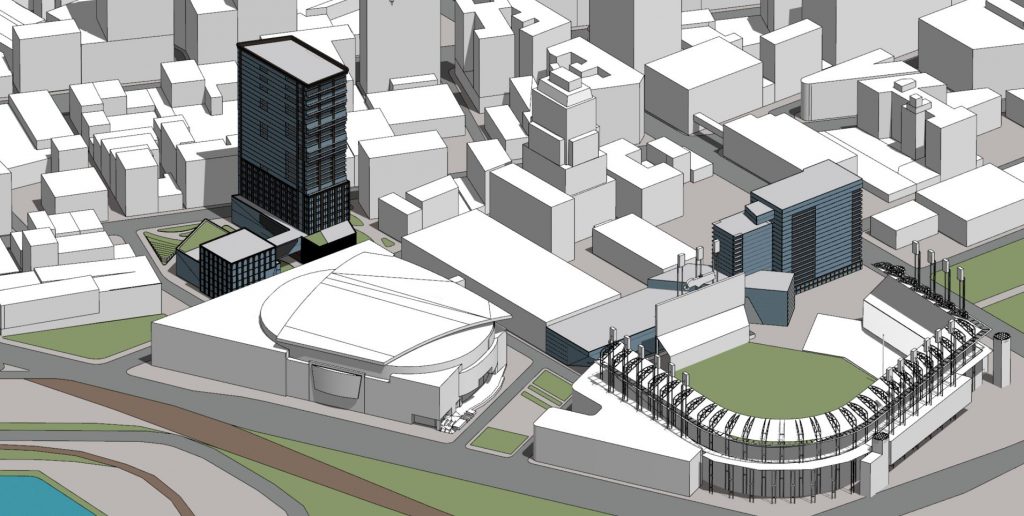 In a massing made for NEOtrans, this unofficial view shows what a pair of significant developments in downtown Cleveland's Gateway District could look like on land sought by Bedrock Real Estate, left, and the other by Harris Blitzer Sports & Entertainment, right. Both are shown in a simplified massing with just one principal tower for each site, although more than two towers total could be built. They are intended to capitalize on the proximity of the Gateway Sports & Entertainment Complex that includes the recently renovated Rocket Mortgage FieldHouse and the to-be-renovated Progressive Field (Ian McDaniel). CLICK IMAGES TO ENLARGE THEM
Trio of billionaires seek downtown sports village
Cleveland Cavaliers owner Dan Gilbert along with potential Cleveland Guardians' minority owners, partners David Blitzer and Josh Harris, are reportedly joining forces on a huge, coordinated real estate development that would transform downtown Cleveland between its central business district and the Gateway sports facilities.
Although still early in the process, the sites and basic features in each billionaire's scope of the development are taking shape. Multiple sources close to Gilbert's Bedrock Real Estate and to Harris Blitzer Sports & Entertainment (HBSE) say the two groups are coordinating their efforts to deliver a mixed-use complex that activates on a year-round-basis more economic benefits from the sport facilities.
Gateway includes the Rocket Mortgage FieldHouse where Gilbert's National Basketball Association Cavs and his American Hockey League Cleveland Monsters play. The arena, owned by the city of Cleveland and Cuyahoga County and managed by the nonprofit Gateway Economic Development Corporation of Greater Cleveland, was renovated in 2019 for $185 million.
The other sports venue in Gateway is Progressive Field where the Cleveland Guardians Major League Baseball team plays. The ballpark is owned and managed in the same manner as the arena. According to published reports, Blitzer and Harris are near to acquiring for about $400 million a 35 percent ownership stake in the Guardians, formerly the Indians, that would also put them on a path to acquire a majority stake from Paul Dolan in 2026.
Part of attracting their interest was a $435 million renovation package for Progressive Field and a 15-year lease extension for the Guardians that started Jan. 1. There are also two five-year extensions. The city and county agreed to financially support Progressive Field's renovations and the Gateway Economic Development Corp. of Greater Cleveland extended the Guardians' lease. But another attraction is the real estate development potential next to the Gateway sports complex.
The two preliminary components and multiple sub-components of the Gateway megaproject appear to be:
(1) Bedrock Real Estate or an affiliate will acquire properties or the entity of Huron Gateway LLC, sources said. The joint venture of Stark Enterprises and J-Dek Investments owns 24 parcels totaling approximately 2.85 acres of land between Prospect Avenue and Huron Road in the vicinity of East 4th Street. The sale price is unknown but could range from $20 million to $40 million based on recent, comparable transactions downtown. This is the site on which Stark tried since 2014 to build its nuCLEus development.
+ Bedrock, according to sources, will construct a significant structure with more than 1,500 parking spaces. On the ground floor perimeter of this parking structure will be retail, restaurant and entertainment uses, much like the similar, albeit smaller nuCLEus plan approved by the City Planning Commission in 2019. The parking structure will serve as a foundation or pedestal for multiples uses above.
+ A trophy-class office tower will apparently be one of the structures atop the pedestal. The scale of it and the tenants are uncertain but could be 300,000 to 600,000 square feet. At minimum, offices for Rocket Mortgage are a good bet. More on that later.
+ A boutique hotel, likely a Shinola Hotel which is a partnership between Bedrock and Shinola, a Detroit-based watch and leather goods manufacturer, was specified by sources as a proposed use.
+ Apartments are also proposed considering how hot the downtown residential market is. It is possible the hotel and apartments could be part of the same building, but planning work hasn't advanced to the massing stage of design.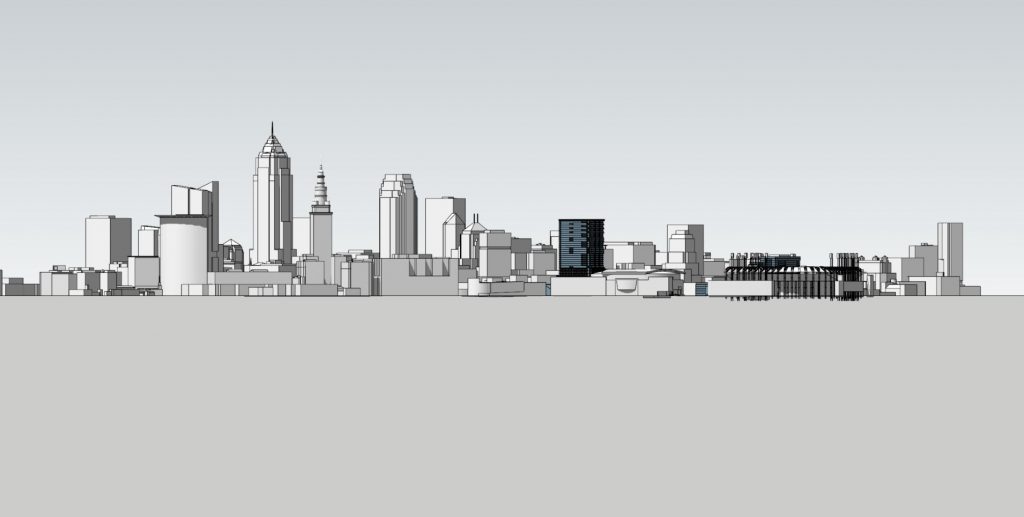 Any development that's planned for the Gateway District sites that are mentioned in this article would likely have to be vertical developments that make an impact on the downtown Cleveland skyline given the price of acquiring the properties and/or making them development-ready. Getting a return on that investment will require significant revenue from large structures, shown here in this unofficial massing for conceptual purposes (Ian McDaniel).
(2) The Cleveland Guardians or an affiliate will acquire within two years two properties. One is the Gateway East Garage and the 3.3 acres on which it sets at 650 Huron Rd. from the city of Cleveland for $25 million and the other is the half-acre Gateway Development Parcel in the 800 block of Bolivar Road from Gateway Economic Development Corp. of Greater Cleveland for $2 million.
+ Demolition of some or all of the 1,650-space Gateway East Garage. If the entire existing parking garage is demolished, a newly designed parking structure may be constructed to make better use of the existing site.
+ Replacing the razed portion of the parking garage will be a "Ballpark Village" similar to the one in St. Louis except larger and year-round. The Ballpark Village will feature restaurants, shops, baseball museum/hall of fame, interactive sports and indoor event/entertainment center.
+ On the half-acre Gateway Development Parcel, a high-rise apartment building is anticipated, continuing with the inspiration from the St. Louis Ballpark Village where a 29-story, 297-apartment tower offers ballpark views of game action.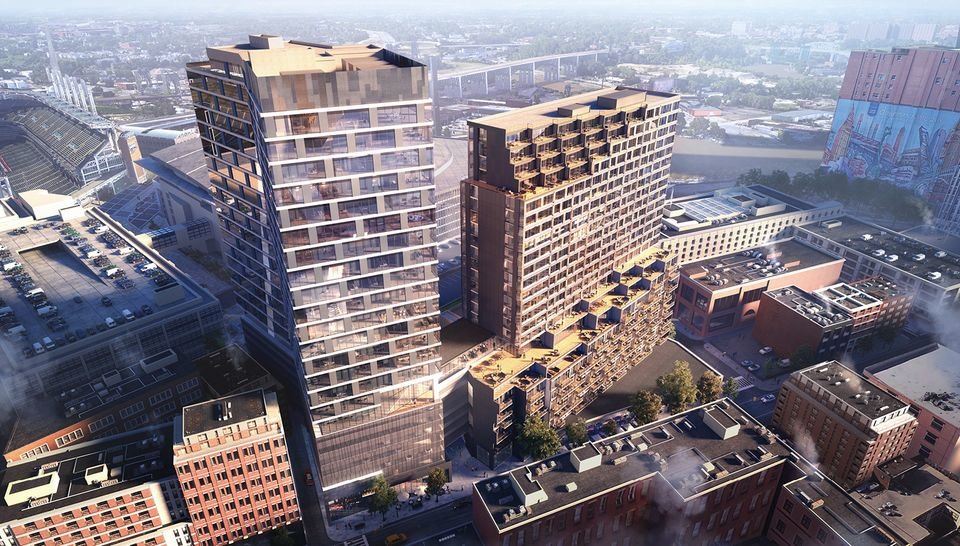 The second version of Stark Enterprises' now-dead nuCLEus development had two 24-story high-rises, one a 400,000-square-foot office building and the other a 250-unit apartment building. Both would be atop a pedestal of parking and retail. If Bedrock acquires and develops this site, it's possible that a development with a similar scale and scope of uses could be constructed (Stark).
Bedrock Gateway development concepts
There's a lot to break down here which is complicated by the fact that everything is still very preliminary. First comes the reported purchase of the former nuCLEus site by Bedrock. Stark Enterprises Chief Operating Officer Ezra Stark denied that there is a sale or even a pending sale. However, NEOtrans was able to locate certificates of disclosure filed with the city's Building & Housing Department surrounding a possible, pending sale. Stark said the filings were not part of an imminent sale.
"We are not selling anything," he said. "And we're not actively marketing the property. The certificates of disclosure are anticipatory."
It was the first time in nearly two years that Stark responded to an e-mail request from NEOtrans for a comment, despite numerous e-mails seeking updates on the nuCLEus project. The last reply was in early March 2020 when it appeared nuCLEus was perhaps one week away from a groundbreaking announcement. Then the pandemic hit.
Stark's most recent, city-approved nuCLEus plan is smaller than what Bedrock apparently wants to build. Stark planned a 340,000-square-foot, 18-story office tower called One nuCLEus Place atop seven stories of retail, parking and tenant amenities like a fitness center, lounge, conference space, outdoor terraces and more.
But not all sources were optimistic about Bedrock acquiring Stark's property. A source said Stark and Bedrock were working on a deal but wasn't confident it would happen. Other sources disputed this either through direct knowledge of the negotiations or by contact with those involved in the conversations.
NEOtrans reached out to Lora Brand, vice president at Cleveland-based Falls & Co. which handles local media relations for Bedrock, about Bedrock possibly acquiring Stark Enterprises' Gateway District properties for a significant development.
"If Bedrock has any news on any developments to share, we will let you know," Brand said.
However, sources close to the discussions between Stark and Bedrock were certain that a deal is near to closing. Furthermore, the sources said Cleveland-based law firm Benesch, Friedlander, Coplan & Aronoff LLP is handling the sale negotiations for both parties using a "Chinese Wall" approach. A Chinese Wall is the practice of separating groups, departments or individuals within the same organization — a virtual barrier that prohibits communications or exchanges of information that could cause conflicts of interest.
For those wondering why Bedrock would buy Stark's property when it has its own downtown riverfront land to develop — announced last fall as part of an aggressive Vision For The Valley — sources point to the long timeline to achieve it. In fact, sources close to Bedrock said the Detroit-based company considered that vision more of a 20- to 30-year dream at this point. That's supported by language in the framework for a development agreement authorized by Cleveland City Council in November.
"The development agreement is the first step in the city and Bedrock engaging cooperatively to plan and execute on the development strategy, understanding that the implementation of the proposed infrastructure and development will take years," a summary for the framework said.
The Vision For The Valley development agreement, once it is drafted and ratified by City Council, will outline the parties' intent to identify public and private-sector improvements such as boardwalks and park space; residential, commercial and retail buildings; plus roadways and riverside bulkheads. The parties must also identify projected costs along with public- and private-sector resources to support the development and conduct public outreach.
"It is expected that the (above) efforts will take 18 months to be completed, although the parties may extend that time by mutual agreement," the framework's summary said.
Bedrock reportedly hopes to begin constructing buildings in downtown Cleveland in 18 months, not just to have a plan in place for specific public infrastructure improvements on and around which future riverside buildings might rise. Time is of the essence. A large new Gateway parking garage must be built north of Huron Road before the existing Gateway East Garage south of Huron can be razed, partially or otherwise, for the ballpark village.
The size of Bedrock's Gateway development is unknown as are all of its tenants. As mentioned earlier, Gilbert's Rocket Mortgage Cleveland office is a good bet. Its back-office employment is growing rapidly in Cleveland and is located in the old Higbee's building that no longer belongs to a Gilbert-controlled firm. Gilbert doesn't like having one of his companies paying rent to a non-Gilbert-controlled firm if it can be avoided.
One year ago, sources said Bedrock extended an agreement to retain architectural firm Vocon to conduct programming for a new mixed-use development. Bedrock also hired design and engineering firm IBI Group of Toronto to provide construction and engineering services, but limited the work to geotechnical and environmental analyses of Bedrock's riverfront properties. IBI Group staff was to start collecting soil samples from Bedrock's riverfront properties next to Tower City Center last winter but the work was postponed into spring and then indefinitely. The work never happened, sources said.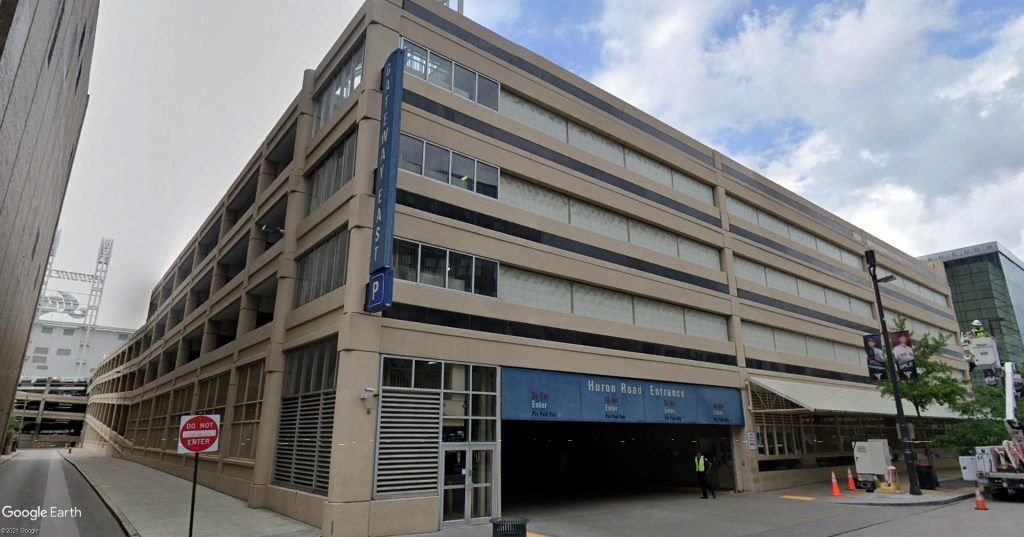 The Gateway East Garage, 650 Huron Rd., has 1,650 parking spaces with about 962 spaces in the north section facing toward Huron (shown) and another 688 spaces in the east section extending toward East 9th Street. The Cleveland Guardians will acquire the garage and reportedly some or all of it for the development of a ballpark village by Harris Blitzer Sports & Entertainment which is acquiring a minority ownership stake in the baseball team that will put it on a path to majority ownership (Google).
But it also doesn't make sense to spend so much for a new office building just for Rocket Mortgage — unless another major tenant is coming along. Ironically, it could be the law firm Benesch which reportedly abandoned further consideration of being the anchor tenant in nuCLEus' development, including naming rights.
Based on current staffing, Rocket Mortgage might need 300,000 square feet of office space — possibly more at the rate the company is growing. For its own needs, Benesch reportedly wants upwards of 180,000 square feet of space, including on-site amenities in a trophy-class building to attract young talent to the firm.
And it wants its name on top of a building which it can't get at its current home of 200 Public Square (Huntington Bank has naming rights there) or at Key Tower which is where Benesch is rumored to expand. The law firm has yet to sign a lease at Key, said Newmark Vice Chairman Terry Coyne, who has multiple clients at Key Tower. Benesch's lease at 200 Public Square is due to run out this summer. Colliers International Managing Director Brian Hurtuk, who handles leasing at 200 Public Square, did not respond to a voicemail regarding Benesch's leasing status going forward.
Jeanne​ Hammerstrom, chief marketing officer at Benesch, did not respond to an e-mail from NEOtrans seeking more information prior to publication of this article.
Bedrock is also likely to pursue at least one of 40 statewide sports betting retail licenses for one or more locations in downtown Cleveland, now that the State of Ohio has legalized sportsbooks. The location or locations are unknown, but look for Tower City Center or possibly a ground-floor retail space at The May Apartments to be one of their short-term sites. Long-term, a future sportsbook in a Bedrock Gateway development is rumored.
JACK Cleveland Casino is already renovating the former Higbee's Building in anticipation of winning a sportsbook retail license. And the first phase of renovation work at Progressive Field, starting in April and continuing for about one year, will be for the transformed left-field terraces. According to sources, included in the $33 million project will be the replacement of the Terrace Club restaurant with a sports betting parlor.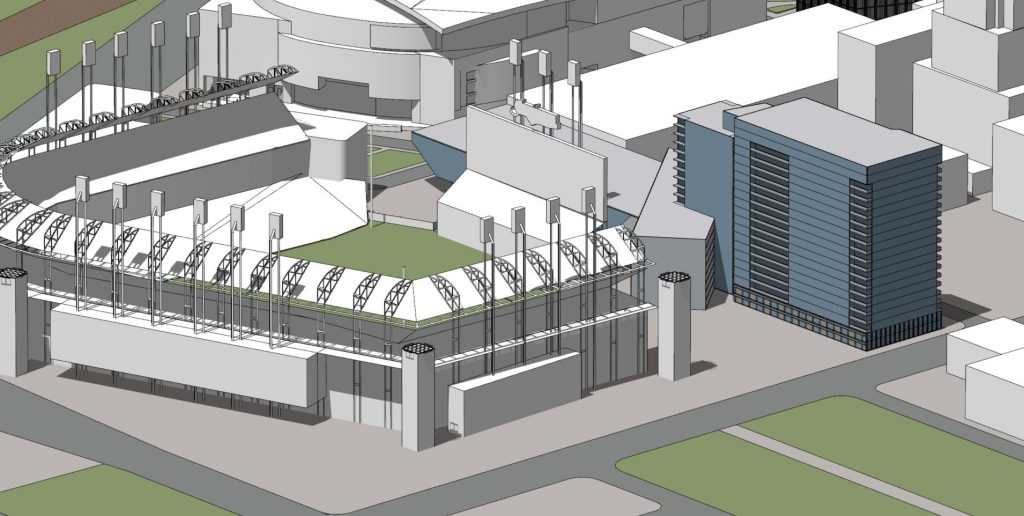 This view created at the request of NEOtrans for demonstration purposes shows what an apartment building could look like on East 9th Street at Bolivar Road and connected to a ballpark village to the north of Progressive Village. Sources say a project similar to this is what Harris Blitzer Sports & Entertainment envisions for Cleveland (Ian McDaniel).
Harris Blitzer Sports & Entertainment development concepts
There are two other notable pieces in Progressive Field's renovation that are relevant to this article. Both involve properties that would be sold to the Cleveland Guardians in which HBSE's role will increase — possibly before HBSE acquires a majority ownership stake in the baseball team. The details are spelled out in the term sheet for the Guardians' lease extension agreement with the Gateway Economic Development Corp. of Greater Cleveland, approved last month.
Per that agreement, for the next two years the city of Cleveland will make the Gateway East Garage, 650 Huron Rd., available for the Guardians to purchase for $25 million. In the event the team purchases the Gateway East Garage, the city will use the sale proceeds to fund the city's annual $2 million commitment towards the Public's Ballpark Contributions and shall assign future naming rights sale proceeds to the team.
Furthermore, the lease extension agreement says Gateway agrees to convey or cause to be conveyed the half-acre Gateway Development Parcel at East 9th Street and Bolivar Road to the team in exchange for a $2 million purchase price. Gateway or its transferee will then convey its entire share of the sale proceeds into the Ballpark Improvement Fund.
"The (Guardians baseball) club has made no decision whatsoever with respect to the possible purchase of the garage," said Curtis Danburg, the Cleveland Guardians vice president of communications and community impact, in a recent e-mail to NEOtrans. Danburg was not asked about the development parcel at the time.
On those properties, sources say HBSE will build more than just a ballpark village but also introduce HBSE Ventures to Cleveland and create innovation lab facilities and programs. They will promote entrepreneurship and new-start business enterprises through access to investment and expertise in branding, marketing and legal services. HBSE provides these labs in cities where they have majority ownership stakes in major-league sports teams.
The ballpark village itself will feature a "climate-controlled entertainment area," a source said. That means offering a year-round setting to enjoy interactive sports, fitness, games, food, drinks and entertainment including live performances, event center, fan zone, arcades, shops, baseball museum/hall of fame and more. The goal is to attract cold-weather events like high-level college sporting events including the NCAA Sweet 16 and Elite 8 basketball games at Rocket Mortgage FieldHouse. Or play an Ohio State University-University of Michigan hockey game at Progressive Field.
"HBSE Real Estate (HSBE RE) was created to advance HBSE's mission to be the most impactful sports and entertainment company in the world by investing in communities in which HBSE teams and properties live, work, play and perform. HBSE RE looks to execute large-scale mixed-use developments that improve the quality of life in our communities," according to HBSE's Web site.
"HBSE RE is primarily focused on building neighborhoods around our sports and entertainment venues while driving social impact through job creation, economic growth and impact investments," the company's site continues. "HBSE RE builds on the progress made in the cities of Camden, Newark and Philadelphia where we have stimulated economic growth, promoted diversity and inclusion, built/operated facilities and curated community programming."
Lara Toscani-Weems, vice president of corporate communications at HBSE, did not respond to an e-mail seeking comment prior to publication of this article.
END