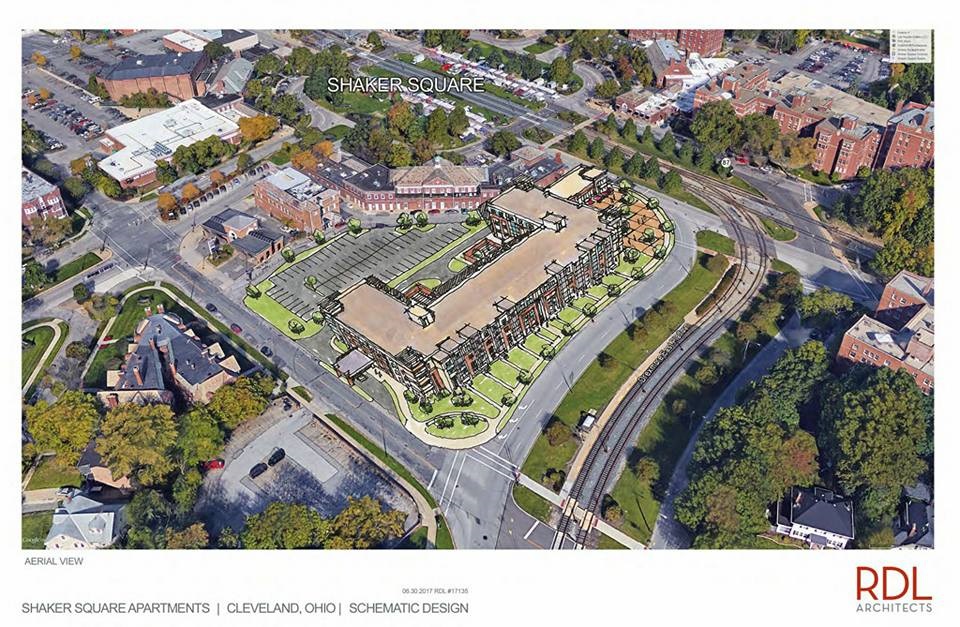 Several years ago, Paran Management Co. pursued a 135-unit apartment building where the Van Aken Plaza now stands next to Shaker Square. This was a conceptual rendering for it. Now, Paran Management is planning a mixed-use development by keeping and renovating the curved office building and a small commercial structure at the intersection of Shaker and Van Aken boulevards. Van Aken Plaza will still be razed but for a slightly smaller apartment building (RDL). CLICK IMAGES TO ENLARGE THEM
Will add modern apartments to aging inventory
Citing a lack of a modern apartments at Shaker Square, Paran Management Company Ltd. is reviving its plan for constructing a multi-family building next to the historic mixed-use neighborhood center. But the plans come with a new angle — preserving the historic office and commercial structures at the southwest corner of Shaker and Van Aken boulevards.
Paran Management Chairman and CEO Joe Shafran said he was encouraged by the leasing response to First Interstate Properties Ltd.'s 121 Larchmere development in the nearby Woodland-Larchmere District. An aging shopping plaza at Larchmere Boulevard and East 121st Street was demolished for the $20 million, 88-apartment building with a ground-floor office space. The market-rate building with rents starting at $995 for studio apartments was completed last year and leased out in just six months. City Architecture filled the 6,500-square-foot office.
Shafran is proposing a market-rate, 110-unit apartment building where the two-building, 34,000-square-foot Van Aken Plaza now stands. He dubs that portion the Bonwit Teller portion of the project, named after the luxury clothing and housewares retailing chain that had a store here until the 1970s. The residential portion is scaled back a bit from an earlier version of the plan from three years ago that had 135 apartments.
Instead of demolishing two commercial buildings at the corner of Shaker and Van Aken for an outdoor plaza, Paran Management intends to retain and renovate them. One is a two-story, 17,150-square-foot office building; the other is a single-level retail building measuring 6,960 square feet. These buildings are called the Franklin Simon portion of the project, named after another women's high-end retail chain that was located here.
"We're underway," Shafran said of his company's work on the development. "It's happening."
Paran Management applied last week to the city of Cleveland's Building & Housing Department to have their 2.7-acre property north of Drexmore Road split into two parcels. The real estate developer and property manager has its offices in the two-story office at the corner of Shaker and Van Aken. It acquired the property in 2018 for $796,000, according to Cuyahoga County property records.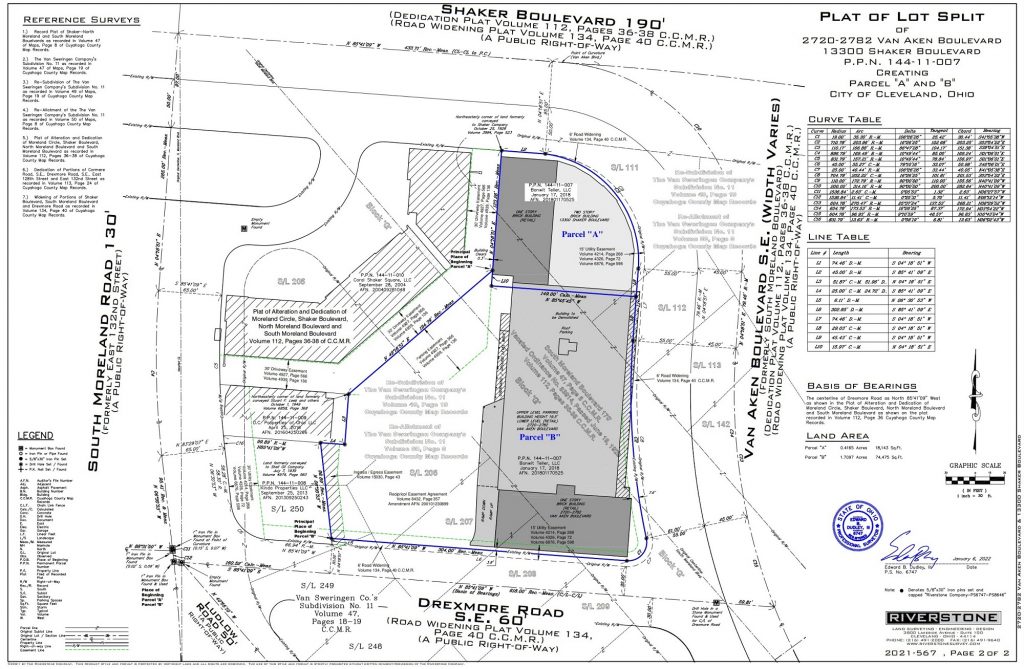 Proposed lot split with the northernmost property containing the historic commercial buildings to be retained and submitted to the National Park Service for designation as an historic place. Post-split, the larger southern parcel will be redeveloped by demolishing the Van Aken Plaza and constructing a 110-unit apartment building with surface parking (B&H).
The larger parcel would be the Bonwit Teller portion at about 2.3 acres, including its retail building which had parking on the roof as well as a large parking lot behind. The smaller Franklin Simon portion measures about 0.37 acres. A half-acre parcel south of Drexmore owned by Paran Management and used as a parking lot is not part of this development. It was also acquired in 2018 but for $79,000, public records show.
The lot split is desired because Paran Management is seeking a national historic designation only for the commercial buildings at the Shaker-Van Aken intersection and not for the plaza to the south. Shafran is taking the same development approach he took in renovating the former Glidden Family mansion into the Glidden House, a 60-key boutique hotel owned by Case Western Reserve University. He put it on the National Register of Historic Places but did not use historic tax credits to renovate the property.
"I'm not really interested tax credits," Shafran said. "I just want to protect the (Shaker-Van Aken office) building. It's a beautiful building and I want to restore it properly. The other building (in the shopping plaza) is plain Jane and we're working on getting that cleared."
The proposed apartment development and commercial renovation are located in a pedestrian-retail overlay district. Under the city's zoning code, residential and non-retail office uses may be permissible as accessory uses but probably do not require conditional approval by the Board of Zoning Appeals. Paran Management and its consultant HSB Architects & Engineers conducted a code analysis and found the proposed uses would be in compliance.
Shaker Square, including the two-story Shaker-Van Aken office building, were designed by architect Philip Small and built in 1929-39. These neo-Georgian-styled Shaker Square buildings are part of a mixed-use district designed around a landscaped commons, the light-rail rapid transit lines to downtown and have parking in front and behind shops with offices above some storefronts.
At around the same time, Small also designed the Country Club Plaza in Kansas City but with a Spanish motif. That mixed-use district is set along a grid of streets. And while it doesn't have light-rail transit now, the Kansas City Streetcar is being extended several miles south from Union Station to serve it and link Country Club Plaza to downtown. Taubman Centers Inc. and Macerich Co. acquired the 1.3-million-square-foot Country Club Plaza six years ago for $660 million.
That is quite a bit more on a per-square-foot basis than the $12 million the city of Cleveland is offering to pay to get the 168,000-square-foot Shaker Square property out of receivership from Wilmington Trust Bank and put into the hands of two local nonprofits — Cleveland Neighborhood Progress and Burten Bell Carr Inc. so capital improvements can be made to the property. The loan bailout and capital improvements are essential to retain tenants, including Dave's Supermarkets and others, Shafran said.
"With a new (mayoral) administration, I'm hoping it gets done," he said. "I've been very supportive of that effort."
END