This is the Twenty-First edition of Seeds & Sprouts – Early intelligence on Cleveland-area real estate projects. Because these projects are very early in their process of development or just a long-range plan, a lot can and probably will change their final shape, use and outcome.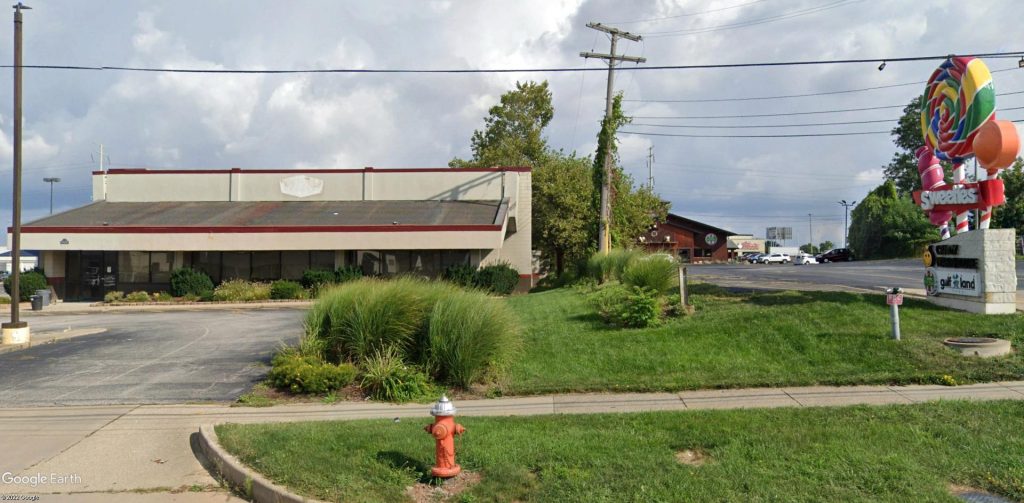 This former Denny's restaurant on Brookpark Road will become part of Sweeties Candy Co., seen next door at 6770 Brookpark. In an expansion plan, the closed restaurant will become a factory and a new warehouse will be constructed behind it in Cleveland's Old Brooklyn neighborhood (Google). CLICK IMAGES TO ENLARGE THEM
Sweeties Candy expanding on Brookpark Road
Seven years after opening a 4.5-acre campus on Brookpark Road in Cleveland, Sweeties Candy is expanding again. This time, the 68-year-old business is constructing a 5,600-square-foot warehouse attached to the rear of a closed 4,000-square-foot Denny's restaurant, 6850 Brookpark. The 43-year-old restaurant building, located between Ridge and Pearl roads, will become a candy factory, according to plans and change of use documents submitted to the city.
An affiliate of b.a. Sweetie Candy Co. in October 2020 acquired the nearly 1-acre restaurant property for $725,000, county records show. Attached to and set behind the former restaurant will be the new candy and popcorn warehouse. Constructing it will be Campbell Construction Inc. of Wooster. The construction firm is unrelated to Campbell Sweets Factory of Cleveland that was bought by b.a. Sweetie Candy in late-2020.
Sweeties Candy's new warehouse and factory expands a Brookpark Road campus that has a 42,000-square-foot candy store which the candy company claims is the largest such store in North America. That campus includes a 150-seat Sweetie's Soda Shoppe parlor and the 36-hole Sweetie's Golfland Park. The business was started in 1950 as the Bag A Sweet Candy Company in Broadview Heights by brothers-in-law Frank Stansny and Al Tokar. Current owners Tom and Judi Scheiman acquired the business in 1982.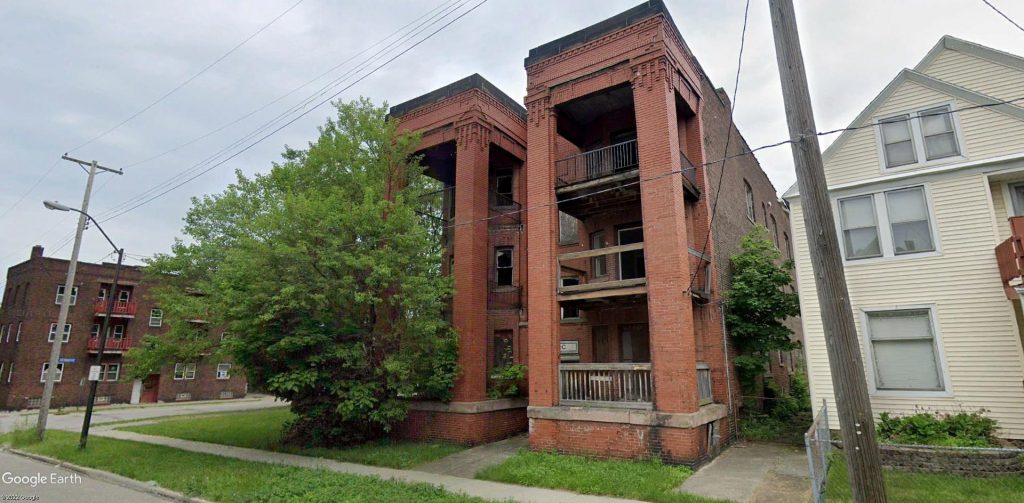 Called "The Celtic," this complaint-plagued six-unit brick apartment building on East 86th Street and Kenmore Avenue in Cleveland's Hough neighborhood is due to be renovated with 12 apartments, public records show. It is hoped that the building's new out-of-state owner will stay and take care of the building over the long-term (Google).
A miracle on East 86th Street?
After repeated building violations and complaints by neighbors, a vacant and vandalized apartment building at 1579 E. 86th St. was acquired by O-G Investment LLC which intends to renovate the building, according to a building permit application filed with the city. The buyer, based out of a used-car dealership Guru Auto Sales in Miramar, Fla. near Fort Lauderdale, proposes to turn the century-old, six-unit apartment building into a 12-unit building. No dollar amount for the renovations was publicly listed.
Plans for the renovation were drafted by Ubiquitous Design Ltd. Architects of Shaker Heights. They show apartments ranging in size from 510 to 562 square feet, some with one bedroom and others with two. All units will have one bathroom. A laundry room and storage area will be in the basement. A paved parking lot labeled as having 12 spaces but showing only 11 is planned on a City Land Bank land at the corner of East 86th and Kenmore Avenue.
O-G Investment acquired this troubled building in April 2021 for $80,000, county records show. It's the property's seventh owner since 2010 and 15th in the past 40 years that included the State of Ohio due to a 2011 forfeiture case. O-G Investment also owns four other properties in Cleveland — 3889 W. 33rd St., 10917 Notre Dam Ave., 6124 Carpenter Ave. and 13909 Benwood Ave. All were acquired in the past year.
Scholar House to start construction by Spring
With funding in hand, construction permits are being requested from the city for the Cleveland Scholar House, a 40-unit affordable apartment building at 2543 Community College Ave., across the street from the Cuyahoga Community College (Tri-C) Metro Campus. The $12 million project will provide housing for single parents enrolled in higher-education learning and their minor children.
The 18,880-square-foot building will provide 33 two-bedroom units and seven three-bedroom units, along with study space, a computer lab, common space for parenting classes and family activities, as well as child play space. Step Forward will provide on-site day care while Cleveland State University and Tri-C will provide life skills, academic counseling and cohort support for first-generation college students.
CHN Housing Partners, the United Way of Greater Cleveland and others will coordinate "wraparound" services including mental health counseling, financial literacy and access to benefits and other services. CHN Housing Partners will develop, own and manage the housing that is going to be built on land leased from the Cuyahoga Metropolitan Housing Authority (CMHA). Forty project-based vouchers will provided by CMHA to residents.
END