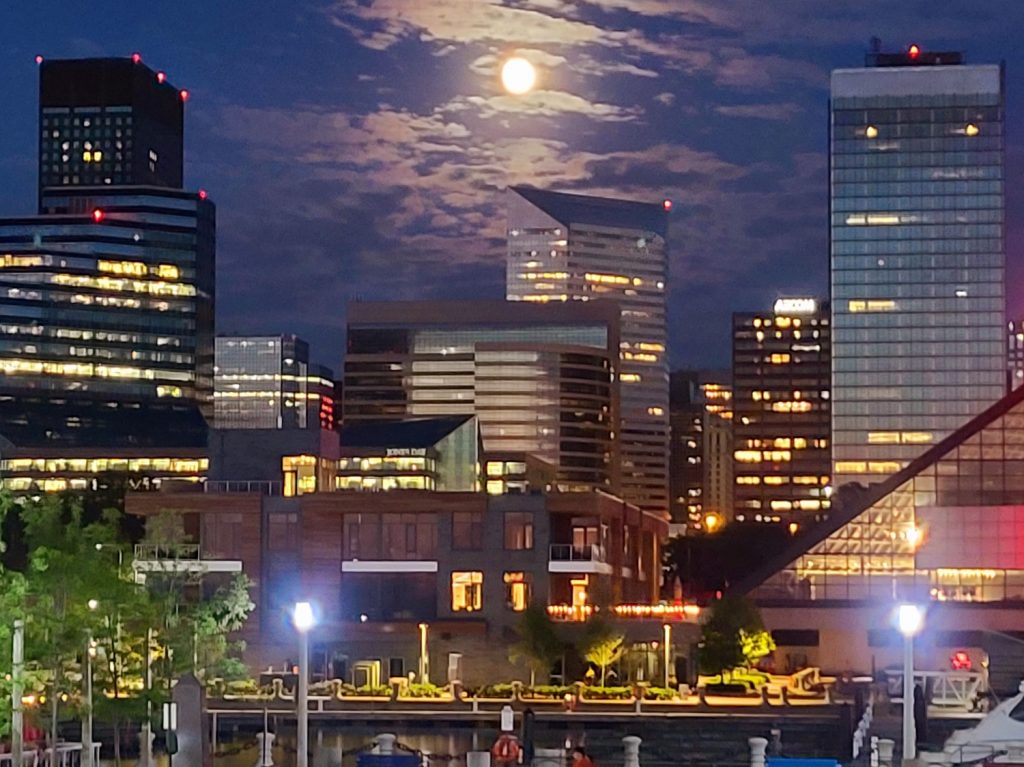 The only completely dark building in this downtown Cleveland view from North Coast Harbor last June is the vacant, 16-story, 45 Erieview — roughly in the center of the picture. But the lights are going back on soon now that the building has a new owner and fully financed plan to redevelop the former office building into apartments, co-working spaces and restaurants (KJP). CLICK IMAGES TO ENLARGE THEM
Project to energize NE corner of downtown
A zombie is about to be slayed thanks to a property transfer and a development partnership that got good news this week. That zombie is 45 Erieview, the former Ohio Bell headquarters in downtown Cleveland at the southeast corner of East 9th Street and Lakeside Avenue. The 1983-built, 16-story office building has sat empty since AT&T moved out its remaining offices in 2019.
Financing for the $102 million renovation and conversion project closed and the property transferred to Dallas-based Bluelofts Inc. for $21.15 million, said Terry Coyne, vice chairman of real estate brokerage Newmark's Cleveland office. He represented the buyer as well as the seller, SomeraRoad of New York City.
Planned are 367 apartments above the second floor with co-working spaces on the first and second floors. There will be retail, a restaurant and a coffee shop on the ground level but the commercial tenants have yet to be publicly identified. The property includes a neighboring 348-space parking garage plus 32 parking spaces under 45 Erieview. Also in the basement will be an eSports (competition using video games) venue.
A zombie is a vacant or nearly vacant property. Downtown has several zombie office buildings which are pushing down lease rates. While office tenants have been leaving older office buildings for newer ones with more amenities and technology — called a flight to quality — new downtown office skyscrapers can't be financed at those low rents. So tenants have been moving to the few Class A or trophy-class spaces that are available downtown. Or they move to the suburbs, namely along the I-271 corridor, where smaller Class A buildings were recently built.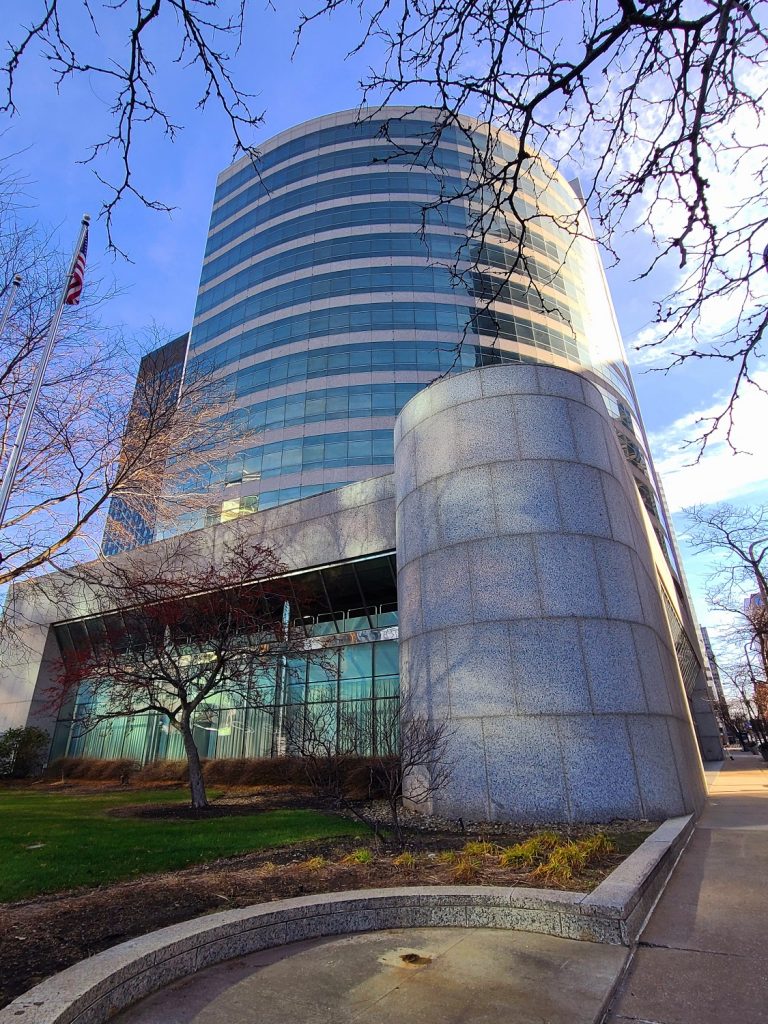 The 39-year-old former Ohio Bell headquarters has been empty for more than two years since AT&T moved its remaining offices from the building. Now it has a new, $102 million capital infusion to bring the building and its curving, glassy façade back to life (KJP).
"This is the biggest zombie building in downtown Cleveland," said Ike Bam, co-founder of Bluelofts with John Williams, referring to the 492,864-square-foot 45 Erieview being completely empty yet it counts in downtown's available office inventory. Bluelofts is partnering with Wolfe Investments, also of Greater Dallas, on the development.
The 1.4-million-square-foot 925 Euclid is larger than 45 Erieview but has been taken out of the office inventory because it's no longer being marketed for office tenants. It is proposed to be renovated as a $500 million mixed-use development called The Centennial with 868 workforce apartments plus offices, retail and a museum — if it can win a Transformational Mixed Use Development (TMUD) tax credit in the coming months.
"We're so happy to say that we've finally closed on the 45 Erieview project in Cleveland OH," Bluelofts said in a written statement. "Thanks to everyone who made this possible! You are all truly amazing and we can't wait to get started on converting this big, empty building into much-needed housing."
With all of its apartments, amenities and coworking features, 45 Erieview aims to be Cleveland's first post-pandemic remote-work property. Bluelofts and Wolfe say renovations and conversion of the property will begin later this year and take approximately two years to complete. The general contractor is Leopardo Companies of Chicago. The architect is Sandvick Architects Inc. of Cleveland which has much experience in historic renovation projects.
"This building will add to the heart of booming downtown Cleveland," said Kenny Wolfe, president at Wolfe Investments. "This is our third joint venture with Bluelofts. Commercial real estate is a team sport."
Coyne agreed that the project will enhance downtown Cleveland in several ways, starting with the removal of another zombie office building from the market.
"Another zombie building gets converted!" Coyne cheered in an e-mail to NEOtrans. "These zombie properties have been a drag on the market. And the conversion into residential solves two problems. It reactivates a building and part of town which has seen very little investment in a while. And it makes the denominator for the office market smaller, which helps stabilize office rents."
The 45 Erieview property is in the Erieview Historic District, as declared one year ago by the U.S. Department of the Interior. The historic district is bounded by Lakeside and Chester avenues plus East 9th and East 12th Streets. The district and 45 Erieview's presence within it allowed the 39-year-old building to be eligible for and win a $5 million historic tax credit from the Ohio Department of Development Dec. 14, 2021. That tax credit allowed the project to round out its financing and for its backers to close the deal this week.
Coyne added that the progress at 45 Erieview could also cause the good fortune to spread to other nearby properties, including Erieview Tower, 1301 E. 9th St., and the IMG Building, 1360 E. 9th.
The Kassouf family is trying to redevelop the nearly 60-year-old, 40-story office tower with a mix of offices, apartments and a five-star W Hotel. A source familiar with that project said the prospects for landing the luxury hotel have improved, but still depend on if the tower's renovation can win a TMUD credit. Meanwhile, the IMG Building recently sold to a investor group led by James Breen for $18 million that will work to attract more tenants to the property.
END