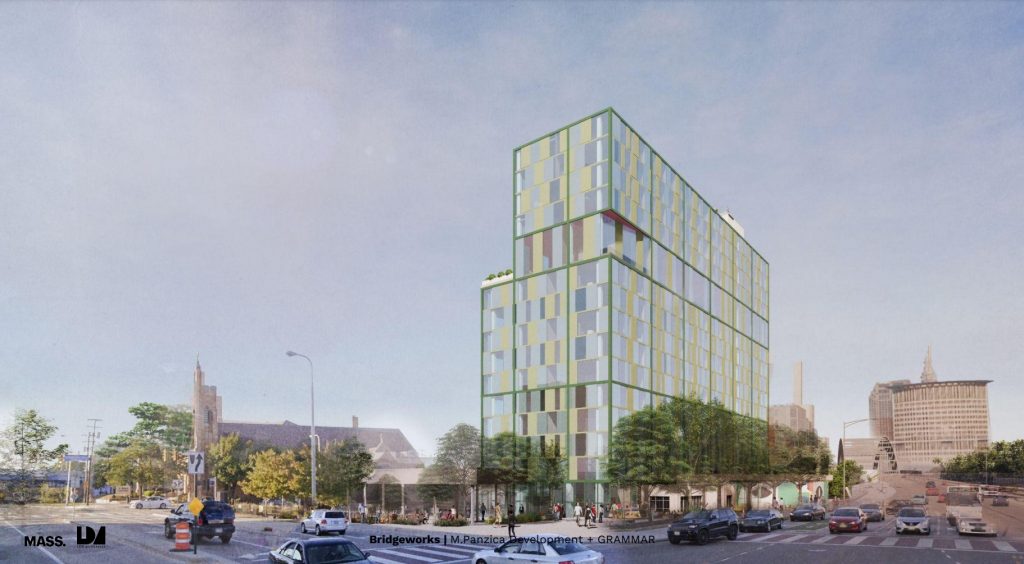 A revised plan for Bridgeworks at the west end of the Detroit-Superior Bridge at West 25th Street was submitted to the city for approval. A slightly shorter and wider building along with additional demolitions of the former Cuyahoga County Engineer structures could close the project's financing gap (Mass/LDA). CLICK IMAGES TO ENLARGE THEM
New plan may close the project's funding gap
ARTICLE UPDATED MARCH 13, 2022
Developers hope to start construction in spring of a high-rise in Cleveland's Ohio City neighborhood despite missing out on a so-called megaprojects tax credit from the state earlier this month. The optimism is the result of a redesign of plans for Bridgeworks that would reduce the cost of the project by reducing the height of the building by 24 feet, virtually eliminating renovation costs and reshaping a proposed parking garage.
The changes are intended to cut the project's costs to match the development team's available financing, according to sources familiar with the project but were not authorized to speak publicly. With the new designs already starting the city review process, this puts the project on a schedule to possibly see a groundbreaking before summer.
The development team, called Bridgeworks LLC and comprised of a partnership between M Panzica Development and Grammar Properties, had sought $7,944,817.92 in Transformational Mixed Use Development tax credits. The credits, awarded March 2 to 13 other projects statewide, would have rounded out Bridgeworks' capital stack.
Previously, the developers proposed a 186-foot-tall, 16-story mixed-use building. Instead, they are proposing a 162-foot-tall, 15-story building that will have the same square footage in a slightly wider structure. That will allow the project's programming, such as the number of apartments, hotel rooms and retail space to remain the same, said Graham Veysey, a principal of Grammar Properties.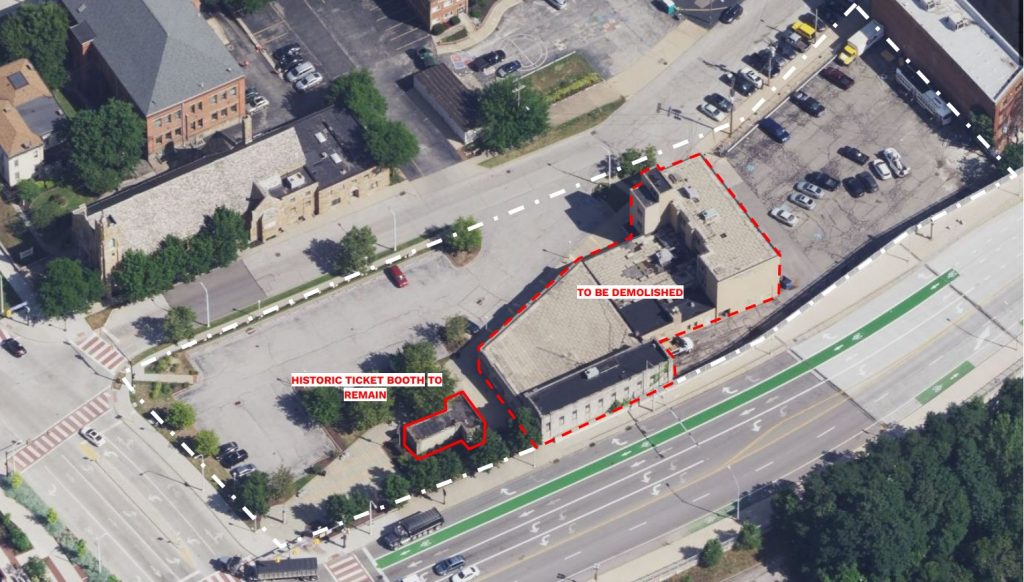 Buildings on the site owned by Bridgeworks LLC that are proposed for demolition. Originally, Bridgeworks proposed to raze the structures below and to the right of the word "demolished." Now, only the former Cleveland Subway station entrance shown as "historic ticket booth" is proposed to be preserved, subject to Landmarks Commission approval (Mass/LDA).
Planned are two ground-level retail spaces, a cafe plus hotel and residential lobbies. Above them will be 140 market-rate apartments on floors two through 10, an 11th-floor restaurant with outdoor patio, and 130 hotel rooms on floors 12-15. The brand of the hotelier hasn't been released publicly.
The proposed breakdown of apartments is 18 studios, 82 one-bedroom units and 40 two-bedroom suites, plans show. The number of apartments is a reduction of units from 170 in an older plan that had many more studios. Veysey would not discuss how the proposed changes might affect the project's construction cost.
Michael Panzica, principal of M Panzica Development, echoed that Bridgeworks programming would remain the same but would not discuss the financing side.
"It's too early to comment on financing," he said.
The proposed changes are subject to approval by the city — including the Landmarks Commission because the additional structure to be razed is a 1941-built Cuyahoga County Engineers' garage with an Art Deco-designed stone exterior and is located in an historic district. The 13,649-square-foot garage would join on the scrap heap a 57-year-old, 22,395-square-foot Engineer's laboratory/office building that had been previously approved for demolition by the city.
Sources said the cost reductions would likely come from not having to store historic items from the Engineer's garage, or renovate and work around the historic garage. Plus, there would be reduced costs from the infrastructure necessary to support a taller structure. However there may also be additional funding involved.
The parking garage is also relocated in the site plan so it can be built separately and in a more affordable way. Its new location is right up against 2401 Superior Viaduct, a 120-plus-year-old, four-story commercial building renovated with offices for Box Cast, a growing technology firm that has been looking for more parking.
Real estate broker Terry Coyne, owner of 2401 Superior Viaduct, has said he would be willing to pay for access to more parking. Ohio City Inc. Executive Director Tom McNair recently suggested that Bridgeworks' parking deck could be shared with office workers parking there during the day while residents and hotel guests park there in the evenings. Today, Coyne said he was not familiar with Bridgeworks' revised plan but was interested in the idea of shared parking.
Bridgeworks LLC acquired the former Cuyahoga County Engineer's property at 2429 Superior Viaduct which was considered surplus by the county several years ago. Last June, Bridgeworks took title to the 2.5 acres of land, easements and on-site structures, paying the county $4.15 million, public records show. However only about 1.6 acres of the site is developable.
Veysey and Michael Panzica previously partnered on the nearby Church+State development in the Hingetown section of Cleveland's Ohio City neighborhood where another potentially significant development was reported on by NEOtrans this week.
Veysey and Panizica's two-building, $60 million endeavor with its 11-story State tower and 6-story Church companion, has leased nearly 90 percent of its 158 market-rate apartments and nearly all of its ground-floor retail spaces just one year after the entire complex opened, according to Apartments.com. And that was during the worst pandemic in a century.
Tyler Kapusta contributed to this article.
END