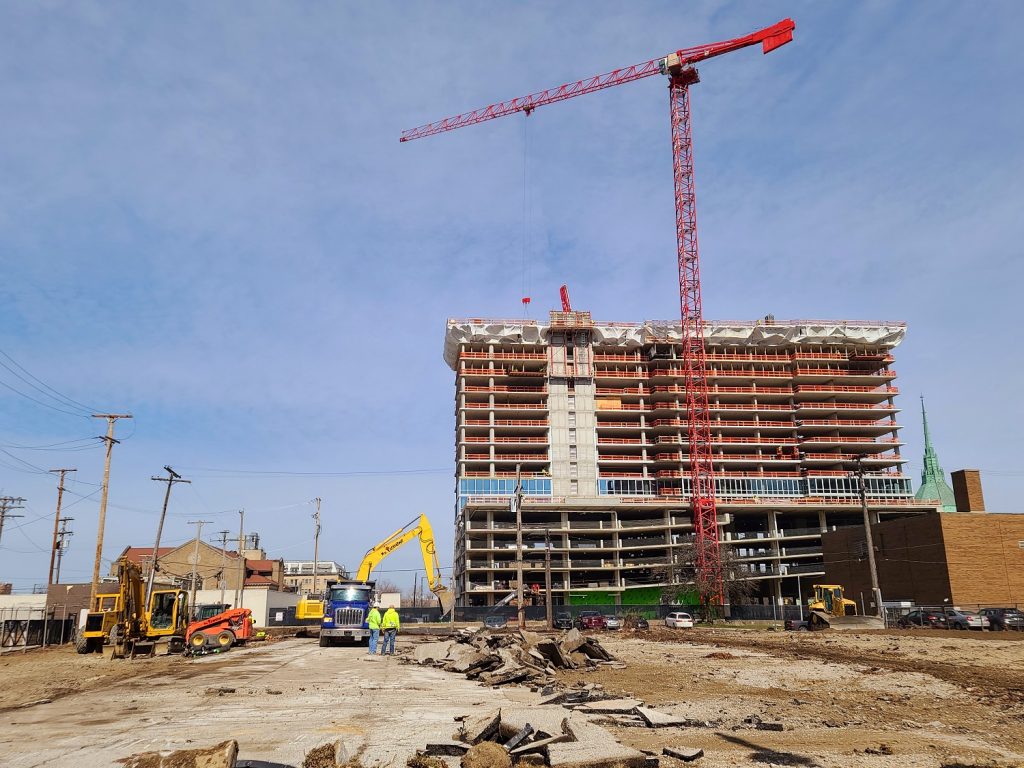 In the foreground, construction has started on the 11-story Library Lofts — the second building to be built in the Circle Square development in Cleveland's University Circle. This view is looking north from 10555 Euclid Ave. In the background is the first building in Circle Square to see construction — the 24-story Artisan apartments, 10600 Chester Ave. (KJP). CLICK IMAGES TO ENLARGE THEM
University Circle project's groundbreaking is May 14
Two months before its official groundbreaking is scheduled to be held, construction work has started on the next new building in Cleveland that will be big enough to put another tower crane in the sky over booming University Circle.
An official groundbreaking ceremony has been set for May 14 for the 11-story Library Lofts development, 10555 Euclid Ave., featuring 207 apartments above a new Martin Luther King Jr. Branch Library. That's according to its page on CoUrbanize, a Web site listing proposed or recent real estate developments nationwide. In an e-mail to NEOtrans, Midwest Development Partners' (MDP) Chief Operating Officer Steve Rubin confirmed that groundbreaking date.
Construction work has started on the apartments-over-library project itself. Crews placed equipment on site on March 9, followed by site preparation activities beginning today such as removal of underbrush, removal of pavement and infrastructure from prior land uses as well as installation of fencing around the perimeter of the 0.72-acre site.
Additionally, a permit was issued by the city to allow for the next phase of work to proceed involving the installation of catch basins/manholes, storm and sanitary sewer lines, plus water distribution pipes. The permit shows Mr. Excavator of Kirtland will conduct the work for about $300,000.
A long period of time between the actual start of construction and the official groundbreaking ceremony also happened with the first building in MDP's $300+ million Circle Square development. Construction started on The Artisan, 10600 Chester Ave., at the end of March 2021 but the groundbreaking ceremony wasn't held until July 29.
Work on this 24-story, 298-unit apartment building has now surpassed the 16th floor on its way to becoming the tallest building in University Circle, a district generally regarded as Cleveland's second downtown. Chicago-based White Oak Realty Partners joined forces with Cleveland's MDP to deliver The Artisan with relatively little drama or delay.
That was not the case with the shorter but arguably more complicated Library Lofts. The inclusion of a new two-story MLK Branch of the Cleveland Public Library (CPL) at the base of the high-rise required coordination between two very different organizations as well as their own financing timelines and legal requirements. Yet both were hit by higher costs of construction materials.
NEOtrans broke the story Feb. 18 that their coordination ultimately resulted in a modified agreement between the two parties in recent weeks that increased the library's financial contribution from the library system by about $4.6 million to cover the higher-than-expected construction costs. That brought Library Lofts' overall construction costs, including nine stories of apartments above the MLK Branch Library, to roughly $60 million.
The library system's preliminary budget for the MLK Branch Library was approximately $15.3 million but was raised to $19.9 million, said CPL Chief Operating Officer John Lang. CPL originally budgeted for the MLK Branch $10.1 million from a 2017 voter-approved bond issue to support library improvements citywide. CPL will also receive $5.2 million from the sale of the existing, 1970-built MLK Branch, 1962 Stokes Blvd., to MDP and from MDP's use of air rights over the new library.
"We are excited to finalize our agreement with MDP," Lang said. "So at this point our costs are firm and we are ready to roll."
"All of the costs have been negotiated by both parties to the satisfaction of each," Rubin said. "We're very excited and I think it will be a beautiful building."
City Planning Commission approved MDP's plans for Library Lofts 10 months ago. It was hoped that Library Lofts and The Artisan could be built simultaneously. CPL is under a time constraint to spend funds from its 10-year, $100 million-plus bond issue to replace or rebuild all 27 neighborhood branches, followed by a $65 million renovation of the Main Library downtown.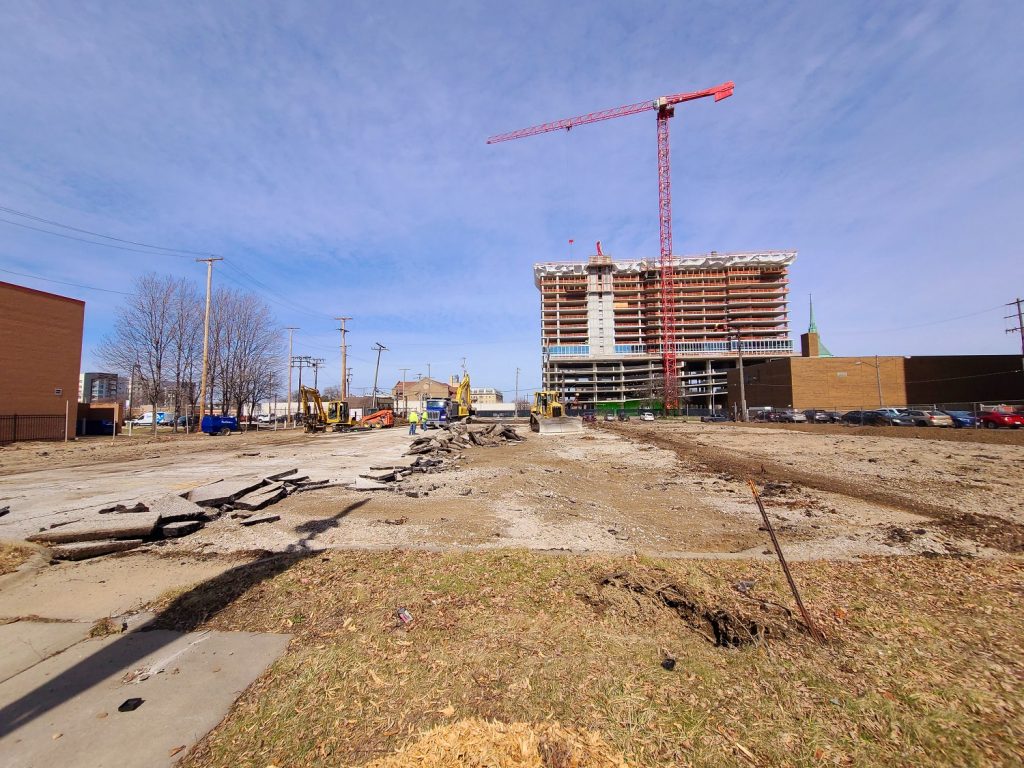 A wide view of the Library Lofts construction site with The Artisan tower rising in the background and the old MLK Branch Library seen at right. Pavement and other infrastructure from an auto repair shop and other prior users of the Library Lofts site are being removed while a perimeter fence, visible at left, is going up around the construction site (KJP).
CPL's new MLK Branch Library is part of a $39.3 million Phase 1A of the library's master plan. The library system is required by the IRS to spend all of the bond issue's proceeds within a five-year period, with 85 percent spent in the first three years. However, a three- to five-year extension could be granted.
MDP is also considering funding options for a proposed public parking garage, public realm improvements and realigned streets surrounding the first phases of its Circle Square development. The developer had hoped to secure a $19 million Transformational Mixed Use Development (TMUD) tax credit from the Ohio Department of Development to offset those and other costs associated with Circle Square developments west of Stokes Boulevard, between Euclid and Chester.
However, Circle Square was left out of the initial round of TMUD awards. Rubin would not comment on whether his firm would resubmit its application for the next round, scale back its request or pursue a mix of cost savings and other funding resources. Future phases of Circle Square include a mid-rise hotel, a high-rise office building and an apartment tower possibly of similar height to The Artisan's, according to MDP's master plan that was approved by the city.
Tyler Kapusta contributed to this article.
END